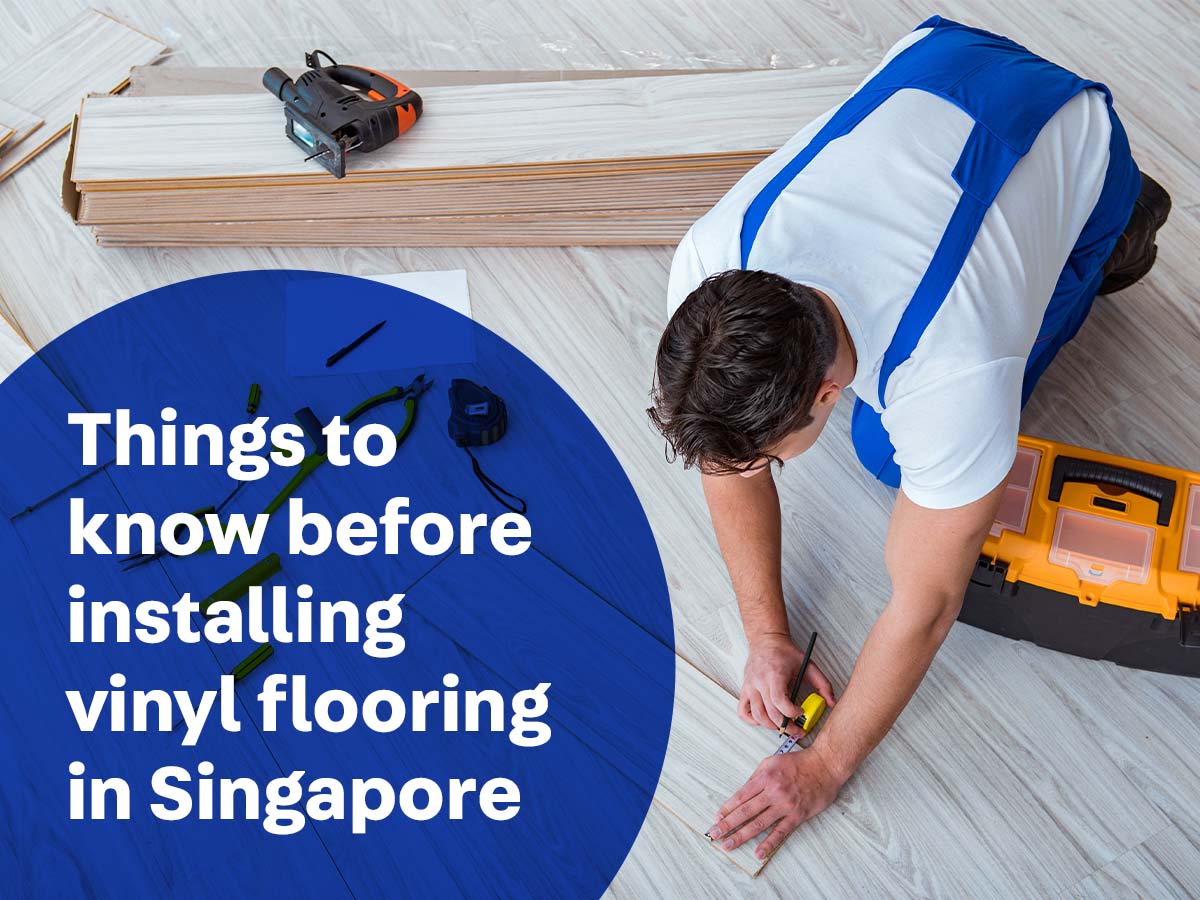 Reading Time:
7
minutes
Choosing the perfect flooring for your home can be a task when you have so many options and a limited budget. Functionality is not the only criteria we want to look at anymore. Factors such as longevity, installation, variety, colours, and cost are equally important when choosing flooring in Singapore. 
Carousell has a variety of vinyl flooring available in different sizes, colours, and ranges. Check them out here. 
Today we have so many options we have available for flooring in Singapore, including Laminate, Carpet, Tile Vinyl, and Sheet Vinyl. 
5 cheap flooring options in Singapore
Sheet Vinyl 
Sheet vinyl flooring is a popular choice among homeowners because they are affordable, comfortable, and easily available. It ranges between $0.50 and $2. 
You can find brand new Vinyl floor sheets available on Carousell within the above range here. 
Linoleum 
The price of Linoleum ranges between $2 and $3 and is very similar to Vinyl. Like Vinyl, Linoleum is also low maintenance, water-resistant and durable. Additionally, it is also eco-friendly. 
Laminate
Laminate flooring is a great option for flooring since they are an affordable alternative to hardwood floors. They are easy to maintain and fairly durable. 
Polished Concrete
Polished concrete is a relatively inexpensive option, as compared to other flooring choices in Singapore. However, it cannot be installed without a professional, since concrete needs to be prepared to a specific condition before installation. It is a popular choice among homeowners due to its longevity and environmental friendliness. 
Ceramic Tiles
The durable, stain-resistant option of Ceramic flooring is a common choice for kitchens, bathrooms, and balconies since they can be easily cleaned and are cost-effective. 
Are Vinyl and Linoleum the same?
Although in some markets, Vinyl and Linoleum are used interchangeably, they are not the same products. 
Granted both are tough, durable, and can be installed without a professional's help, there are also some very noticeable differences in their manufacturing, design, maintenance, and installation. 
Manufacturing: While Vinyl sheets are made of PVC (Poly Vinyl Chloride) and are not eco-friendly Linoleum is made of a single layer of the natural layers of Linseed. 
Installation: Unlike Vinyl Sheets, Linoleum comes in a stiff sheet form and therefore requires a full floor adhesive for installation, which is comparatively difficult to execute without a professional. It is recommended to not use a Linoleum surface in bathrooms and kitchens, however, Vinyl can be installed anywhere around the house. 
Maintenance: Vinyl is marketed as the easiest-to-maintain flooring choice. It is waterproof and requires a sweep with a mop to clean. Linoleum however is not moisture friendly, or completely water-resistant like Vinyl. Cleaning a Linoleum surface is difficult due to its vulnerability to water. Additionally, a Linoleum surface can only be cleaned with special cleaning agents.  
Why should I choose Vinyl Flooring?
Vinyl Flooring in Singapore is made of multiple layers of synthetic materials such as Fibreglass, PVC Vinyl, and Plasticise, which make it a highly durable and easy-to-maintain flooring material for commercial spaces, as well as residential areas. The flooring requires occasional sweeping and mopping to maintain the look-feel of the decking. 
It is preferred by most homeowners for its thickness and waterproof properties.  Vinyl flooring guarantees 100% water resistance since its made of PVC thus making it the most appropriate flooring option for kitchens, bathrooms, balconies, cafes, etc. It is also a great choice for houses with pets. 
Vinyl is famous for its rigid and thick core, up to 5-8mm, which makes it stable and sturdy under all circumstances. The broad core also provides a smooth walking surface, a pleasure to experience when barefoot. For added comfort, you always have the option of choosing Vinyl flooring with attached underlayment. 
The best part of using Vinyl Flooring in your home is that it's not only inexpensive, but you also save money on the installation costs since it is completely DIY!
You can either choose a simple click-lock, glue down, or loose lay installation method for all kinds of subfloors. 
Carousell provides a plethora of options for vinyl flooring. Head out to the app or website for some great deals for flooring your house!
What is Underlayment?
Underlayment is a thin layer of supplementary fibre, foam, felt, or rubber that helps in further soundproofing your home and softening the surface for added comfort to your feet. 
Underlayment sheets are available starting at the price of S$10 on Carousell, check the amazing deals here. 
Types of Vinyl Flooring
As if being highly affordable, extremely durable, low maintenance, and easy to install was not enough, Vinyl Flooring in Singapore also comes in a lot of colours, textures, accommodating all kinds of style palettes.  
Vinyl flooring is available globally in two main categories- 
Vinyl Sheet Flooring: It is moisture-proof multi-layered, printed flooring that is available in continuous, large, flexible sheets. It offers a plethora of designs and colours, making it a personal favourite of homeowners. The kind is best suitable for bathrooms and kitchens.
Luxury Vinyl Tiles (LVT):

It is a durable flooring option, with lots of design options to choose from. The multilayered, waterproof material is available in the form of rigid and flexible tiles or planks. 

Vinyl Plank Flooring:

Vinyl Plank Flooring is often accompanied by a foam core to provide support and rigidity from the bottom. They are very simple to install and don't need any professionals for the same. They are available in the shades of Brown and Grey, with and without adhesive. 

Peel and Stick Vinyl Flooring:

The easiest DIY flooring in the market is the Peel and Stick. It is available in tiles, planks and has an adhesive back which makes it so easy to install. 
How long can Vinyl Flooring last?
Vinyl flooring can last from 5 years to 20 years according to the quality of the same. Since Vinyl flooring is susceptible to dents and changing temperatures, its durability is often compromised when exposed to such factors. 
How to keep your vinyl flooring scratch-free?
Vinyl is a great option for flooring, however, it is infamous for being vulnerable to easy wear and tear, scratches, and dents. 
The easiest way to damage your vinyl flooring is to neglect cleaning and ignore the existing stains and dirt. 
Here are 5 easy ways to clean your vinyl surface:
Regular Vacuuming:
It is recommended to dry vacuum or dry mop your floor at least once in two days, to get rid of dust bunnies, debris, and dirt o avoid scratches. 
For affordable, second-hand vacuum cleaners Carousell offers a range of brands to choose from, along with convenient payment options and delivery. 
Apple Cider Vinegar:
A mixture of a cup of apple cider vinegar and a gallon of water followed by wet mopping with plain water is a very effective solution for removing stains from vinyl floors. 
Dish Wash Soap:
A solution of Dish Wash Soap and water is yet another alternative for effortlessly cleaning stains off your vinyl flooring. 
Water and Mop:
For fresh stains, dirt splotches, etc., wet mopping the floor is the easiest and quickest way to keep your floor clean, stainless, and scratchless. 
Microfiber and Olive Oil:
However inevitable floor scratches may be, there is a way to avoid them if you have vinyl flooring. 
Dripping olive oil onto a microfiber cloth and simply wiping the problem area can fix the scratch right away. For deeper scratches, you can use a vinyl flooring concealer. 
You will find microfibre cleaning cloth listed online on Carousell, starting at the cost of S$5. 
Does your Vinyl Flooring need Wax?
Since vinyl flooring comes with a coating of vinyl, for shine and moisture resistance, there is no need to apply wax on your floor. Wax can mar the coating or just create a very smudgy mess that will be very difficult to clean. 
If you want to renew the sheen of your vinyl flooring you can add a little bit of baby oil to your cleaning solutions of apple cider vinegar, dish soap, or plain water. before
Cons of Vinyl Flooring 
Lots of homeowners and designers in Singapore opt for vinyl flooring because of its versatility of use, its promising endurance of up to 20 years, and its wide range of shades and patterns.
However, easy to install it may be, but a little caution is required because Vinyl Flooring is difficult to readjust once glued. 
The quality of installation also affects the reputed water resistance of Vinyl Flooring. If installed improperly water can seep in through the seam, making it a comfortable home for fungus and mould. 
However, the best choice in such a situation is Vinyl Sheets. Compared to Vinyl planks and tile they have fewer seams, and am improper installation might not cause as much damage. 
Additionally, Vinyl Flooring is prone to early wear and tears if your subfloor has dents or irregularities of any sort. 
It is a must for the householders to keep in mind that Vinyl Flooring is also temperature-sensitive. To prevent discolouration, and fading due to varying weather conditions and excess UV exposure. 
The flooring must not be installed outdoors and be exposed to extreme heat. 
Conclusion
With so many choices available in Singapore, it is hard to choose which type of flooring is the perfect match for your home.
Since Vinyl Flooring is one of the most commonly used decking materials in Singapore, it is easily available in the market. It is cost-effective and adds to your house's charm. The luxurious aura of the flooring is perfect for any indoor surface. 
With Carousell you can find a wide range of flooring options, brand new and quality second-hand, at amazing prices, convenient payment options and safe delivery. 
Choose your perfect flooring today!