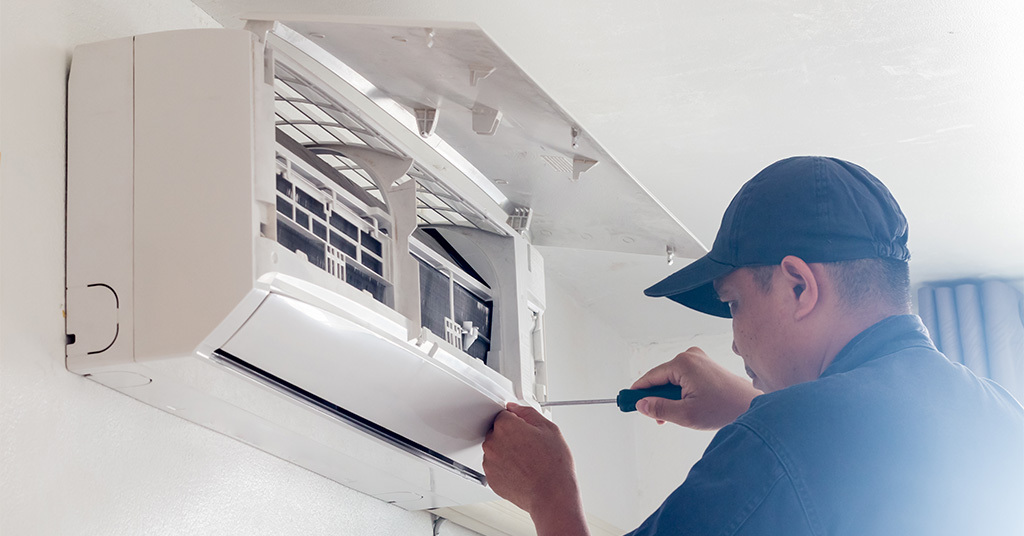 Reading Time:
9
minutes
Introduction
Air-conditioning systems have become a necessity in cities like Singapore, which is known for its hot and humid climate. At present this innovative technology which was invented decades back has become one of the most important requirements that one needs in their daily life as without it living would be uncomfortable for sure.
Cooling the entire place where it's operational, regulating the humidity of the place, also reducing the pollutant levels of its surroundings makes it one of the most useful electronic gadgets that humankind has ever invented.
However, air conditioning systems have to be regularly serviced and maintained in order to work in an efficient manner. With time, the system accumulates dust and molds that can work havoc in its operations. It is also susceptible to damage due to prolonged usage around the clock.
To make sure that the air conditioning system works to its optimal levels, it is extremely important to get it serviced and cleaned with the help of an Aircon Service Company which can check for any faults or operational issues and get it rectified to ensure its long run.
The maintenance includes servicing, cleaning, and repairing if the functions are defective. However, you should note that handling the entire process can be undertaken only by an Aircon Maintenance expert, who can assure that the entire procedure will be done with precision.
Aircon Servicing and Aircon Repair is not a complicated process, but it still requires a certain level of expertise which only an Aircon Technician possesses. Moreover, there are different types of air conditioning units available in the market which differ from each other, so it's better to hire a reliable Aircon Service Company to handle the job.
What types of Air Conditioning Systems are available in Singapore?
There are different types of Air Conditioners available in Singapore markets which differ from each other. Here's a comprehensive list of the most used Aircon systems in Singapore.
 

Split-type Aircon
The Split system Aircons are wall mounted and are ideally used to cool a limited periphery where it is fitted. It consists of an indoor unit that is mounted on the inside of the area where you require cooling, whereas its outdoor unit is fitted at a different place, preferably outdoors for easy circulation of air from the outdoor unit.
The split types are preferred by a majority of users in Singapore owing to its ease in installation and performance, which is better than compared to other types. Installing a Split Aircon unit requires a significant amount of technical expertise as it comprises various components including an indoor unit, outdoor unit, and the piping system which connects both.
Split Aircon is preferred for small living spaces like living room or bedroom, and you can find these in the majority of homes in Singapore. Their benefits include ease of installation and better cooling as compared to other domestic types like window Aircon. However, these have smaller coils and are not suited for long hours of operation.
Care should be taken while choosing the brand and the service company before finalizing one. Carousell has a vast list of reliable companies which provide the best Aircon brands as well as after sales services. Make sure to check the best ones before you close the deal.
Cost
The price range of split Aircon's depend on its cooling capacity. Normally, prices for such units in Singapore cost between $900 to around $3000. Multi-head Aircon systems can start from a price range of above $3000.
There are several reputable Aircon brands in Singapore that sell split type systems including Toshiba, Daikin, Mitsubishi, Panasonic, LG and a few more. A few like Panasonic even provide multi-slit aircon systems along with single-split Aircon's.
The Indoor Unit
The indoor unit needs to be mounted on the wall in the area where you want cooling. The unit contains an evaporator coil with cold refrigerant and some fans which circulate the cool air. Additionally, it has air filters that help in regulating humidity and reduce air impurities.
The Outdoor unit
This unit is usually placed outside the room, mostly on the roof, service area or even a balcony. The unit houses the condenser coil, compressor and expansion valve, along with air filters and cooling blower.
The outdoor unit helps in cooling down the hot refrigerant vapours to cold liquid. The basic function of the outdoor unit is to take the heat from your indoors and dispense it outside.
Repair and Maintenance
The servicing and maintenance of split aircon systems start with the indoor unit, with the Aircon Technician dismantling it, vacuuming it, cleaning the dust wherever visible and repairing the damaged parts.
Cleaning of tubes, unclogging them and fixing leakages, if any also come in their scope of work. Once everything is checked, the technician moves on to the outdoor unit.
The outdoor unit is usually dismantled, the fins are vacuumed, and then the condensing blower is removed while the whole body is cleaned. After checking the fans and fins for any damage, the unit is fitted back.
If there is a lot of dust and particles accumulation, the Aircon Technician might perform Aircon Chemical Cleaning, which removes the strong deposits. Checking of tubes and insulations for any damage is done next, followed by checking the coolant reservoir and topping of gas if found to be less.
  Window Aircon System
This Aircon system is a window mounted setup, is compact and less expensive than the split Aircon's. The major advantage of using this type of Aircon is that it holds all the components in a single unit, making it easy to install.
The unit should be of the size of the window cavity, which is designed to fit window aircon. You also have the option of buying a window unit that fits your window size, as there are different models available in the market, the size of which depend on their cooling capacity.
The window type aircon have become outdated and are rarely used in today's modern homes, yet, they have been the most widely used type of Aircon's around the world since its initial debut. The most notable disadvantage of a window unit is its noise, and it's mode of fitting, which needs a proper cavity in the wall or window to fit and function properly.
Repair and Maintenance
In window aircon, a single unit holds the entire working parts, hence cleaning, maintaining or repairing it easy, but at the same time requires adequate knowledge to avoid any malfunctions.
The Aircon Technician starts with the cleaning process, dismantling the unit, removing dust and vacuuming its fins. Next is checking the coils for leakages, test the blower for any kind of lubrication issues, and then checking the coolant level.
Finally, cleaning the dust from the drainage section and removal of clogging is done before the unit gets fitted to its original position.
  Central Aircon System
Central Aircon are mostly used in commercial or industrial settings as they have huge capacity owing to its high-powered cooling system. It comprises a central unit that is located at a ventilated site, which passes the cold air to the whole place through some vents.
Such type of Aircon systems are generally used in commercial premises which have larger spaces. To install this system, the entire line of cooling ducts, airflow and insulation needs to be checked for optimal performance.
Repair and Maintenance
The process of repairing this aircon system is very similar to the split aircon system. It starts from one unit, then moves on to the other and finally ends with fixing the tubing. The only difference is that the central aircon system is bigger and comprises a complex network of ducts and vents.
Repairing and maintaining needs to be done only by well-experienced Aircon servicing professionals who have adequate knowledge about the systems workings.
There are a few other types of aircons that are used in Singapore which include Portable Aircons, Ceiling Cassette Aircon's, and Ceiling Suspended Aircon's.
Which Type of Aircon is Best?
Honestly speaking, different areas require respective kinds of Aircon's which suits best in terms of temperature cooling, electricity usage and air purification.
Although, there are many options available in the market, the Portable type is the most preferred one owing to its ease of installation and maintenance.
Here are a few factors which make it an effective buy:
Portable Aircon's are extremely easy to install, and the entire process can be completed within 30 minutes flat. The two biggest components of installing a portable aircon are its venting and drainage.
The vent of your portable aircon should pass through the window to throw the hot air outside your room. The drainage needs to be sealed properly, and you are ready to go.
The portable aircon is amongst the most compact types of aircon systems. As all its components are hidden, the technician has to use some advanced tools to open it. The process is long but simple and uncomplicated.
However, it depends on person to person which Aircon type suits them according to their space. This was just a viewpoint which can be considered while choosing the best Aircon.
Different types of Aircon Services which help maintain the unit to optimal levels
  General Servicing
General servicing is the most basic type of service amongst all. If done at regular intervals, it can help in prolonging the life of your Aircon unit, upping its performance to optimum levels.
Usually, general Aircon Servicing includes the following:
– Dismantling the unit, cleaning the front panel and cover, removing settled dust in the air inlet
– Cleaning air filter
– Cleaning the vacuum evaporator coil to optimize air flow
– Vacuuming drainage pipe to remove rust and build-up
-Vacuuming blower parts to remove dirt and mold that causes weak airflow
– Wash and vacuum water tray to remove dust and dirt.
– Performing gas pressure test to check coolant level in the air-conditioner.
– Performing a test run to check the smooth functioning of all components
It is advisable to go for a general servicing every six months to make sure the unit is maintained well and performs to its best. You can book an Aircon Service company from Carousell to make things easier.
  Chemical Wash
Chemical wash is more like an advanced version of general servicing. This is most suitable for those units which haven't been serviced for more than 6-9 months.
This process involves cleaning the components like air filters, fan, cooling coil and blower using a chemical-based solution. This type of service is recommended once a year to keep your Aircon unit in top shape.
  Chemical Overhaul
This is a step ahead than chemical wash and involves dismantling the entire unit and parts like drainage pipes, heat exchange coils, and blower wheels for a deep cleaning process. This type of service is best recommended for units which are facing issues like leakage and weird operational sounds.
  Condenser dry cleaning
The condenser is an important part of an Aircon system which needs to be kept in proper shape for smooth functioning of the Aircon.
The condenser contains coils moves heat out of the premises, replacing it with cool air. With time, dirt and dust accumulates in the coils, preventing it from proper functioning.
Any issue with the condenser will affect the cooling power of the Aircon unit. Hence, it is important to get it checked at regular intervals for optimal performance.
  Gas top-up
If you sense a decline in the cooling, the compressor might need a gas top-up. As there are no indicators that display the gas levels, it is advisable to check it through an Aircon Technician and get it topped if required.
Running the Aircon with low gas levels is harmful and can cause damage to the unit to some extent.
  Air filters
The air filters need to be checked at regular intervals and kept free from dust and getting clogged for best results. The technician will check for it during the service and attend to it if any issues found.
Conclusion
Though there are many options to choose from when it comes to air conditioning, it's better to check which type of unit suits your space best.
Always engage a reliable Aircon Service Company in Singapore who can ensure you of good servicing as it will help you keep the unit maintained and checked at regular intervals, which might prevent sudden breakdowns. Carousell has a vast list of reliable and trusted Aircon Service Companies which can provide you with the best of services.
After going through the details mentioned above, you can be clear of your choices and choose the best which suits your requirements.