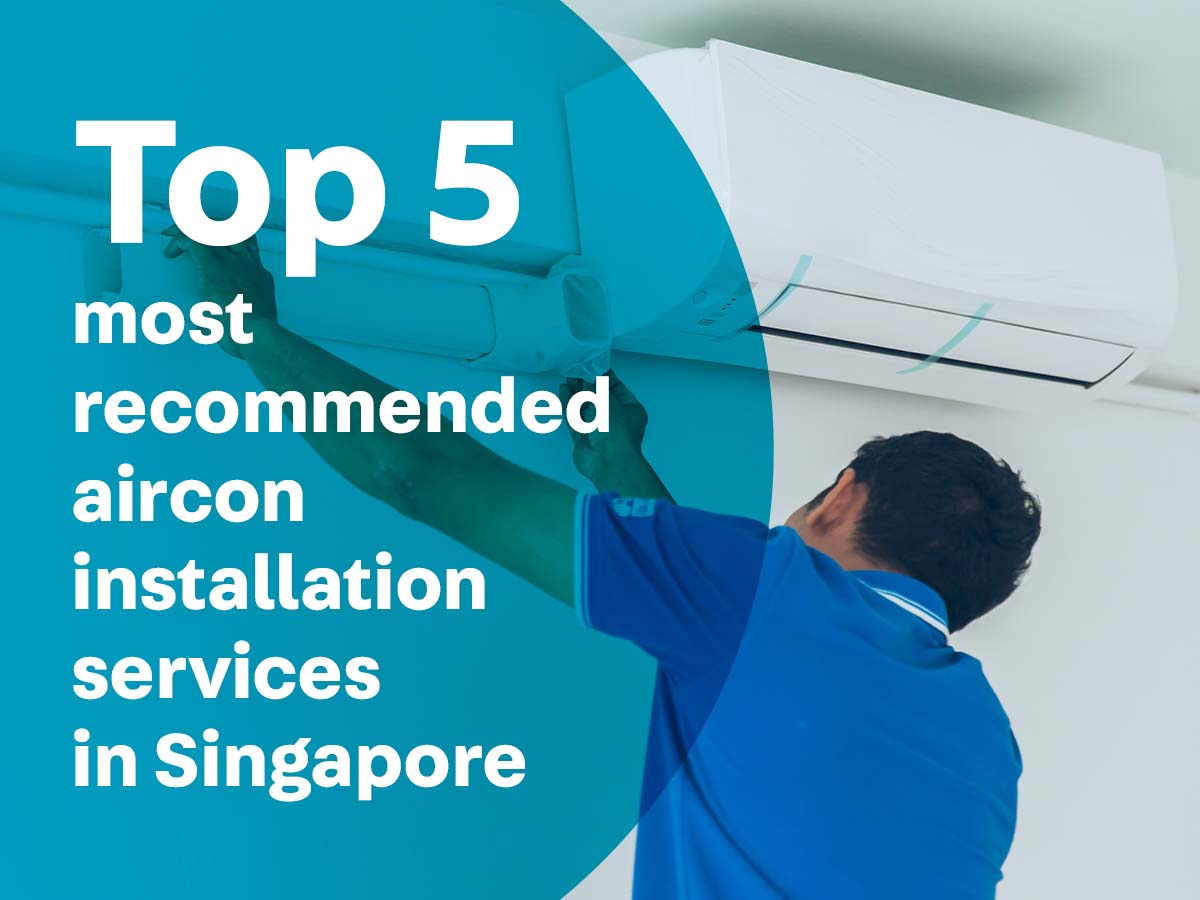 Reading Time:
7
minutes
Why must one install an aircon and service them regularly?
Installing aircon and regularly servicing them is of utmost importance. When was the last time the aircon in the room was serviced? If the answer is, "I don't remember" then it is probably high time. Mere aircon installation is not the end of the task but only the beginning of it. To make sure the system performs at its peak one must look after the wear and tear by regularly servicing it. Whether one uses the unit all 365 days or just when it is hot, the air filters in the aircon collect dust, pollen, amongst other harmful pollutants that may also trigger several allergies. To avoid this, a skilled and trained professional must be hired who will then go ahead and clean the aircon filters and ensure there is clean air circulation in the room. Most aircon brands in Singapore recommend regular upkeep and maintenance of the appliance.
Doing this can boost the aircon performance multifold. While it is at it, regular servicing also leads to reduced electricity bills in the long run. This is because a non-serviced aircon may end up using more electricity than required to work twice as hard to deliver cool air while still not optimally functioning. It is even more important to have access to trained and licensed personnel to do this job while also being cost-effective. Carousell lists several services revolving around aircon installation in Singapore and regular servicing but choosing the most reviewed ones with reasonable prices is the way to go.
Now here are 5 most affordable aircon installation services in Singapore:
Aircon not cold? Are strange noises disturbing a peaceful nap? Get your aircon serviced today by Luce Aircon Specialists. They perform all types of aircon servicing including general servicing, chemical overhauls, jet washing, diagnostic, and repairs. Their rates are one of the most reasonable in the market but with no corner-cutting. All of their expert technicians have a minimum of three years of experience working as aircon servicing and repair technicians in Singapore. Every single one is verified to have an electrical engineering degree. Luce's team is honest and hardworking, they have no hidden charges, maintain transparency, provide detailed cleaning and warranty on all visits. To ensure higher payment security they only accept PayNow or bank transfer payments. The technician will give the client a QR code at the end of the session which can be used to complete the payment. Their prices are as follows for Wall Aircon General Servicing:
6 Units: $19 per unit

5 units: $20 per unit

4 units: $21.25 per unit

3 units: $25 per unit

2 units: $27.5 per unit

1 unit: $50

*11 or more units? Down to $15 per unit
Jet Wash General Servicing: Add $10 per unit to the normal general servicing price (only available for wall-mounted aircons)
@tegoehh testifies saying, "Fuss-free and pleasant transaction. Prompt replies and punctual with the arrangement of the collection. Thanks!"
HW Aircon specializes in aircon installation in Singapore for HDB BTO, Condo, Landed, and Offices. They are highly recommended for aircon repair, aircon cleaning services (normal, chemical and overhaul). Other services such as gas top-up and troubleshooting all aircon-related problems are also done by them. They come with no hidden costs or GST. The technicians who provide exceptional aircon services are highly skilled, trained, and licensed. Their rates are competitive and reasonable. HW specialists are backed up by 10 years worth of experience in the industry. They fix all aircon issues such as aircon leaking, no coolness, blowing warm air, aircon making noises, and blinking light malfunction.
Tan HK in Singapore adds that "Very impressed with service. Reasonable and absolutely worth it. The technician was on time, very knowledgeable, and competent. They are competitively priced and can accommodate service appointments at your convenience. Will use them in the future again. Would not hesitate to recommend them to other friends and family."
They have worked with brands like Carrier, Daikin, Electrolux, EuropAce, Fujitech, Fujitsu, Haier, Hitachi, Kolin, LG, Midea, Mitsubishi Electric, National, Panasonic, Samsung, Sanyo, Sharp, and Toshiba. HW understands that Singapore is hot all year round and that aircon plays a huge part in providing relief to many which is why they take their job seriously and offer complete customer satisfaction.
Cooling Aircon is an affordable and well-trusted aircon servicing company. They are a professional one-stop station aircon company in Singapore. They specialise in Aircon Installation, Dismantling, Disposal Aircon Maintenance & Repair Aircon Servicing. Cooling Aircon is known to be cheap and reliable without compromising on the quality of the service. They have complete transparency and have no GST or transport charges. Not only this, but they also ensure there is no holiday, weekend, or night surcharge.
@budakbawahblk described them as, "Professional workmanship. One unit was leaking and a site assessment was done. Did a complete overhaul cleaning of all 3 air-conditioning units. Even cleaned the compressor. Pricing wise is reasonable! Will definitely recommend!" 
They also offer general servicing, chemical wash, chemical overhaul, Aircon gan filling, and water leakage. @muhdshazwan69 adds, "Fast and efficient service. One unit was leaking and a site assessment was done. Did a complete overhaul cleaning of all 3 air-conditioning units. Reasonable pricing and will engage their service of quarterly servicing."
Airtrons offers general servicing, steam cleaning, chemical overhaul, troubleshooting, repair, replacement, and installation amongst other services. They also specialise in repairing all kinds of aircon while ensuring quick scheduling and a 40-days warranty after the completion of the service. The aircon servicing company is also available after hours and has skilled and friendly technicians. They only advise what is needed and don't overprice. Be it anything; they reach immediately and fix it. 
@pokezoo says, "Thanks for the urgent gas top-up !! My aircon 4th time being handled by them and they never stop impressing me. Asked for a top up in the morning and on the same day they could do it ! Recommended !!" while @buy_sell122 adds, "Thumbs up for the excellent service, even though I called u guys at night to come and check what's wrong u guys still came to do the checking and immediately we have a schedule to change the entire condenser which was done smoothly and efficiently. Now all the aircon is working already. Pricing is reasonable."
They are described to be sincere and punctual. Not only are the technicians licensed and well-versed in their work, but they also refrain from up-selling and recommending unnecessary top-ups.
KoolClean offers exceptional aircon installation services in Singapore along with aircon cooling servicing as well. They are known for their prompt replies and immediacy while ensuring only the best quality craftsmanship. Their aircon servicing starts from $17 and chemical wash from $60. The detail so f the pricing are as follows:
3 units $70

4 units $80

5 units $90
KoolClean garnered several good reviews including one from @paffendorf76 saying, "Instead of the chemical wash for my 4 units, I decided to go ahead for fully compressor, gas top up and chemical wash. Now, the aircon is bloody cold! Yeah!! The serviceman also notified me that one of the receiver sensors was already 'kaput'. At least 4 units+compressor within 2 hrs of servicing+cleaning is definitely fast for me. Quality is better than my prev regular contractor."
@sushi_ket adding, "My aircon has been servicing 2 times in a month and yet nothing helps. Finally decided to get it washed chemically and Kool & Kleen replied in less than a minute. Had to have them on the day itself and they came through. Their men were very knowledgeable and did their job really fast and mess-free. Will definitely contact them for future washes. Thank you!"
Conclusion
The availability of these resources to combat the year-round scorching heat of Singapore points in the direction of installing a new aircon or servicing the existing one. Understanding what the issue is may not always be possible without the help of a professional aircon technician. This is why it is crucial to hire excellent, licensed technicians who know what they are doing without damaging the aircon or putting one's life at risk due to faulty procedures.
Keeping in mind the harsh summers of Singapore it is only fair to opt for aircon installation in one's place of residence or profession. An aircon removes moisture from the air, reduces noise, cools the whole space, improves air quality, and calms the mind in contrast to the sweltering heat outside. Aircons also filter air particles from the air which disturb human health and might even trigger several allergies. They are useful in damp and humid areas and prevent mold, damp, rotting windows, and other moisture-related issues. Office environments are seldom comfortable during the summer months when the sun is blazing outside. Without aircon, even the most efficient workers fall victim to the humidity. They tend to be more productive when they are comfortably situated in a room with a good, serviced aircon.