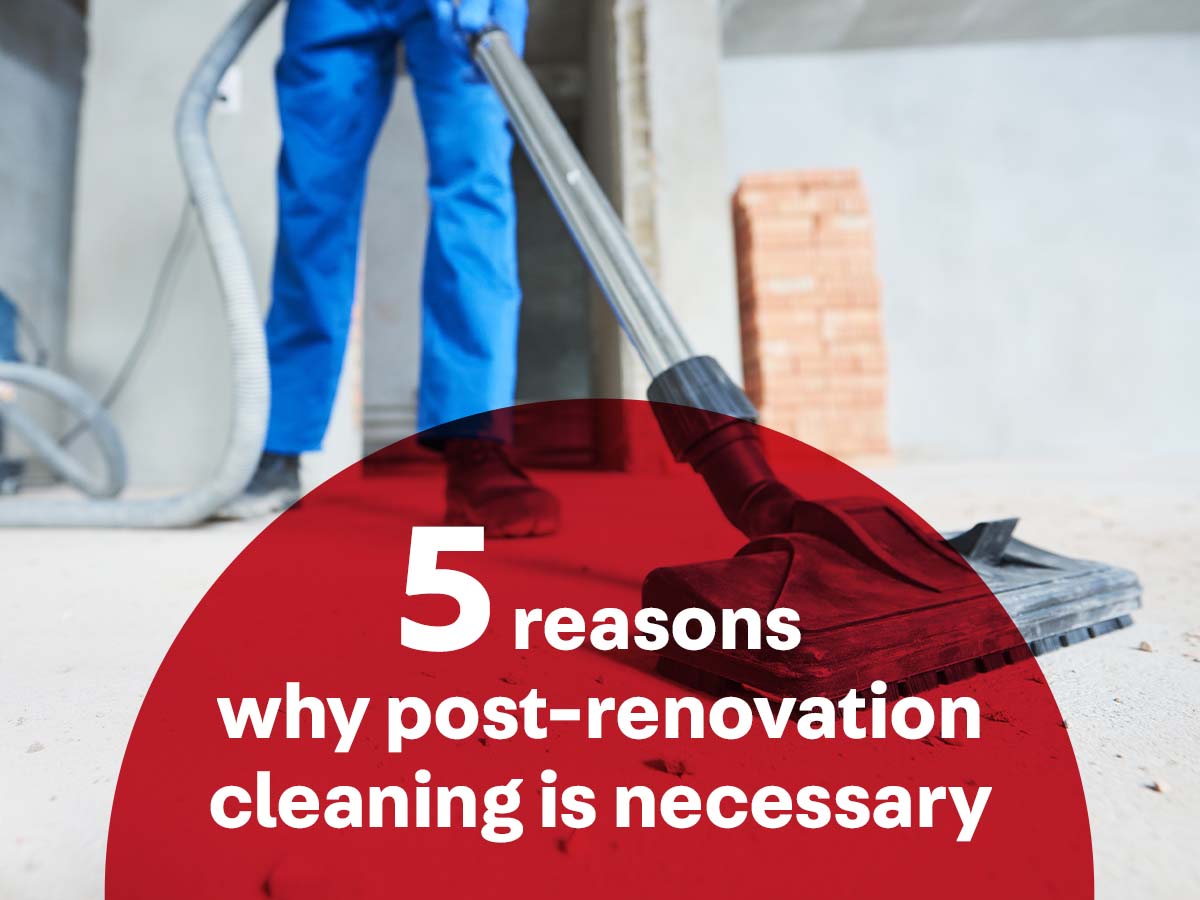 Reading Time:
7
minutes
Renovating your home is a task in itself, clearing up the mess after is a whole other ball game. Most people plan to clean their homes after renovations during events like Chinese New Year, Hari Raya, Deepavali, or simply after their house-warming. But the question of whether they should clean their homes themselves or hire a professional cleaning service is a double-edged sword that hangs above their heads. While cleaning it by themselves is more cost-effective, it can also be inefficient since home renovation does mess up everything around. To reach every nook and corner of their homes, it is necessary for them to hire licensed and trained post-renovation cleaning services in Singapore. 
Post-renovation cleaning services look after things one might not have even thought required cleaning and not pay any attention to along the way. Moreover, the professionals have access to pieces of equipment that do the best cleaning job. The cleaning potential of a machine that is created for the sole purpose of post-renovation cleaning makes this task simpler than ever. More often than not, homeowners find themselves in situations where they're left in charge of the cleaning due to the renovation contractors, not promising post-renovation cleaning services.
However, if you want to clean your home yourself, here is what you will need:
Now, that the self-cleaning folks have been catered to, here are a few reasons on why to opt for professional post-renovation cleaning services in Singapore:
Excessive Dust
While most homeowners deal with excessive dust settled on the surfaces and furniture of their homes by using a damp cloth to wipe it off, professionals advise against it. What they do is, clean all the settled dust with a dry duster or vacuum cleaner first after which they use the damp cloth to clean the remaining dust. They clean surfaces like Walls & ceiling, Ceiling fans, Light fixtures, Air-conditioner, Cabinets, Shelves, Windows, Mirrors, Countertops, Stove, Small home decor pieces, and Door & knobs. Professional post-renovation cleaning service in Singapore provides clean the aforementioned without any risks or safety hazards.
Pieces of equipment
Unlike regular office-going homeowners, professional post-renovation cleaning services have access to state-of-the-art equipment. They have some of the best pieces of equipment for things like dusting, mopping, steaming, and overall sanitisation. These types of equipment allow them to do a thorough cleaning of people's homes and make sure it is spotless. Renovation during festivities may cause lots of damage and may cause excessive junk and dirt to lie around the home. The professionals make sure that this is taken care of. Purchasing these pieces of equipment will most likely burn a hole in the pockets of the homeowners considering this post-renovation cleaning is not a regular household chore. It is best to hire professional services to look after issues such as these.
Ensures safety
All the junk lying around one's office space or their residential BTO can prove to be a real health risk and safety hazard. Especially if there are children. Professional post-renovation cleaning services ensure the safety of families and office staff alike. They make sure all the scraps like leftover metal, tiles, paint buckets, bricks, cement, etc. are taken care of before they obstruct anybody's life and endanger it. 
Keep the ducts clean
To prevent contamination from renovation construction residue and debris it is extremely crucial to keep the ducts clean. Renovation can clog up the air filters and find its way into the ducts of one's home. Having this running during renovation can spread dust all throughout your space. This is why the heating and cooling system should not be in use until the construction residue and debris have been cleaned up by the professional post-renovation cleaning service. This is especially of importance during drywall installation, cutting wood, or other such jobs that generate a lot of dust.
Waste disposal
Apart from having knowledge about how to properly handle dangerous waste materials and scraps, professional post-renovation cleaning services also know how to get rid of them safely and efficiently. Keeping in mind their hazardous nature, simply tossing them in the bin isn't enough and the professional understands this. This is why they are accompanied by a streamlined process of discarding these extra materials without risking the well-being of their clients. They also know the laws and regulations one needs to adhere to in order to dispose of them properly. These professionals will discard everything from extra tiles and wood pieces at the right places and be compliant with the local laws. 
Here are 3 companies that offer spotless post-renovation cleaning services in Singapore:
Oasis Sanitisation is a post-renovation cleaning service in Singapore. They cover everything ranging from HDB to commercial offices.  All their trained cleaners come with an excellent 10-year experience and clean record. The staff at Oasis' sanitisation undergoes a rigorous health and safety training course before deployment on-site. In light of the reversion to Phase 2 (Heightened Alert), all their cleaners are fully vaccinated. They will clean, dust, and sanitise every inch of the property. One can be assured that their space will look as good as new, maybe even better! They will provide all the chemicals and get their pieces of equipment. The rates for their services are fixed regardless of weekdays or weekends and take pride in their transparent prices and no hidden charges. The services they provide include but are not limited to:
Floor steaming 

Covid-19 Antimicrobial coating 

Antioxidant purification 

Upholstery fabric cleaning 

Mattress & Sofa cleaning

Curtain cleaning 

Marble polishing

Painting
@budionegrace79 adds, "Highly recommended cleaning service, Lincoln and his team were amazing. The cleaners were punctual and they were fast in their cleaning. They went through the whole house with me after they were done cleaning. And when there were some areas that needed to be rectified, they immediately cleaned it for me. Thank you so much for a great job!"
They are a locally registered company offering household cleaning services. Sparclean Town has experienced and professional cleaners who can keep spaces spick and span. They mention that it is advised to book one's slots early to prevent missing out on their services! The prices are as follows:
$22/hour (3h and above)

$25/hour (2h)
The services they provide are:
General vacuuming, sweeping and mopping of floors, cleaning of toilets, Kitchen cleaning, General dusting and cleaning of rooms, Window Cleaning / Grills Cleaning (Interior only), Laundry (Machine Wash and Hanging only), Ironing, End of Tenancy or Handover Cleaning, Pre-Move In Cleaning, and Spring Cleaning before festive seasons or special occasions. Cleaning materials are to be provided by the client for all cleaning services or Sparclean Town will provide them at a nominal fee.
@II28mh testifies saying, "Jolie & Amanda did a fantastic deep cleaning job at my newly renovated flat! They scrubbed every corner & cleaned every inch meticulously. They were very focused throughout the session and I particularly appreciate their professionalism to do their best. They were also not calculative and did not charge a cent more despite spending almost 7hrs cleaning. Thank you both!"
Clean 99 specializes in Regular Home Cleaning, One-time Home Cleaning, Steaming & Sanitisation, and Pressure Jet. They are an NEA-certified company in Singapore for Residential and Commercial cleaning. All cleaning equipment and chemicals will be provided by them along with a fast response and confirmation rate.  The client only pays after the final inspection and if they are satisfied. The type of services they offer include:
Move-in / Move out Clean (Home cleaning and Commercial) 

Hand over End of Tenancy Clean

Deep Clean 

Painting and restoration 
Their post-renovation cleaning services are priced at: 
Painting – 1-litre paint (normal) = $30 (PM us to enquire more!)

Power wash and Jetwash

Steaming and deep dirt extraction- Mattresses/Sofa/ Pillow/ Curtains/ Carpet cleaning

Dry cleaning of curtains/clothes etc. 

Wall Scrubbing to remove stains (from $40)

Acid wash for Toilet/Kitchen Living Room/Balcony

Covid disinfection fogging

Oven and microwave degreasing (from $80)

Kitchen Floor degrease (from $70)

Toilet Mould removal (from $80)

Toilet Lime Stains (from $80)

Tile grout (from $80) 

Power washing of yard/porch/awnings (from $80)

Rust removal (from $50)
Their services are a class apart. With fixed quotations, they deliver on their promises. Clean 99 cleans 100% of your property and leaves no corner unclean.
@ohhweenaa adds, "Thank you for the last-minute arrangements!!! Clara was really prompt at replying and she also replies to all my questions! Great customer service. The whole process probably took about 30mins for the whole house and the person helped to open all the cardboard doors! Thank you so much! Pleasant experience!"
Conclusion
The cleaning that comes after renovation must not be overlooked. It is necessary to deal with the post-renovation cleaning by either looking after the basic cleaning themselves and then hiring a professional post-renovation cleaning service in Singapore to provide deep cleaning. Not only are they better equipped to do this but it will allow the homeowner time to unwind and relax while also cost-effective.