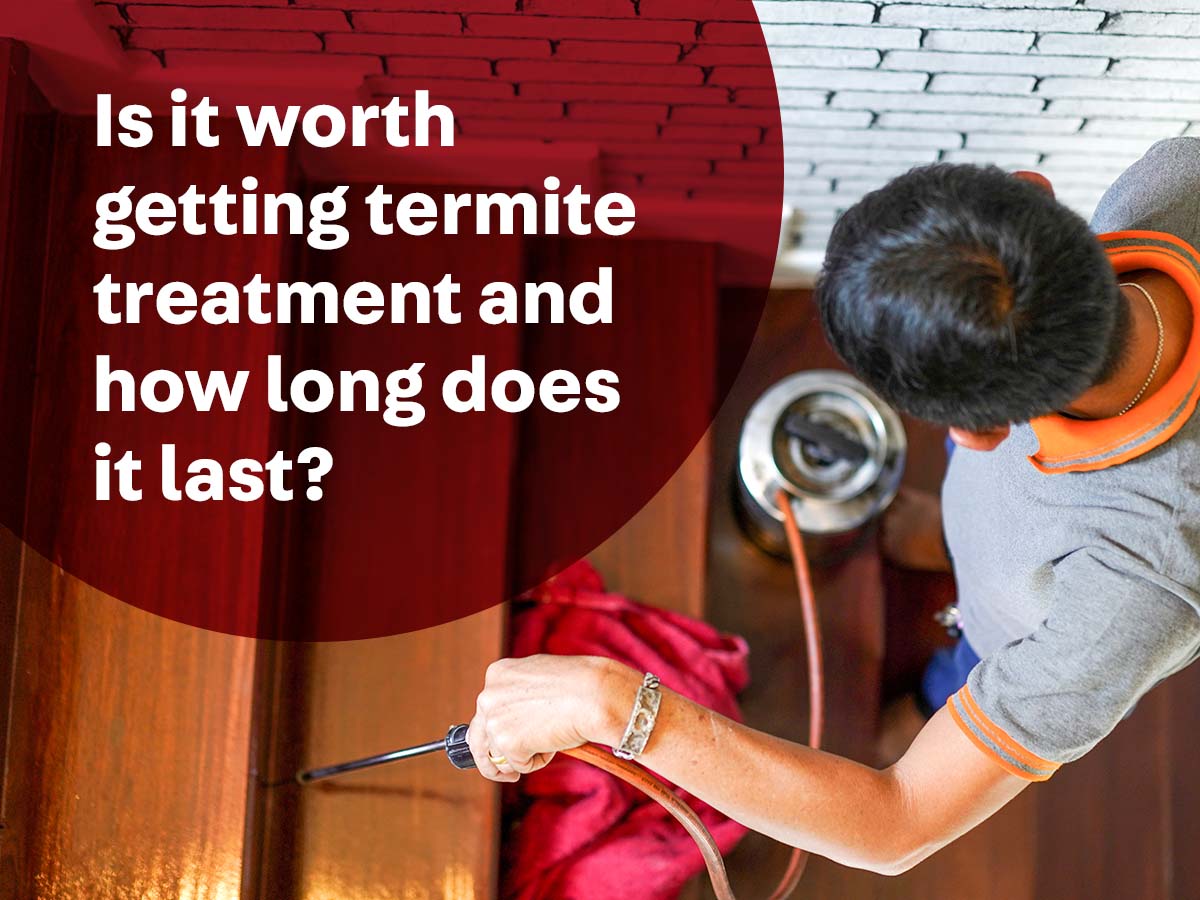 Reading Time:
7
minutes
A pile of wood dust near your wooden furniture is a clear-cut sign of termite infestation in your home. It is really difficult to get rid of termites, due to their tiny size. And once they start multiplying in your house, feeding on the foundation of your house and your costly furniture, there is no turning back from much-needed, long due termite control. 
Carousell offers a wide range of termite control agencies around Singapore, with professional technicians and services, innovative approaches, and eco-friendly products and executions at highly competitive prices. 
Why do I need Termite Treatment?
Termite control is essential in your quarterly expense since it can cause devastating damage to your house and decor, which will result in expensive repairs and replacements. 
You can save yourself thousands of dollars by getting your house inspected for termites regularly. And if required get your house treated to nip the infestation in the bud. 
Termite treatment in Singapore can be expensive if the infestation is severe. To ignore the problem or delay treatment is time-consuming, far more expensive, and hazardous to health. 
Therefore it is completely worth your time and money to get a termite treatment for your house, office, or commercial space if you notice any manifestation of termites. 
Carousell has a list of termite treatments in Singapore, at affordable rates that provide good service to customers across the country. Hire a termite treatment service provider here. 
How often do I need to get termite treatment?
It is recommended that homeowners invest in an annual termite control package, and get their homes inspected twice a year. 
Commercial spaces and offices can also sign up for yearly termite treatment in Singapore, and pest control as a precaution against termite attacks. 
5 simple ways to prevent termites
Avoid Moisture:
Moisture is the key reason behind all kinds of pest infestations in your house, including termites. Removing excess moisture from your house will help in keeping termites away. 
Switching on your air conditioner at periodic intervals during the day will maintain a low temperature, which will also help in preventing termite infestation. Alternatively, buying a humidifier will also help you prevent termites if you live in an area with high humidity. 
There are brand new as well as second-hand, branded air conditioners and humidifiers available on Carousell, at good prices and amazing quality. Check them out today!
Declutter your house:
Decluttering your house is a huge step towards preventing termite and pest attacks in your house. Carrying out a decluttering drive is necessary whether or not you have hired professionals for termite control, since papers, magazines, and cardboards provide a sustainable environment for termites to grow in.

If some of your furniture has been damaged by termites, isolate it immediately and remember to never bring it in contact with uninfected furniture, as a preventive measure.
Keep soil away from wood:
Maintaining a careful distance between soil and your wooden furniture is yet another preventive measure against termite attacks. 

If you have a patio or a decorated garden, you can use stones or cement to create a barrier and separate the soil from the wooden decor. 
Place infected items in the sun:
If you see that your furniture or wooden belongings have been damaged by termites, placing them in direct sunlight for 3 days can help in mitigating further damage. Since sunlight and heat kill termites and remove moisture it is a great way of preventing as well as curing the infected wood. 
Fix Leaks:
Decayed roofs and moisture-laden walls are the perfect hosts for termites. Fixing the leakages causing the presence of termites, and executing inspections can help a lot in preventing termite infestation. 
For quick plumbing, and urgently fixing leaks, you can find a lot of plumbing services and tools available on Carousell at very cheap prices. 
Which essential oils repel termites?
Cinnamon Oil is known to repel insects and termites in an effective and easiest way. However, Vetiver Oil, extracted from the Vetiver plant- a green grass native to India is proven to be a much stronger repellent of termites than Cinnamon oil. 
Oils can be sprayed or applied directly on the infected surface of the wooden object. Using 4 drops per gallon of water is enough, although if needed the concentration of the oil can be increased. 
Other oils that are effective for repelling termites and pests are tea tree, clove bud, orange, cedarwood, and garlic oil. Out of these, clove bud oil and garlic oil is the best for killing termites according to the Journal of Agricultural and Food Chemistry. 
When should I call a termite inspector?
Since termites do not hibernate, your house is at risk of infestation all year long. Homeowners don't notice the attack until they see piles of wood dust around their furniture or discarded wings in light fixtures. 
While we think this is the beginning of them building a colony, and the infestation is at a low stage, the truth is that when we start noticing evidence of termites, that's the time when their colony is at its peak. Termites swarm when they have built a colony, not when they are beginning to develop one. 
A well-developed colony has at least 300,000 termites- the time when you start noticing the termite infestation in your house. 
You should schedule an appointment with a termite inspector when you start seeing small signs of the infestation. As a precaution, call a termite inspector for a house inspection at least once a year, even if you don't see any signs of termite infestation. 
 Do not delay inspection and extermination just because you think it's just the beginning stage. Termites reproduce rapidly, and you will be in for more damage than you can imagine if you are not prepared. 
At Carousell, you can find a list of termite control in Singapore and termite treatment services in Singapore. Have a look, and take an action against termites in your house today!
Top 4 termite treatment services in Singapore
Pest Links is one of the best termite control in Singapore. It is the go-to agency for all termite-related issues, dealing in residential, commercial spaces, and offices. 
The company deals in Hollow wood, Mud tubes, swarming insects, dry and damp wood termite removal, cockroaches and ants infestation, bedbug treatment, and pest control.
Pest Links prides itself on its rapid and swift termite removal techniques, popular across Singapore. The prices are affordable and the treatment is completely value for money and recommended by many householders on Carousell. 
The company uses the latest technology for the extermination of pests and termites. It is wholly dedicated to providing the best termite treatment in Singapore. It aims to provide strong customer support and is known for its reliability and responsiveness. 
Reach out to them here.
WTG Pest Control specializes in various kinds of termite, pest removal, and prevention.
They provide the best services, with a work warranty of a month on all of their pest treatments. However, their techniques have been said to be 100% effective, with great value for money. 
Additionally, they also provide free quotations and promotional offers on their services. 
The company has been in service for 20+ years and is known for its techniques and enthusiastic problem-solving. They have many satisfied customers across Singapore, applauding their work and professionalism on Carousell and Facebook. 
Reach out to them here.
United Pest is acclaimed for digging deep into your termite problems and solving them using the most effective methods possible. 
Their services include bed bug removal, rodent extermination, mosquito and termites removal, and many more. They also provide bug-prone zones with regular control services and follows. 
United Pest has recently launched their thermal imaging technique where they detect pests using infrared radiation. 
United Pest provides a thorough inspection inside and outside the infested premises to come up with detailed assessments to judge the infestation followed by specific solutions for each client.  
They aim to provide their clients with prompt and effective solutions with fast service for their termite-ridden houses. 
Reach out to them here.
NEA-trained and certified Pest Clinic prides itself on a combined experience and expertise of 30 years. The company guarantees nearly 100% hassle-free eradication of pests, termites, and unwanted insects from your property after their treatment. They are the one-stop termite control in Singapore. 
They have a team of highly qualified, and skilled professionals, promising quality services and excellent customer support, at very reasonable prices. 
Their treatments cause zero health problems to the users, zero damage to home appliances and furniture, but guarantee complete incapacitating of the unsolicited pests and insects. 
Pest Clinic also offers attractive regular promotional offers for all clients. Their offer for a complementary treatment on the purchase of a maintenance program is very popular among its customers. 
Reach out to them here.
Conclusion: Termites don't usually carry any harmful diseases, but people living in a termite-infested house can suffer from asthma or other allergies, because of the dust and droppings. 
Carousell offers a lot of tools used for termite prevention, and a list of the best termite control in Singapore.
You'll find them at reasonable prices, along with amazing offers and deals. 
Don't mistake a termite infestation to be a minor issue, it can cause more damage than you can foresee, check out Carousell and get rid of termites in your woodwork today.