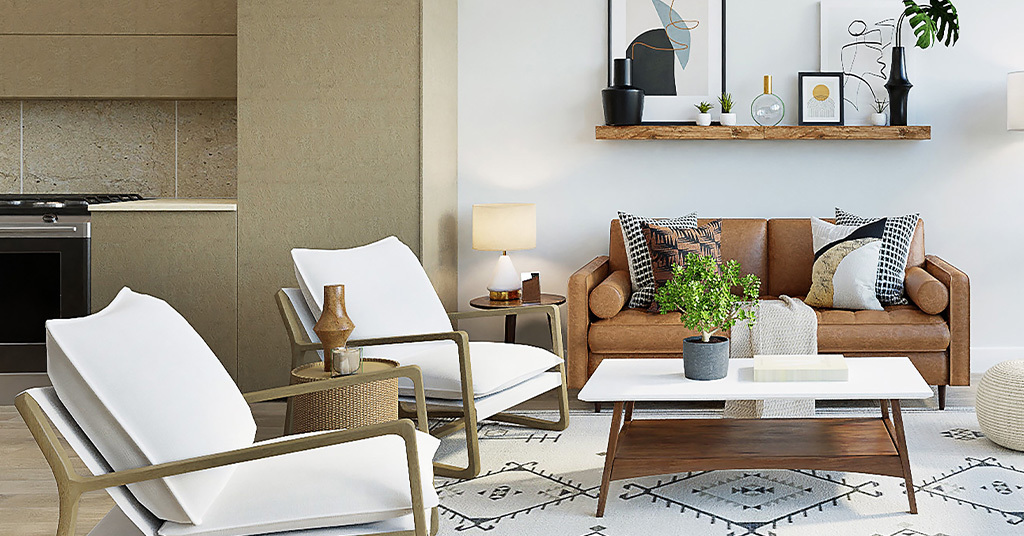 Reading Time:
9
minutes
Introduction
In Singapore, the majority of accommodation comes under the HDB category. HDB are Housing Development Board (HDB) flats that are subsidized for local inhabitants of Singapore. These are much more affordable than condos, which definitely burn a hole in your pockets when it comes to buying one in the city where property prices are touching the skies.
About 80% of Singapore's population stays in HDB flats. These flats are specially designed, with most of them having an open layout. There are mostly 3-room, 4-room and 5-room HDB designs in the city which have improved a lot along the years, and today match up to the value of private condominiums in Singapore, like the HDB flats falling under the Design, Build, and Sell Scheme (DBSS), which have interiors that match up to the quality of private housing interiors.
There is a misconception that renovating an HDB flat costs a bomb, but that's not the case as you can club a few ideas that can help lower your budget to a great extent as low as S$30,000. Yes, you heard it right. If you hire the right HDB Renovation Company, you can very well fulfill your dream of renovating your HDB flat under a limited budget. The most important thing to be noted here is to hire only HDB Registered Renovation Contractors in Singapore, as it can save you from the nightmares that come along with engaging a shady renovation firm.
To save homeowners from such miseries, the HDB board has put forth stringent guidelines and requirements in order to qualify for the role of an HDB Contractor in Singapore, to make sure you don't end up picking the wrong firm or professional who creates unfavourable scenarios at a later stage of renovation.
How much does it cost to renovate an HDB home in Singapore?
Renovating your home is a stressful process given the amount of time and finances that go into it. What's more painful are the last minute surprises that come during the final costing. To stay away from such situations, it is important to be aware of anything and everything that goes into renovating your home.
It is impossible to find a concrete answer to what your final renovation costs would be because at the end there are many products and services which add up to the costs unintentionally, setting you back by a few dollars. However, if you plan the process well, you can fit the entire renovation cost under a strict budget.
There are various factors that affect the HDB Renovation Cost of your home depending on the category they fall in – HDB BTO or HDB resale.
Houses falling under the HDB BTO category are new government subsidized housing that are already furnished and are equipped with all the basic amenities. That's the reason they don't require much renovation.
Furthermore, HDBs are a highly subsidized housing scheme floated by the Singapore government which come with several rules and regulations pertaining to renovation. The average cost of renovating HDB homes range between $10,000 – $60,000.
A point to be noted here is that the bathroom and kitchen flooring and wall tiles cannot be hacked and replaced if the HDB BTO is less than 5 years old.
       

HDB Resale Renovation Cost
Typically, the HDB resale properties are older homes with amenities that don't necessarily match modern tastes. These homes require a lot of renovation work to make them look impressionable.
Hacking, plumbing, electrical, painting, masonry, you name it, and it is required. The average cost of renovating Singapore HDB ranges between $30,000 – $100,000.
The rules are a bit relaxed for renovating older HDBs and this results in higher costs as everything has to be replaced during renovation.
The renovation cost increases to a great extent according to the type of property and scope of work involved.
How does the scope of work affect the renovation costs?
HDB Home Renovation is not as simple as it looks, as it involves various kinds of services that involve professionals with different skill sets. Some of the services cost a lot more than others.
Here is the breakdown of the HDB renovation costs that goes into a particular kind of service.
Renovation Service
Percentage of Cost*

Carpentry

35%

Masonry

25%

Glass &

Aluminium

11%

Electrical

9%

Hacking

7%

Ceiling Partition

7%

Painting

6%

Plumbing

5%

What factors increase the renovation costs in Singapore?
When going for a renovation there are a lot of ideas that flush into the mind which pushes you to stretch your finances in order to get that picture perfect design. This is the sole reason the budget for renovation increases.
There are certain items that are costlier, and if you don't pull a plug where required, the renovation budget would definitely hit through the roof.
Here's a comprehensive list of features that can be considered as the budget enhancers in any renovation project:
  Tiling
Any tiling except the vitrified tiles fall under the fancy category which shoots up your renovation budget a bit on the higher side. If you opt for granite, marble or any other premium material, there would be a substantial rise in the renovation costs.
Tiles that are more than 2×2 ft. in dimension and is mostly used in modern homes would call for a budget increase.
False Ceiling
If you want to enhance the plain, dull look of your ceiling, then going for a false ceiling design is an ideal option.
Detailed false ceilings are an add-on to your home interior and come along with distinct styles like L-box, U-box and Cove lighting which increases your overall renovation budget.
Fancy electrical fittings
If you choose the conventional electrical fittings your budget would stay under control, but if you plan to install high end lighting fixtures, the renovation cost is going to spiral upwards.
Customized furniture
Carpentry costs are comparatively higher than any other services in Singapore, so any kind of furniture work that you plan to do in your home is going to cost you.
Furniture includes beds, wardrobes, kitchen cabinets, show racks, TV units and much more, which if customized according to your tastes are going to add up to your total renovation costs. 
New vs old HDB renovation
HDB Home Improvement Programme (HIP) has pushed home renovation in Singapore to the next level. However, an HDB BTO Renovation is completely different from an HDB Resale Renovation.
One of the biggest factors that comes in differentiating between the two is space management as you have to start renovating an old HDB space looking at its structural limitations.
Before you renovate your HDB resale flat, you need to follow certain rules and follow some legalities. There are certain HDB renovation guidelines which need to be followed, and also a few permits need to be acquired before making any structural changes in your house.
Even after the involvement of the HDB Home Improvement Programme, you need to make sure to follow guidelines, failing which the renovation project would be considered as unauthorised. The slightest of changes are not allowed unless you have the permit in place. If you fail to follow the rules and acquire the permit, there's a fine of S$5000.
These Home Renovation Works Require a Particular Permit:
       

Revamping of bathrooms:

Replacing the HDB bathroom tiles is a tiring process and extremely taxing. Since the work requires removal of complete tiling work done earlier, you have to wait for a minimum period of three years to renovate it, the reason being the waterproofing base takes time to stabilize.

       

Installation of air-conditioners:

This task needs to be specifically carried out by a Building and Construction Authority (BCA) trained professional to ensure that the installation is done keeping in mind all safety precautions.

       

Flooring and wall tiles replacement:

To replace any flooring or wall tiles, you require a permit. For any old tiling work to be scrapped and replaced with new ones, you need to follow stringent guidelines while doing the work to ensure that the structural walls are not touched or harmed in any manner.

       

Replacing or repositioning doors and windows:

While making any changes to the position of the doors and windows, a few HDB renovation guidelines need to be followed. Your new windows need to be of the same dimensions as your old ones. Hinges windows should be around 50-70 cm wide, whereas sliding windows should be 50-120 cm wide according to HDB renovation guidelines.
Owing to these strict guidelines, quality work is carried out by HDB Renovation Contractors, which ensures maximum safety for the homeowners. You can find some of the best HDB Renovation Contractors on Carousell.
How to renovate your HDB home in a tight budget?
According to statistics an HDB 4 Room Renovation will easily cost around S$55,000 which includes demolition, electricals, plumbing, flooring, painting, carpentry and furniture. However, you can very well set your budget to less than S$30,000 if certain rules are followed.
Though working under this budget seems like an impossible task for many, a good Renovation Contractor can complete the project around this specified figure.
Here are some tips which can help reduce your overall renovation costs to the minimum:
1. Smart shopping
The foremost thing to do is to check out the prices at different shops, as each store has its own discounts where you can strike the right deal.
While looking for fixtures, electricals, paints or any other item that is required to renovate your HDB home, checking out multiple stores will open up possibilities of lowering the price of the items you are looking to purchase.
Doing adequate research before you set out to make your purchases saves you a good deal of time and money. Exploring the market well beforehand is a good idea, as you can figure out which item is available at a cheaper price at which store. This would help you pull down the budget to a great extent.
There are a lot of promotional deals that sellers roll out from time to time. You need to keep a close watch on that and grab the opportunity at the right time. Lastly, ask your HDB Approved Renovation Contractor for recommendations as they have close ties with various suppliers, and you can land yourself a good deal as far as the pricing goes when you make your purchases.
Go for the minimalist look
Unfinished and minimalist designs demand lesser budgets as compared to the more flashy and modernized designs. Over designing and cluttering the space with items and furniture is going to shoot up the renovation budget.
One fine example of unfinished design is an exposed brick wall which eliminates the need for painting, thereby reducing the material and labour charges that come along with painting.
Minimalist or unfinished interiors are quite trendy and also easy to maintain.
Reusing and refurbishing
There are many used and unused old items and supplies which can be effectively utilized to execute your HDB renovation project.
Reusing items doesn't cost much and there are many possibilities that you can explore with them. Be as creative as you can to make items that would cost you if you purchase them from the market.
Reinvent
If you want to work under a limited budget, execute your designs smartly. For example, an old sofa can be covered with cushions, or it can be reupholstered instead of replacing it for a new one to save money.
Similarly, old furniture can be polished or painted or lacquered instead of replacement.
There are a lot of other hacks which can help you save money and complete your home renovation under your set budget.
Choose a cost saving design theme
A basic, clutter-free design not only gives the bigger illusion to the space, but also helps in limiting your renovation budget.
Choosing a Scandinavian or minimalist style helps you renovate your home in a tight budget and looks aesthetic too.
Conclusion
You can most certainly complete your HDB renovation project under a set budget as you have many interior design styles like Scandinavian, minimalist, rustic, or even a unique modern renaissance. Choosing the right HDB Renovation Contractor will help in carrying on the project successfully.
Just trust yourself and refer to the points mentioned above to go through a smooth home renovation journey. It's time to roll up your sleeves and take the plunge. Happy renovating!