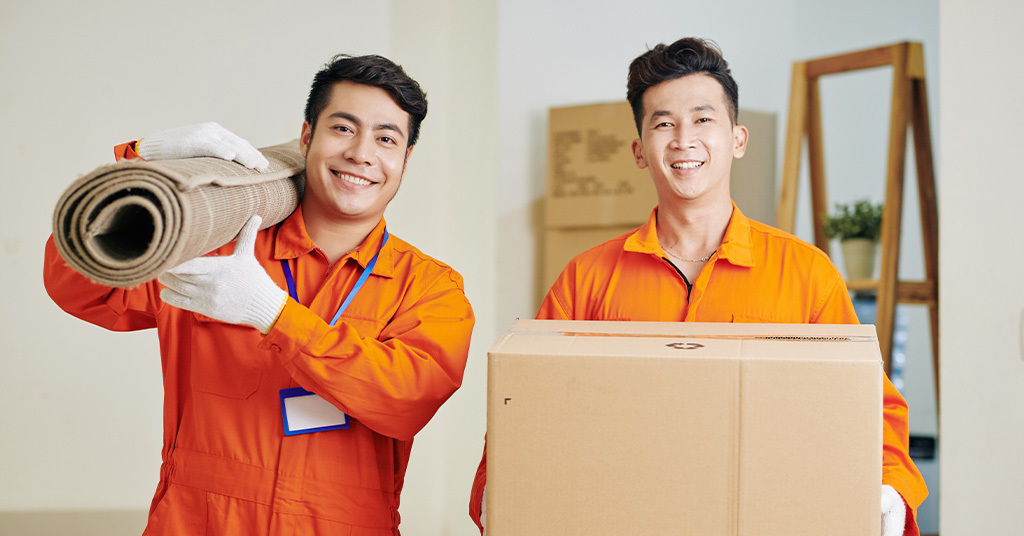 Reading Time:
9
minutes
Introduction
Today's challenging work scenario demands a lot from you and that includes relocating to different locations too. Moving from one country to another or within the city has become very common in people's lives.
Be it any country in the world, relocating itself seems to be tedious, and extremely difficult for many people. There is a lot that goes into moving from one place to another like packing, loading, arranging transportation to carry your belongings, unloading, unpacking and rearranging things that have been shifted.
The entire process is extremely challenging and takes up your time and energy, leading to mental and physical stress. To be free from the load that comes along with relocating, it is best to hire professional Movers and Packers who can make the task of relocating comfortable and stress-free.
Movers and Packers are professionals who are experienced in providing relocation services of your home or office from one location to another. These professionals can handle everything related to relocation, right from packing your belongings to transporting and settling them to another location.
Here we delve into the subject of Movers and Packers in Singapore, and what you should know before hiring one in the city. We recommend hiring the best Local Movers in Singapore to help you through the relocating process smoothly.
The majority of people rarely shift in their lifetime, so they are not aware or understand the process clearly. That's the reason we have charted out a comprehensive guide that gives insights on this space.
What are the benefits of hiring Movers and Packers?
Thinking about shifting a home on your own is not only difficult but an impossible task. It is important to hire Professional Movers and Packers to get the job done without much hassles.
Select a good Movers Company and handover the job to them. It's a known fact that Movers and Packers are well-trained to handle the task of shifting your belongings with precision and care.
They use proper packing material and equipments, which protects your items from damage that can be caused while moving them from one place to another. Furthermore, they use proper transportation depending on the type of items you need to shift.
In Singapore, you can choose Local Movers which you can find on Carousell. Also check for the Best Movers in Singapore from the list to ensure you get first class service without putting in much efforts.
Hiring one of the Top Movers in Singapore can prove to be quite advantageous for you as you will be paying for a safe and comfortable shifting as compared to shifting on your own where chances of damaging your belongings is quite high.
What role do Movers and Packers play in a relocation process?
The points mentioned above must have convinced you that it is best to hire Packers and Movers to relocate from one place to another.
Before hiring, you need to understand what kind of services are you actually looking for, and are the Professional Movers equipped enough to fulfill your expectations.
To make sure you are on the right path, be completely informed about the relocation services provided by the Moving Company you have appointed.
A professional company will pack, load, transport, unload and unpack the entire transported items at the destined location, ensuring that all the items are packed and unpacked carefully without any damages.
Basically, they will take care of anything and everything that goes along with the task of relocating. Thus, Movers and Packers play an important role in your entire shifting process, assisting you with the best services which result in a comfortable relocating experience.
Things to consider before hiring a moving company
Before you finally decide on moving your belongings, it is important to check out on a few things mentioned below:
     

Consider the type of items to be moved
You need to check whether the items that need to be transported are valuable or fragile which needs utmost care while transportation.
Check with the moving company whether they are well equipped in carrying the task efficiently or would you require specialised movers to transport certain goods which are delicate like pianos aquariums or any other items which are prone to damage if not looked after properly.
If the items are heavy, the costs would increase as they require specialised packing materials and bigger transportation vehicle which ensures maximum safety during transit.
Any small or valuable items can be transported yourself. Movers provide insurance coverage for the goods that are being transported, but it might not be sufficient enough to cover the loss of valuable items that are misplaced or lost during the transportation.

     

Have a fair idea of measurements
Make sure the items you are relocating are easily transportable to the destined location. For example, if a piece of furniture you are shifting doesn't fit into the lift of the apartment, you might have to arrange to take them via the staircase and that would add up to the total cost in many cases as manpower to carry on the job increases.
     

Check the moving guidelines of the new place
While there are no stringent guidelines about when you can move in and out of your HDB flat, many apartments have their own set of rules which need to be adhered to, like the timings of shifting, taking adequate care while using the lift for transporting goods, moving heavy equipment or piece of furniture and so on.
Speak to the management about the rules and get the required approvals well beforehand to avoid any kind of resistance at the time of relocation.
What services to expect from Movers and Packers in Singapore?
Every Mover and Packer in Singapore will provide you with specific services. We have given detailed information about the same for you to understand, and shortlist the one who provides the best of all.
One of the most important thing that Singapore Movers and Packers do is to pack your possessions. This includes dismantling any furniture or untangling, or unmounting any electronic or electrical items like air conditioners.
These experts will pack every item professionally using the best packing materials. Also, they will ensure that all the goods are carefully carried to the transportation vehicle and kept systematically to avoid any damage or scratches.
Furthermore, they will create a checklist before packing the items and make sure each and every item is received at the other end, failing which they would be responsible for the loss.
Hiring the best House Movers in Singapore helps you save time, money and energy, at the same time ensures safe transportation of your belongings from point A to point B.
Once the packing is done, the Moving Company will get your approval to start the relocation process.
They will take responsibility of moving everything that's noted down in their checklist with utmost responsibility and safety to make sure all the items are in its original condition after getting delivered and unpacked at the destination.
Good and reputable Movers and Packers in Singapore would guarantee that all the items are intact and not lost during transit. This is the reason you should look out for the Best Movers in Singapore as they will assist you with the entire relocation process along with providing safety and security of your belongings.
       

Unpacking and rearranging
The Best Movers and Packers also assist you in setting up your place after you have moved in.
Unpacking all the boxes and placing the items where required is included in their scope of work.
After they have completed their work you can check the list for any deviations and once your list matches up, the work is done.
       

Assigning a dedicated team
Relocation is an extremely sensitive matter as there are a lot of your belongings involved which are pricey as well as delicate and fragile. You just cannot hand them over to unknown people when they land up at your place.
Checking the genuinity of the team who have arrived is extremely crucial. The best Movers and Packers in Singapore will assign you a dedicated team who will arrive at your location at the date and time specified by you. Before you allow them to start their work, make sure you check their credentials with the Moving Company you have hired.
The best Movers and Packers in Singapore provide you with complete details of the team they have assigned you, including their names, addresses and contact details. You have to make sure they match up with the details of the team that has showed up at your place. By any chance, if the details don't match, it's time to call the officials.
If you haven't received the details, request for it and wait till they arrive. Any incident happening without you following this procedure will call for trouble as you won't have any official document stating the involvement of the Moving Company you have hired in the case of any mishaps like theft, loss or damage caused due to the negligence of the staff.
       

Claim policies in case of unforeseen events
The Best Movers and Packers in Singapore have claim policies in case your belongings are misplaced, lost, damaged or arrive in a bad condition. When you choose the best out of the lot, they will hand over the claim policy, which lists the details of how to proceed if things don't go as expected.
If the company doesn't provide you with its claim policy, request for one, and don't proceed further till everything is cleared. If the policy mentions points that are not agreeable, refrain from signing the contract and proceeding further. The best option is to look for another company which follows a better claim policy. Compare various Movers and then settle for the one that suits best. You can check the credentials of various Moving Companies operating in Singapore on Carousell, and zero down the one which is the best.
Items which are lost due to unforeseen circumstances like natural disasters can't be claimed via insurance. Yet, a few reputable Movers in Singapore will provide you with insurance that covers almost everything. Search for companies that provide total insurance and settle for them.
How much does it cost to hire Moving Services in Singapore?
The average cost of Moving Services in Singapore range between S$300 to S$500, if it's a 3-room HDB flat, around S$700 for a 4-room flat, and around S$900 for a 5-room flat. Having said that, the cost would vary as it would depend on various other factors too, which include the following:
Manpower required

Transport vehicle size

Number of trips

Types of items to be transported

Packing, unpacking and rearranging

Distance between two locations
To get a clear and accurate quote, confirm if there are any hidden fees or surcharges over and above the quotation amount. To save yourself from uncalled payments at a later stage, make sure to confirm with the Moving Company if they charge extra to relocate large furniture and other heavy items. Also ask if there are any dismantling charges well before you sign up the contract.
Final thoughts
Relocating is an extremely tedious job, provided you hire a good Movers and Packers company who can do the job efficiently. Make sure you go through all the points mentioned here to avoid any unpleasant surprises or price hikes at the last moment.
It is always advisable to go through popular marketplaces and check for the best Movers and Packers in town for the best deal. Shortlisting the Best Moving Companies listed on Carousell makes your task easier. Make sure you quickly glance through the list before finalizing one.