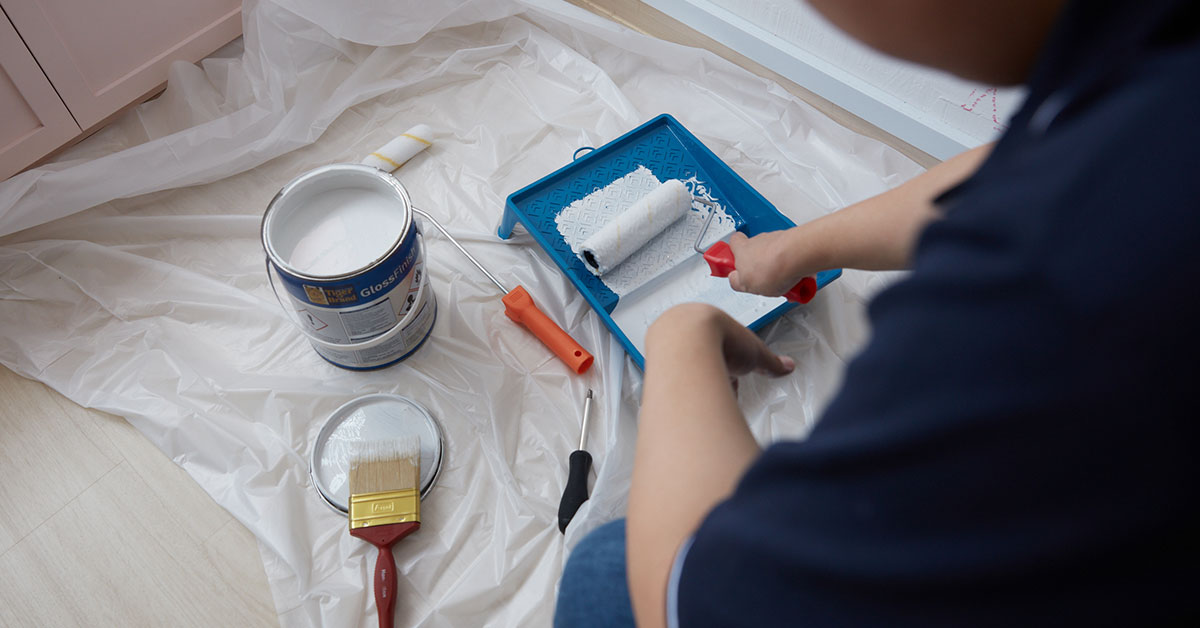 Reading Time:
11
minutes
Congrats on finally owning your own home! Be it a HDB flat, condo apartment or landed house, the next step after getting the keys to your new home is to give it a renovation makeover–at the most reasonable cost, of course.
But with the choice of interior designers, contractors, sub-contractors… who should we go to? What exactly does each of them do? How do they differ? Well, read on to find out more about these services and renovation tips!
Explore renovation services on Carousell
Interior designer or renovation contractor?
What do interior designers and contractors do?
An interior designer coordinates and manages your entire renovation project from start to finish. They're basically a one-stop shop that will handle all of your renovation plans! The interior designer will not only be responsible for the ideation of your home design, providing floor plans and 3D renders of how your home could look, but the execution of the renovation project as well, liaising with contractors and subcontractors to bring your dream home to life. Your interior designer will be the one overseeing the project and ensuring that everything is in order.
On the other hand, a contractor usually carries out only the renovation work assigned or requested by you. In other words, you will be responsible for the ideation and design of your home and the overall project management, and the contractor will execute the job as per your wishes! Depending on your requirements, they may work with external subcontractors, to help them carry out some of the work they are responsible for. Subcontractors usually specialise in specific tasks – for instance, a contractor may engage an electrician to undertake the wiring work on his behalf.
To put it simply, an interior designer will manage the heavy load and oversee your entire renovation project, whereas a contractor will take care of the lighter load you assign to them, with you as the project manager!
---
Look no further: Here's our pick for an interior designer!
---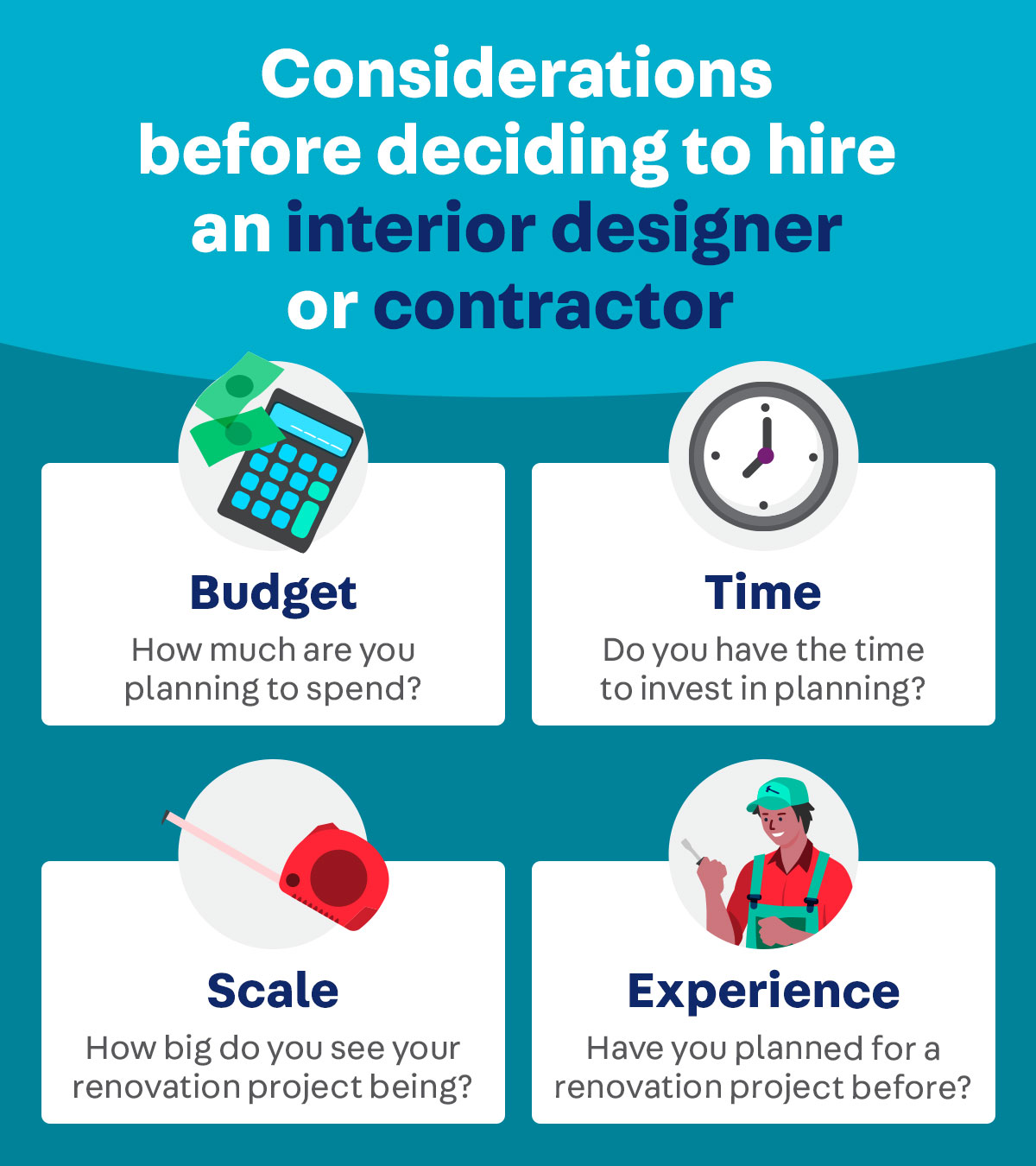 Should I engage an interior designer or a contractor?
Some of the most important things to consider when deciding whether to engage an interior designer are budget, time, the scale of the project, and your personal experience in space planning.
1. Budget
For most of us, our renovation decisions are centred around our budget. Setting aside a renovation budget is the first and most crucial step in our renovation journey.
Hiring an interior designer comes with a significantly higher price tag – but it also means a lot less time and trouble required of you, and much lower chances of renovation regrets! Interior designers can provide you with detailed, well-thought-out design plans based on your requirements and the specifications of your new home. 
Contractors, on the other hand, are much less expensive to hire. However, most contractors will only act upon the instructions you have provided to them – you are in charge of the planning, the supervision, and overall management of your project. This also means that you are responsible for, and must be ready to deal with, any problems and issues which arise during the renovation process!
2. Time
How much time can you invest in your home renovation project? Many underestimate the strain and time needed to oversee an entire renovation project. For those who do not have the luxury of time to spend on planning the layout, liaising with contractors, supervising subcontractors at work, and being ready around the clock to answer the many questions which subcontractors may have, an interior designer (or, at least, a very good general contractor) would be a huge help. 
If you have a clear idea of what you want your new home to be like, or are working on a tight budget, hiring a contractor will be much more affordable. Moreover, a good contractor can help you shoulder some of the project management responsibilities!
---
Have time on your hands and looking for a reliable contractor? Here's our recommendation:
View @kiarasfurnishings's profile here
---
3. Scale of project
Are you planning a complete facelift of your home, or focusing the renovations only on one part of the house? If you are renovating only a small part of your house, or don't plan to significantly change your overall layout, it would be better to seek a contractor – the project would be a much easier one for you to personally undertake, and engaging a contractor would be more cost-effective.
However, if you are planning significant changes – such as hacking down walls – do seek the advice of an interior designer, who will have valuable insight on whether it is wise to do so, and can shoulder the load of the time and planning needed for the project.
4. Experience in space planning
First-time homeowners who do not have much knowledge or experience in layout planning and design should try to seek professional advice from interior designers. This is because interior designers have more knowledge on design specifications (e.g. the height of cupboards and doors), appropriate material for installations (e.g. the flooring to use for bathrooms) or insights on what needs replacing in your new place. Interior designers can help you maximise every inch of the space in your home while ensuring that it remains aesthetically pleasing to the eye and spacious-looking!
The bottom line? If budget is an issue or if you would like to direct the design of your home, opt for a contractor. A capable contractor can even help you in project management, saving you time, money and trouble. However, if you are planning for a huge renovation project or do not have the time to dedicate to project management, hiring an interior designer would be greatly beneficial in ensuring that your renovation project goes smoothly.
Hire renovation services today!
What is the cost of renovating a
house in Singapore
?
The basic renovation packages offered by contractors on Carousell start from as low as S$8,000 for the renovation of a 3-room BTO flat. A basic package typically includes the electrical wiring works, plumbing, carpentry, painting, masonry works, and for resale flats, hacking and demolition as well.
---
Thinking of installing a digital lock for your front door? Reach out to our recommended specialist today!
View @eazea_ubi's profile here
---
| | | |
| --- | --- | --- |
| Type of HDB flat | Basic renovation cost for a BTO flat | Basic renovation cost for a resale flat |
| 3-room | From S$8,000 | From S$22,000 |
| 4-room | From S$10,000 | From S$24,000 |
| 5-room | From S$11,000 | From S$26,000 |
For condominiums, renovation prices are usually higher due to the strict restrictions which renovation contractors have to adhere to. For instance, most condominiums require contractors to provide lift paddings and restrict renovation work to certain time periods in the day. Moreover, the floor space and ceiling heights may differ greatly between different estates. However, you may be able to save money as well if your condominium already comes with essential fittings!
Keep in mind that this is not the full cost of your renovation project! Other costs involved would also include furniture, home appliances, movers, post-renovation cleaning services, and so on. Here's a tip on how to save on these costs: purchase your furniture and appliances from secondhand furniture shops and online marketplaces. It's convenient to finish your perfect home all in one place on the Carousell marketplace!
Why is the difference between new and resale property renovation so big?
Resale property comes with the renovation works by the previous homeowner. This means that there will likely be additional costs from:
Removing old fixtures to make way for your new ones

Replacing or reconstructing wall and flooring material

Overhauling old infrastructure to ensure adherence to the latest housing guidelines
It all depends on the upkeep of the house by its previous owners, and the extent of changes you would like to make—hence, it is essential to do your homework and ask the right questions when you're house-viewing!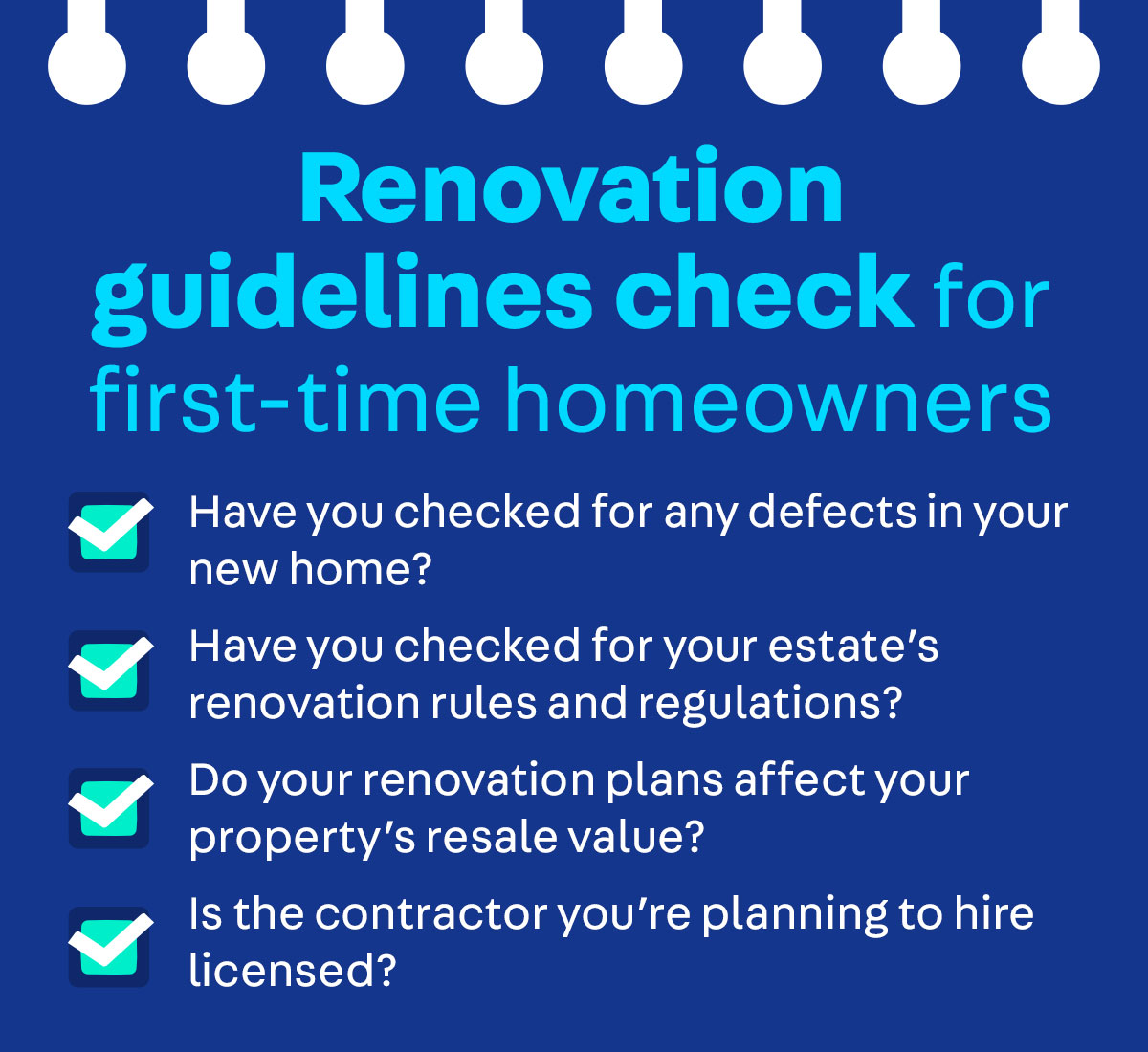 ---
Here's a reliable curtain and window blinds specialist for your consideration:
---
Important things to note for first-time homeowners
1. Check for defects ASAP before commencing any renovation work
Whether you are moving into a new BTO flat or a resale apartment, always make sure to check for defects before commencing any renovation work, to avoid disputes over which party is responsible should an issue or a defect surface midway through your renovation works. The earlier you finish the defects reporting and rectification, the earlier you can start your renovation! Check for defects both during the day and at night, and on rainy days – leakages and seep marks are more apparent during or after rainy days, and unfinished or badly done flooring are usually easier to spot at night. 
For new property developments, be it a HDB flat or a condominium, the Defects Liability Period (DLP) is 1 year effective from the date of key collection. During this time, the developer is required to rectify any problems with the new unit, at their own cost, within 14 days of the report – for defects which occur after the year, you will have to engage a contractor at your own expense. 
Note that the DLP is different from your warranty – there are additional warranty periods for ceiling leak, external wall seepage, and spalling concrete. The warranty period for ceiling leaks in toilets and kitchens, and water seepages from external walls is 5 years; whereas the warranty period for spalling concrete is 10 years.
2. Your estate's renovation rules may affect your design plans
Hacking down walls to turn your home into an open-concept space may sound great, but hacking the wrong wall could compromise the safety and structural integrity of your home! 
There are strict guidelines to follow when making significant changes to the look and layout of your home – whether it's replacing the flooring of your home, or renovating your bathroom to look like a home spa. Always check with your estate to ensure that you are following the regulations before making any changes. For those who are renovating HDB flats, make sure that you read up on the HDB renovation rules and regulations! 
3. Some renovation works may affect your property's resale value
Not every buyer may appreciate that you've turned 2 bedrooms into one huge entertainment room, or your 3-bedroom flat into a bachelor pad. Buyers have been observed to bid lower on apartments with hacked walls, where the number of rooms has been reduced. If your property's resale value is an important consideration for you, avoid hacking down walls (which can be very costly to rebuild) or installing too many built-in furnishings, such as platform beds.
4. Engage contractors from the Directory of Renovation Contractor (DRC)
Always engage only contractors from the DRC to do your renovation works, even for the little things that don't require HDB's approval. Your licensed contractor will submit the renovation permit to HDB on your behalf, and ensure that the renovation works adhere to your estate's renovation guidelines, such as not carrying out noisy renovation work on weekends, public holidays, and the eve of public holidays. 
List of top contractors & interior designers on Carousell
To start you off on your hunt for the right interior designer or contractor, here are some of the trusted contractors you can engage with through Carousell! These recommended service providers have each received at least 20 4.9-star reviews. Read past reviews by clicking on the names of each service provider and request quotations with Carousell's Chat function!
Top 5 best renovation providers
Kiara's Furnishings

Carousell username

kiarasfurnishings

Specialises in…

Interior design

Full or partial home renovation

Electrical and painting services

Custom-made furniture

Price

"Chat" to enquire on rates
Edward Oh Renovations Services

Carousell username

edwardoh

Specialises in…

Interior design

Full or partial (kitchen) renovation

Flooring, electrical and plumbing works

Custom-made cabinets and other carpentry furniture

Price

"Chat" to enquire on full renovation rates

20ft kitchen cabinet (excluding quartz/solid top) at $2200

Notable services provided

50 years Licence HBD contractor

Direct factory carpentry to suit all needs
FixStation Pte Ltd

Carousell username

fixstation

Specialises in…

Contracting

Tiling & Regrouting

Full house painting, drywalling and electrical works

Carpentry and locksmith services

Price

"Chat" to enquire on full renovation rates

Rates start from $600 for painting services for 3-room HDB flat
SK Painting Services

Carousell username

skpaintingservices

Specialises in…

Contracting

Painting for residential units (HDB, Condos, Landed property), office spaces and warehouses

Price

"Chat" to enquire on full renovation rates

Notable services provided

Professional painters with more than 10 years of experience
Wallux by Dpatterns

Carousell username

wallux96

Specialises in…

Contracting

Curtain and blinds installation

Wallpaper and solar window filming

Installation of window grilles

Price

"Chat" to enquire on full renovation rates

Rates start from $500 for blinds installation for 3-room HDB flat

Notable services provided

Fast lead time order of 1 to 1.5 weeks
Top-rated service providers on Carousell
Browse trusted service providers on Carousell
While you're shortlisting your desired providers, try out our new Multiple Chat feature that enables you to ask the same questions to various users! This saves you time when asking for multiple quotes.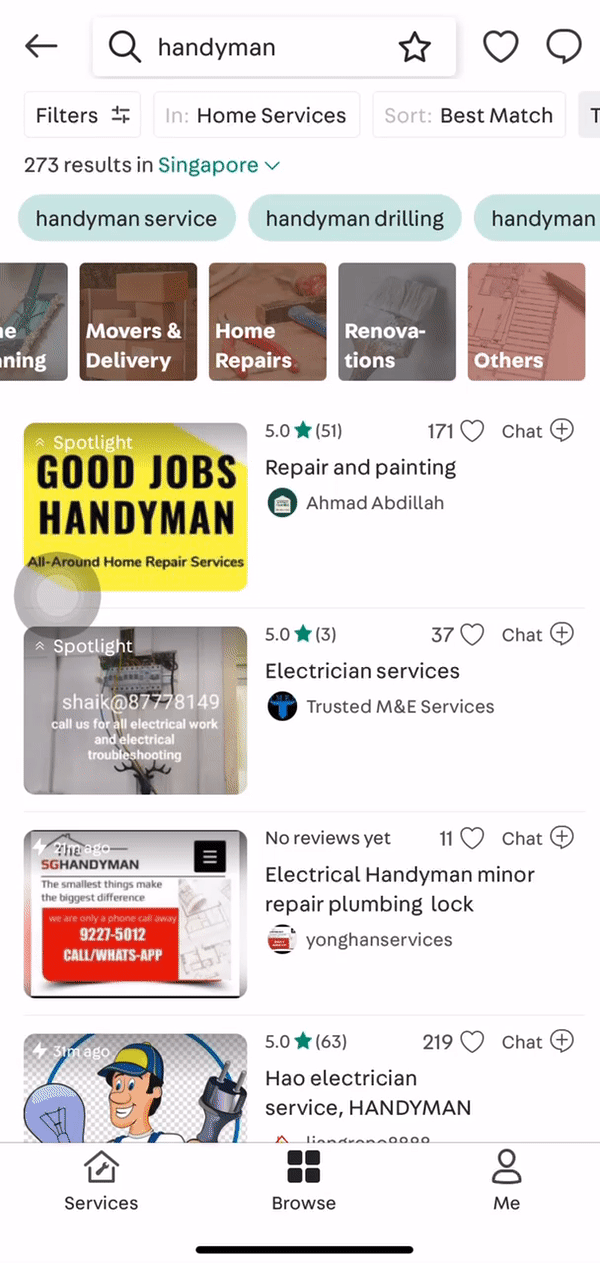 The next step after your big renovation project
What comes next after renovation, but before moving in? The answer: post-renovation cleaning! During the course of the renovation project, it is inevitable that dust and debris will surface and remain after the contractors have completed their job. To avoid any allergic reactions and create a comfortable living environment for yourself, always engage a professional home cleaning service for a post-renovation deep clean! 
We hope that this guide has been useful to you in your home renovation project. Happy renovating!
---