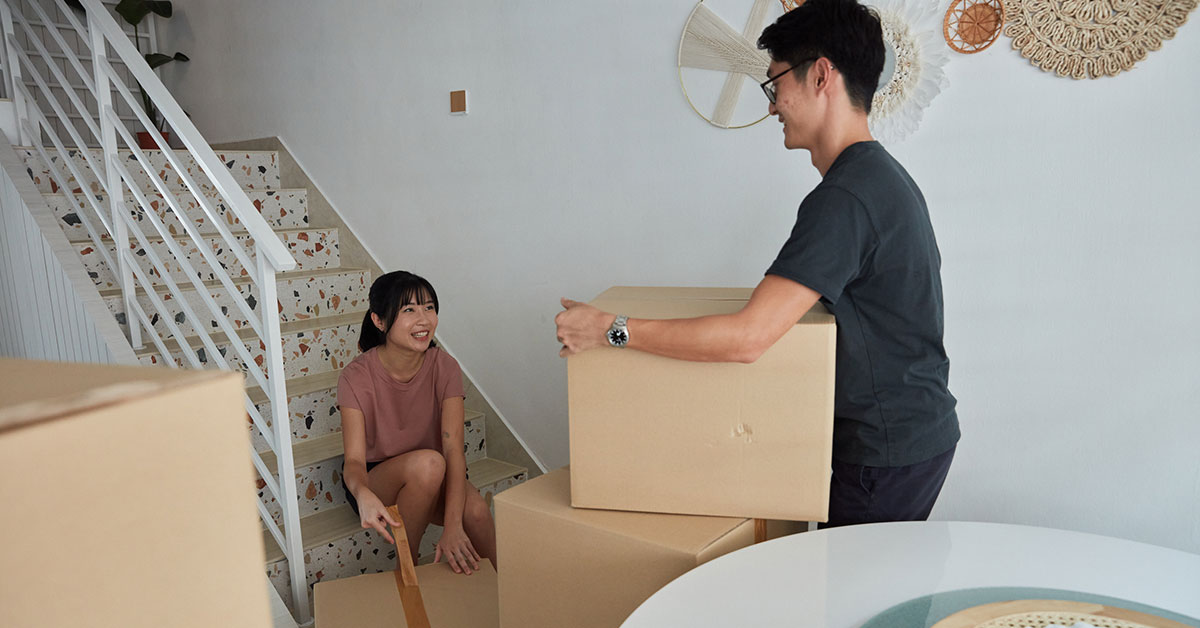 Reading Time:
9
minutes
So you've finally bought your dream home and you landed on this guide, because here comes the most dreadful part: moving. Having to pack up all of your belongings, find the right service provider to rent a lorry from, clean up after the move… With a million things to keep track of, moving is often a messy and exhausting affair. 
To quell your worries, we've highlighted some frequently overlooked things to do for your move, and tips for choosing the right service provider for your needs! Alternatively, you can also skip to view some of the best-reviewed and budget-friendly movers in Singapore at the end of this article.
How do I pack and prepare for my move?
1. Prepare your packing materials before you start packing
One of the most important, yet frequently overlooked things to do before starting to pack is getting your packing materials ready. Apart from the obvious – cardboard boxes, plastic bags and tape – you should also consider getting protective packing supplies such as bubble wrap and packing peanuts for the more fragile items and furniture. 
Tip: Instead of purchasing costly packing materials from moving service providers, check the neighbourhood stores or supermarket chains like NTUC FairPrice which usually have unwanted boxes and cartons. Ask politely, and we're sure that you shall receive! Alternatively, you can find packing boxes at a bargain on Carousell. Some users may even give them away for free!
Keep an inventory list of your belongings, taking note of which items are in each box. For the ease of unpacking, do consider colour-coding or labelling your boxes with markers and tape based on which room your belongings will go to.
If all else fails, count on your chosen mover to provide you with boxes! Select one from our list of featured service providers so you don't have to worry about packing boxes or shrink wrapping.
---
Here's our pick for a mover who provides cardboard boxes for packing!
View @esgpacificmover's profile here
---
2. Pack a suitcase of overnight essentials
Make sure you have a luggage of overnight essentials ready – the necessary items that will get you through a day. This could include a change of clothes, travel-size toiletries, pyjamas, device chargers, bedsheets, and baby essentials for those with young children. You'll be glad that you prepared this after a long day of moving when you don't have to worry about unpacking and searching through boxes for a toothbrush!
3. Leave your pets with your family, friends, or a pet sitter on moving day
On moving day, avoid having your pets around to minimize disruption – you certainly do not want your pets to be startled by the unfamiliar faces moving in and out of the house, or get affected by the dust and grime which may turn up as you clear your house out. 
Leave your pets with friends or family members during the move, and only bring your pets to your new home when you have settled in and unpacked your belongings. If you do not wish to trouble your friends and family members, you can engage a professional pet sitter or boarding service until you are ready to settle them into your new home. 
4. Arrange for house cleaning
At the end of your tenancy at your old place, it is only right for you to leave a clean home for the next tenants moving in. If you're engaging an external cleaning service, schedule for the end-of-tenancy cleaners the day after you move. Many people severely underestimate the amount of time spent on moving and how exhausting moving can be. Give yourself ample time to move and rest, and leave enough buffer time before the cleaners arrive!
Before moving into your new place, make sure that you have cleaned the place out thoroughly as well, so that you can unpack and store your belongings upon arrival. If you are moving into a newly renovated place, you should arrange for a post-renovation deep cleaning before moving in to remove all debris and dirt from renovation, and enjoy your new home safely and comfortably! 
Clueless about engaging home cleaning services? Read more about it in our guide to cleaning services!
---
Or, check out one of our top-recommended home cleaning service providers below!
---
What should I consider when hiring a moving service?
1. Know what you're moving 
Are you moving any fragile, delicate or valuable items and furniture?
Enquire with your mover or even consider hiring specialised movers if you are moving heavy, delicate items which require special care, such as pianos and aquariums. Expect to pay more when moving such bulky, difficult to handle furniture and instruments – they tend to require special equipment and packing, which provides maximum safety to the item during transit. 
And for smaller valuables, do consider moving them yourself. While most movers provide some form of insurance coverage, it may not be sufficient to cover the losses borne if your valuables get misplaced or damaged during the move.
2. Do your measurements 
If you are living in an apartment, consider whether your furniture can fit into the lifts. There may be additional charges which can add significantly to your moving costs if your movers are required to take the stairs!
Keep your new home in mind as you are packing and deciding what to take along with you; picture how and where each piece of furniture will fit into your new space. This will help you declutter as you pack, which can allow you to save on moving costs as well. Give the well-kept furniture you don't wish to bring along with you away to your family and friends, donate them, or sell them to make some money!
3. Check your estate's moving guidelines
As far as we are aware, there are no rules about when you can move in and out of your HDB flat. However, many condominiums only allow movers to operate at stipulated timings, and require lift paddings when moving heavy furniture or equipment. Make sure that you have checked with your estate's management and received their approval, and that your moving contractor has informed your estate's management. You definitely want to avoid footing the bill if a lift mirror gets damaged or flooring gets scratched in the move!
---
This recommended mover provides live tracking for delivery/moving services:
View @weload.sg's profile here
---
What's the cost of hiring a moving service in
Singapore
?
You can expect to pay up to S$300 – 500 if you are moving from an average 3-room HDB flat, around S$700 for a 4-room flat, and around S$900 for a 5-room flat. Of course, these are just estimates – the final moving quotation can vary greatly, depending on a number of factors.
The most common factors which affect the moving cost

Amount of manpower required 

Number of trips

Transport vehicle rental costs

Accessibility of location

Bulky or fragile furniture

Packing and wrapping

Temporary storage

Date and time of move
To get an accurate quote (and not fall victim to hidden fees and surcharges!), make sure to ask the movers how they charge when asking for a quotation, supplying them with as much information about what you are moving as possible. Brief them thoroughly on details such as the number of fragile or delicate items which need to be moved, and any large furniture which requires dismantling, as these may incur additional service costs!
Once you have negotiated, clarify exactly which services are included in the finalised quotation and get a written quotation from the moving company. This will help you avoid any unpleasant surprises or price hikes on the day of your move!
List of highly recommended movers on Carousell
You can find some of the cheapest professional movers with good ratings and reviews on Carousell. Many of these house movers operate 24/7 and provide specialised services such as piano and fish tank moving as well! We recommend inquiring with each house mover to find the moving service best suited for your needs and budget.
Best 5 Islandwide Movers
Weload.sg
Carousell username

weload.sg

Specialises in…

Express moving service within 3 hours

Single and multi-way delivery

Price

Starting from $50

Notable services provided

Live tracking for delivery services

Professional shrink wrap or bubble wrap provided

All delivered items insured against damages
Bee Movers
Carousell username

beemover

Specialises in…

Various types of fishtank (including racks and cabinet base) and piano (such as upright or grand pianos) moving

Disposal services

Price

Starting from $50

Notable services provided

10 to 14-feet lorries available for transportation

24-hour service
Move Move Movers
Carousell username

movemovemover

Specialises in…

Bulky furniture moving/delivery e.g. hospital beds, gym equipment

Price

Starting from $50

Notable services provided

Operates 365 days a year

Provides moving boxes and wrapping service
SG Pacific Mover
Carousell username

sgpacificmover

Specialises in…

Piano and office compactor moving/delivery

Price

"Chat" to enquire on rates

Notable services provided

4 to 15-feet lorries available for transportation

Provides cardboard boxes for moving
Johnsion Movers
Carousell username

johnsionmovers

Specialises in…

Moving or delivering fishtanks, hospital beds and gym equipment sets

Price

From $28

Notable services provided

10 to 40-feet lorries available for transportation

Operates 365 days a year

Provides unlimited cardboard boxes for moving

Wrapping services available 
Top-rated Islandwide Movers on Carousell
| | | | |
| --- | --- | --- | --- |
| Provider | Price | No. of reviews | Average rating  |
| Goodwill Mover | Starts from $18 for delivery of items  | 430 | 4.98 |
| Kingsmen Movers | Starts from S$50 | 135 | 5.00 |
| TWC Movers | Starts from $45/h with a 8-ft van | 138 | 5.00 |
| Mi Transportations | Starts from $180 per trip with a 10-ft lorry | 107 | 4.92 |
| Lambo101  | Starts from S$40 | 97 | 4.98 |
Discover recommended movers on Carousell
One last thing before your move…
Work out your schedule for moving day!
Moving day is bound to be chaotic, especially if it's your first time moving or if you are downsizing to a smaller space. With tons of old furniture, new furniture, and other belongings involved, there will likely be a lot of clutter and little space for manoeuvre. 
Hence, remember to recruit the help of your family members and friends, and work out the details for moving day! Which family member or friend will you station at your new home? What do you plan to move first, and which furniture are you getting rid of? These are all essential things to plan for, to ensure a smooth transition. 
With that, we hope that this guide will be useful for your planning. All the best with your move!
---