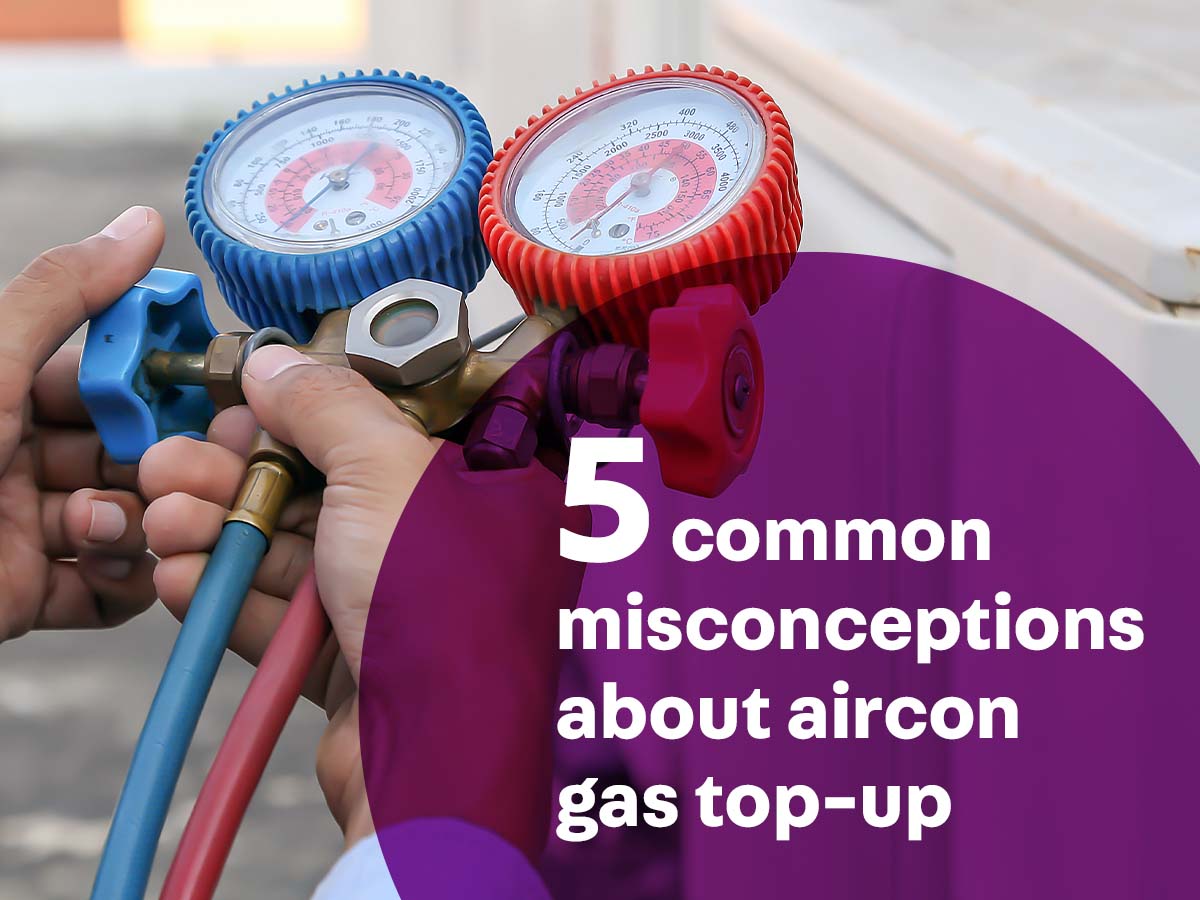 Reading Time:
8
minutes
Why does an aircon need a gas top up?
An aircon gas top up is essentially refilling the refrigerant gas to ensure that the aircon works in optimal condition.
One needs this gas top up to continuously deliver cool air to a room. It is time to get an aircon gas top up when the refrigerant storage leaks and the chemical seeps out of the air conditioner causing no cold air to be circulated. There are many ways to know when it is required, like noticing that the room is not being cooled despite the aircon being switched on.
How to identify if there is a need for an aircon gas top up?
Now, if one notices water leaking from the aircon it could mean that there is gas reduction. During gas reduction, vaporisation could be incomplete, resulting in water leaking from the aircon. It is extremely crucial that if one finds a water leak in their aircon they must contact a trained and licensed technician at the earliest to check if the aircon needs a gas top up.
One might also need a top up if they frequently switch their aircon on and off. Such frequent restarting of the system may cause the aircon to not behave as required. Plus, if the aircon switches from getting extremely cold to not cold at all then it is a cause for concern.
Why hire a technician?
However, some people try topping up their aircon gas by themselves. This is harmful to the system but most importantly puts the health of the person doing it at risk if not done correctly. Always rely on trained and licensed professionals to do the aircon gas top up and other repair services.
The technician will first inspect what kind of gas is required for the aircon model in use and check the cooling coil then they will use a gauge to check for the refrigerant level inside the aircon to understand how much gas needs to be filled. After this, they will go ahead and identify the type of gas to refill, lock the tank and begin topping up. Then they will use the gas gauge again to ensure that the gas levels are stable and that there is no leak.
What are the benefits of topping up gas in an aircon?
Helps in reducing energy consumption. When the Aircon is malfunctioning, a greater amount of electricity is needed to power it and keep it from overheating.
Aircon can last for a longer period if maintained regularly. Topping up gas is one way of maintaining your air conditioner.
It can help in preventing the onset of many aircon problems. Doing so is extremely cost-effective in the long run.
Here are the 3 most common myths (debunked) that hold people back from getting aircon gas top ups:
Aircon gas top up isn't a part of regular maintenance
This misconception was born because the inner workings of an aircon are not something that we are taught. Now, with better access to resources online, they are aware of it. Owing to the efforts several aircon repair and maintenance companies have put in to explain in-depth what a regular service entails because a quick search on Carousell will show what other companies are offering.
Plus, due to the way the aircon is designed, the first thing a professional technician does is check and replenish the Refrigerant gas. The technician will initially examine the unit to determine that there are no leakages. This is done by flushing the system, before refilling the gas supply. It is completely a part of regular aircon maintenance to ensure that the appliance lasts for a long time.
Aircon gas top up can be DIY-ed!
No. In plain and simple words; no, it can not be done by someone who is not a trained and licensed technician. In the same way that surgery can't be performed by a layman just by reading a few instructions and watching a few most liked YouTube videos, just anyone can't do it themselves. Consider these trained professionals as doctors for the appliances. They know what to do and how to do it, they understand where the hole in the boat is and know how to fix them before the boat drowns. While some people with mechanical experience and knowledge might have a bit of an idea about what they're doing, a professional expert is still required to maintain safety. There's only so much an unqualified person can do before the aircon gives up and stops functioning altogether.
Aircon gas top up increases energy consumption
People often fail to grasp how a well-maintained aircon can save energy. Note, when the Refrigerant gas becomes low, it takes a lot longer for the aircon to cool down a room. If it used to take half an hour for the room temperature to drop but now takes 2 hours, it should be evident that energy consumed by that aircon is high. Aircon gas top up ensures it can return to cooling faster while decreasing the energy consumption. Not that a low gas level should cause any panic. Have no doubt that simply hiring trained professionals will fix the issue in no time. Remember, low gas levels are caused by gas leaks which can be fixed easily and the sooner the leakage is discovered and the newer your aircon is, the easier it will be to fix.
With access to the right information, one must quickly access the best resources that are also cost-effective to get the job done.
Here a some of the most well-reviewed Aircon service companies in Singapore:
Aircon not cold? Is the constant switch in temperatures disrupting a well-deserved break? Getting the aircon's gas top up will ensure that this doesn't happen anymore. Luce Specialists perform all types of aircon servicing including aircon gas top, general servicing, chemical overhauls, jet washing, diagnostic, and repairs. Their rates are one of the most reasonable in the market but with no corner-cutting. All of their expert technicians have at least 3 years of experience in the field working as aircon servicing and repair technicians in Singapore. They are all verified and have an electrical engineering degree. Luce's team is known to be honest and hardworking, they have no hidden charges, maintain transparency, provide detailed cleaning and warranty on all visits. Their prices are as follows for Wall Aircon General Servicing:
6 Units: $19 per unit
5 units: $20 per unit
4 units: $21.25 per unit
3 units: $25 per unit
2 units: $27.5 per unit
1 unit: $50
*11 or more units? Down to $15 per unit
Jet Wash General Servicing: Add $10 per unit to the normal general servicing price (only available for wall-mounted aircons)
@shoppiegal testifies, "Great service from enquiry stage until job completion. The technician was thorough in checking & cleaning the aircon unit. Highly recommended!"
Reach out to Luce Specialists here.
Airtrons is an aircon repair and servicing company that provides general servicing, gas top ups, steam cleaning, chemical overhaul, troubleshooting, repair, replacement, and installation amongst other services. Their expertise lies in repairing all kinds of aircon while ensuring timely scheduling and a 40-days warranty after the day of the completion of the service. The aircon servicing company also extends its services after hours and possesses skilled and trained technicians. They only advise what is needed and don't overprice.
@pokezoo says, "Thanks for the urgent gas top up!! My aircon 4th time being handled by them and they never stop impressing me. Asked for a top up in the morning and on the same day they could do it! Recommended!!"
@stxcee adds, "Called a few service personnel as our usual tech was quarantined. They were most sincere in their replies and took the effort to schedule an earlier date for us due to our urgency. Technicians know their stuff, and wouldn't upsell and recommend non-necessary top ups. Fantastic job done, now my aircon is super cold. Thank you!"
They are described to be sincere and punctual. Not only are the technicians licensed and well-versed in their work, but they also refrain from upselling and recommending top ups that are not required.
Reach out to Airtrons here.
HW Aircon caters to the aircon woes of HDB BTO, Condo, Landed, and Offices. They are highly recommended for aircon gas top ups, aircon repair, aircon cleaning services (normal, chemical and overhaul). They have no hidden costs or GST. Their technicians provide exceptional aircon services and are highly skilled, trained, and licensed. The rates they offer are competitive and reasonable. HW specialists have 10 years worth of experience in the industry. They fix all aircon issues such as aircon leaking, no coolness, blowing warm air, aircon making noises, and blinking light malfunction.
Tan HK in Singapore adds "Very impressed with service. Reasonable and absolutely worth it. The technician was on time, very knowledgeable, and competent. They are competitively priced and can accommodate service appointments at your convenience. Will use them in the future again.Would not hesitate to recommend them to other friends and family."
They have worked with brands like Carrier, Daikin, Electrolux, EuropAce, Fujitech, Fujitsu, Haier, Hitachi, Kolin, LG, Midea, Mitsubishi Electric, National, Panasonic, Samsung, Sanyo, Sharp, and Toshiba. HW understands that Singapore is hot all year round and that aircon plays a huge part in providing relief to many which is why they take their job seriously and offer complete customer satisfaction.
Reach out to HW Aircon here.
Conclusion: Common misconceptions and unverified details must not hinder the way that one looks after the maintenance of their aircon or any other appliances for that matter. It is important to hire good, trained, skilled, and licensed professionals. With the internet expanding the global marketplace, it is easier than ever for residents of Singapore to find aircon gas top up providers and general aircon servicing companies that help combat the harsh heat of the city.