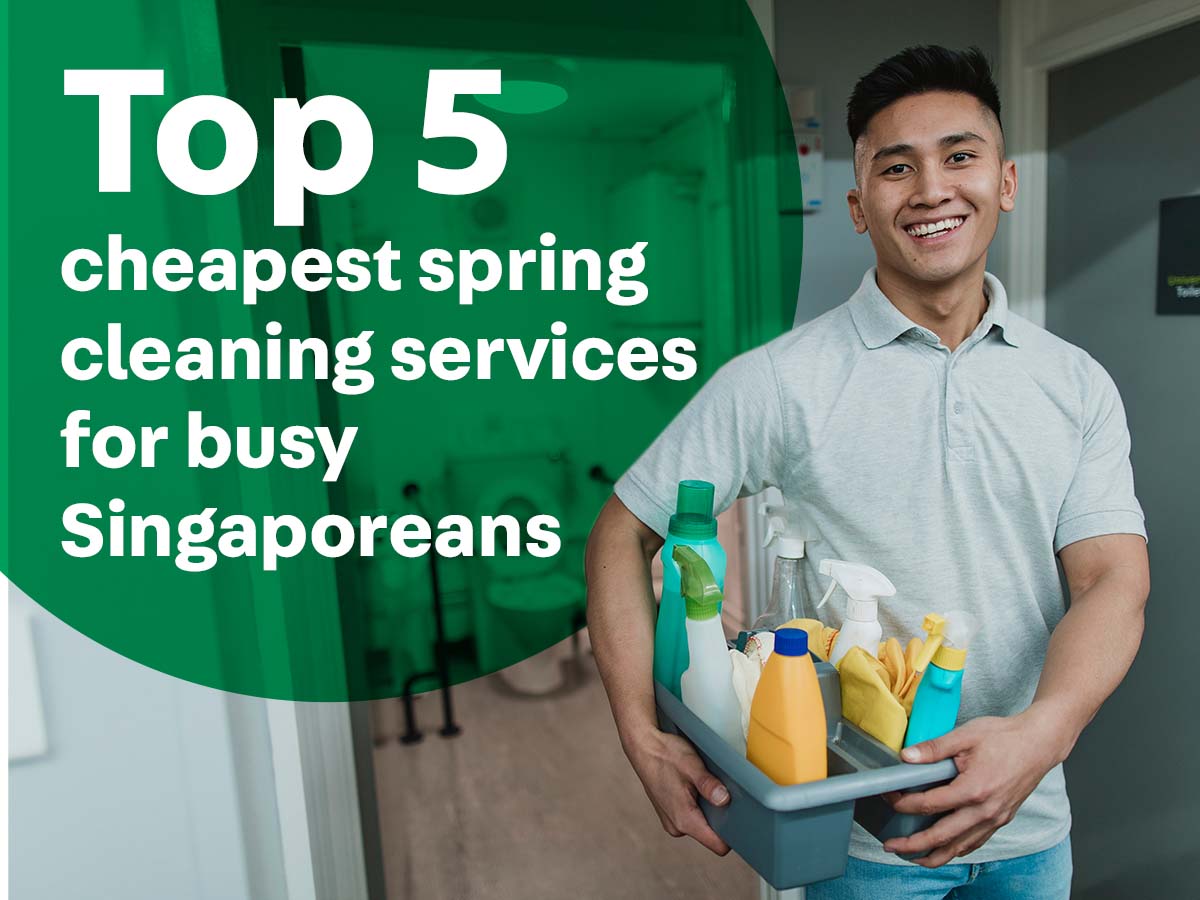 Reading Time:
7
minutes
The origin of the word "Spring Cleaning" can be traced back to the Iranian Nowruz- the Persian New Year, which falls on the first day of spring. The practice of Spring cleaning in modern times means thoroughly cleaning a house while sorting all the loose ends of the house before an important event or upcoming festival. 
For most of us, the nearing of the festive season means spring cleaning and ensuring the house is spick and span of dust, dirt, or any sort of untidiness. Spring Cleaning in Singapore is no different. The inhabitants of a household get together before an important event or festival to vacuum, mop, and polish the deep-rooted areas of their establishment, which is normally not covered in the weekly cleaning regime. 
The ceiling, the attic, inside of cupboards, cabinets, underneath storage areas, behind furniture, and every small nook and cranny of the house is included during the task of Spring Cleaning.
The attic is vacuumed thoroughly to remove all sorts of dust devils and inhabiting spiders in large webs, the old family dining table is polished to shine, while the sofa is dusted deeply to remove all signs of food crumbs, and dust. The clothes are re-folded and set categorically in the cupboards while the cabinets are wiped clean before putting the fancy cups and plates back in a neat fashion. 
Some of us might like the idea of Spring Cleaning once or twice a year, but most of us for sure are yawning at the thought of spending their weekend walking around with a vacuum cleaner in one hand and wax in the other. 
You might want to get the cleaning over within a short duration, to save your weekend for something "worthwhile". 
For that, Carousell has for you a list of affordable Spring cleaning services that can do your cleaning in a reasonable amount of time. We also have some DIY pointers to consider while cleaning your house on your own, efficiently. 
Spring Cleaning Checklist 
Making a spring cleaning checklist is the easiest way to sort out your priorities, execute an efficient and quick spring cleaning, and avoid forgetting any spot. 
Creating a task list will help you in cleaning efficiently. 
(And additionally, you'll feel so much more satisfied checking the task off your list once you're done!)
The list should be divided by each room. Each room should have its list of To-dos. Categorising tasks is easier this way. Take every task room-by-room. 

There will be some common tasks for each room, like cleaning the window sills, dusting ceiling fans, washing the curtains, and dusting the drapes. You can create a separate list of that, and repeat those tasks in every room of your house. 
You must declutter your house first before starting with Spring Cleaning. If you don't declutter, the cleaning will go to waste since the unwanted, accumulated clutter will remain in the same place that it was before spring cleaning. 
5 most common cluttering spots in your house
,
that you didn't know about
Entryway
The entryway/ hall of your house is the easiest cluttering space in your house since it houses your shoes, shopping bags along with dust, dirt, and other things you bring back when you're outdoors.
To clean your entryway the best way would be to purchase some shoe racks to keep your shoes neatly stacked, and maybe a few wall hanging shelves to store your bags, and outdoor must-haves. A coat stand is always a great buy for entryways and a space-friendly way to hang your outdoor coats, hats, scarves, and gloves. 
You can check out a lot of cheap yet well-made, elegant shelves, racks, and boho hangers for your hallway on Carousell, under the Home and Living category. 
Kitchen Counter
Your beautiful granite kitchen counter can easily disappear under the numerous cups and plates of all shapes and sizes, not to forget the magazines and newspapers casually spread near the toaster after breakfast. 
Clearing out your kitchen counter can be a task cut out for the entire family, but Carousell makes it so much easier with its choice of affordable stainless steel dustbins, cabinets, and countertop rubbish bins. 
Your Workbench/Desk
You will always find your lost mail, books, planners, and a year-old to-do list on your desk, which will probably have "spring cleaning" written on it in block letters. 
 In the middle of the chaos you'll find a week-old pizza slice or a packet of chips you stress ate during a work meeting. 
Decluttering your workbench is the longest task in the spring cleaning agenda. Consider doing it before vacuuming your room, or you'll end up vacuuming twice and that's just a waste of time. 
Closets and Chairs
According to popular opinion, closets and our lounge chairs are the most cluttered places in our homes. Usually we, very conveniently, toss piles of clothes inside our closets and forget about them till we need clothes. 
Agree or not, we also toss the pile of clothes on chairs to get away from putting them neatly away in our cupboards because it's tiring and time-consuming. 
For this, Carousell has foldable storage baskets available on sale, so that you can toss unfolded clothes and save your lounge chair for sitting.  
Underneath Beds and Tables
Contemporary literature tells us that the devil lives under our beds. They might have forgotten to add the prefix "dust" to the devil because this is a more relatable reality we all are familiar with. 
If you look under your bed, you'll find dirt, lost slippers, forgotten food, clothes, and maybe some other questionable matter there. 
Don't forget to vacuum under your sofa and other furniture to find similar items. 
To purchase cheap and branded vacuum cleaners, head to Carousell now. You may find second-hand as well as new vacuum cleaners at very reasonable prices and deals, to make your spring cleaning as easy and efficient as ever!
How long does spring cleaning take?
You can deep clean your house within a span of 2 hours, or in 2 days. It depends upon the size of your home and how cluttered your home is. 
If you are busy and don't have much time for a thorough cleaning session, you could always hire a professional service for the same. They don't take more than 6-8 hours to clean the most cluttered homes. 
There are plenty of spring cleaning services in Singapore, for you to choose from. 
5 Best Cleaning Services on Carousell
Spruce Up Cleaning Solutions prides itself on its quick and affordable cleaning services, for a busy Singaporean household. They ensure no additional fees or hidden charges on their service in addition to providing up to 20% discount to new clients. 
The company's workers are a team of certified professionals, that undergo a rigorous training before being assigned cleaning projects. 
They provide various cleaning services such as Post Renovation Cleaning, Moving in/Moving out Cleaning, and Spring Cleaning for all customers.
In the recent advent of the Coronavirus Pandemic, Spruce Up assures that their team is fully vaccinated and is certified Covid-free. 
The "Spruce Crew" assists in vacuuming, dusting, wiping, and works at disinfecting every corner of your home. They have special child and pet safe cleaning agents and disinfectants for cleaning and shining surfaces. 
The reviews advertise the excellent services and customer support given by Spruce Up Solutions. The client testimonials sing praises of their work, efficiency, value for money, and professionalism throughout. 
You can check out the services and customer reviews of Spruce Up Cleaning Solutions on Carousell today to avail affordable cleaning services for your home. 
Krystal Solutions are here to make your life easier with their splendid cleaning services, across Singapore. Their reliable and trained team of professionals works their hardest on all projects. They are reputed for their attention to detail, dedication towards their work, and after-service customer support. 
Krystal Solutions provides all its clients with many kinds of cleaning services and disinfectant treatments to give them a clean and healthy house and office. 
From spring cleaning services to one-time cleaning, after renovation cleaning, weekly cleaning, office, and commercial cleaning Krystal Solutions offers all kinds of spring cleaning in Singapore. 
The company has given lots of positive reviews by its previous clients on Carousell. They have all praised the Krystal team for their professionalism, friendliness, and flexibility. They are welcoming to small requests and are sensitive to the needs of their customers. Krystal Solutions was also praised for its cleaning treatments since they are non-toxic and don't cause any damage to health. Their affordable prices clubbed with high-quality results are a cherry on top for Krystal Solution's clientele. 
Citian Redefine Pte Ltd provides trained and experienced staff for household cleaning, moving in/moving out cleaning, post-renovation cleaning, and disinfecting services. 
They provide high-quality cleaning equipment and non-toxic cleaning products for the project. 
The company promises value for money service and great results, aiming for complete customer satisfaction at all times. 
There are plenty of happy feedbacks from satisfied customers on Carousell, talking about the commendable work Citian Redefine promises and achieves. 
Check them out on Carousell now!
Helping Hand Cleaning Services
Helping Hand Cleaning Services provides professional cleaning packages for busy Singaporean households. Their services include vacuuming, mopping surfaces, dusting, cleaning bathrooms, and making beds. 
They also provide laundry and ironing services at additional costs. 
Home Cleaning Company
Home Cleaning Company is known for its cheap cleaning packages and its team of loyal, trusted, and trained staff. 
Their services include spring cleaning, mopping, dusting, closet cleaning, and clothes ironing at very reasonable prices. They also provide customers who don't have time for cleaning their house at all, with weekly and monthly cleaning packages. 
They are praised for their reliability, sincerity, and flexibility of service. 
They are one of the best cleaning services on Carousell, with great customer reviews. You can check them out for spring cleaning your home, on a budget. 
Conclusion
Carousell offers a list of cleaning services, cleaning appliances like vacuum cleaners, and cleaning agents like detergents and disinfectants at good prices. So what are you waiting for? Kickstart your spring cleaning with Carousell today!