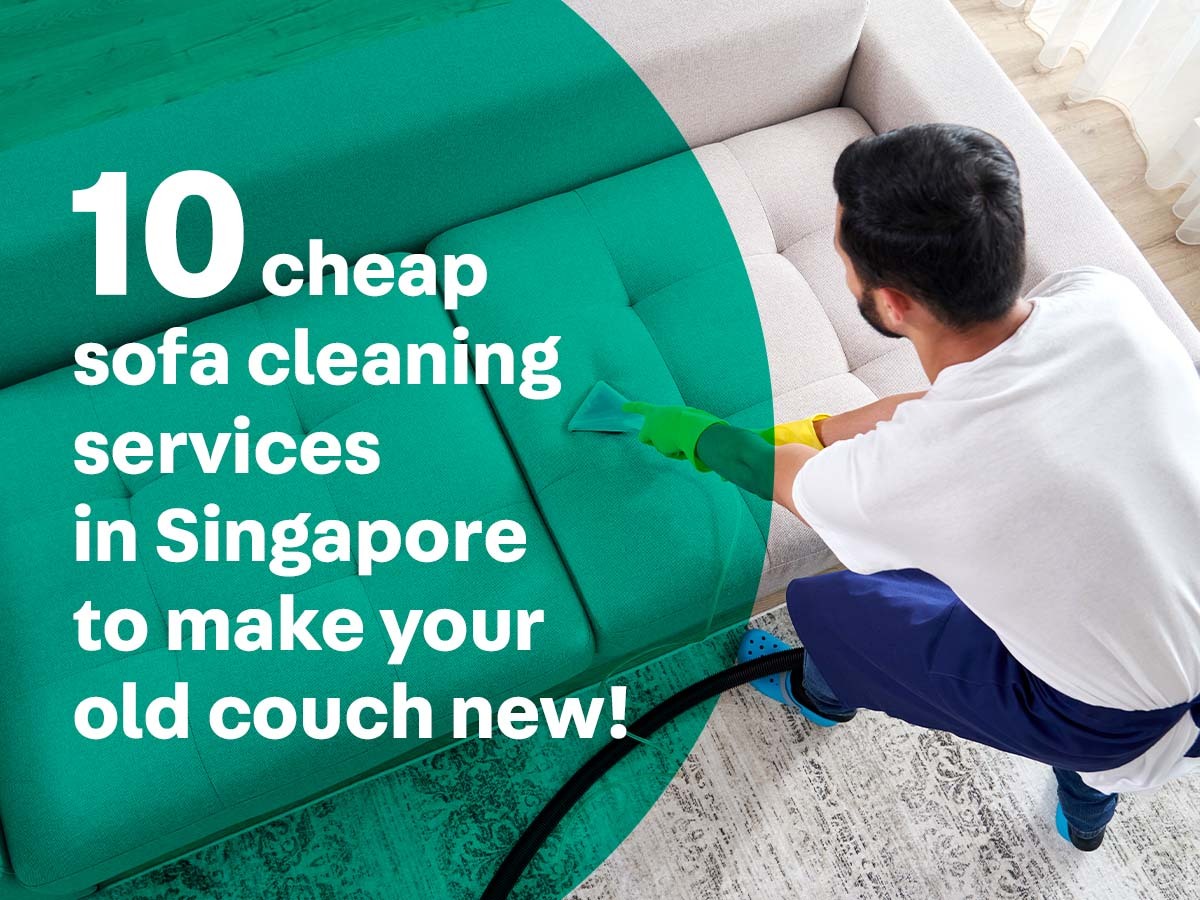 Reading Time:
8
minutes
Hiding sofa stains from your mother is probably far more difficult than hiding your dating history. While the latter can be just ignored with denial and buried deep into the ground, your sofa stains out show themselves at every family gathering, every party, and especially when your mother is around.
Fret not, here's how you can get your sofa clean and ready for new stains. 
5 DIY Tips For Quick Sofa Cleaning
The easiest way to clean your sofa would be wiping the stain clean with a solution of soap and water the moment you spilt on it, but let's face it you wouldn't be reading this blog if you had done that. 
Since we have a big stain to hide, there are a few quick tips you could try as a makeshift arrangement, until you call the professional sofa cleaning service on the weekend. 
Here are a few quick and easy DIY tips for sofa cleaning:
VINEGAR METHOD
Add a few drops of vinegar to half a cup of water. Pour this solution into a spray can. Spray the solution on the stain, and then blot the area with a dry paper towel. Do not rub on the stain. 
This will lessen the intensity of the stain so it can easily go unnoticed. 
BAKING SODA METHOD
A solution of baking soda and water on your stained couch is the easiest hack to make that sofa dirt vanish. Dabbing the solution on the source for 15-20 minutes before vacuuming it with a brush attachment will remove odours and loosen the stains. 
You can also just use dry baking soda powder without mixing it in water. 
DRY BRUSH TECHNIQUE
Using an old toothbrush or a normal thick brush with bristles to go over the entire sofa can loosen stains and bring dirt to the surface, for you to vacuum. This makes the process of sofa cleaning effortless and efficient. 
ALCOHOL AND OIL SOLUTION
This particular hack of mixing an essential oil (tea tree, rosemary, lemongrass, or lavender are all great choices) with a little rubbing alcohol, to spray it gently on your sofa before vacuuming the surface, is not only for sofa cleaning but also for disinfecting the couch. 
SPONGE AND DISH SOAP METHOD
For polyester sofas, this is the best possible sofa cleaning hack for quick stain loosening. Dilute a solution of dish soap and water, and dampen a sponge with it. Then gently dap and brush it against the stained area with the sponge. 
These are hacks that will help you get a stain out of your way for a party. But you will still need professional sofa cleaning afterwards to get rid of that 'stain-ful' memory. 
Carousell has a long list of affordable sofa cleaning services that are highly recommended by many people across Singapore. Check them out to make your old couch new, and your stain invisible! 
Top 10 Sofa Cleaning Services On A Budget On Carousell
Alongside deep sofa cleaning, they also provide other time-saving services such as mattress cleaning, home cleaning, steam cleaning, carpet cleaning, dust mite cleaning and removal, and sanitization. 
Their treatments guarantee to kill 99% of bacteria and viruses. Their sofa cleaning service provides 99% germ-free surface, and 100% removal of allergens and dust to give their customers an allergy-free home. 
The treatments promise an odour-less surface, the best stain removal techniques results, and enhance the longevity of the furniture, along with satisfactory results to all customers. 
Their sofa cleaning service package starts at a range of a minimum of S$95 for a double-seater sofa chair. They also offer combo packages such as sofa cleaning with carpet shampooing, at a basic rate of S$130, for a double-seater sofa and a 2x2m carpet. 
Their previous clients sing umpteen praises of their fast and efficient service on Carousell and are very happy with the post-service results they got. 
Reach out to them here.
Vida Cleaning prides itself on being a cut above the usual wet vacuuming and shampoo scrubbing style of cleaning sofas and mattresses. The company's trained professionals promise 100% stain and odour removal, and complete elimination of dust mites and germs from your surroundings. 
VidaCleaning's reputed cleaning solution with shampoo and deep extraction style of cleaning guarantees the removal of all unsolicited elements at a very reasonable price. 
Several customers have expressed their satisfaction with VidaCleaning, and recommend their services for your needs on Carousell. 
Reach out to them here.
Another great sofa cleaning service you'll find on Carousell is ImpactPro Cleaning. 
The company provides additional cleaning services, on the side of sofa cleanings, such as carpet cleaning, baby cot cleaning, gaming chair vacuuming, and mattress cleaning. 
The best feature of the cleaning service company is that its team of professionals is very attentive to detail and highly sensitive towards client requirements. 
They provide many affordable and reasonable cleaning packages for their customers, along with attractive promotional offers. With ImpactPro Cleaning you will get a fixed quote for the service you require, to avoid any hidden costs or extra charges and maximum customer satisfaction. 
Their timely customer response and understanding client support system is the favourite feature of their company for many happy customers. 
The charges of ImpactPro Cleaning are complete value for money and are at par with the service they provide. 
Reach out to them here.
The services of Oasis Sanitation are popular in offices, HDB apartments, and commercial shops. They provide regular cleaning and professional maintenance services for upholstered chairs and other furniture along with thorough sofa cleaning. 
From dry and wet vacuuming to suctioning using organic chemicals and hot air steaming, Oasis Sanitation has got you covered. 
Oasis Sanitation promises hygienic results and enhances the quality of your furniture after subscribing to their cleaning treatments. 
They have fixed rates for all their services, and they take pride in transparent pricing minus all hidden charges and frivolous sales gimmicks. Their aid is reasonably priced, promising satisfaction and value for money. 
Happy customers from all over Singapore have given praiseworthy feedback on Carousell, recommending Oasis Sanitation for your next spring cleaning session. 
Reach out to them here.
NEA (National Environmental Agency) licensed Lotus Environmental provides chemical-free cleaning services for homes and offices. They are known for their high heat steam extraction technique for sofas, carpets, chairs, and all upholstered surfaces. 
Customers have provided happy and positive feedback about the service provided by Lotus Environmental, on their Carousell portal.
Their timely response to their queries and needs impresses all, and their client support and sole goal to provide customer satisfaction and value for money make the company a personal favourite to many. 
True to its name, Lotus Environmental promotes environmentally friendly cleaning agents and uses child, pet-free detergents while at work. The company promises to eliminate bacteria and odour along with dust and allergy-causing elements with their trademark cleaning procedure. 
Reach out to them here.
The highly professional staff at TruSparkle Cleaning Solutions aims to extract 100% germs, dirt, and bacteria from your sofa, mattress, and carpet. They work to remove odours, stains, and dust mites from your furniture using various specialized cleaning procedures and agents under an appointed supervisor for the project. 
TruSparkle provide upholstery cleaning, steam cleaning, leather cleaning, pressure washing, curtain dry cleaning services along with sofa cleaning. They also provide customized cleaning solutions to their clients. 
TruSparkle guarantees a re-work if the customer is dissatisfied with the service, which gives their clientele confidence and trust in their company. 
You'll find many satisfied clients and happy reviews of their service on Carousell. 
Reach out to them here.
Ocean Cleans provides ample cleaning choices at very affordable prices on Carousell. From sofa cleaning to mattress steaming, they are a one-stop solution for their customers.
They are reputed for their eco-friendly cleaning techniques and their aim to provide clients with stain-free, odour-free, and germ-free results. 
Ocean Cleans guarantee 99.7% elimination of bacteria, with their specialized child-free treatment involving an environment-friendly solution that breaks down stains with enzymes to reduce the patches. 
They also provide free deep cleaning and one-on-one consultation with the hygiene consultants, with all their services as a promotional offer.
Pictures of the cleaning process, are also provided so that clients have full trust in their work, and remain stress-free. 
Reach out to them here.
KT Deep Cleaning Service specializes in sofa cleaning,  mattress cleaning, and sanitization of all surfaces using their trademark techniques of cleaning and germ elimination for homes and offices.
They are committed to their work, listening to the needs of their clients, focusing on their satisfaction, and involving them throughout the process. 
The trained staff at KT Deep Cleaning Service assures 100% results and guarantees gratification along with a clean and child-safe living environment to all their happy clientele. 
Reach out to them here.
Their aim is to give you the clean home you deserve. Alongside sofa cleaning services and deep cleaning for upholstery, they also provide their happy clients with mattress cleaning and carpet steaming services.
They are famous for their dirt extraction techniques, odour, and stain removal. 
They specialize in stain removal and promise a non-obligatory quotation for the same. As if the competitive pricing wasn't enough, as a part of their featured promotion, ChengBTC provides a discount of 20% on the total billing if the client requires cleaning for more than 5 items. 
Customers across Singapore are pleased with their performance and recommend this service. 
Reach out to them here.
Refresh has satisfied many households with their high-scale sofa cleaning services. They pride themselves on 360+ happy customers and consistent 5-star ratings over the years. You can check them out on Carousell. 
They provide mattress cleaning and stain removal services with their sofa cleaning packages at attractive prices, with complimentary pillow cleaning. 
Their chemical-free disinfecting steam cleaning technique and natural steam extraction with dustmite removal have impressed many. The procedures provide promised results of 99.9% germ elimination and 100% odour and termite removal. 
The company is trusted and known for its reliability. You can count on them for all your urgent cleaning needs, and expect great customer support. 
Reach out to them here.
Conclusion: Having a big stain on your sofa, or owning a dirty old carpet finally gave you a reason to check out these amazing cleaning services on Carousell.

So what are you waiting for? Choose your perfect sofa cleaning service and get rid of that big stain today!