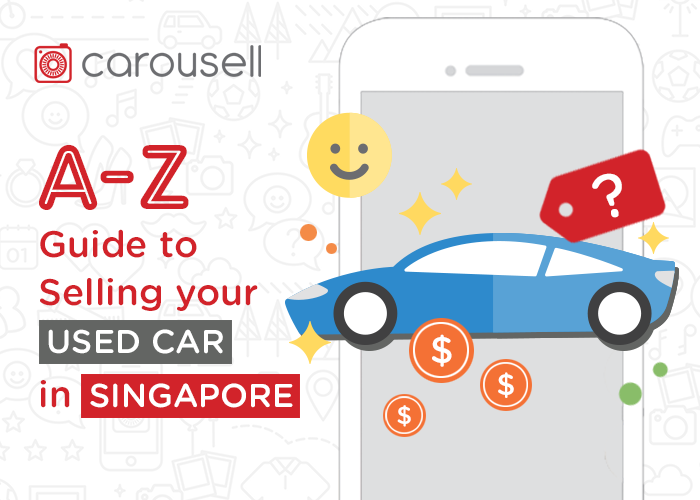 Selling a car probably starts with tons of Google searches on "how to sell your car in Singapore" or "sell car Singapore" right?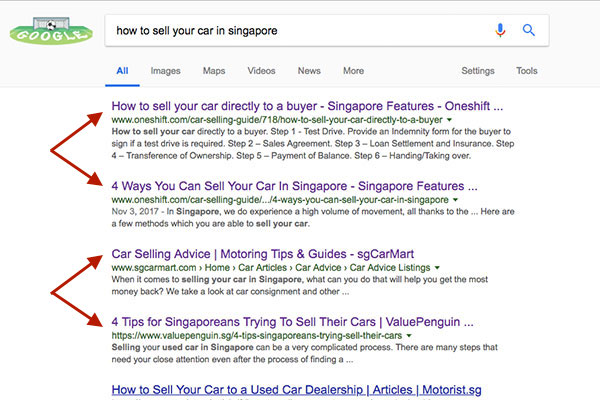 We both know it's not a walk in the park.
And, not every guide online is comprehensive. You might end up filtering through tons of pages. That's a lot of time wasted.
I'm not a fan of wasting time. So, I compiled everything you need to sell your used car in this guide.
How to sell a car in Singapore
Skip to the section that's relevant to your current situation! Let's dive straight to the first one, how to list your car for sale. 
1. Selling a car in Singapore to a direct buyer online
You probably guessed I was going to insert a shameless plug about selling a car on Carousell. You're not wrong at all.
Let's start with a trivia, why do some used car sellers to find it hard to attract a buyer?
Answer? Their listing lacks details.
Think about it; someone's going to fork out around $80,000 for your car. Will one sentence convince you to buy a car online? No way.
So, let's go through what your potential buyer wants to know when they're buying a car online.
The vehicle details to include when you're selling a car
| | |
| --- | --- |
| Make | What's the brand of your car? |
| Model | Is it a Honda Civic or Honda Civic Type-R? |
| Submodel | Is commonly known as the version (e.g. Civic 1.5 or 2.0) |
| Transmission | Auto or manual? |
| Badge/Trim | Is your car a special edition? |
| Original Registration Date | When was the car first registered? |
| COE Category | A, B? |
| COE Expiry | The exact date your COE expires |
| Open Market Value (OMV) |  – |
| Additional Registration Fee (ARF) |  – |
| Quota Premium (QP) Paid |  – |
| Mileage | How far have you travelled in your car in kilometres? |
| The number of previous owners |  – |
| Road tax expiry | When is your road tax due for renewal? |
| Road tax cost | How much do you have to pay? |
| Car modifications | Any changes to the body kit, exhaust, etc.? |
| Car accessories | Is your car pimped with the snazziest sound system? |
It's normal if you're thinking: "Wah damn troublesome, why need to say so much?"
Well, your car's going to make a giant $80,000 hole in their pocket, that's kinda why.
The list is long, and it might take you a while. But, Carousell can save you valuable time.
How Carousell makes selling a car quick and easy
Try to remember all the details about your car. Can you?
If you can't, let Carousell do the dirty work for you instead.
Just key in your license plate number, your ID and country. We'll pull these crucial details automatically:
COE Expiry
We even calculate the depreciation value of your car based on your selling price for you.
Here's what it looks like: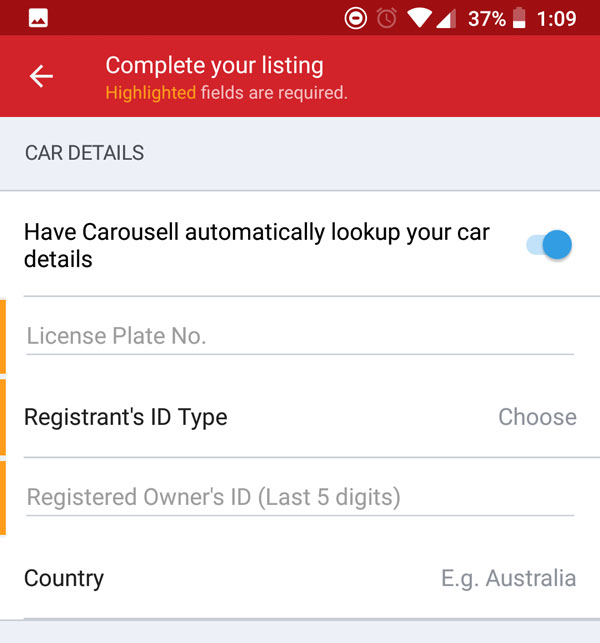 Isn't that a more convenient way to sell your car? God help you if you can't remember those details.
I know I mentioned some pretty technical terms in this section so let's briefly look at what they mean.
What is Original Registration Date (ORD)?
The Devil's tempting me to make a lame reference to National Service. Jokes aside, Original Registration Date refers to when the car is first registered.
What is COE?
It's a certificate of entitlement (COE) that represents your right to own a vehicle and use the limited road space for either 5 or 10 years.
What is Open Market Value (OMV)?
It refers to the how much your car is valued at. This value includes purchase price, freight, insurance and all other charges incidental to the sale and delivery of the car to Singapore.
What is Additional Registration Fee (ARF)?
ARF is a tax you have to pay when you register a brand new car. It's counted as a percentage of your vehicle's Open Market Value (OMV). It also determines your rebate value (PARF) when you deregister your car.
What is Quota Premium (QP) Paid?
Quota Premium Paid is the amount you paid for your COE. Your COE is the certificate of entitlement (COE) that represents your right to own a vehicle and use the limited road space for either 5 or 10 years.
You can look up your car's details on your own if saving time isn't an issue. Find them in your vehicle log card.
How to check vehicle details with vehicle log card
Get on

LTA e-Services page

and log in with your Singpass

Navigate to "My Account" and "My Assets"

Select the car you're selling
You'll end up seeing a list of information that looks like this: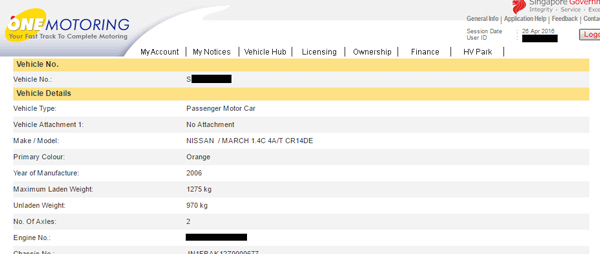 Then, the next obvious thing on your mind is the price. How much should you price your used car?
How to price used cars in Singapore
Compare the market price for your vehicle

Check the market depreciation rate of your car

Count the mileage your vehicle clocked in

Factor in your aftermarket car parts

Decide how urgently you need to sell it

Check on your car's cult status
Pricing is subjective.
What you value might be different from what buyers value. Take a look at these two Audi cars below.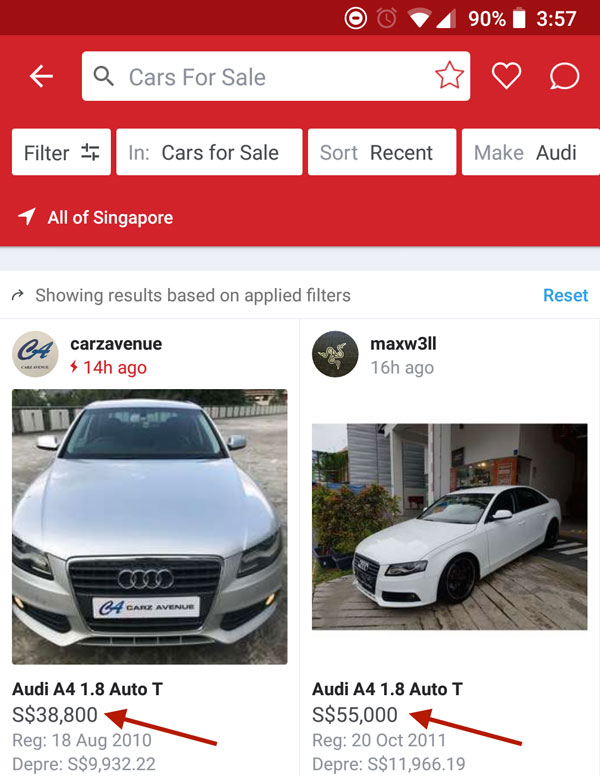 Same model, different price.
So whatever it may be, you have to consider the factors above before selling a car at a given price.
For example, if you've legally modified your car to include brand new aftermarket parts,  price it higher than the market value. 
Tip: Always compare your asking price against how others are pricing it. Read their description and see how they justify their asking price. And remember, don't give discounts.
Avoid having illegal modifications to your car. You might run into trouble when you're selling. Check here to see the parts that LTA approve.
Next, you'll learn how to attract buyers.
2. How to attract leads and buyers for your car
What's the one thing that unsuccessful sellers have in common?
They list their car online, forget about it, and pray that buyers come knocking.
My tip? Promote your listing and give your car the attention it deserves.
Don't start sending everyone in your contacts-list a message though; there's a faster way (hint: use Carousell). 
Just tap your finger to share it across multiple social channels after listing your car on:

Instagram
Facebook & Facebook Groups
Twitter
We also integrate most of your other favourite apps (e.g. LINE, WhatsApp), and you have another option to share your item within Carousell groups.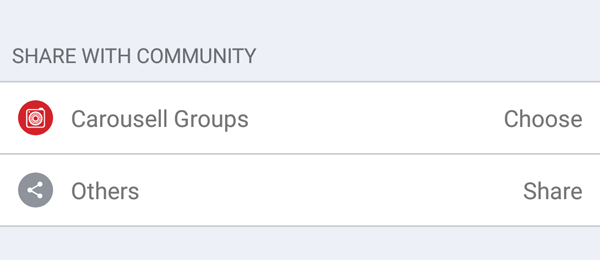 How to sell faster on Carousell by 200%
You could consider buying our visibility features if you're dead set on selling your car quickly.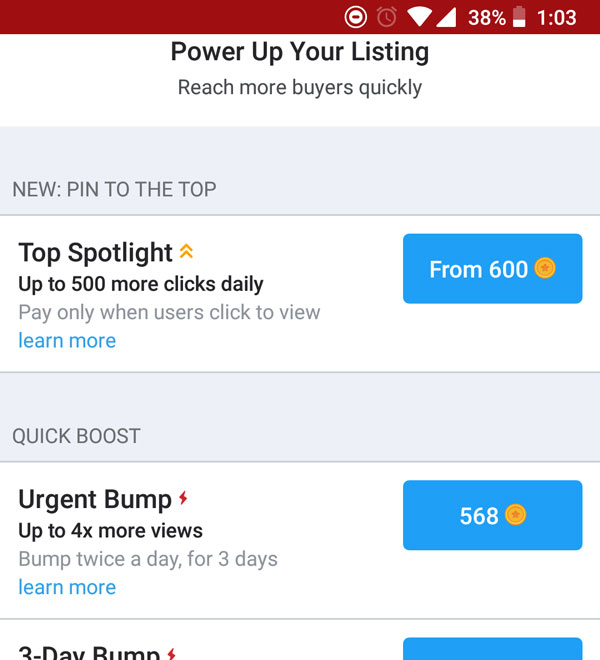 Choose between Carousell Bumps or Top Spotlight to increase your chances of selling by up to 200%.
If you're interested to find out how these features help you sell faster, check out the two guides below:
Besides, what are a few dollars compared to closing a car sale successfully? Pennies I bet. Give it a shot.
Next, let's go over the best way to close a car sale.
3. How to negotiate a car sale
So, what's the best way to negotiate with your car buyer?
A test drive.
This is where you can humblebrag about your used car and get away with it.
Since a test drive is the primary focus of this section, let's break it down into two parts:
Negotiating before the test drive

What to do during a test drive
Let's keep it interesting; I'll highlight the common mistakes car sellers make. There are still sneaky people in this world so let's avoid their traps. 
Before the test drive
So, the first negotiation starts with a chat on Carousell.
Probably a "Hey is your car still available?"
Before you get overexcited, take a look at the common mistakes people make during the negotiation:
| | |
| --- | --- |
| Mistake | Do this instead |
| Leave out important details about your car or lie | Describe your car in as much detail as possible to avoid allegations |
| Give a discounted price | Be firm about your price |
| Agree to private instalments by the buyer | Avoid saying yes to a private instalment |
Avoid these mistakes so disputes won't arise when you progress to the next step.
Here's why:
Test drives give buyers a hands-on experience

. If you leave out details like damages, buyers might force you into an unreasonable discount (or worse) if they find out.

If you give in to a lower price, buyers will find excuses to go even lower.

Private instalments are shady, imagine having to chase late payments. It's a nightmare waiting to happen.  
Next up, the test drive itself!
During a test drive
Once you settle the preliminary negotiations, you're on to the test drive!
People often make two mistakes at this point:
| | |
| --- | --- |
| Mistake | Do this instead |
| Allow the buyer to drive their preferred route | Plan a specific route for the test drive |
| Let the buyer go for a test drive without signing an indemnity form | Get the buyer to sign the indemnity form before test-driving your car |
Avoiding these two traps could save your life (ok no, maybe just your sale).
Here's why:
Planning a route lets you choose somewhere with

minimal traffic and obstructions

. It allows the buyer to focus on how badass your car is.

If you forget an indemnity form, you can't hold the test driver liable for any damages

from driving like a clown.
Test drive indemnity form
As they say, prevention (from driving clowns) is better than cure. If you need the test drive indemnity form, click here.
Here's a preview of what it looks like:

Then, the next step you need to take is to co-sign a sales agreement form.
The sales agreement
You'd want some form of black-and-white here to avoid running into a disappearing Houdini.
I advise keeping a sales agreement form and an invoice ready in a file when you're on the way to your meet the buyer.
Once you work your magic and settle on the agreed price, get the buyer to sign these two forms. It confirms the purchase of your used car.
You can find these forms here: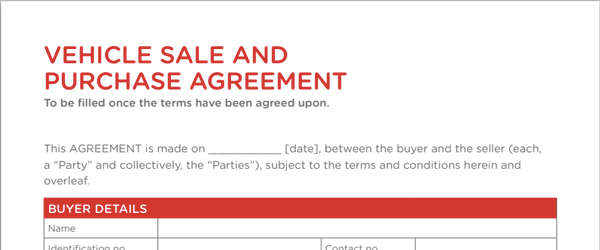 Note: The buyer has to deposit an amount for your car, and the sales invoice is the proof of receipt. Keep it safe. 
4. Settle your outstanding car loans
Even though you might not want to run into a disappearing Houdini, I'm sure you want your car loans to vanish.
You have to pay off all of your outstanding balance for your car loan.
The sale or transfer can't happen unless it's cleared.
Next up, let's go through the transfer of car ownership procedure.
5. How to transfer car ownership?
A step-by-step guide to completing LTA transfer of ownership:
Clear your outstanding balance for your car loan

Check with the buyer if their loan and motor-insurance are approved

Head down to Land Transport Authority (LTA) together with the buyer along with a co-signed M01 form (transfer form)

Bring both the buyer's and your

identification documents

Get the buyer to present their original motor insurance certificate

Ready a transfer fee of $25
Note: If your car went through an inspection, bring the original vehicle inspection certificate issued by an LTA Authorised Inspection Centre
Sound like a lot to digest? I'll break vehicle transfers down for you.
Steps 1 and 2 are straightforward, so I'll skip to Step 3: an M01 form.
What is an M01 form (transfer form)?
As a formality, LTA requires an M01 form (transfer form) to prove that both parties are in agreement for a vehicle transfer.

Get this document mutually signed and bring it to LTA.
Because it's mandatory, I'll skip the details of the form. You can download it and see them here: M01 form. 

Next, step 4: the documents you need to bring.
What identification documents do I need to transfer car ownership?
LTA's like that nosy teacher that wants to know way too much. They require a lot of documents to officialise the transfer of ownership.
To spare you the bore of a long list, I'll paste the link from LTA's official website here: List of identification documents for vehicle transfer
I'll skip Step 5 too since it's straightforward. The buyer needs to prove they have valid motor insurance.
Lastly, the transfer fee.
How much does LTA vehicle transfer fee cost?
LTA vehicle transfer fee costs $25.
Depending on the negotiation, either you or the buyer can tank this cost.
Heads up though, there are instances where other taxes might apply on top of the $25. Check here: Additional levy for vehicle transfer
If by shit luck you're tanking the transfer fee, you'll need four things to check if you have to pay the levy:
Vehicle number

Owner ID Type

Owner ID

Intended transfer date
And voila, that's everything you need to know to transfer your car ownership to the buyer legally.
6. Complete your car sale and give that last handshake
Big thanks if you read all the way here (mini-heartfelt writer moment).
The last thing on your to-do list: complete your car sale.
So before you surrender the car keys to your second-lover, collect the remaining money the buyer owes you by checking the sales invoice you issued earlier during your negotiations.
After that, issue a vehicle handover form to make it official.
Vehicle handover form
The handover form is a formality that is mutually signed to say "hey, it's yours."
You can download the vehicle handover form here.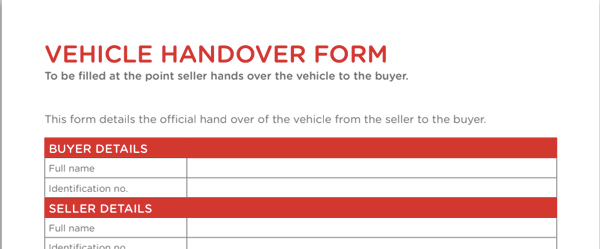 After that, throw em' the keys and walk away dramatically.
I hope this complete guide gave you the confidence to sell your car on your own! Let me know if you've any further questions and I'll find the best answers.
Oh if you could do me one tiny favour; could you share this article with your family and friends who aren't confident to sell their cars too?
And, well maybe slide in how a handy app like Carousell can make selling a car even more manageable.
Good luck and happy selling!