Selling your condo or private property on your own – without an agent – might seem like a really bold thing to do, but it's actually more and more common in Singapore.
Conventionally, we're probably more used to property agents being involved in the process. But if you're willing to put in the effort, you'll save on the commission that you'd otherwise be paying to a property agent. A 2% commission from a $1.5M condo, for instance, is already a whopping $30,000! We'd say that's well worth it. In fact, some buyers prefer dealing directly with owners, so that's bonus points for you!
Ready? Here's our concise condo-selling guide!
How to Sell Your Condo in Singapore:
1. Set an asking price for your condo
This is an extremely crucial part of selling your condo – set the price too high, and you might not even find yourself any interested buyers; set it too low, and you stand to lose money.
Thankfully, many online sources provide incredibly transparent information about how much a condo costs in Singapore. You can:
Check for similar property listings to benchmark your asking price against
No harm being a little nosy and checking what's currently being advertised in the property market, and for how much.
When doing this, try to identify gaps in price points, so you're not lumped in with the rest of the competition.
For instance, if most of the condos for sale in your neighbourhood are priced at $1.1+M and $1.3+M, price your condo within the wide-open $1.2+M price band, so it implicitly stands out when property seekers are browsing the listings.
Use government tools and resources
The Urban Redevelopment Authority (URA) website also keeps a record of recent transactions of other units in your condo or condos in your area.
Bear in mind, though, that these prices might have been negotiated down from their initial asking price. So, for instance, if you're aiming to sell your condo for $900,000, you might want to price it at something like $925,000 to leave room for negotiation, a slightly higher amount that's still within reason.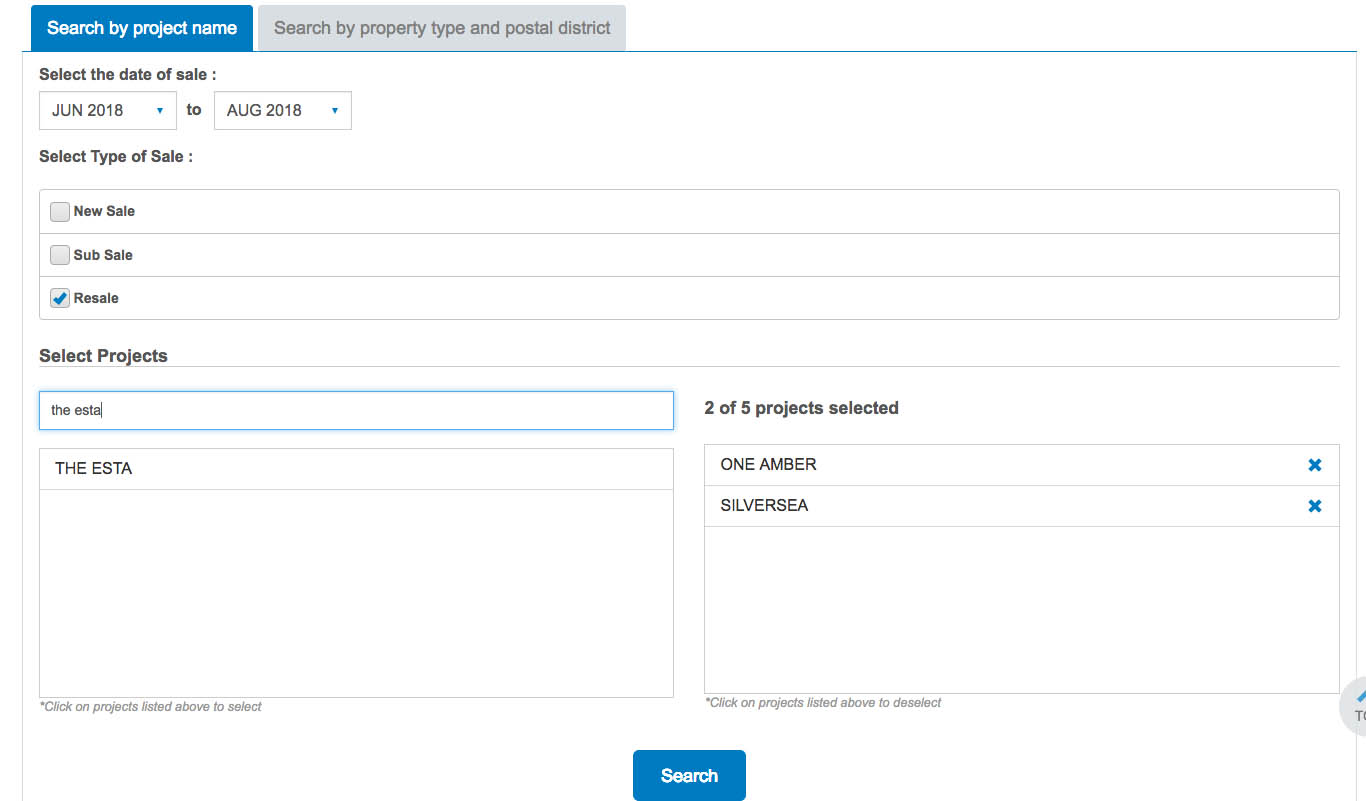 Tip: This can also double up as a complete list of condominiums in Singapore. Use this for your research if you're planning to buy a new home after selling your condo! 
2. List your condo for sale
As a private homeowner, there are actually many free platforms (like Carousell!) where you can list your condo for sale for free.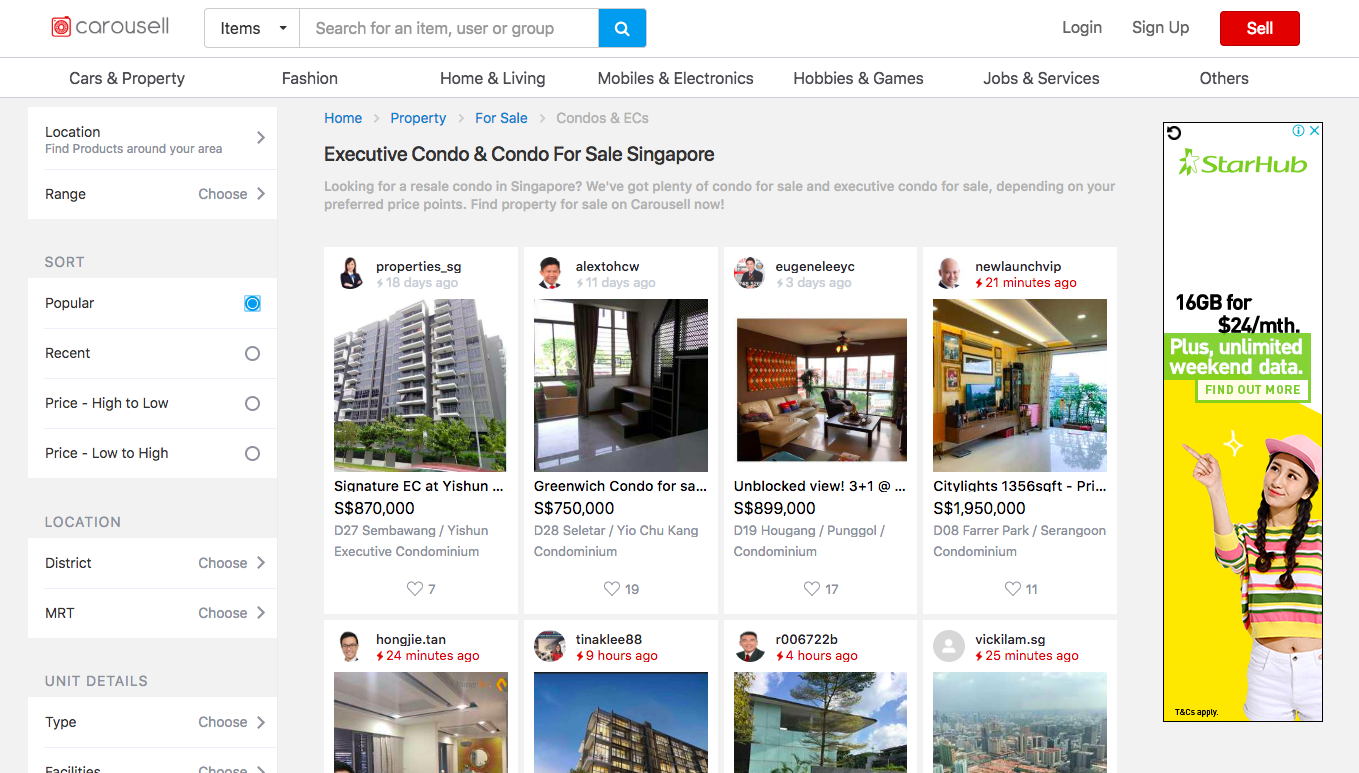 Obviously, you'll want to tidy up your home before taking any pictures. Clearing out all your clutter now also means you'll have an easier time moving. Win-win!
For instance:
Hide personal care items like toothbrushes in your toilet (although a freshly laundered towel hanging nicely on the rack could pass off as an aesthetic addition).
If you have super cute pets, we know it's tempting to show them off… But don't. About 98% of us think pets are adorbs (and the other 2% are wrong), but not everyone can see themselves living with a pet.
If you search online for home staging tips, you'll probably read several articles asking you to remove family photos, framed certificates and the like… But we're not sure about this. The idea is to depersonalise your home to allow the prospective buyers to imagine themselves living in it, but we're all getting discerning enough to be able to tell when something's overly staged. We think it might even be nice to leave this personal touches around to show the buyers that this could truly be a home sweet home.
The description in your listing is equally essential. Include all important information:
How big is it? Not just the number of rooms, but also the size in square feet/ meters. people searching for their next home could be more familiar with either unit of measurement.
Which floor is your unit on? If it's a high floor, does it have a nice view?
Was it recently renovated? Some prospective owners might be looking for a unit that requires minimal renovation.
Is your condo near the MRT or any shopping mall? Everyone would say their house is "near XXX", so be specific! A 5 minutes' walk? 2 bus stops away?
Are there any unique facilities within the development?
Is it freehold or leasehold? These homeseekers might be looking for a home with lasting value, and they might see this as an important factor. How old is your condo, and if it's a leasehold condo, how many years are left on the lease?
3. Arrange viewings for interested buyers
Unlike HDB flats, there are no restrictions on who can buy your condo. So, be open to foreigners, permanent residents, and every nationality alike.
Note that if you're selling your Executive Condominium (EC), Permanent Residents are only eligible to buy 5 years after your EC's date of completion, while foreigners can do so only after 10 years.
Be patient with this part of the selling journey. Interested buyers might request to view your house for the second, third or even fourth time – it's a house they're buying, after all. Kinda sorta a huge purchase, yes?
4. Engage the help of a conveyance lawyer
Conveyancing is the legal process of transferring property from one owner to another.
You might not need an agent, but you'll need a conveyance lawyer (find one here). The conveyance lawyer will conduct a title search to confirm that you, as a seller, have the good root of title. Meaning to say, that your title to the property is not defective due to issues such as a mortgage.
Once this is confirmed, you're ready to enter the legal bits of selling your condo!
5. Grant Option to Purchase (OTP) and secure 1% booking fee
So, you've just found yourself a buyer!
Grant them the Option to Purchase – basically, a legal way for your prospective buyer to chope your property – in exchange for a 1% Option Fee (i.e., 1% of the purchase price).
The Option to Purchase will also contain terms on the sale and purchase of your condo such as the address and unit number, the selling price, etc.
This will be valid for 14 days, during which you must stop advertising your property or accepting offers from any other interested buyers.
If the buyer doesn't proceed with the transaction within 14 days, you get to keep the Option Fee (Free money! But still, let's hope the deal goes through…) and may start advertising your property once again. So think of the Option Fee as a reservation fee of sorts.
6. Issue a Sales and Purchase Agreement and receive a 4% Exercise Fee within 14 days of the OTP
Upon the buyer's exercise of the Option to Purchase, collect a 4% Exercise Fee and enter into a Sale and Purchase agreement with them. The Exercise Fee is usually held by the buyer's lawyer pending completion of the sale.
The Sales and Purchase Agreement should typically include:
Each party's details: the buyer and seller's names, identification numbers, registered addresses, etc 

Details of the property: The property's address, floor area, sale price, whether the property is sold furnished, and an inventory list if applicable, the move-in date, etc 

Price of the property: The Option Fee already paid, details of how and when the remainder of the payment should reach you

The buyer and seller's rights and responsibilities: e.g. that each party must pay their respective stamp duties and withholding tax
The rest of the process – delivering the property title to your buyer and making sure the remaining 95% payment balance is safely in your hands – should take about 8 to 10 weeks.
7. Pay stamp duty if you sell before occupying your condo for 3 years
In Singapore, if you sell your condo within 3 years of ownership, you're liable to pay a Seller's Stamp Duty (SSD) equivalent to 4-12% (12% if you sell within the first year of ownership, 8% within the second, and 4% within the third) of the final selling price of your property.
Because of this regulation, it's advisable to only sell after the 3-year mark.
If you're not in a rush to sell your property but are not living in it, you can consider renting it out in the meantime. Whether your condo is a cosy studio downtown or a family-sized home in the heartlands, it's definitely possible to identify your target pool of tenants. Why say no to passive income?
---
---
Selling a condo in Singapore
Now, you're familiar enough with the entire process of selling your condo (Seriously, that's all there is to it!).
Even if you don't have a salesperson's gift of the gab, remember: You're the best ambassador of your own home.
Share what you love about not just your home, but also your condo and the estate – personal stories like these are what only you are familiar with.
Perhaps the jacuzzi pool warms up a little more at night when it's chillier; or, there's a 24-hour coffee shop down your street that serves the best bowl of wanton noodles.
These little details might not seem like much, but they paint the image of an inviting, pleasant place to live in.
So, if you're ready to save yourself your $30,000, I'd say Carousell's an excellent place to start your selling journey (check out how other people are listing their homes for sale)!