As HDB owners in Singapore, most of us are painfully aware that living in Singapore is increasingly expensive.
To cope with hefty mortgages and rising utility bills, many HDB owners in Singapore are wisely turning to rental income for investment and financial relief.
So, if you own a spare room or unit in Singapore, this straightforward 10-step guide covers all you need to know about renting out an HDB flat.
How to rent out HDB flat or room in Singapore:

1. Confirm eligibility with HDB
Before you begin, make sure your HDB flat is eligible for rental in the first place.
The eligibility criteria differ depending on what you want to rent out, the whole flat or just the bedroom(s).
1. Minimum Occupation Period (MOP)
You need to have stayed in your flat for the Minimum Occupancy Period (MOP) of 5 years before you can rent it out.
This rule applies regardless if you have bought your HDB through BTO or the Resale Open Market, with or without HDB grants.
2. Citizenship
Both Singapore Citizens and Singapore PR HDB Owners can rent out their spare bedrooms.
But, only Singapore Citizens are allowed to rent out their whole flat. (Sorry, PRs!)
3. Size of your HDB and No. Of Occupants
To rent out your bedroom(s), your HDB needs to be 3-rooms or larger. The maximum number of bedrooms you can rent out for a 3-room flat is 1, and for 4-rooms and bigger units is 2.
Tip: Note that only originally constructed bedrooms by HDB can be rented out and other parts of the flat including partitioned rooms cannot be given to tenants.
See the table below for a useful summary of the number of rentable bedrooms and occupants (counting both tenants AND landlords) allowed for different flat sizes:
And if you're renting out your whole HDB flat, the maximum number of occupants depends on the size of your flat: 4 for 2-bedroom HDB flats or smaller, 6 for 3-bedroom HDB flats or larger.
Once you are sure, get a printed confirmation of your eligibility to rent out your flat or bedroom from the MyHDB page.
Then, log in with your SingPass and go to "My Flat > purchased Flat – Renting out Flat" to print out this page: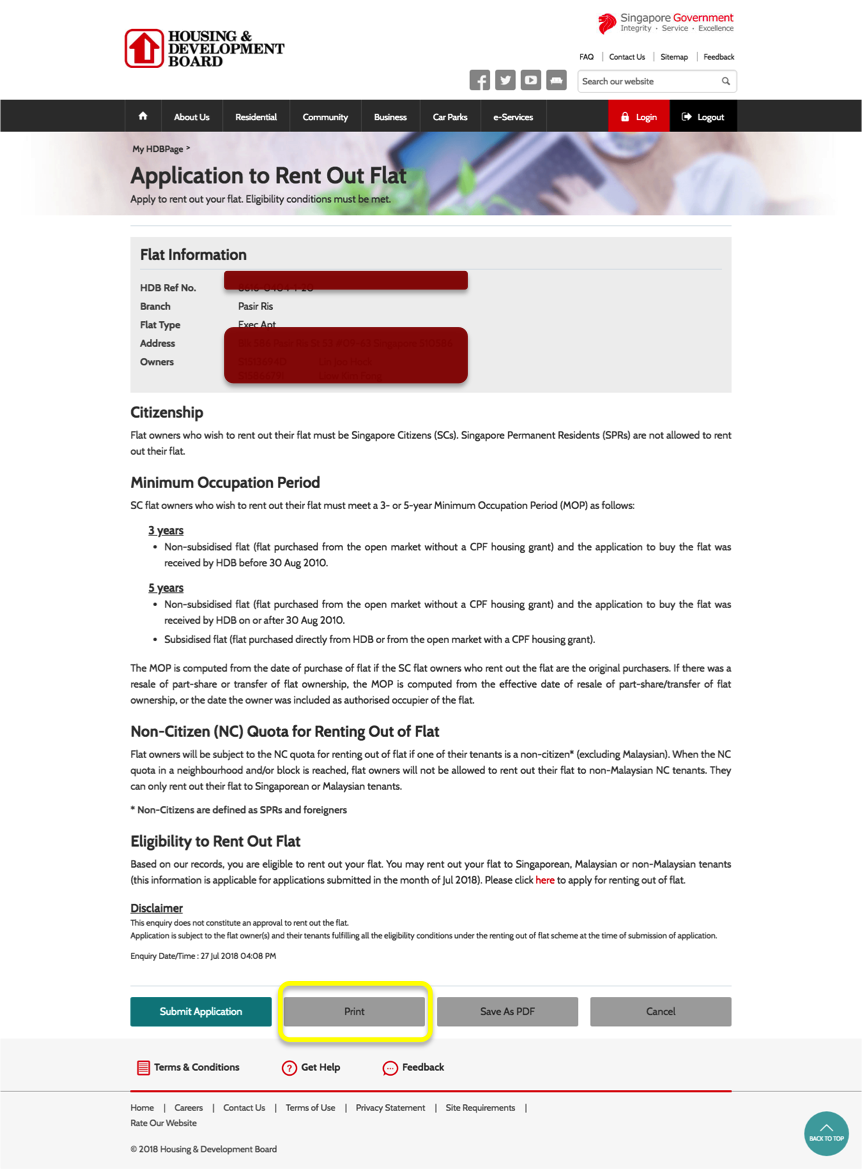 2. Set your asking price
The next step in renting out your HDB is to decide on your asking price.
Tenants tend to be pretty price sensitive, so it's essential to do your research about current market rates.
To get a good benchmark on prices, you can:
Refer to past HDB rental transaction median prices or market rental statistics on the HDB website (for whole unit rentals)
Do a quick check on Carousell for prices of rental bedrooms similar to yours in your area
Here are the main factors that determine the rental price of your home:
Location and convenience
Size of the room/ unit
The inclusion of utility bills and air-conditioning usage
Number of people sharing the unit or room
Other secondary factors that will also impact the rental price of your property include:
Quality of furnishings & facilities
If visitors are allowed
If cooking is permitted
If you are a live-in landlord
Factoring in utility charges 
When renting out a whole flat, tenants usually pay for utilities separately from the monthly rent.
The bill is split equally amongst the tenants if more than one shares the unit.
If you are renting out a spare bedroom, factor in an additional $50 to $120 monthly for your tenant's share of utilities.
But, if you want to include utilities into the monthly rental, lay down some ground rules to manage the costs (more on that in the later sections).
Tip: Air-conditioning is pricey. Switching on the Air-con for 8 hours daily can choke up to $70 or more on your monthly electricity bills (fans only cost $5/month)! Make sure to understand your tenant's needs and work the appropriate amount into your leasing terms.
3. Advertise your HDB for rent
So the price is settled. Next, it's time to advertise your HDB rental to potential tenants.
Since most tenants search for rentals online these days, consider popular online platforms like Carousell where direct owners like you can put up your first rental listing free of charge!
How to attract potential tenants with your room rental or HDB listing on Carousell
Psst! Tons of people – both property agents and HDB owners themselves – list their homes for rent on Carousell every day.
How do you make your listing stand out and scream, "Pick me!"?
If you're reading this guide, you've got an edge over everyone else who hasn't 😉 Read our complete Landlord's Guide here!
When listing your home for rent on Carousell, simply follow the fields in the form:
And don't just state the details, help potential tenants make sense of your location and facilities and highlight the charms of living in your rental home.
Under 10 minutes' walk to the MRT with many useful bus routes? Are you comfortable living right next to amenities like a supermarket or shopping mall? Position your rental attractively and accurately.
Tip: When writing the description of your HDB flat, don't contain all your text in one giant block. Breaking them up into short sentences with bullet points to make it reader-friendly. 
4. Arrange viewings for prospective tenants
Yes! People started inquiring about your property.
[Read more: Landlord's Guide: Tips for Finding the Best Tenant for Your Rental]
Before you make new friends, do the first screening by asking the prospective tenants for their details below:
Name
Age
Nationality/ Work pass type
Occupation
Lease Term
Targeted Move-in date
It will help you to get a better idea of the tenant's suitability. Especially if the tenant will be living with you, you'll want to make sure that your lifestyles are compatible.
Check your HDB's Non-Citizen Quota for renting out of flat
If you're renting out your whole unit to a non-citizen or a non-Malaysian, check with HDB's e-service to make sure your HDB's Non-Citizen Quota for Renting Out of Flat is still available.
If it isn't, you'll only be allowed to rent out your flat to Singaporeans, PRs and Malaysians.
Tip: The HDB's Non Citizen Quota for Renting out of Flat is set at 8% at the neighbourhood level and 11% at the block level.
If all's good, invite your prospective tenant to view your room or unit.
Bear in mind that they would most likely be considering other rental properties as well so the quicker they view the place, the better.
Tip: To accommodate to a large request for viewings, you can save time by scheduling an open house so that all the viewings can be done in a day.
Assessing prospective tenants
As much as the viewing is for the prospective tenant to evaluate your rental property, you should also check how suitable your tenant is.
Take this opportunity to find out more about his or her personality and lifestyle. You can also discuss your ground rules.
5. Check tenant's eligibility and verify documents
So let's say the viewing went great! Both you and the potential tenant have come to a reasonable agreement on the rent price and terms and things are starting to crystalise.
Next, conduct a final background check on their eligibility.
Under the Singapore law, HDB owners can only rent out their flats to:
– Singapore Citizens
– Singapore Permanent Residents
– Non-citizens legally residing in Singapore who are holders of Employment Passes, S Passes, Work Permits, Student Passes, Dependant Passes, or Long-Term Social Visit Passes. These passes will need to have a validity period of at least 6 months as at the date of your rental application (to be covered in the next section)
Tip: Work Permit holders from the construction, manufacturing, marine, and process sectors must be Malaysians. Tourists are also not allowed as tenants of HDB flats.
Want an idiot-proof way to make sure that your tenant is indeed eligible? Collect a copy of their work permit or NRIC and check these documents with the ICA iEnquiry system.
Step 6: Collect a Letter of Intent and Good Faith Deposit (optional)
A verbal agreement between you and your almost tenant might seem comforting.
But remember, nothing is confirmed until you receive a tangible written commitment and money deposit from the tenant, which is why this step is a good practice to facilitate a smooth rental process.
Before you delist your rental listing and turn away other potential enquirers, make sure you have 1. A Letter of Intent as well as 2. A Good Faith Deposit from the tenant who wants to secure the room or unit.
Letter of Intent (LOI)
This document is a formal offer to rent your property from your would-be tenant. As the tenancy agreement is drafted based on the LOI, the LOI should include all terms such as:
Price
Security deposit
Air-con usage
Allowance of visitors/cooking, etc
Here's a useful template to guide you and your tenant in crafting an effective Letter of Intent.
Good Faith Deposit
For the Letter of Intent to be effective, your tenant must pay you a Good Faith Deposit.
This amount is usually 1 month of rent and will be used to pay the first month of rent or converted into a Security Deposit upon signing of the actual tenancy agreement.
If the prospective tenant explicitly backs out on the decision to rent after signing the Letter of Intent, you will be able to keep the full Good Faith Deposit.
If you are the one who changed your mind about renting to the tenant, then you have to return the full Good Faith Deposit to the tenant.
Once you have signed on the Letter of Intent and received the Good Faith Deposit, you'll have to stop advertising your property to other prospective tenants.
Start drafting a proper Tenancy Agreement and get back to the tenant within the agreed period stated in the LOI (usually about 3 days).
7. Apply for approval from HDB
Wait a minute, I thought I've already checked my flat and tenant's eligibility with HDB?
Yes, checks aside, a formal application with HDB is still needed to proceed with the rental.
For this step, you will need all of your tenant's particulars. Log on to the HDB portal to make the application.
Upon successful application, you will need to pay an application fee of $20 through the portal.
8. Sign the Tenancy Agreement Form and payment of Security Deposit
Alas, you've gotten to the most crucial step in the entire rental process: getting the Tenancy Agreement signed.
What is a Tenancy Agreement form?
It's a legal contract that requires the signature of both parties, and as the landlord, you will be responsible for drafting the Tenancy Agreement.
How to draft the Tenancy Agreement
A Tenancy Agreement is made up of 3 parts: your (the landlord) particulars, the tenant's particulars, and the lease details (be sure to include all house rules to be safe).
Here are some handy templates you can use to create your own Tenancy Agreement.
What to include?
Landlord's particulars

Your Full Name
NRIC/Passport Number
Current Address

Tenant's particulars

Tenant's full name
Tenant's NRIC/passport number
Tenant's current address
Registered occupier name(s)
Registered occupier NRIC/passport number(s)

Lease details

Address of property for rental
Date of Lease Commencement
Duration of Rental
Monthly rent amount and its mode of payment
Security deposit amount
Inventory list and defects
Who pays for the utilities and phone bills
Who pays for repairs and ceiling amount
Who maintains the air-conditioner and minor repairs
Other house rules to be observed
When the landlord can start property viewings as the lease is approaching its end
Agreement that landlord continues to pay property tax and insurance
What is the interest payable for late rental payments
Can the tenant renew before the lease is up?
Also, you may want to include the following clauses:
1. Diplomatic Clause
Is your tenant an expat?
You could throw in a clause that allows them to terminate the lease after 12 months by giving you 2 month of notice. This applies to a situation where they are let go from their job in Singapore or get transferred out of the country.
If this happens, ask to see proof of employment termination or transfer from your tenant.
Most landlords will only include this clause for a lease longer than a year.
2. En-bloc Clause
When your property is nearing the end of its 99-year lease, an en-bloc may take place.
Include a clause to clarify that your tenant will need to end his lease prematurely uncompensated should this happen.
[Read more: What is "En Bloc Potential" (And Does Your House Have Any)?]
Payment of Security Deposit
If your tenant has previously paid you a good faith deposit, you can turn this into a Security Deposit upon the signing of the Tenancy Agreement.
But, if the LOI and Good Faith Deposit was skipped, collect a Security Deposit of about 1 to 3 months worth of rent.
The Security Deposit acts as your safeguard and will be used to pay for any damages or non-payment of rent by the tenant.
After deducting for such incidents if any, you should return the rest of the amount to the tenant at the end of the lease.
Tip: If your tenant is under the age of 21, a legal guardian will need to sign the Tenancy Agreement on his or her behalf. Contracts made by minors under 21 years old are not binding by Singapore law.
9. Stamp the Tenancy Agreement 
Signed the Tenancy Agreement? Next, you have to get it stamped.
The Rental Stamp Duty is a tax on the Tenancy Agreement and is 0.4% of the total rent across the whole lease period.
This necessary expense is borne by your tenant and can be paid by logging on to the IRAS website or taking the Tenancy Agreement to any Service Bureau.
For how much stamp duty your tenant has to pay, see the calculation example below:
For a lease period of 24 months and a monthly rent of $700:
The Rental Stamp Duty technically has to be paid before signing the tenancy agreement but this usually never happens for practical reasons.
The penalty will be avoided as long as your tenant gets the Tenancy Agreement stamped within 14 days after signing it (if signed in Singapore; or within 30 days after receiving the document in Singapore if signed overseas).
Your tenant must pay a penalty of $10 or an amount equal to the duty payable, whichever is greater if these deadlines are not met.
For late payments exceeding 3 months, a penalty of $25 or 4 times of the duty payable, whichever is greater, will be imposed.
10. Tenant inspection and handover
Tenancy agreement signed, stamp duty paid and security deposit received?
With your rental deal now sealed in black and white, your tenant can finally proceed with the move.
Make sure your tenant gets a chance to inspect your property one last time. You should prepare an inventory list detailing all the furnishings, fittings and appliances and their working conditions to facilitate this process.
What's next?
Hand over the keys of your property over to your new tenant! Congratulations! You are now officially an HDB Landlord.
Renting out your HDB Flat or Bedroom
Renting out your HDB or bedroom is really no rocket science – anyone can do it! All you need is meticulousness, time and a little effort.
We hope our guide has helped you gain confidence to DIY the renting out of your HDB flat or bedroom. If you're still unsure or in need of support, feel free to reach out to the property team @carousellproperty.sg with any questions.
Start your landlord journey HERE and remember to share this guide to benefit your fellow landlords-to-be!