For HDB home-seekers, the dilemma of getting a BTO or resale HDB flat can be a splitting headache. 
Curious about the number 1 discerning factor for other buyers? 
The waiting time might deter you if you're considering a BTO. You have to endure it before you finally get the keys to enter your new home.
Here are other differences between buying a new launch BTO and a resale flat:
| | | |
| --- | --- | --- |
| | New BTO Flat | HDB Resale Flat |
| Price | A new flat is sold at a subsidised price. | The price is negotiated between you and the seller. |
| Locations | Flats are mostly located in non-mature estates. | Flats in all locations may be put up for sale. |
| Mode of Purchase | Sale launches are held periodically, and applicants apply directly to HDB for a flat (and competition is stiff!). | Flats can be purchased from the open market at any time. |
Source: HDB
Have you decided that you don't want to wait a few years for your new home? Or, are you the husband-to-be who doesn't plan to use BTO to pop the once-in-a-lifetime proposal question?
If you've decided on the resale option, read our step-by-step guide to find out how you can buy an HDB resale flat on your own!
How to buy an HDB resale flat on your own?

Pre-purchase checks for home seekers
Before you go ahead, you should double-check whether you are eligible to buy a resale flat here for specific eligibility schemes unique to you.
For general eligibility schemes that apply to all, there are 2 primary considerations.
Income ceiling
Unlike BTO flats, there are no income ceilings for the purchase of HDB resale flats! However, it might affect the housing grants that you can apply for.
Ownership of additional properties
By purchasing a resale flat, you should not have any other HDB flats, private or overseas property.
If you do own one, dispose of them within 6 months of your resale flat purchase transaction.
Now, you're ready to start your home-buying journey:
1. Register your intent to buy
Log in to the HDB Resale Portal via your Singpass to register your "intent to buy" an HDB Resale Flat. 
There is no fee involved for this registration, and you will receive an instant evaluation on your eligibility to buy a resale flat.
Also, you can view all the housing grants you can apply for and whether you can take an HDB housing loan.
2. Plan your finances
In determining the suitable flat choices within your budget, here are some financial planning considerations to make it easier for your search.
Cash and CPF savings

Housing Loan

CPF Housing Grant Scheme

Payments involved
First, use these HDB financial tools to get a gauge of your current financial position and how much you can borrow.  
Cash and CPF savings
Here's what you can only pay by cash:
A deposit to the seller (a maximum of $5,000, paid in 2 stages: the option fee, and the deposit)

Part of the initial payment (if you take a bank loan, or have insufficient CPF savings)

Amount not covered by CPF savings and eligible housing loan amount

Cash proceeds from disposing of the last flat if you are taking a second HDB loan*
Part of the cash proceeds from the disposal of your existing or previous home will be set aside if you are getting a second HDB loan. This amount determines the loan amount for your second loan.
How can you use your savings in your CPF Ordinary Account (OA)?
Initial payment in whole or in part (depends on whether you use an HDB or bank housing loan)

Partial or full payment for the flat purchase

Monthly mortgage instalments
Note: The CPF withdrawal limit may only allow you to use a certain amount of your CPF savings for the flat purchase. Check here for limitations regarding flats with less than 60 years lease. 
Housing Loan
You can take on a housing loan with HDB or a Financial Institution (FI).
| | |
| --- | --- |
| HDB Housing Loan | You must have applied for HDB Loan Eligibility (HLE) letter and received a valid HLE letter so sellers can grant you the OTP. |
| Financial Institution Housing Loan | You must obtain a Letter of Offer (LO) from the FI before you exercise the Option to Purchase. |
CPF Housing Grant Scheme
You can use the CPF Grants for the initial payment of your flat and for reducing the housing loan amount. Check the different types of CPF housing grants here.
Payments involved
Too much to digest? Here's a summary of the principal payments you have to make for a Resale Flat purchase:
Deposit to the seller (Option fee and deposit)

Initial payment

Cash payment for balance purchase price
3. Shortlist the HDB flat you want
Various online platforms have made it a breeze for you to search for your dream home on your own.
Carousell Property, for one, has listings of HDB flats for sale by both property agents and direct owners themselves, giving you even more options to browse.
Open the Carousell mobile application & tap on the "Property" category.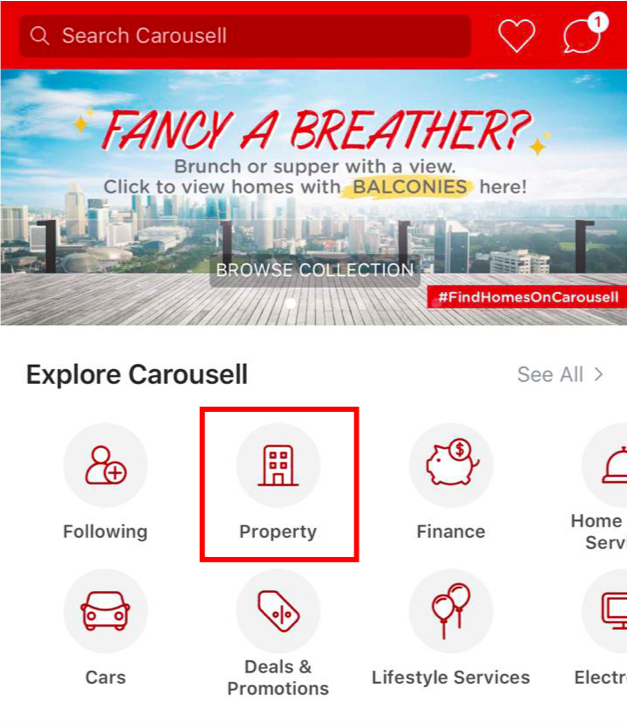 Browsing through many properties that do not fit with your criteria can cause you much frustration and wasted time. Shorten the process by making use of these Quick Filters!
Tip: Choosing an HDB flat near to your parents' place means that you can apply for the HDB Proximity Housing Grant (PHG).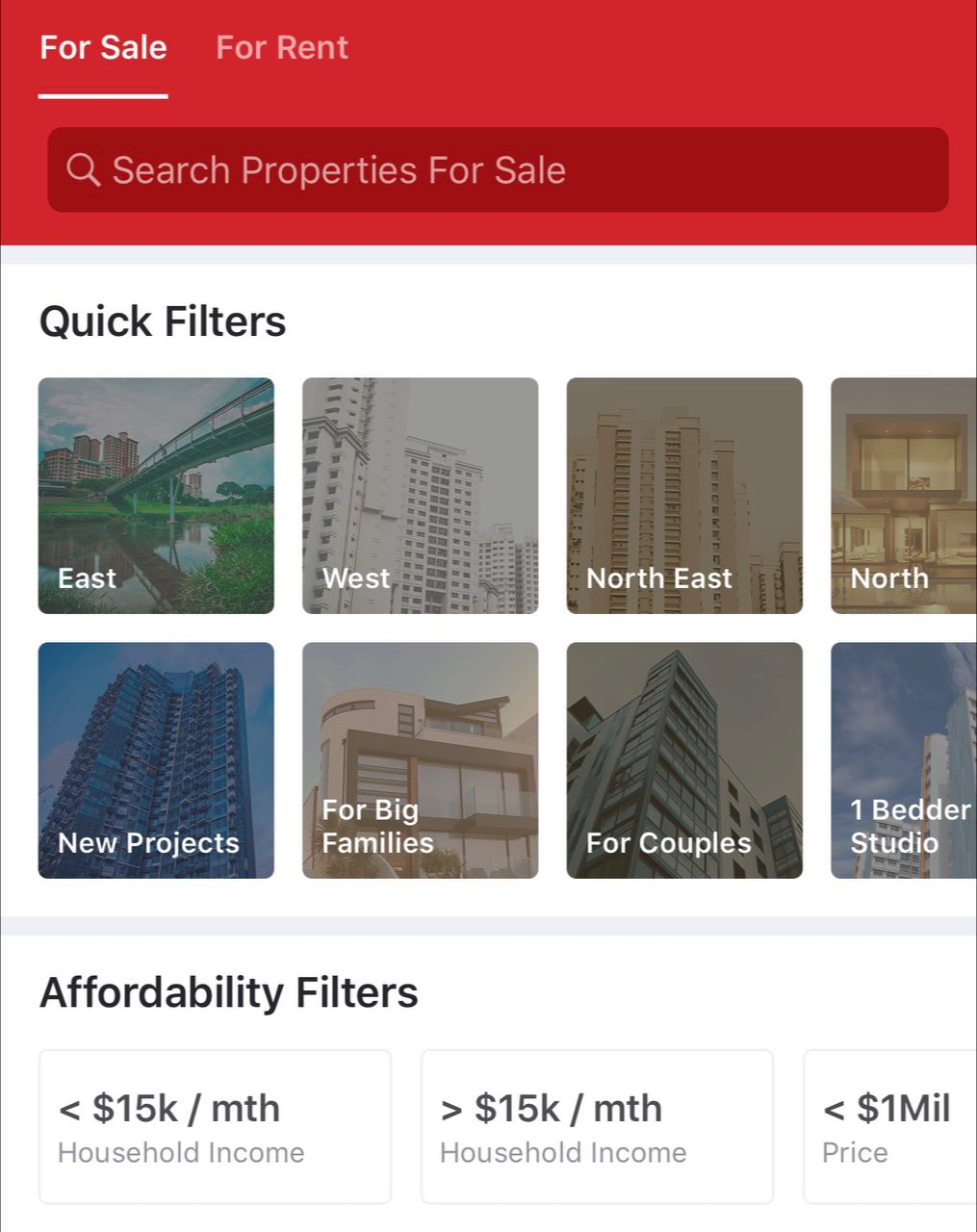 After you've chosen your ideal flat, you should first do a check on the Ethnic Integration Policy (EIP) and Singapore Permanent Resident (SPR) Quota of the location on the HDB website.
Tip: These policies were put in place to maintain a healthy mix of multiple ethnicities in each estate.
4. Receive the HDB OTP (Option to purchase) from the seller and exercise it
Once you have reached a consensus with the seller regarding the sale price, they will then offer you an Option to Purchase (OTP).
This may also come with an Option Fee – think of it as a sum of money you're using to chope the flat.
Seal the deal by exercising the OTP within 21 days, up to 4pm on the expiry date.
Once 21 days have lapsed, the seller can offer the flat to anyone else, and you lose your chance to purchase the flat. 
Sign on the form and pay the agreed-upon deposit to the seller.
Tip: It is legally stated that this deposit should not amount to more than S$5,000 inclusive of the Option Fee.
5. Submit resale application to HDB
Once that's out of the way, both you and your seller will now have to submit your respective portions of the resale application separately, within 7 days of either submission.
What's next? Attend the HDB Appointment with the seller and get the keys to your new home!
HDB Hub
480 Lor 6 Toa Payoh
Singapore 310480
Mon-Fri: 8.30AM – 5PM
Sat: 8.30AM – 1PM
Sun: Closed 
Tip: Here are some conditions for your information after buying your resale flat, such as the resale levy, requirements for renting out your new flat and more.
Purchasing your resale HDB flat in Singapore
That's really it to your home-buying journey! Congratulations, you are now a proud owner of your new home.
Here's a pro tip: Buying your flat via the HDB Resale Portal is a lot easier for the buyer as compared to the seller, as they will be doing most of the work. *wink
If you've made it through this article, you should have no trouble purchasing your own HDB resale flat.
Remember to share this article to benefit your fellow peers looking to buy an HDB resale flat of their own!
[Read more: The COMPLETE List of Grants for Buying a HDB Resale Flat in Singapore]