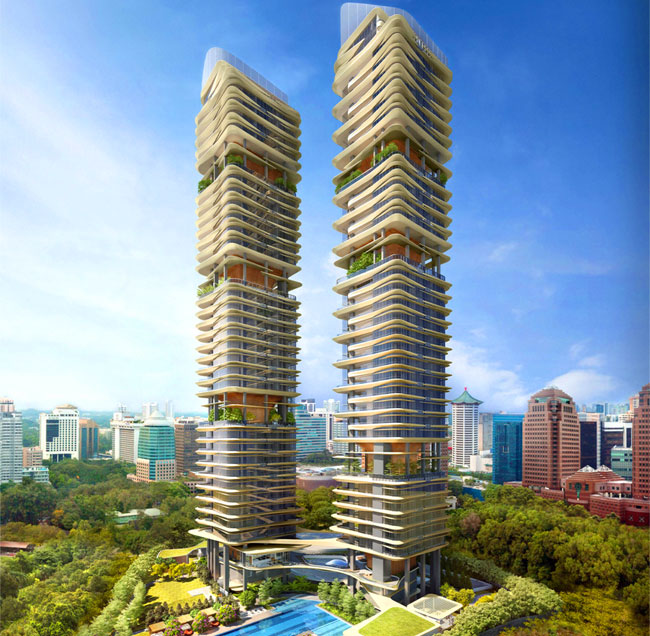 New Futura. Market watchers, industry experts, even property buyers were (pleasantly) shocked at the condo's initial launch back in Jan. As a luxury project situated in the heart of the Orchard Road shopping belt, few expected such an overwhelmingly positive response. Despite there being only 25 units released on the first day of the launch, 18 units were immediately snatched up.
And here's where it gets interesting…
Without considering the fact that there are only 124 units available in the entire estate, the starting price for a two-bedroom unit of 1,098 square feet was already selling at $3.8 million. That's almost twice the selling price of most condo units for sale in Singapore within the vicinity.
But what makes this district 09 property such a hit amongst property investors and buyers alike?
A great part of it lies in the history of the project and the vision of the property developer, City Developments Limited (CDL).
What You Need To Know About New Futura and its iconic Status
The New Futura Story
It all started in 2006, when the plot of land that New Futura now sits on, at the summit of Leonie Hill Road, was successfully en-bloc for $287.3 million, a noteworthy amount at that time.
But its selling price wasn't the real cause for the commotion surrounding the sale. It was the former property's significance that contributed to it – the en-bloc meant meant the end of Singapore's second oldest condominium called 'Futura'.
Many felt the property was an iconic landmark for Singapore and it shouldn't be torn down. Yet, if the condo did become a national heritage, it would lose its commercial value and become an instant financial loss for the residents living there.
After much debate and consideration, the outcome was clear; a new condominium was put into the works to replace it and to develop this while still retaining many of the features that made the original 'Futura' truly iconic.
This was thus the reason for the name 'New Futura' – setting the spark for the start of many amazing features.
Iconic Features of New Futura
When the original Futura was developed, the idea was to create a development that represented futuristic design concepts. Thus, leading to the iconic radial wing design and geometric space-pods apartments residents were familiar with.
Not wanting to lose these iconic features, CDL engaged the expertise of internationally renown architectural firm, Skidmore, Owings & Merrill LLP and to impressive effect – Its futuristic design an impressive spectacle to behold.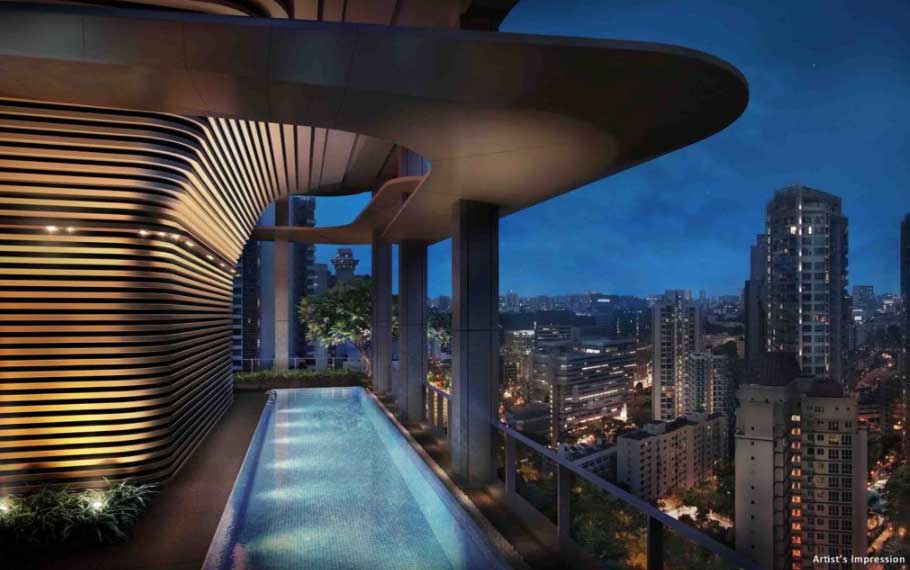 Being the first condominium to introduce the concept of private lifts to Singapore, the developer went one step further by providing private lifts access to all 124 units in the development.
The Unit Layout & Floor Plan
So, how does this private lift and lobby concept work for a condominium of this stature?
Units in New Futura are unlike those you'll find in any neighbourhood condo. Even the 2-bedroom units are comparatively larger in dimension and they all come with a high ceiling. This gives any visitor a surreal experience stepping into the apartment as it feels spacious and most importantly, luxurious.
In order to achieve this prestigious effect, each of its 36 storeys are carefully constructed to maximise the space for its residents. On the lower decks, each floor houses three 2-bedroom units, while the higher levels house two 3-bedroom or 4-bedroom units. And right at the top of each tower sits a double-storey penthouse.
To have a clearer idea of how the units are structured, we have included the floor plan for the various units here.
2-Bedroom Type A1a

2-Bedroom Type A2

3-Bedroom Type B1

4-Bedroom Type C1

4-Bedroom Type C2

The Price Guide of New Futura
Given the prestige of this Leonie Hill Road Condo , you may be wondering how the various units are priced. Without a doubt, these units are premium as they're currently going from $3,000 per square foot which translates to about $3.8 million for a two-bedroom apartment.
And given the track record of its neighbouring properties, industry insiders are estimating that this price is only going to rise even more in the future.
For example, when the nearby Gramercy Park was launched in the middle of 2016, prices started from around $2,772 per square foot. After two years, it is now going for around $3,303 per square foot for their smaller units.
New Futura however is still at the start of its launch period and it is already at $3,000 per square foot with expectations to exceed this in the months to come. Making it a valuable buy for investors in the long term.
With that in mind, here's a table with indicative prices New Futura's South Tower.
(Note: The developer has held back the sale of the North Tower until further notice)
| | | | |
| --- | --- | --- | --- |
| Unit Type | Unit Size | Price Range (SGD) | Psf Range (SGD) |
| 2 Bdrm Type A1a | 1,098 | 3.8 – 4.2 mil | 3,461 – 3,825 |
| 2 Bdrm Type A2 | 1,367 | 4.2 – 4.5 mil | 3,072 – 3,292 |
| 3 Mdrm Type B1 | 1,830 | 5.5 – 6.9 mil | 3,005 – 3,770 |
| 4 Bdrm Type C1 | 2,250 | 6.9 – 7.9 mil | 3,067 – 3,511 |
| 4 Bdrm Type C2 | 2,691 | 7.8 – 8.9 mil | 2,899 – 3,307 |
This article was written in partnership with Ryan Tan (R052855F). To arrange for private viewing sessions, check out our New Futura listings or visit Ryan's website here.