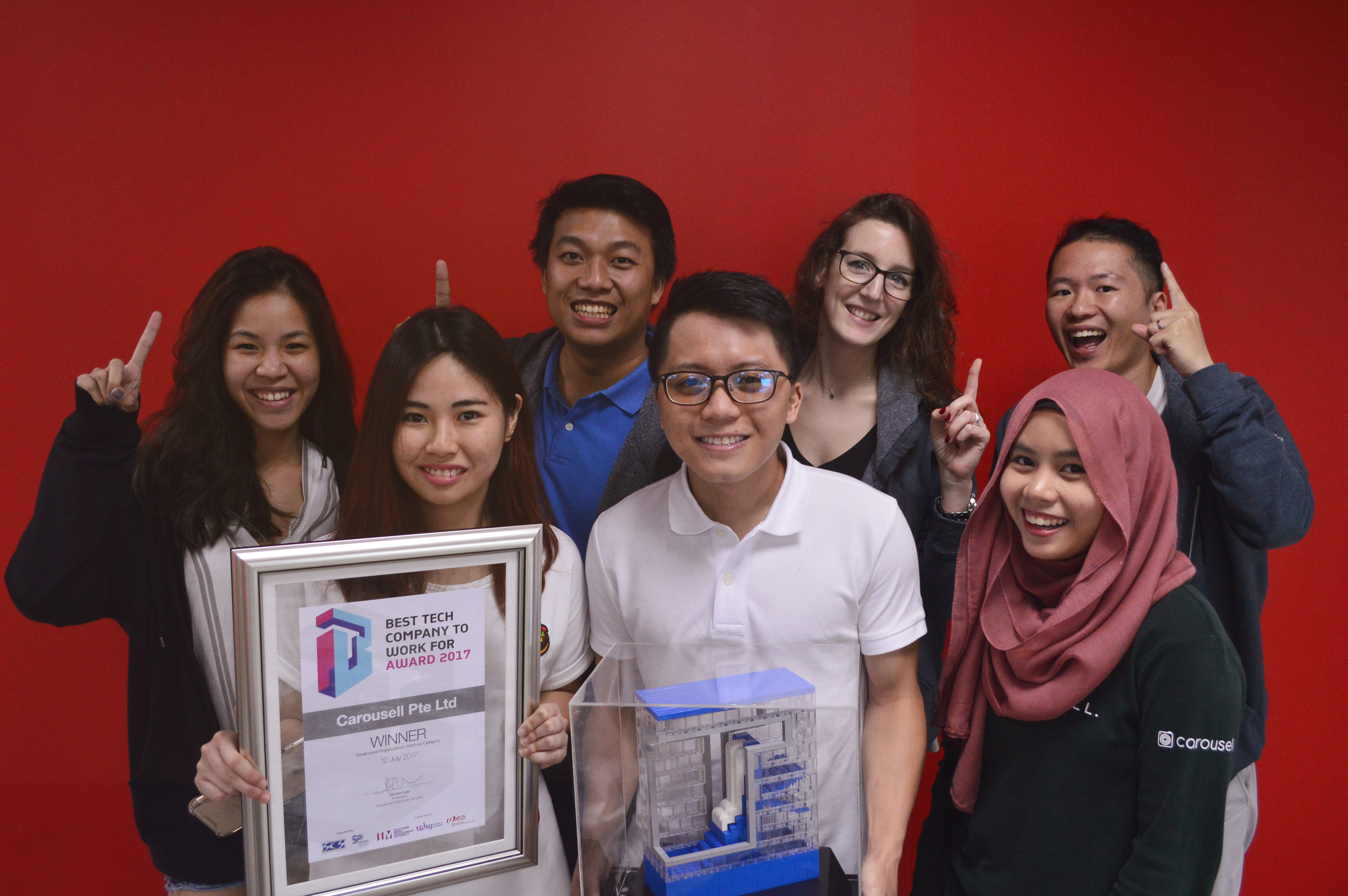 Reading Time:
3
minutes
Yesterday, the Singapore Computer Society announced the winners of their Best Tech Company to Work For award, and Carousell was the overall winner for the Start-up category! Needless to say, we were jumping with joy when we heard the news!
Marcus and the People team put so much effort into cultivating the Carousell company culture and making this such a great place for us to work. I mean, just check out what they did with One Carousell last week! I've been working here for a while and I've always felt that this company is really special, but to have it made official with an award like this definitely makes it feel all the more special! Like, super special.
And I know I'm not the only one feeling this way, so I quickly went around to ask some of the others how they felt when they heard the news.
"Working in Carousell is like working on a uni project, but striking gold every time with your project group. Here, you're always working with people that are fully dedicated and give their 110% towards the common cause!" – Claire, Partnerships and Marketing Executive
"Having joined just 3 weeks ago, I would say that I am very fortunate to be a part of Carousell, even as a growth marketing intern. The word growth alone says a lot about the opportunities that I can receive and experience throughout my time here at Carousell, and I am always looking forward to coming to work on a daily basis!" – Shien-Li, Growth Marketing Intern
"Having worked at other companies before, Carousell is definitely the one with the best team, and has shaped the best culture. I am really happy that we won the award and that this amazing culture at Carousell is being recognised." – Jack, Business Intelligence Analyst
"I feel extremely proud to know that Carousell won this award. I just joined Carousell about a month ago and I've been enjoying the working environment that I am in. The mission that we are working towards is very inspiring and it feels good to know that everyone has a part to play in this." – Lynette, Marketplace Operations Strategist
"It's been a joy working here at Carousell every day, using tech to solve meaningful problems at scale. Super excited to have heard this great news!" – Hui Yi, Product Manager
"Joining Carousell as a fresh graduate has been an awesome experience so far! The entire company feels like one big family that works hard and plays even harder! Coming to work is actually enjoyable because of my colleagues, on top of the ping-pong table and the well-stocked pantry. Plus, you don't often hear stories of your friends landing the official best place to work in as their first job!" – Kyle, Software Engineer
"I think it's pretty cool to be working in the best tech company in Singapore. I've always enjoyed working here, and it's great that it's been recognised with an award now!" – Amerlin, Talent Operations Specialist
"I've been following the Carousell story for the past few years. It's almost surreal now that I am part of this team that is so focused on solving a meaningful problem and has great culture. The award is just the icing on top!" – Jemimah, Communications Specialist
"Our culture and values made this happen. We are always less than 1% done, so come join our family to inspire the world to fill their lives with meaningful things!" – Manoj, SEO Executive
---
But don't just take our word for it: join the Carousell family and experience it for yourself!