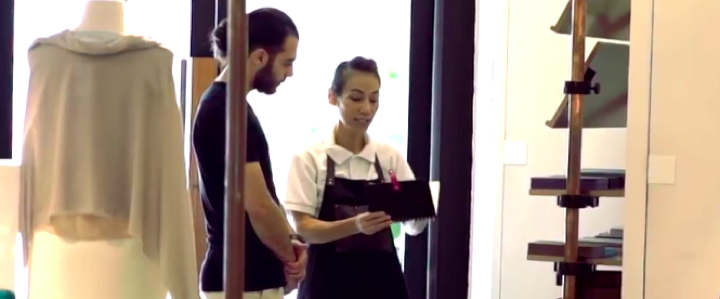 Reading Time:
6
minutes
Welcome to the final part of the series: Questions People Regret Not Asking During a Part-Time Job Interview, where we drill down to the specific things you should clarify at a part-time job interview for a certain industry. Today, we are exploring the retail industry!
P.S if you missed out on the previous part covering the Events industry, click here to read it!
For all the fashionistas out there who can't decide which to prioritise – a constant supply of clothes or the need to save for your future (so you don't have to hold your breath while checking your bank account balance), you're at the right place!
Staff discounts, good pay and flexible working hours, though not applicable to every, are just some of the perks you hear many retail assistants preach about their job.
But before you start rejoicing and applying for a retail part-time job, here's some golden advice on 7 things you should clarify with your employer at a retail job interview from 3 experienced part-time retail assistants.
Kimberly & Natalie (a former part-time retail assistant), along with Sam, a part-time retail assistant at a clothing store shares their experience below:
1) What will I be doing in the store?
Kimberly: Before going into any job, it is vital to clarify your job scope and responsibilities to have a good idea of what you'll be doing.
Often, many inexperienced part-timers go into the job not knowing exactly what they'll be doing and they get taken aback.
For example, some retail jobs require you to clean the store (e.g. sweep and mop) but some don't. Are you responsible for cashiering or assisting the customer with their queries?
However, the smooth operation of a retail store takes a team effort – so don't expect yourself to be undertaking the same role all the time! Be open to learning new things and help your colleagues during peak hours.
2) What are some characteristics of our customers?
Kimberly: In a retail job, you'll meet different kinds of people – I know you've heard that umpteen times already.
But in every store, there's always a specific group of customers who will patronise it. For example, you see a lot of young female K-POP fans in Etude House (and maybe a few boyfriends who tag along for their girlfriends' shopping sprees).
When you know the profile and information of the customers you'll be interacting with, you will be able to build rapport with the customers and they will feel comfortable with your assistance!
3) What are your expectations for part-timers?
Sam: This will give you a better understanding of what is expected from you by the employer. Every employer has varying expectations, and you should clarify with the interviewer.
For example, behavioural and attitudinal expectations, sales target (if any), etc. With a benchmark set, you can better prepare yourself for the job as well and know how you should act to achieve the target set by the employers.
With clear expectations that are transparent to all part-timers, common goals can be set and everyone can work as a team to achieve it.
Related Content You Might Find Useful:
Part-Time F&B Interview: 6 Important Questions People Regret Not Asking


Part-Time Events Job Interview: 7 Questions People Regret Not Asking
4) What should we avoid doing in front of customers?
Sam: Customers can see everything that retail assistants are doing when they enter the store. Many inexperienced part-timers don't notice when a customer steps into the store and are glued to their phone most of the time.
Hence, it is crucial for you to clarify which actions the employer feels like it doesn't represent their brand image.
For example, it is understandable that you might need to receive an urgent phone call sometimes. However, it is unprofessional to answer a personal phone call in front of the customers. Hence, you could also clarify with the employer if designated spots to use your phone is given.
That being said, if your employer is kind enough to grant you that privilege, don't abuse it and only use your phone when you need to.
Once the unacceptable actions are clearly communicated, you'll be more conscious of your actions as well. This will prevent any unnecessary misunderstandings.
5) Are there any part-time employee benefits?
Natalie: Some part-time employees work almost the same number of hours per week as full timers (depending on their schedule).
However, they don't get the same benefits e.g. employee discounts, just because they are under part time. Sometimes, asking will help them gain some (if not all) of the benefits full-timers have.
So, don't be shy, go ahead and clarify!
6) What is a regular day like at your store?
Natalie: Think about it, you'll be spending half a day (or even 1 full day, depending on your shift) at the store. Therefore, you want to make sure that you'll be able to enjoy yourself and gain something out of this experience.
Get your employer to share what are the peak hours, common situations and questions you will need to handle, etc. This will help you to better prepare yourself for the job!
7) What are the minimum working hours per month?
Natalie: Most companies do not mention this because it's almost uniform throughout the industry. But some don't strictly adhere to the minimum hours.
According to the Employment Act, a part-time employee is one who is under a contract of service to work less than 35 hours a week.
It's essential because employees only find out they cannot take an extended leave per month when they need it. Moreover, you also need to make sure you know your rights.
Pro Tip: If you are covered by the Employment Act, you are entitled to paid annual and sick leave as a part-time employee.
This is especially important if you're still a student and your education should still be your priority. Just make sure that you turn up on time, fulfill the contracted hours and give your best performance at work.
Recap and FREE BONUS Checklist:
Here's a summary of the 7 questions you should ask at your next retail part-time job interview (you can thank us later):
1. What will I be doing for this position?
2. What are some characteristics of our customers?
3. What are your (employer's) expectations from us (part-timers)?
4. What happens if we fail to meet your expectations?
5. Are there any part-time employee benefits?
6. What is a regular day like at your store?
7. What are the minimum working hours per month?
If you're afraid you'll forget these questions, download a neat checklist we did for you below with all these questions so it'll become your handy guide during your interview!
If you're sick of waiting around for email replies from your job applications? Here's how you can get a faster reply! Search through retail job listings and chat with your prospective employers to apply instantly on Carousell!
And don't forget, share this piece of crucial information with your friends who have applied or are interested in retail jobs on social media! (Because which friend replies to your email swiftly nowadays?)