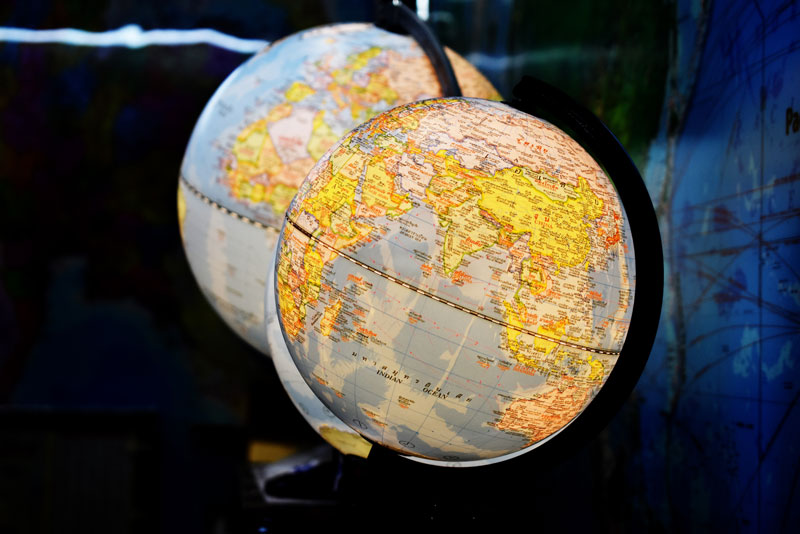 Reading Time:
9
minutes
Before we start, let's get this out of the way. I'm no Nat-Geo traveller who went everywhere and seen everything. I'm a fresh graduate who loves to travel.
You might be thinking: "Ah, this is probably going to be some budget Southeast Asian travel advice, been there done that. I don't need this".
Don't hit that "X" button just yet because this is far from what you think it is.
So, would you believe me if I said that you could go anywhere, and it'll still be affordable? Okay, minus maybe if you're crazy enough to climb Mount Everest or find cute penguins in the Arctic.
But if you're like any adventurous yet sane traveller, most of the world is your playground.
You're going to find out exactly how to turn the world into your playground today. 
Travel tips to keep you under your budget
So, you and I know how tedious it can get when you're researching on your next holiday. You'd have questions like:
Where should I travel to next?

What are the best times to go?

How much money should I change?
If you're expecting answers to these questions, I'm sorry. You'll need another Google search for that.
It's not that I'm mean, I don't want to be giving you the same advice like the 1000+ other travel blogs.
Plus, don't you think that you should have every right to decide the answers to those questions? It's your fun holiday, not theirs!
So, this is how I'm making this guide different; I'll share how I kept under $2500 (all-inclusive) for a 15-day trip around the UK and Scandinavia.  
I'll detail how I did my budgeting in a way that lets me freely decide where to travel every year without restraints.
You'll find out how to:
Stay under your travel budget with cheap flight prices

Get the most authentic staying experience in another country without spending a lot

Set daily budgets for your travel expenses so you'll avoid overspending
At the end of it, you can tell that sceptic relative of yours how you've been exploring different parts of the world while they're stuck at home watching Netflix.
PS, some of you might already be travel experts so skip to the section that's relevant to you.
PSS, it wasn't a budget backpacking trip so, it can get even cheaper!
PSSS, I'll share how you can cut cost even more with the help of the best credit card for miles.
Ready for your next big adventure without leaving a hole in your pocket?
Travel budget tip #1: Getting the best flight deals
Before settling on the flight tickets, an average Joe would pick where they'd want to travel to first.
My tip? Don't be Joe. Be smart (no offence to Joe).
So, what I did differently was to let the flight ticket prices determine my holiday, and you can do so too.
Why? Imagine your dream destination has always been the Maldives but the ticket prices put you off each time you check. You delay your holiday so that you can save for that trip. Smart move? I think not.
If you love travelling, you should know that every destination has its unique charm. Why delay when you can cover every nook and cranny in the world by letting the flight prices decide?
Take that leap of faith.
And so, the flight ticket Gods eventually told me to fly to London and fly back from Copenhagen.
How much I spent on my flight tickets
Now for my flight to London, I scored a one-way ticket for $241 flying Norwegian Air.
Cheap huh? I've some friends who are guilty of spending that same amount on Uber and Grab monthly. You could be getting the best damn scones you've ever tasted instead.
The flight back to Singapore from Copenhagen cost me $320.
Instead of taking the obvious middle flight from London to Copenhagen, we flew to Stockholm instead and decided to do a Swedish road-trip.
We took RyanAir, and that cost me $70.
That brings me to a total of:

How I score cheap flight tickets each time I travel
First things first, you don't have to be loyal to any flight carrier.
I've taken Singapore Airlines, Qatar, Norwegian and more and I assure you the experience is almost the same. It doesn't justify spending $500 more on a particular flight to anywhere.
What you can start doing now to always be on top of the best deals for flight tickets is to subscribe to every airline's newsletter.
Here's an example of what one looks like: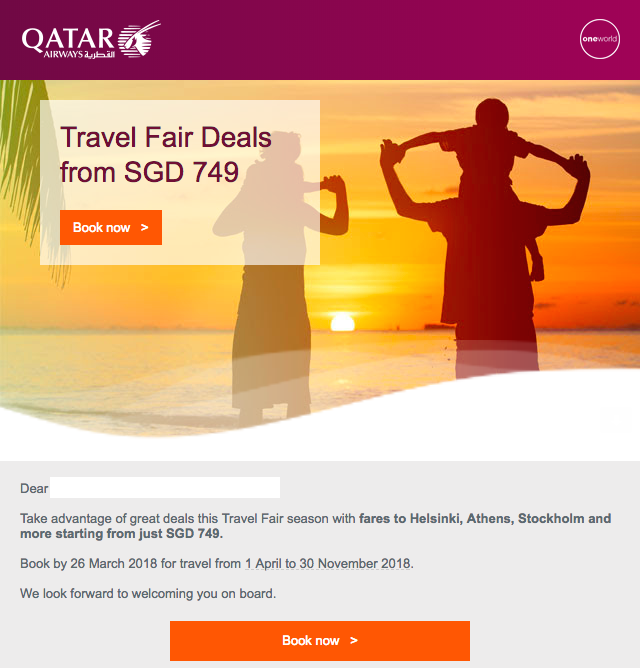 Based on my experiments, I purchase my flights approximately two months before to get the best deals. There's no proof for this so try what's comfortable for you or follow what I do.
Norwegian was cheaper than the others, so that's why I chose them.
Plus, you roughly know by now how travelling to each region might cost you. You will understand a fantastic deal when you see one.
By the way, Norwegian Air isn't a budget carrier. It has an entertainment system, and they serve food. Worth the $241 to London? Hell yes.
Pro tip: Each airline goes on a mega-sale on specific months. Look out for them in your e-mail once you subscribe.
How you can score your next free flight by booking your flights with your air miles credit card
Flights are usually take up most of your travel budget. So, to turn it in your favour, use an air miles credit card to book them.
This way, you'll be earning rewards while you're spending those dollars.
You can check out the best miles card here. Most of them offer attractive rewards like access to lounges, airport transfers and more!
Travel budget tip #2: Experience authentic living on the cheap
Next up, choosing your accommodation.
This topic can get a bit touchy cause everyone has a different preference or tolerance for comfort.
So, I won't suggest choosing say a hotel over a hostel because that's up to you, but I will explain how I experience authentic living overseas on the cheap.
I choose my accommodation based on the experience I can get.
For my trip to the UK and Scandinavia, I wanted to feel as if I'm a local staying there. The best way I know I could? Opting for an Airbnb.
How much I spent on my travel accommodation
For my trip, I was travelling with eight other friends.
That's another reason why we opted for Airbnb instead of hotels. You can fit everyone in under the same roof.
Communal living anyone? It's super fun I promise.
So, here are the cities I stayed in:
London (6 nights)

Stockholm (2 nights)

Gothenburg (3 nights)

Copenhagen (2 nights)
Now, take a look at how much I spent for 14 nights in Europe.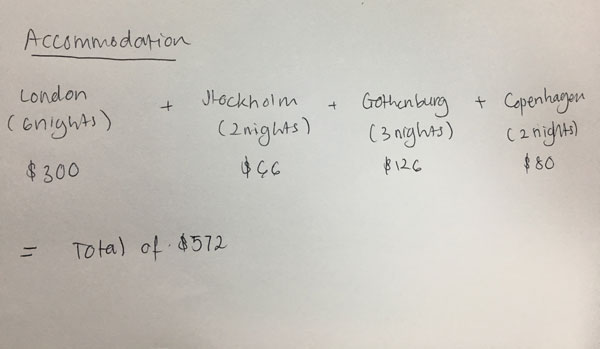 Cheap huh? Add this to my flight ticket, and it still costs lesser than most return flights to Europe. Consider that!
How you can save on accommodation during your travels
Remember how I mentioned that everyone prefers different types of accommodation?
Choose what matters to you more and let that be your deciding factor.
Is it the communal experience and authenticity from an Airbnb? Is it the ability to meet new people and the quirkiness from hostels? Or is it the convenience and ease of mind from hotels?
Once that's settled, give yourself a budget you're willing to spend per night. Mine's capped at $50.
If you think that's too low and you're only going to end up with a shitty place, our Airbnb boasted a sauna, fireplace, BBQ pit, and it's several stories high. Beat that.
Sometimes going cheaper on hotels, Airbnb and hostels might mean sacrificing good location. But isn't the fun in exploring the long route when you're in an entirely new place?
Keyword: "sometimes" though because my London accommodation was a steal. A 7 min walk to Big Ben!
So, set yourself a reasonable budget and dig deep to get a steal on location.
Besides, you spend most of the time out exploring and way lesser time in your accommodation.
So why waste loads of cash on a bed to sleep?
How to maximise your air miles by booking your travel accommodation with your credit card
If you're still a huge advocate for hotels, an air miles credit card might be your best bet at maximising your stay.
Check out the credit card promotions here for the best air miles card that gives you up to 10x the miles per dollar spent on accommodation alone!
If you can afford the luxury life (maybe in the next life for me) once in a while, your expenditure might earn you your next free flight out!
Travel budget tip #3: Prevent overspending by setting a daily budget on travel expenses
Now, some of you might already be experts at scoring cheap flights and accommodation. But, you still end up going over your budget.
Here comes the secret to how I never burst my travel budget.
I set a daily budget for my travel expenses.
So if you've been following (which I hope you have), I've spent about $1200 so far.
Now, I have $1300 left.
Take off $250 from there for the car and fuel for my Swedish road trip, and that leaves me with $1050.
My trip was 15 days. Divide $1100 by 15 and that gives you my daily travel budget for food and transport. That's $70 per day.
How did I decide on $70? I looked at how much I spend daily in Singapore when I'm feeling generous. I doubled that figure and ended up with $70.
In case you were wondering, the answer is no. I did not eat at 7-11 every day. On the contrary, I squeezed in a fresh whole 250g lobster for lunch.
You don't have to follow my daily budget. Choose a reasonable amount that's comfortable for you and stick to it.
Here's what you must factor in:
Public transport costs

The average price of food or groceries
Get these figures from your friends or relatives. If not, rely on your virtual friend Google for rough estimates.
That's all you need to survive and explore really!
Double or triple that amount to add your expenditure on entertainment and other miscellaneous costs.
Pro tip: Groceries are always significantly cheaper than meals outside. Whip up a simple breakfast to get you going, and you'll have more money for a big lunch.
Think about it, do you spend more than $100 daily in Singapore for two straight weeks?
Disclaimer: I'm excluding my shopping expenditure from this calculation because it doesn't affect how much you need to travel to another country.
How getting the tab with your credit card when you travel can earn you a ton of miles
Okay, so you spend on food daily. And occasionally, you spend on entertainment right?
What about when you're overseas? There's no escaping all the food and fun on a daily basis.
So instead of worrying about carrying around your daily budget in a wallet tucked under all those layers, swipe your air miles credit card!
Check out the best miles card for Singapore here. You can even earn double the miles when you spend overseas! You're going to be paying anyway so why not reap the rewards while you're at it.
Please don't forget to stick to your set daily budget; you might run a risk of overspending if you swipe blindly.
Be an expert at managing your travel budget so that anywhere is possible
So, that's my rough guide to becoming an expert at setting a travel budget that's reasonable.
Remember, the most important thing about travelling is the experience.
Saving costs on tickets and accommodation with cheaper alternatives will only give you more room for a kickass experience (and a more exciting story for the gram).
Plus, your daily budget lets you keep track of how much you're spending before you start swiping to your misery. And yes, you can go over on certain days that feel "extra special". Nobody's going to stop you.
The big takeaway here is that anywhere in the world is your playground and do yourself a favour by spending reasonably.
I'll end by letting you make a comparison.
Which is better, someone who boasts how they went on a luxurious escape every three years OR someone who has been to every part in Europe once?