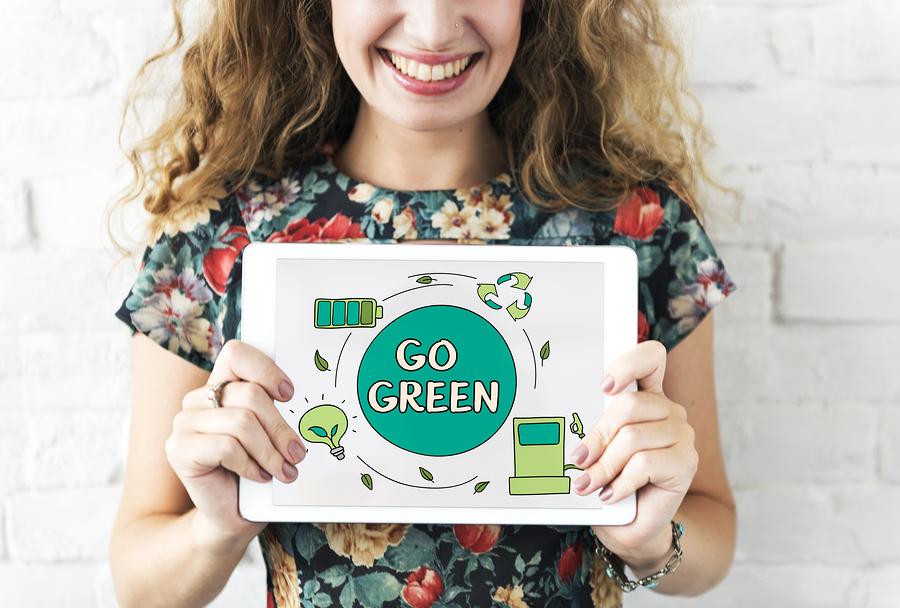 Reading Time:
8
minutes
Green never goes out-of-fashion!
Just ask celebrities like Emma Watson and designers like Stella McCartney.
The Green Carpet movement has celebrities and designers wearing eco-friendly fashion and showing their support for the use of more sustainable materials, and we totally love it! 🌳🌲
What is the Green Carpet movement?
The Green Carpet Challenge (GCC) is the brain-child of a company called Eco-Age. Eco-Age works with brands to create sustainable business solutions. Consultancy teams work closely with designers to create eco-friendly fashion by visiting the designers' suppliers in order to see how they operate and making recommendations for more sustainable solutions. If a brand achieves all the goals Eco-Age set for them, they receive the Green Carpet Challenge Brandmark (and my admiration).
GCC collaborations found their footing with the Green Carpet Capsule Collection at 2013's London Fashion Week. Co-hosts for the event were Anna Wintour, Livia Firth, and Natalie Massenet. Further GCC collaborators include Stella McCartney, Gucci, and Sergio Rossi. Over the past few years, many celebs have joined the Green Carpet movement.
If you want to join the Green Carpet movement, one of the best ways to start is by hitting up the thrift store or taking old pieces of clothing you no longer wear and using the materials to turn them into something else. Old jeans can be turned into cute purses, and old sweaters can be re-knit into winter gloves, scarves, and hats that can be donated to local shelters.
Of course, you can find plenty of these on Carousell! 😄
If you're are looking for inspiration, here are 15 celebrities who rock sustainable fashion:
1. Emma Watson
Actress Emma Watson first took the Green Carpet Challenge in 2015 and has kept the trend going. Her black chiffon and silk Riccardo Tisci dress worn while promoting Beauty and the Beast is made of Eco-Age certified organic materials. The dress was paired with black faux-leather heels, showing that Emma is dedicated to wearing eco-friendly and cruelty-free attire.
2. Gwyneth Paltrow
In recent years, Gwyneth Paltrow has become something of a warrior for health and well-being, especially when it comes to going gluten-free. Gwyneth is a lean, not-so-mean, green-fashion machine. Her website, Goop, paired up with designer Amour Vert in 2014 to create and sell a line of shirts made from silk, low-impact dyes, and wood-pulp fibers.
3. Will.I.Am
Well before he was ever a Black Eyed Pea, Will.I.Am was a student at the Los Angeles' Fashion Institute of Design and Merchandising. In 2013, Will.I.Am integrated his passion for fashion with his dedication to promoting recycling efforts when he partnered with Coca-Cola to create his Ekocycle line, a clothing line crafted from recycled materials.
4. Michelle Obama
Former First Lady Michelle Obama might be one of the most high-profile female political figures of our time, but she is also one of my favourite style icons. While many celebrities and high-profile figures wear a garment once before discarding it, Michelle re-wears looks and looks great every time. ♻
Michelle is a huge fan of Naeem Khan, an Indian-American fashion designer who resides in New York and whose items are chiefly made in the United States (except for the complex hand-beading, which is done in India).
5. Jessica Alba
Former super-hottie Jessica Alba came from a modest upbringing and has not let fame and fortune go to her head. She brings her love for fashion, family, and healthy living to the everyday consumer with her company, The Honest Company, which sells a variety of family- and eco-friendly products, ranging from diapers to totes.
6. Olivia Wilde
Olivia Wilde is not just an actress with a mind for sustainable fashion; she has turned her passion for eco-friendly products into a business with the help of Barbara Burchfield, who helped her co-found Conscious Commerce.
Conscious Commerce's objective is to incorporate conscious consumerism into all types of business ventures, including fashion. Olivia Wilde has worked with H&M to create more sustainable fashion that is available for the average consumer.
7. Stella McCartney
As a designer, Stella McCartney is mindful of the materials she utilizes in her works. Her pieces are made from materials that are cruelty-free and environmentally conscious. She strives to design pieces that will not end up in landfills, and all of her studios, stores, and offices in the United Kingdom and abroad are powered by wind technology. She is constantly trying to come up with methods and materials that are eco-friendly without compromising on style.
Stella McCartney has worked with many major name brands, including Adidas, to create lines of sustainable clothing, footwear, and accessories. She shows no signs of stopping and has inspired other designers and celebrities with her fashion-forward, environmentally conscious way of designing.
8. Livia Firth
Many know her husband Colin for his film roles, but Livia Firth is known for being queen of the green carpet. In 2012, she recruited top designers (such as Valentino and Yves Saint Laurent) to join her in taking the Green Carpet Challenge, and she has not stopped since then.
Livia takes every chance she gets to walk the red carpet with Colin in eco-friendly attire and encourages others to do so as well.
9. Pharrell Williams
Musician and producer Pharrell Williams is a fashion guru with an environmental awareness. He is owner of an eco-friendly fabric company called Bionic Yarn and co-owner of jeans-making company G-Star Raw. He has also teamed up with the South African department store Woolworths to create sustainable clothing lines using textiles created by Bionic Yarn.
10. Lily Cole
Supermodel Lily Cole is outspoken on her views of how capitalism influences fashion and the global impact of mass consumerism. She is the co-founder of ethical knitwear company The North Circular. This company employs local senior women and utilises the wool sheared from rescued sheep.
Lily Cole is also a supporter of Climate Week and the Environmental Justice Foundation (EJF). She even worked with EJF to create a £10 shirt that sold at Tesco stores throughout the UK with benefits going to help climate refugees.
11. Michael Fassbender
Michael Fassbender might be able to manipulate metal as Magneto in the X-Men movies, but he is a real-life superhero for championing the cause of sustainable fashion! He made quite the fashion statement at the 2016 Oscars by taking part in the Green Carpet Challenge. His Tom Ford suit was made of European-woven and spun wool, and he has shown his dedication to Tom Ford's sustainably-designed suits before.
12. Rosario Dawson
Clerks 2 and Daredevil actress Rosario Dawson recently held a party to celebrate the opening of her first store, Studio 189, in New York's Bowery district. She and her best friend, Abrima Erwiah, started to introduce their eco-friendly fashion designs in 2013 on their website, Studio 189.
The company's objective is to create employment and other socioeconomic opportunities for Africans. These employment opportunities are being created within the fashion production industry and are serving to enhance the fashion world's mission to become more sustainable.
13. Neil Young
Famous folk singer Neil Young has a mind for eco-friendly fashion as well. He partnered with US clothing line Supreme, is FarmAid's co-founder, and has gone as far as to urge his fans to boycott the use of non-organic cotton – which takes 2,700 liters of water to grow the cotton used to make only one T-shirt! 😮
Neil Young has even created organic cotton T-shirts as part of his line of merchandise for fans to purchase at his concerts. This is a huge stride for musicians who so often rely on cotton fabric to create the T-shirts and hooded sweatshirts that they sell while they are on tour and as online merchandise.
14. Lauren Conrad
Reality star-turned-designer Lauren Conrad, whose clothing line can be bought by the average consumer at Kohl's stores nationwide, champions the eco-friendly lifestyle with her shop, Blue Avocado. Blue Avocado's mission is to create everyday innovations that promote sustainable, eco-friendly living by reducing household waste and destruction. Creative re-usability is the focus of Conrad's company, who craft reusable zip-lock bags called (re)zips.
15. Christy Turlington Burns
As a supermodel and philanthropist, Christy Turlington Burns meshes her passion for fashion with her do-good attitude. She is also a non-profit organization owner.
Her nonprofit, Every Mother Counts, strives to promote health and well-being for pregnant and new mothers in developing countries, such as Bangladesh. She celebrates women in the garment factory workplace and sees the sacrificing of any human life for financial gain as unethical and immoral.
Conclusion
Celebrities like these are leading the pack in terms of creating awareness for sustainable fashion and lifestyles, but this trend should not stop where it starts.
Although some eco-friendly designer brands are a bit too pricey for everyday consumers like us, some celebrities recognise the need to create affordable eco-friendly fashion.
You can take your own green challenge by re-using old clothing for other household needs, and buying already-used clothing and other items from local thrift stores or Carousell.
And, of course, if you're a budding fashion designer, you can create signature looks out of reusable materials that rival what these celebs create and wear on the Green Carpet.
Note: All images were purchased from Big Stock.