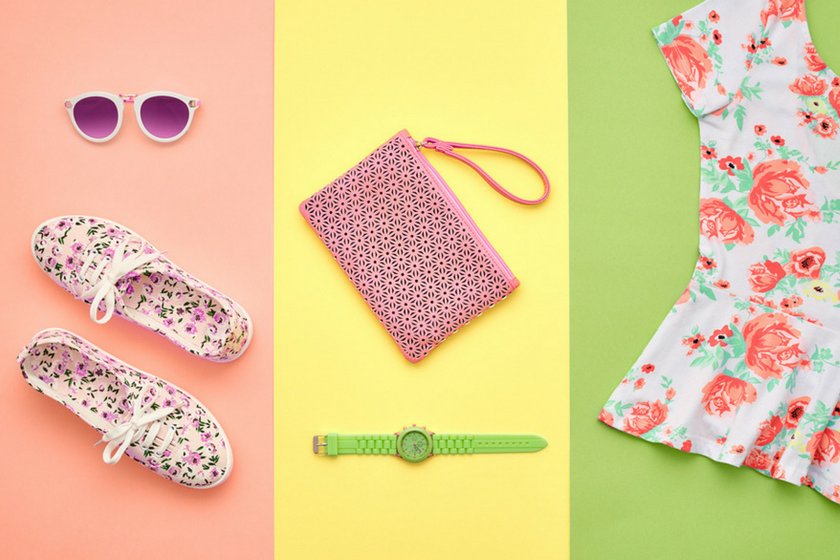 Reading Time:
5
minutes
In today's ever-evolving world of fashion, keeping up with the latest trends can be tough on your bank account.
For many fashionistas though, the sad reality is that the only affordable style must-haves also happen to be last season's.
Your best bet for keeping up with current style trends without breaking the bank is to get creative with previously-loved clothing and accessories.
The fashion squad here at Carousell (aka the community team aka the best-dressed) have put together a list of tips for creating the most amazing fashion finds using repurposed clothing and accessories.
Let's dive in!
Tip #1 – From Basic in Denim to Lovely in Lace
Simply find some lace trim from a garment you no longer wear. Carefully trim it at the seam to prevent fraying, and then use a fabric bonding agent to attach it to your denim piece.
Try to work with varying colors and textures of lace for a fun look. Or stick with soft pastels and whites for a more feminine feel.
Lace trim complements the edge of denim shorts and looks adorable when worked into pocket seams!
Tip #2 – Add a Little Sparkle
Who doesn't want to shine?
You can find sequin ribbon trim in a huge assortment of colors. So use a small amount of fabric bonding agent to attach some ribbons to that lifeless shirt. Or make a bold statement by spelling out words and phrases for a more personal design.
Tip #3 – Make Your Mark
Fabric markers and paints allow you to express your creative side. Select a stencil and have fun adding a colorful design to an old pair of pants or shorts. Or you can layer small pieces of lace together to create your design if you can't find the right stencil to suit your needs.
Find a pattern that works to complement the natural curves of your body, and don't forget – a little experimentation goes a long way.
Tip #4 – A Good Stud is Easy to Find
We all have a little bit of rocker inside us. So what better way to make that statement than with a little wardrobe studding?
Take apart an old bracelet or necklace and use the studs to embellish a lifeless shirt. Make strategic cuts in the shirt, string the studs onto the fabric, and then tie to secure them in place. Use any leftovers to create a matching hair accessory.
Bingo, you're a rockstar!
Tip #5 – Bleach – Not Just for Your Whites!
Stamp your way to amazing prints using a bottle of bleach and a rubber stamp set. Simply soak a piece of white felt in bleach and go to work with the stamp of your choice.
Have fun with this design, but do some spot testing to see how the bleach lightens up your different fabrics before doing it everywhere.
Tip #6 – Mix and Match
Any fashionista who's worth her weight in glam knows it's all about mixing and matching accessories.
A few basic wardrobe pieces are all you need as long as you have a supply of accessories to complement them. This is a great way to add versatility to those anchor styles.
Tip #7 – Make Use Of Your Old Jeans
Remember that pair of jeans you bought that never really made the cut, but were too difficult to part with? Turn them into a cute purse or tote.
Scissors and fabric glue will get the job done, and you can use sequin ribbon and studs to create coordinating accessories. For a larger purse, make a cut that goes beyond the pocket.
Tip #8 – Scarf Down Some Style
Add versatility to your wardrobe by combining multiple patterns to create the scarf of your dreams. Go basic with block colors, or mix it up by attaching coordinating colors together.
A bit of cutting and knotting is all you need to create a one-of-a-kind accessory that is sure to make the most of any blouse or top.
Tip #9 – Flip Those Boring Flops
Who says beauty is painful? Adding a fabric layer to your generic flip flops not only adds flair; your feet will thank you in the morning for that added layer of comfort!
Simply cut an old scarf into thin strips and wrap the straps from front to back. Knot the ends to secure them in place. Continue around the ankle and up the leg for a Grecian Goddess look! Use any leftover fabric to create a coordinating hair accessory, belt or piece of jewelry.
Tip #10 – Use What You've Got
When it comes to updating your wardrobe, chances are you already have some solid anchor pieces.
But that basic T-Shirt dress in your bottom drawer can be a real power player in the wardrobe game. Sure it looks effortless by itself, but try pairing it with colorful tights and a jacket for a completely different look. Add a bold statement necklace for date night. Throw on a belt for Sunday brunch.
Mixing and matching pieces from your current collection enables you to create completely updated looks without hitting the mall.
Tip #11 – Embrace Some Head Bling
When it comes to bling, why should your neck have all the fun? Necklaces you have lying around can be worn on your head for a modern look and feel.
Choose a lightweight piece with an adjustable fit. Go bold with a statement piece for a special occasion. Work it into your hairstyle for added security, and coordinate with other jewelry pieces for a more finished look.
In The End, Just Give It a Chance
The bottom line is that you can update your look without spending any money.
It is possible to create jaw-dropping outfits using old clothes and accessories you have lying around the house.
If you think it can't be done, get started simply by taking a quick inventory of your current wardrobe. Create piles of anchor items in need of updating, pieces that will be sacrificed to the scissor gods, and accessories that can be repurposed.
You may be surprised by how much potential you find. Begin with a small project to build your confidence and go from there.
Upgrade your closet without downgrading your bank balance!