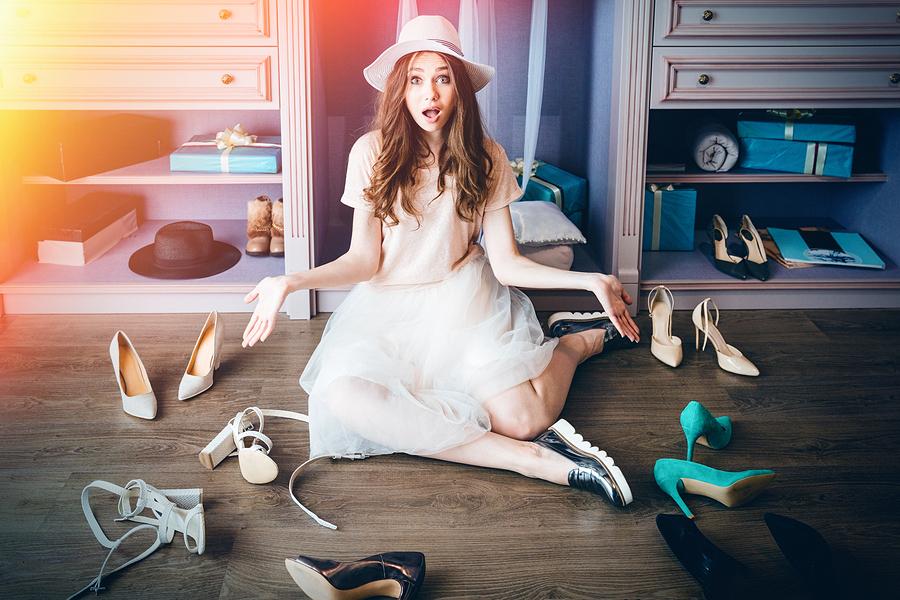 Reading Time:
5
minutes
Does your wardrobe need a facelift? Sure it does!
Rotating through the same cycles of outfits week after week is boring. Your favourite shirts, skirts, pants, socks, and suits are tired of seeing the inside of the washing machine and the long trip to the dry cleaner. Your friends want to see you expressing the real you with style and creativity.
But can you really give your wardrobe a facelift with limited funds?
It's easy to give your wardrobe a makeover on a budget with Carousell.
Using Carousell is as simple as joining groups that share your interests, then browsing through users' pics of items that interest you. See something you like? You can safely and easily make an offer on the item.
It's a cost-effective way to add to your wardrobe, plus sell off the clothes you don't wear that often anymore. After all, your wardrobe only has limited space, right?
Here are some ideas for jazzing up your wardrobe.
Add Accessories
One way to add freshness and color to an outfit is to pair it with accessories. Scarves, different bags, hats, watches, and other accessories can turn a blah outfit into a carefully curated look, or turn a casual dress into evening wear.
Accessories Exclusive is a very popular and active group on Carousell, with more than 20,000 members. Look for necklaces, chokers, bracelets, earrings, purses, and more from these dedicated accessory collectors.
Guys, you may want to check out Carousell's Bags for Him group for bro-approved accessories.
Buy for Versatility
Look for clothes that can be used in multiple styles and for multiple outfits. According to Who What Wear writer Kat Collings, versatile wardrobe staples for women include:
A striped top
A biker jacket
A blazer
A pencil skirt
A trench coat
The little black dress
A collared shirt
Menswear trousers
Black pumps
For the gentleman…well, 6 out of 9 of those recommendations still work.
Get Creative
Mixing and matching wardrobe components taxes the creativity of some. For others, a truly creative article of clothing is one you tailor to fit your own taste. DIY your current clothes to make 100% unique outfits that are you, you, you.
Need inspiration? Try the DIY Jewelry Crafters group on Carousell. They'll show you dozens of ways creative minds have used beads, pearls, ribbons, glitter, gemstones, and more to put their own spin on accessories, plus the raw materials you need for your own crafty creations.
Wear Layers
Layers are a great way to mix up the way a piece of clothing is used. On her blog, fashion phenom Lauren Conrad cites the following 5 rules for wearing layers "like a pro":
Start with a basic (think solid color, neutral, or striped), lightweight top.
Add a soft cardigan or sweater.
Add a jacket in a neutral color such as olive, camel, navy, or black.
Next add a scarf. Conrad calls it "the frosting on a cupcake."
Finish with accessories.
Think pre-loved
You can find high-quality, pre-loved clothing in any style you can possibly imagine.
With the convenience of Carousell, you don't have to hunt through the dusty racks at thrift stores to find the hidden gems. Just browse through our app on your phone and you can find pre-loved treasures and buy them closet-to-closet from other Carousellers.
Don't be afraid to ask questions before you buy. If you only want clothes that come from smoke-free homes with no pets, just say so!
In Cosmopolitan magazine's "10 Genius Tips for Mastering Second-Hand Shopping," Charles Manning advises sticking with "pieces with clean lines and classic shapes if you don't want to look dated." Manning notes that even vintage shoppers don't want to look like they "just stepped out of another era."
In other words, vintage pieces are fine as long as you don't go overboard and look like a confused time traveler.
Manning also suggests accepting minor, fixable flaws (such as small tears) in pieces you truly love. He recommends tailoring for inexpensive fixes such as tears along a seam, shortening sleeves, raising hemlines, or bringing in a waistline.
Swap Clothes
What's the least expensive way to get new-to-you clothes?
Simply swap stylish pieces with your friends or siblings. It won't cost you a dime, and if you change your mind and decide you really didn't want to part with that engraved silver charm bracelet, you know exactly where to go find it.
Audit Your Wardrobe
To uncover old gems you forgot about or find old clothes to sell, go through your closet and give your wardrobe an audit. If you haven't worn something in over a year, you're probably not going to wear it. Read about our room decluttering tips here.
While it might not be your style anymore, but it would probably still look great on someone else. A good idea it to snap a photo and list it on Carousell. Selling your used clothing on Carousell is easy and safe, and not only will it earn you some extra cash but it's also better for the environment too.
Draw Inspiration from Social Media
Follow stylish people on Instagram and Pinterest to get ideas for bootstrap outfits. If you could spend hours scrolling through your Instagram feed or can barely pull yourself away from your Pinterest boards, you're going to love browsing the groups on Carousell and "Liking" your favorite finds to bookmark them for later perusal.
Conclusion
Anyone can update their wardrobe, even on a tight budget. New-to-you clothing and accessories don't have to cost an arm and a leg if you're willing to spend some time shopping smartly, and using a few fashion tips and tricks.