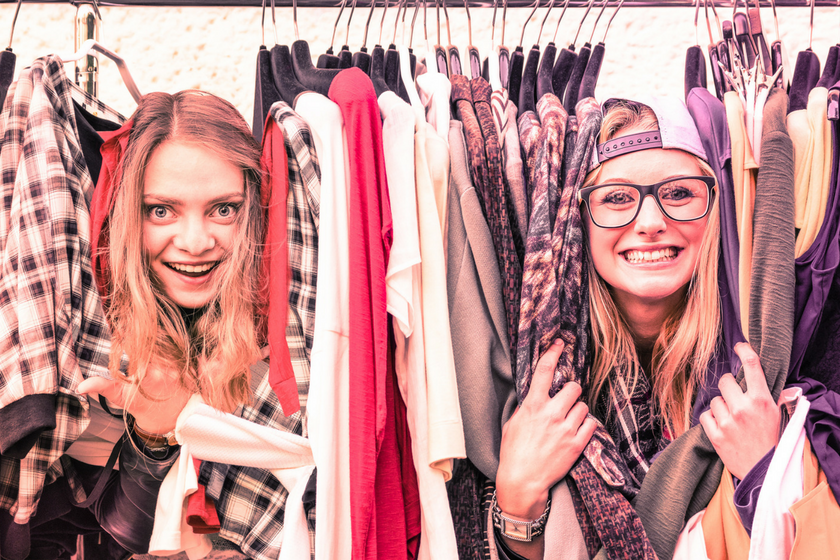 Reading Time:
7
minutes
If you're a fashionista who could do with a little extra cash (and who doesn't?) – then selling preloved fashion online may be your next venture! 💵 💵 💵
On the flip side, maybe you're a bargain hunter looking for a designer dress at a fraction of the designer price tag. Preloved should be your first stop too.
When you work at Carousell long enough, you'll find that your friends and family will inevitably ask you questions like "How do I sell my clothes better on Carousell" and "Where are the best bargains?"
I got together with the gang at Team Carousell, and we pooled together our top tips for both selling and buying pre-loved fashion to share with you guys.
Buying Preloved Fashion Online
1. Know the market price for similar preloved goods
You don't know if you are getting a good deal when buying preloved fashion until you truly understand the going rate on the market.
Take these factors into consideration as you research your next preloved buy:
How many of the items are already on the market? You'll have negotiating power if there are multiple identical items listed at different prices.
What is the average asking price? Remember to factor in shipping costs so you know exactly how much you'll be paying.
2. Research the original selling price
Knowing the selling price of the item when it is brand new is helpful to determine how much lower you should pay for it once it's second-hand. You can actually negotiate some items with a seller, but please don't low-ball with unfairly low offers as that's considered very rude in our community.
Keep in mind that if the market is flooded with the item you want, you may have more negotiating power.
3. Have reasonable expectations
When buying preloved fashion, it's always important to keep your expectations in check. A lot of preloved clothes can be almost brand-new, as they might be worn only once or twice… or not at all if it was the wrong size for that particular Carouseller.
That said, "preloved" means that it has been previously used and there could be imperfections. Carousellers usually specify the condition of the clothing being sold, so you know what you'll be getting. If you're okay with a little wear-and-tear (slight thinning of fabric, slight discoloration) then you won't be as disappointed.
4. Understand what makes something vintage
In fashion, vintage can indicate years old – usually dating back to about the 1920s or '30s – or it can indicate a first-edition of a designer item. Such as a vintage Michael Kors handbag.
It's important for you to understand what vintage fashion is all about if you plan on buying it, because a truly vintage item could be extremely valuable.
Basically, old doesn't always mean cheap so be prepared for a bigger price tag for some vintage items.
5. Make sure it is authentic
At Carosell, we take marketplace quality really seriously and my friends on that team work their butts off to keep the quality up. But to be safe, you can always check if it is an authentic piece by checking the pictures when buying designer preloved fashion.
You should know what a real designer label looks like, as knock-offs can look similar but have a very small change that is used to differentiate the two. If unsure, just ask the seller to provide more photos.
For example, this authentic Chanel bag on Carousell includes its authenticity card:
6. Get to know the seller
It's always good to know what kind of seller you are dealing with, and you can find this out by reading reviews about the seller or contacting them directly.
Ask yourself these questions about the seller:
How many positive vs. negative reviews does the seller have?
How quickly is the seller known to send purchased items?
Is the seller pleasant to work with?
Does the seller routinely send merchandise as expected?
The "Meet The Seller" section on the Carousell store is perfect for checking out seller reviews or contacting them directly:
7. Factor in the shipping cost
Finally, determine what you are willing to spend on a specific piece of fashion, including what it is going to cost you to get the item shipped to you. To save the most on shipping, look for sellers in your area – or look for sellers who are willing to throw in the shipping for free with multiple purchases. 📦
Selling Preloved Fashion
1. Nail the title of your listing
At the end of the day, you're competing for the attention of your customers. With so many messages that come at them online throughout the day, you need to make sure your headlines for your listings are attention-grabbing and to-the-point.
If you're selling a designer shirt, make sure the designer's name is in the headline. If you have one size only, make sure that detail is in the headline too. Give your readers what they want in as few words as possible.
Here is a good example of a compelling and descriptive headline on a pair of preloved Oroton shoes:
2. Get the photos right
This is the moment when high-resolution photos really matter. Take several shots of an item in good lighting and show off as much of it as possible.
Among the shots you'll want to take include:
Full shot of the front and back
Any problem areas or imperfections
Detailed shots of special parts of the item, such as a zipper or brand logo
Action shots of the item being worn
This Christian Paul watch is a good example of using a selection of photos to show off a great piece of preloved fashion. It looks like a professional seller prepared this one!
3. Be upfront in your description
Your customers want you to be honest with them. They don't want to get the item only to discover upon inspection that the blouse they purchased has a snag in it or a button missing.
So be as upfront as you can in your description so that your seller is not disappointed with the item. A lot of times, they'll be okay with the imperfections and will appreciate your honesty. It's worth avoiding the trouble that comes from a buyer asking for refunds.
4. Replicate other successful sellers
Identify the sellers in your market that you admire and have great selling records. Take note of their listing descriptions, item titles, the quality of their photos and their reviews.
Try to replicate the very best of what you admire in their listings. Every good idea comes from another one, and there is no shame in using great principles and putting them to work for you.
5. Get honest customer reviews
Don't be afraid to follow up with customers after they have purchased your preloved items and ask them for reviews. There is nothing more compelling for a buyer of preloved fashion than an seller with at least a few honest customer reviews. 🗣
So reach out to a few of your previous customers. If they reply, ask them questions about their experience when they shopped with you, and encourage them to review your profile.
6. Price it right
Selling and making money in a preloved fashion business is all about getting the price right. That's where your research of the market and comparable items can really help you out.
You'll want to weigh up several factors as you are setting the price for your piece of fashion, including:
Does the item look new or worn?
What is the original price of the item?
Will you include shipping or charge for it?
Are there identical listings out there, and if so, what are the prices of those items?
What is the quantity of identical items on the market?
Start from the average price of the similar items on the marketplace. If there aren't many of them, then you have a better chance you have to sell your item for a higher price. Likewise if your item looks brand new or nearly new.
7. Respond to questions promptly
A sale is as much in the price and the quality of the item as it is in your customer service! Your buyers want to know that you are a dependable, communicative seller that they can count on to deliver the product and not to let them down.
When you value customer service and please your buyer, the buyer will reward you by telling their friends and family members about you. That's the very best kind of advertising you can get – free brand ambassadors!
8. List it on a good shopping day
Finally, you'll want to make sure that you get your items in front of customers on days when they already will be online ready to make purchases. Some of those great shopping days include:
December holidays
Valentine's Day
Back-to-School
As well as these seasonal moments, you also want to consider when people are typically online shopping for fashion. For example, evenings and weekends tend to work well. By listing your items at the right time when a lot of people are searching online, you will get more exposure and a better turnover rate.