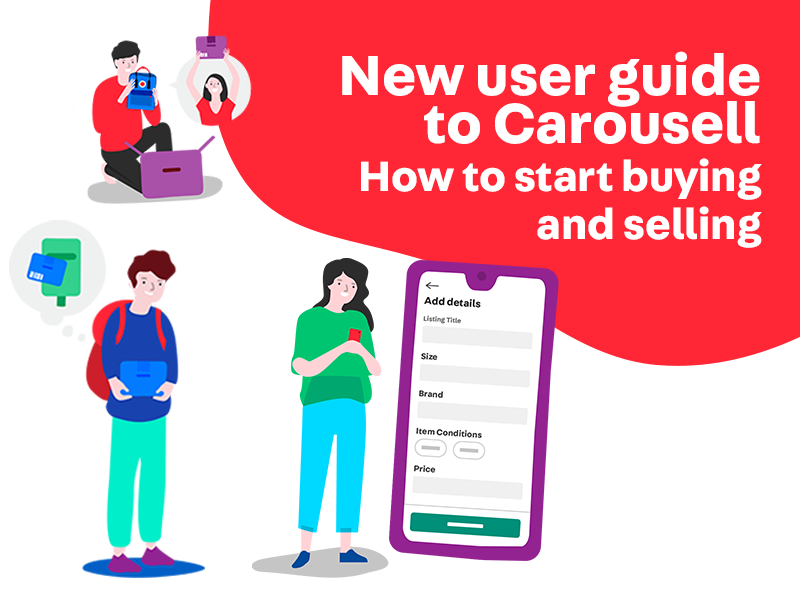 Reading Time:
11
minutes
Ever wished you stopped yourself before making that impulse buying a few months back? How much money you could have saved if you hadn't bought it?
While you're at home glancing at all your regret buys, we're here to break it to you – it's about time you got rid of them. We know how much unnecessary space it's taking up at home and how you feel so sayang giving it away. 
You'll be glad to know that there's a way to make back what you've regrettably spent – by listing it for sale on Carousell! It only takes you 3 minutes to snap, list, sell – so you can literally do it anywhere (even while you're commuting!).
Because you're new to Carousell, we've put together a few helpful tips on how best you can sell and buy on Carousell.

How to sell on Carousell: 4 simple steps
Here's a quick look at how to sell on Carousell. With these four easy steps, you're on your way to earning some money:
Step 1:
Open up your Carousell app and tap on "Sell"
Launch the app and start by tapping on 'Sell' (the '+' icon) within the app.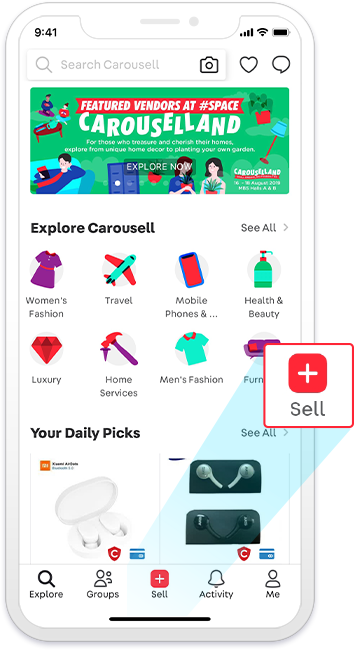 You just have to tap on it to open up the camera. Super easy, super quick!
Step 2:
Take a picture (or a few) of the item you're selling.
Ever heard how first impressions matter? It's just the same on Carousell! 
Your pictures are the first thing buyers see when they browse on our marketplace, and naturally, the most attractive images get the highest views.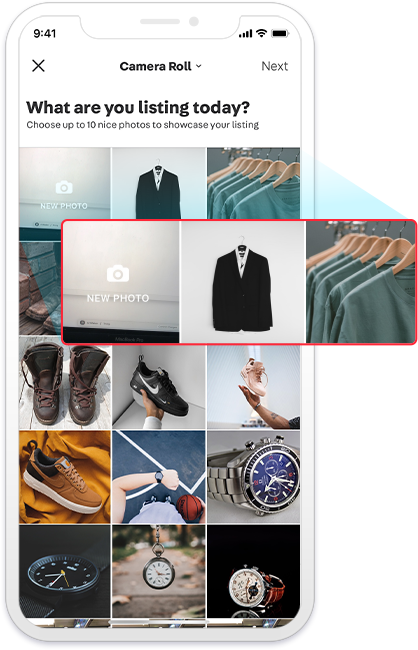 But fret not! If you know you're not the best in photography, we've gathered a bunch of helpful tips: 
To make sure your items can be clearly seen, use natural lighting as much as you can so in your photos! Sunlight is your best friend here.
For your item to stand out in the photo, be sure to use a contrasting background.

Presentation is key and your item should be the centre of attention! 

Photos: the more, the merrier! Try your best to upload at least 4 photos to show different angles of your item, demonstrating the condition and authenticity of your item.
Once you finish taking your photos, select the ones you want to use and tap "Next". 
Step 3:
Fill up the basic details of your item.
Here's your chance to convert casual browsers into serious buyers! Simply convince them that your item is indeed what they are looking for.
First, select a category suited for your item. In fact, once you upload your images, an algorithm will suggest a category to place your item in. Double-check if the category is correct – this increases the chances of buyers looking for what they need!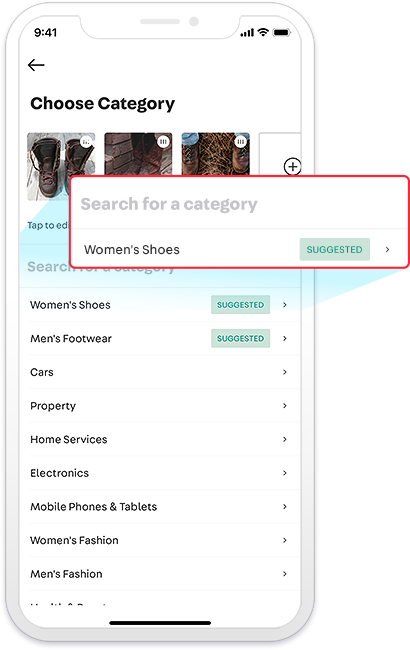 You don't have to be a best-selling author to write a good title and description for your listing – here are some tips you can try out!
Short and clear titles increase the chances of sale – Buyers will not spend more than 3 seconds to read your title while browsing the marketplace. Being concise always helps!
Describe, describe, describe. Put yourself in the buyers' shoes and detail all the necessary info you would want to know before buying it, such as size, colour, measurements.
Include the brand name, original price and why you're selling in your description. This gives the buyer a gauge of the condition of your item!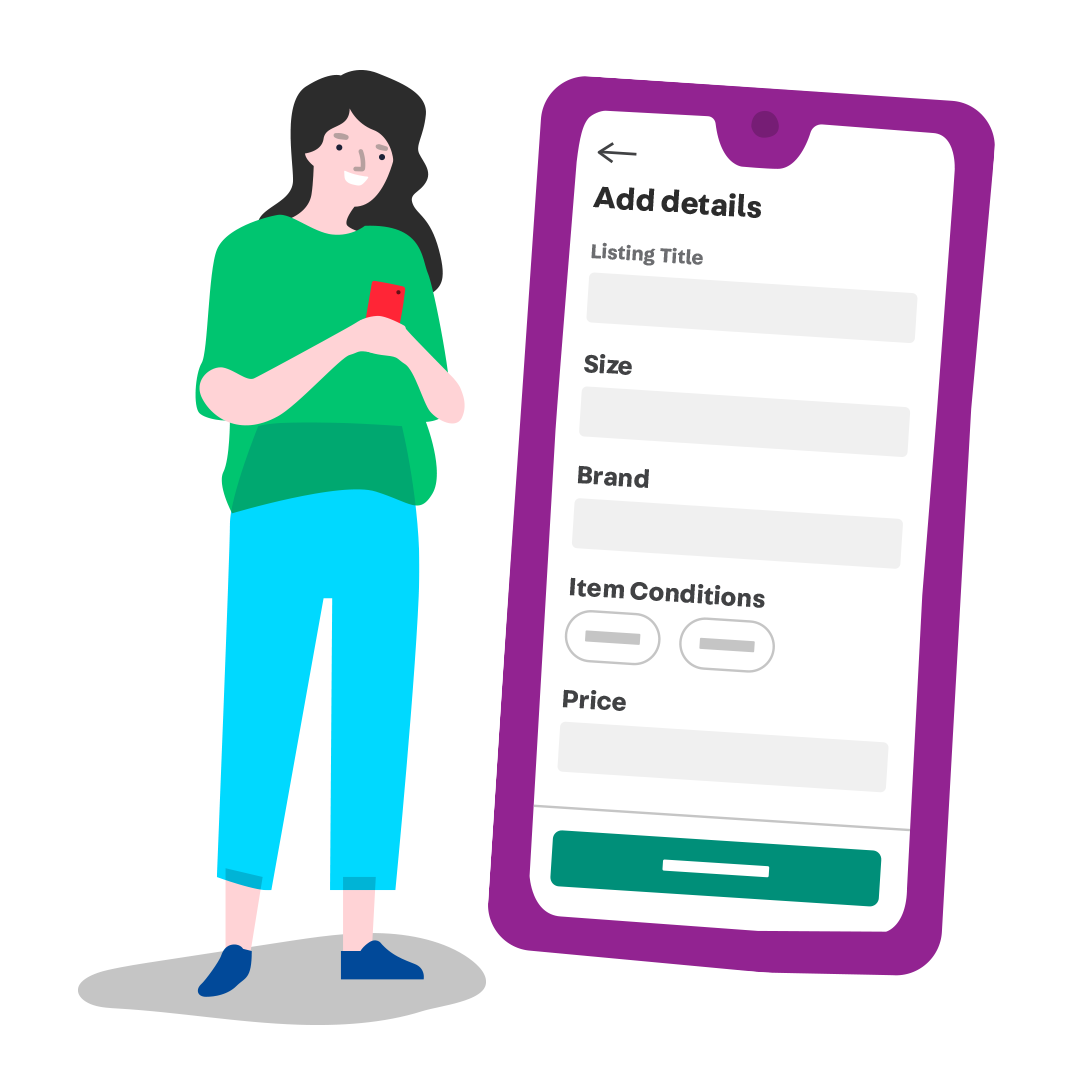 Your next step will then be deciding on the best price to sell your item for. If you already have a price in mind, that's perfect! If you don't, look around and compare. A quick search on Carousell for the same item or similar items will show how much others are selling theirs for. 
We've also made it easier for you with Price Suggestion – When listing, we'll provide you with the prices of visually similar listings to aid in pricing.
Pro-tip! Items with free shipping often sell more quickly! It doesn't hurt to cover the cost of shipping once in a while 😉
Step 4:
Fulfil your order via meet-ups or mailing.
When you get your first chat on your newly listed item – score! Here comes the best part of making a successful deal – recovering losses from your regret buy. 
How do I receive payment from a buyer?
On Carousell, we allow buyers and sellers to connect through a chat, where both buyers and sellers can agree on which payment method would be most suitable! Here are a few suggested methods to receive payment:
Carousell Protection (Highly recommended!)

Cash on delivery/Meet-up

Bank transfer/PayNow or DBS PayLah!
What is Carousell Protection?
Carousell Protection is an in-app payment feature that allows payment for items bought on Carousell through the supported payment methods. It is 100% free to use, with no extra or hidden charges.
While shopping on Carousell, you might have come across some sellers you aren't sure you can trust. Your buyers will not experience that uncertainty with you if you enable Carousell Protection on your listings! 
By enabling it, buyers get the perception that you are a trusted seller who wishes to offer assurance, increasing their likelihood of purchasing from you.
How do I deliver an item to a buyer?
It's all in your hands! Sellers or buyers themselves can decide on the delivery method. Here are the common methods to deliver an item:
Meet-up to deal

Normal or registered mail

Smartpac

Courier delivery
Not sure how to mail out an item? Check out our tips on how to mail out an item via SingPost here.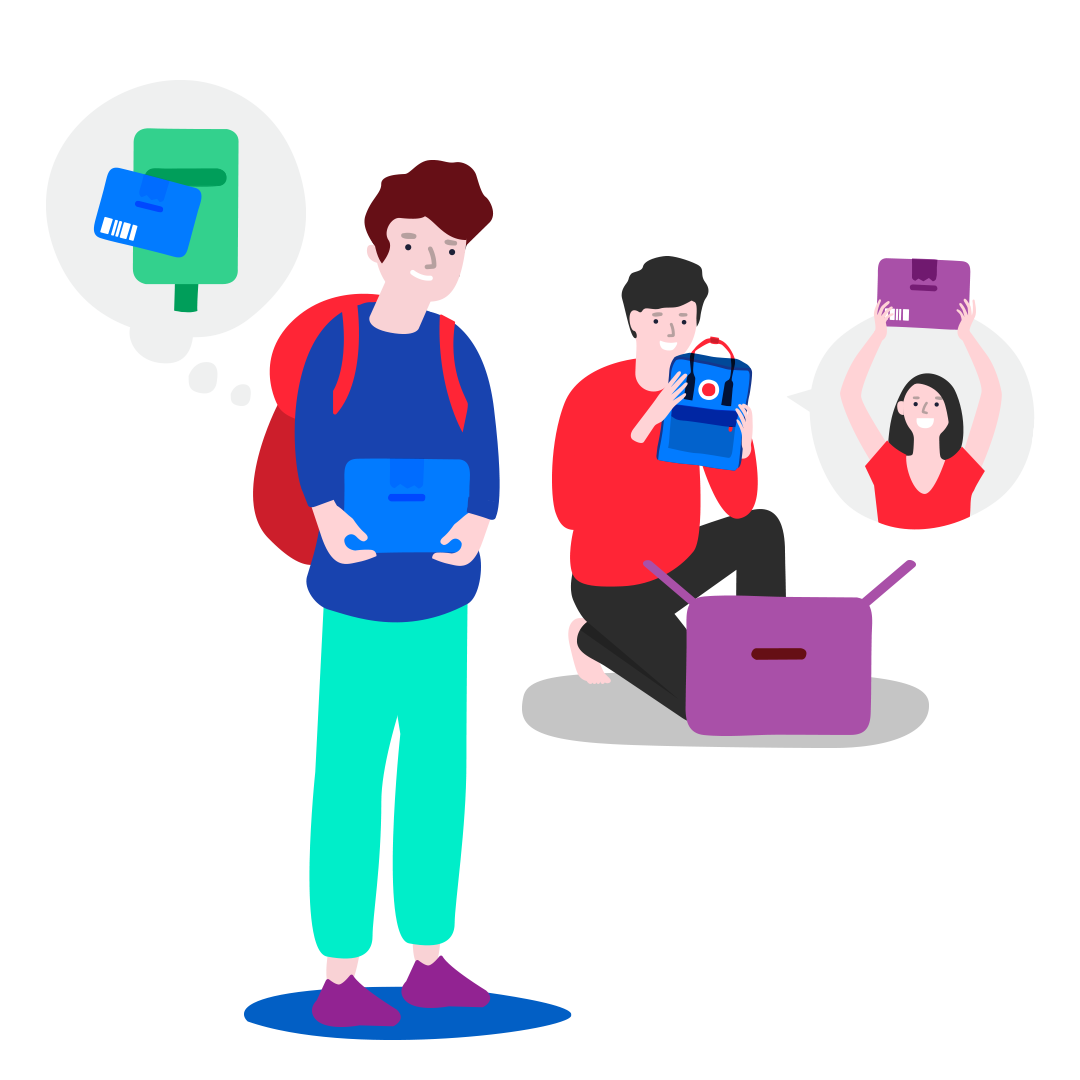 How to buy on Carousell: 
Here's a quick look at how to make purchases on Carousell! We're going to take you through the basic steps to buying, how to get the best deals and how to stay well-protected during transactions. Spoiler: it's super easy! 
Enjoy your purchase! 
Step 1: Open up your Carousell app and start browsing.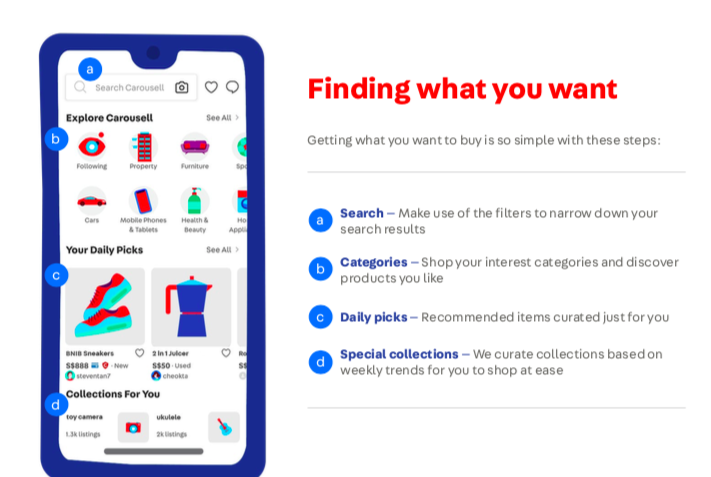 Pro-tip! You can use the filters to narrow down the search results for a more accurate find. You may also 'like' the item and revisit it at a later date through the heart symbol on the top right corner of your profile. 
Through these simple methods, you can easily find what you're looking for!
Step 2: See something you like? Start making a deal. 
First things first, read the description on the listing of the item you like! 

If it looks okay, go ahead and start a chat with the seller of the item.

Ask and clarify any questions you may have about the item, e.g. "Are there any scratches?"
Pro-tip! Always remember to always ask for more information and photos to make a more informed decision!
Step 3: Complete your deal safely via meet-ups or mailing.
Safety first! No one likes to be scammed or cheated of their money, therefore, ensuring that you have a safe and well-protected shopping experience is our top priority! 
Here are our 3 most important tips to dealing safely on Carousell: 
When it comes to big-ticket items, remember to ask for

proof of purchase

and do a thorough check to your satisfaction before confirming the deal. 

If you opt for a meet-up, choose a brightly lit

public space to deal

, for e.g. an MRT station. 

For ultimate buyer protection, opt for

Carousell Protection

. We'll discuss more about this below. 
Buying on Carousell is that easy! 
Pro-tip! Once you've received your item, go ahead and 'follow' the seller's account to stay updated on future listings that you may be interested in. Tap on the "Following" icon (under "Explore Carousell" on the homepage) to see all the listings of the Carousellers you have followed. 
How do I buy with Carousell Protection? 
Before we get into the simple steps of buying with Carousell Protection, let us give you a quick rundown on what it is! 
Carousell Protection

is designed to protect both buyers and sellers with their payments and transactions. 

As a buyer using Carousell Protection, your payments will be held in trust and only released to the seller once you have confirmed that you have received the item in good condition.
Now that you have a better understanding of Carousell Protection, here are the steps to ensure a well-protected and smooth transaction.
Step 1: Tap on 'Me' and head over to your settings by tapping on the gear icon. 
Step 2: Tap on 'My Payment Methods' and add your preferred payment method. 
Step 3: Set up your payment methods on your profile. Choose to pay by DBS PayLah! (No fees) or via debit/credit card (a third party service fee applies).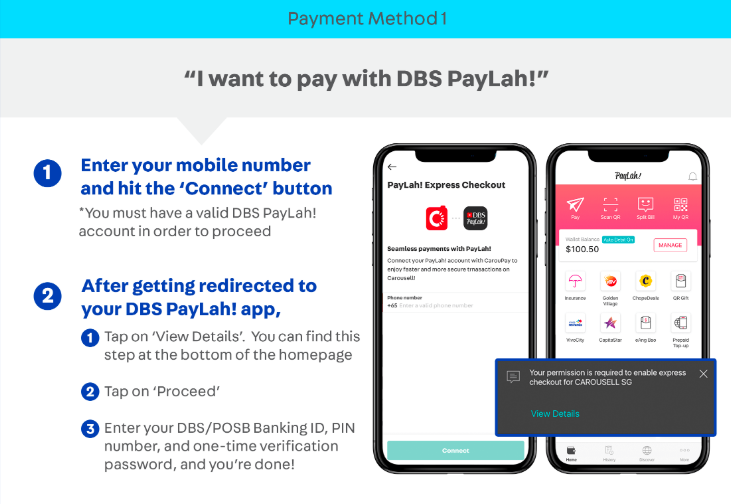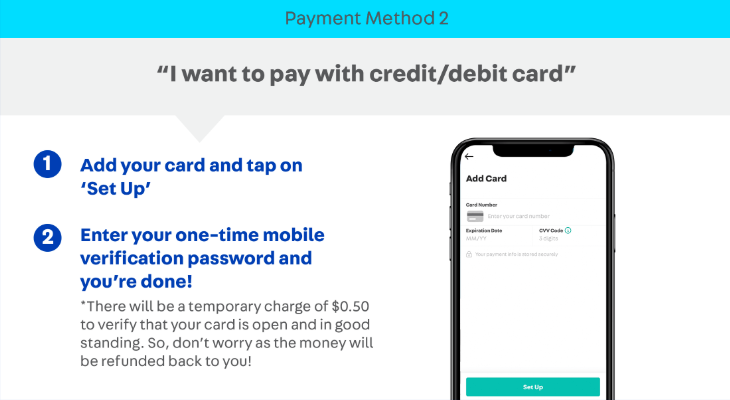 Step 4: Look out for listings with the "Protection" logo to identify listings that are Carousell Protection enabled, or simply ask the seller to enable Carousell Protection for your listing. 
Step 5: Tap on 'Buy Now'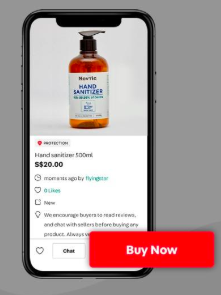 Step 6: Choose your preferred dealing method (mailing or meet-up) and payment method. Ensure that your mailing address is correct. Apply any discount codes available and tap on "Make Payment".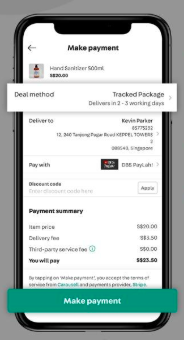 Step 7: If you have chosen for the item to be mailed to you, track your delivery progress in-app.
Step 8: If you have chosen to meet-up, simply meet up with your seller within 7 days and do ensure that you check your item during your meet-up.
Step 9: Final step! Once you have received the item, make sure that you tap on "I have received my item" so that the payment will be released to the seller! 
Looking for more information? Check out our complete step-by-step buyer guide to Carousell Protection.
Things to note when using Carousell Protection
If you use Carousell Protection, do take note that

as a seller

, you do not immediately get payment from the buyer. Carousell holds payment until the buyer confirms they have received the item.

Carousell Protection is absolutely

free for all sellers

! However, if you're a buyer, do note that payment via DBS PayLah! is free and payment via credit card has a transaction fee.

When you use Carousell Protection

as a buyer

and you face issues with your purchase, raise a dispute with your seller before the order is completed and choose to either get a refund or an exchange.
What else should I look out for? 
In-app contests
We love to run contests at Carousell, where you perform simple steps to participate and stand a chance to win promo codes, vouchers (e.g. Grab voucher) or prizes (e.g. Nintendo Switch). These are usually announced on the front page, notifications page or through push notifications. 
Curated collections and sales
One of the best ways to get great deals on your desired items is to keep an eye on our front page collections! We curate sales and collections for high-demand items (e.g. Baking tools) on a daily basis to make your shopping experience that much more enjoyable. 
Welcoming our new users
Now you're an expert, let's use this chance to earn more brownie points or better still, Grab or NTUC vouchers!
You know all the steps of how to sell on Carousell. Why not join our giveaway, exclusive for our new users? Simply perform your first action (whether it's listing an item or buying an item) to win vouchers. Heads up, you've got only one month to participate in our giveaway from the time you joined Carousell, so let's get to it!!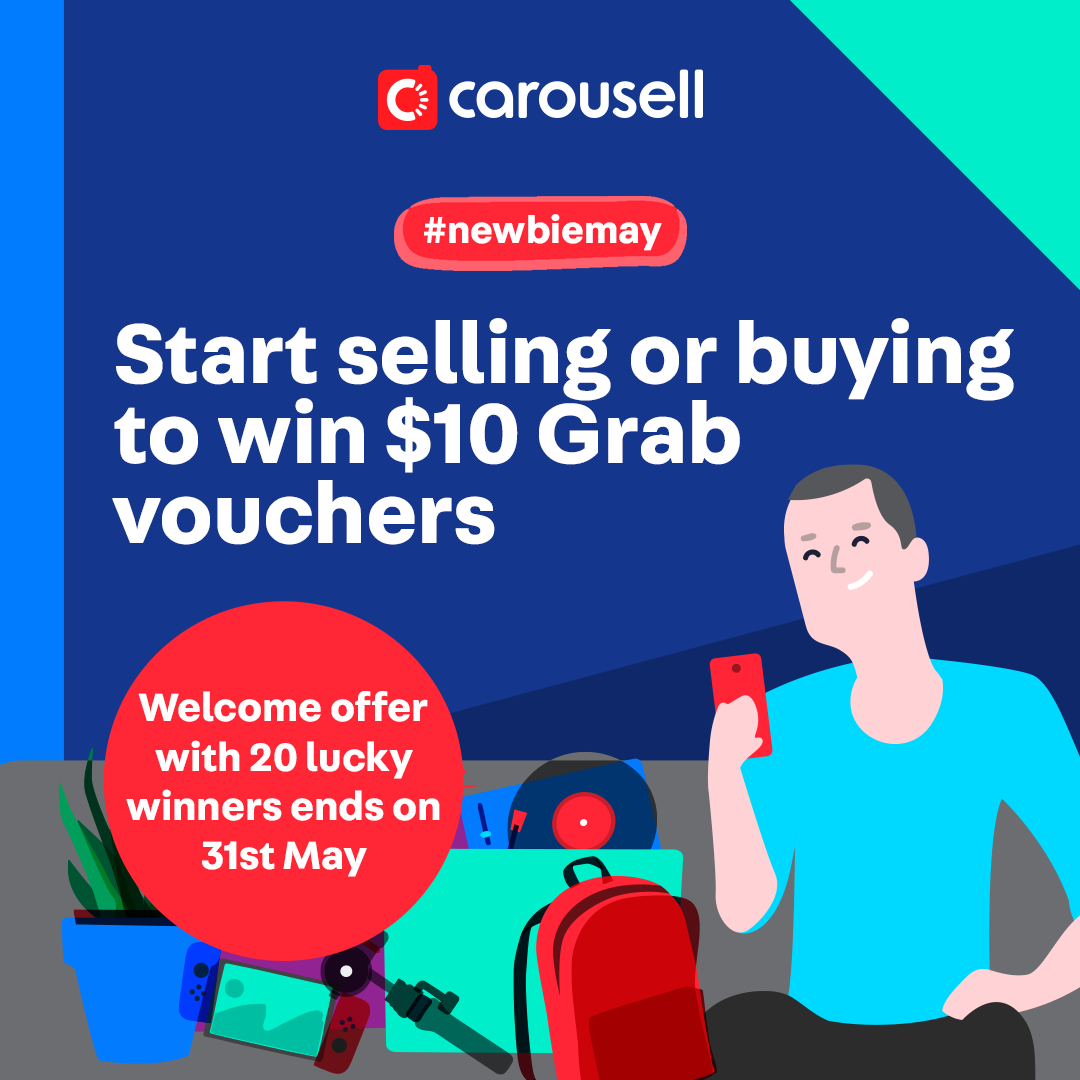 Still not convinced yet? Check out some of our friends who earned some side income on Carousell.
"I have a lot of underused items. When I was moving house, I wanted to clear it out. I gave some to people. Some appreciate it, but others like my sister said she had no more room for my gifts! That's why I decided to start selling on Carousell. I'm not very IT savvy so I didn't know how to start at first. One day my friend decided to teach me – she was 60! She wrote down the instructions for me, and I slowly learnt how to do it. It's quite addictive when you sell something you feel so happy. At first, I was a bit sceptical, but it turned out to be very easy. I sell my things at a very cheap price and have sold about 50 items to date! " 

– Doris, @annweeang303
"I had a school project where I had to do some programming and engineer a product, using several parts including a breadboard. However, on the day before the presentation, my teammate broke the breadboard at about 5pm. I figured that all the shops at Sim Lim Tower would have closed by then so I had to rely on Carousell to save my grades! I met this seller @sbtan004, who agreed to meet on the same day at 7pm. I was glad and I hurried to Jurong East to take the NSL to Novena. However there was a NSL breakdown and it took me a long time to get there. By the time I reached it was 7.30pm, but the seller was waiting patiently and did not mind the delay. Instead of hurrying the transaction, he told me to check the quality of the board. He said the money I gave him did not matter. Rather, the satisfaction of the customer matters. I was very impressed with him and grateful for saving my team's grades!" 

– @shriniket, @bookbot123