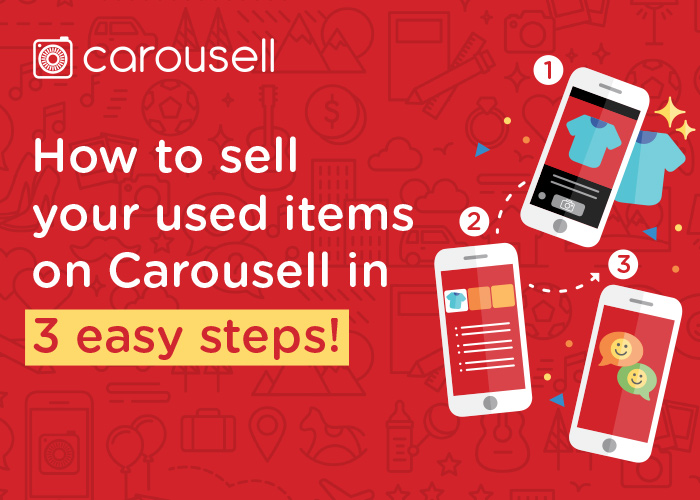 Reading Time:
6
minutes
Before we share tips on how to sell on Carousell, let's take you back a decade.
Think about the time when you're at home, and you realised that you have so many unused items lying around your house.
You might have thought; "should I sell my secondhand items?" Why not right? You could use the extra cash to buy something you've always wanted.
But, there was one big problem back then. The only options you had were selling on online forums and blogs. It wasn't convenient.
You had to spend hours to complete the whole process, taking photos of your item, transferring to your computer and listing it up. Dreadful.
I'm sure time is as precious to you as it is to me.
Okay, so let's return to how things are now.
Everything's going mobile, your one-stop device. But, what does that mean for you and me? We get to enjoy the convenience.
Did you know that it takes you only 30 seconds to sell your used items on Carousell?
We're committed to inspiring the world to start selling, and that begins with making it convenient for you. 30 seconds, easy.
Let's get to the steps and get you learning and earning on Carousell!
How to sell on Carousell: 3 quick steps
Here's a quick look at how to sell on Carousell. The three simple steps are:
1.Open up your Carousell app and tap on "Sell".
2.Take a picture (or a few) of the item you're selling.
3.Complete the process by filling up the basic details of your used item.
Sounds simple enough? You could probably do it in a snap.
In this guide, I'll give you a better picture of the process of how to sell on Carousell with some screenshots.
Let's begin with the first step!
Step 1: How to start selling on Carousell?
Start by tapping on the "Sell" button within the app.
Don't worry if you're team Android or team Apple, both the "Sell" buttons are located right below once you tap into your Carousell app.
Here's what the button looks like on Android: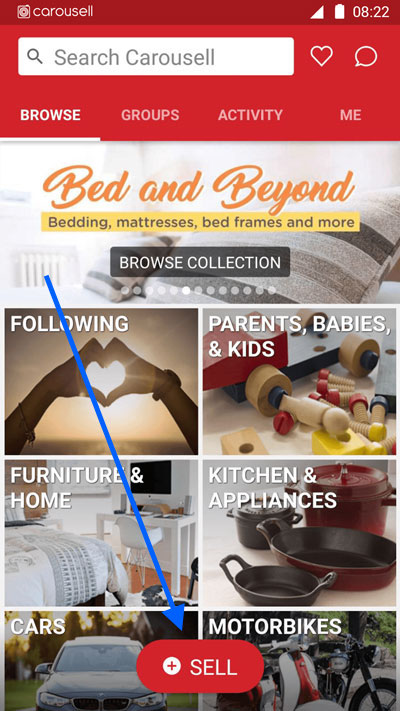 And, this is how it looks like on Apple's iOS: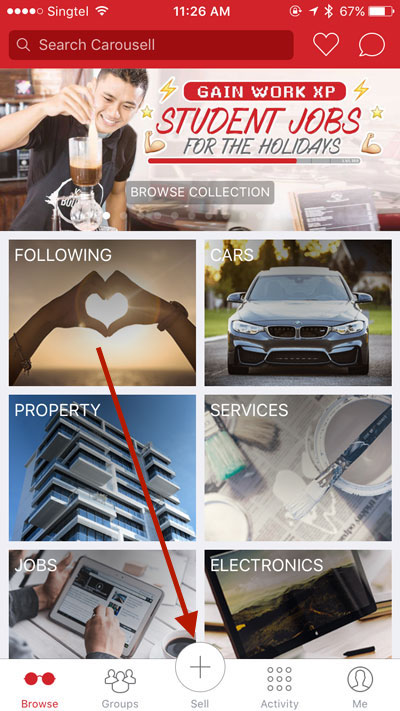 You just have to tap on it to open up the camera. Super easy, super quick.
That's that for the first step on how to sell on Carousell. Let's get right to step two!
Step 2: How to take a photo of your item on Carousell?
Ever heard how first impressions matter? It's the same on Carousell.
Your pictures are the first thing buyers see when they browse on our marketplace, and the most attractive images get the highest views.
But don't worry; you don't have to be a professional photographer. I'll give you some neat product photography tips so you can attract buyers on Carousell.
With your in-app camera now on, take a picture of your item and make sure it's the centre of attraction.
Here are two other tips that are useful to you when taking photos:
– Take different angles to showcase your item. You can upload up to four photos.
– Use a contrasting background, so your item stands out.
However, there's more to product photography than just those tips. If you're interested to learn how to take shop-worthy photos, check out this guide:
Product photography tips: How to take shop-worthy photos on Carousell 
Today, I'm going to sell my MacBook Air to show you how it works.
Once you finish taking your photos, select the ones you want to use and tap "Next". Here's an example of how it works: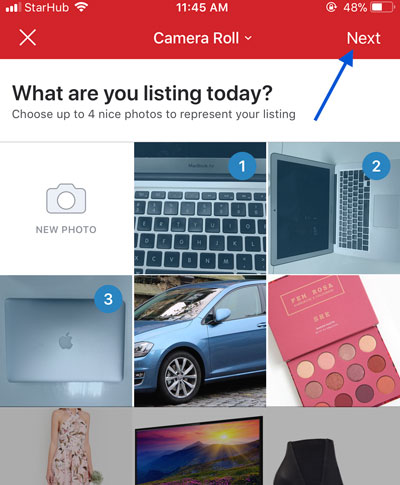 Pro Tip: Never use stock photos. Buyers tend to avoid clicking on them, and original pictures get higher views on Carousell.
That's all for the second step of how to sell on Carousell. Ready for the last one? Let's go!
Step 3: How to fill up basic details of my item?
Now, I'll show you the third and final step of how to sell on Carousell.
Once you finish step two, you'll have to select the category where your item belongs.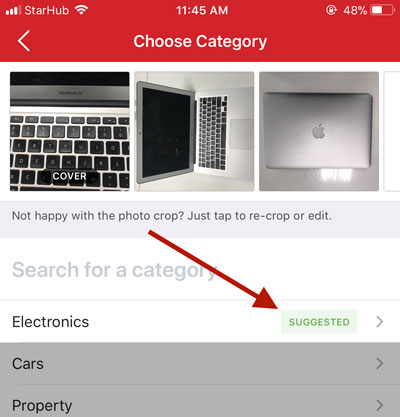 We're saving you more time by suggesting its category based on the pictures you took. Cool huh?
Next, you've to fill in the necessary details about your item. Take a look at the screenshot below.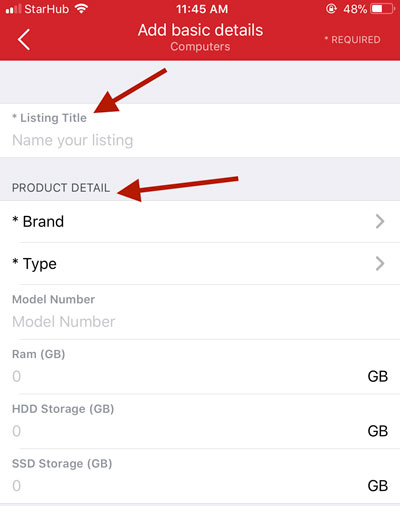 You have to fill in the name of the item you want to list. Then, you have to fill up the fields for "Product Detail". This section may differ depending on the item you're selling.
Then, your next step is deciding on a price. How much do you want to get from selling your item?
If you already have a price in mind, that's perfect. If you don't, my recommendation is to sell your item 30% less than its retail price.
You could research how much other Carousellers are selling the same item for too. It would be a good gauge for you to choose an appropriate price.
After you named your price, select if your item is new or used and whether you prefer to meet up or mail.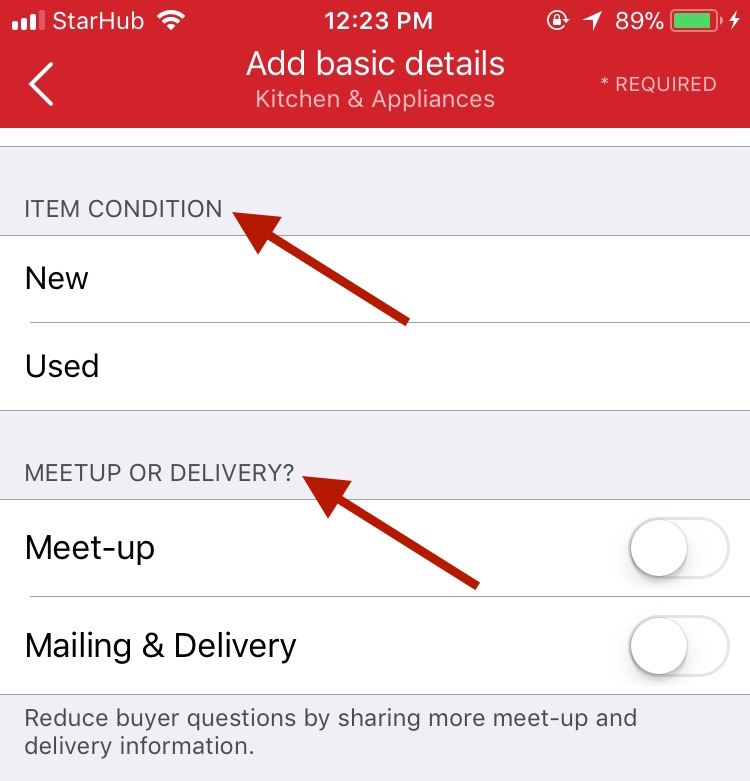 Lastly, you have to fill in an accurate description of your item within the box shown below: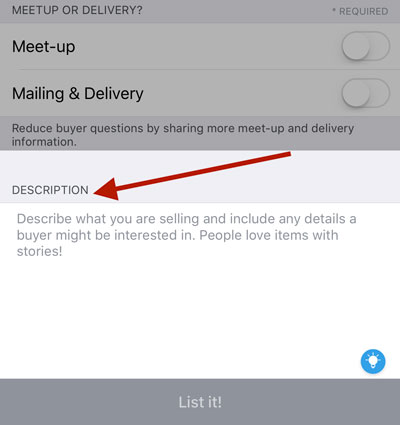 I'm placing an emphasis on "accurate" because the last thing buyers want is an item that doesn't match its description. So, let's all be responsible sellers.
Here are some things you could consider when describing your item:
1. The reason you're selling it
2. Does it have any defects?
3. The size and colour if applicable
4. How can you use it and is it any good?
Being specific works best for attracting interested buyers.
And, you're done! You've completed the final step of how to sell on Carousell.
I know it sounds like it's going to take a long time but try it out, you'll be surprised. I know I was the first time I did it.
How to sell on Carousell: Start converting your unused items into cash
Now, you're an expert.
You know all the steps of how to sell on Carousell. Also, you could even teach others how to do it!
Selling your secondhand items to make extra money isn't difficult anymore. It's made easy with Carousell because of how committed we are to make it convenient for you.
I hope you'll have a memorable and successful first sale! Leave me comments if you have any extra questions or you can also contact us at support@carousell.com.
Happy Carouselling!