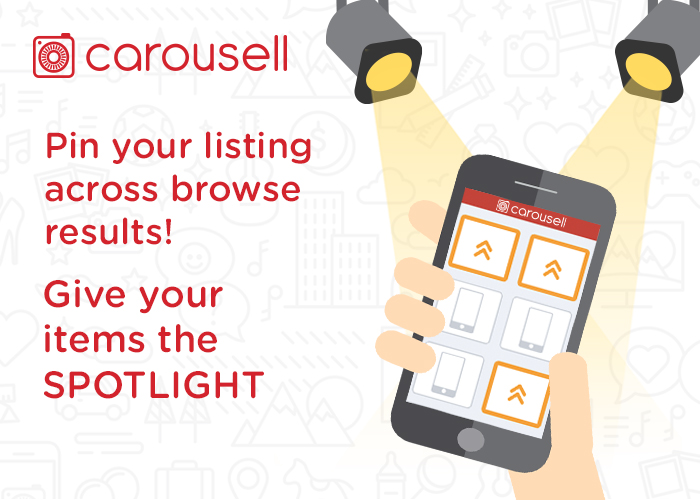 Reading Time:
10
minutes
"When we bump our listings, we get higher number of views and a good number of likes, and in return, we had a higher number of interested buyers during bumped periods. With more likes, it gave potential buyers an idea of how popular our product is, and thus increases the confidence for them make a purchase. – @kernel_scooter"
If you're a regular seller on Carousell who's serious about making sales, you might've tried promoting your items with Carousell Bumps.
It helps you sell your item faster by getting you more views. Besides, everyone (yes, you and me) prefers making a quick sale. 
We'll discuss another promotional feature called Spotlight.
It's designed to help you have better control over how successful you are in making sales. In short, it pins your listing across browse results.
Users browsing in the category your item belongs to will see it first before anyone else's.
So like Bumps, Spotlight can give you the winning edge.
You might've tried searching for "tricks" or "hacks" on Google but here's the deal; the best way to sell faster on Carousell is to promote your items.
And, if your best friends aren't reliable enough to help you spread the word about what you're selling, Carousell has got you covered. 
How a Spotlight can help you sell much faster
In this guide, I'll share how a Spotlight can speed up your sales by getting you more listing views.
Here's what I'll cover:
1. What is a Spotlight on Carousell and how does it work?
2. How do I promote my listings via Spotlight on Carousell?
3. FAQs on Spotlight
Let's dive right into the first topic!
What is a Spotlight?
A Spotlight is a promotional feature that pins your item across browse results on Carousell.
This is how your listing will look like after you purchased a Spotlight: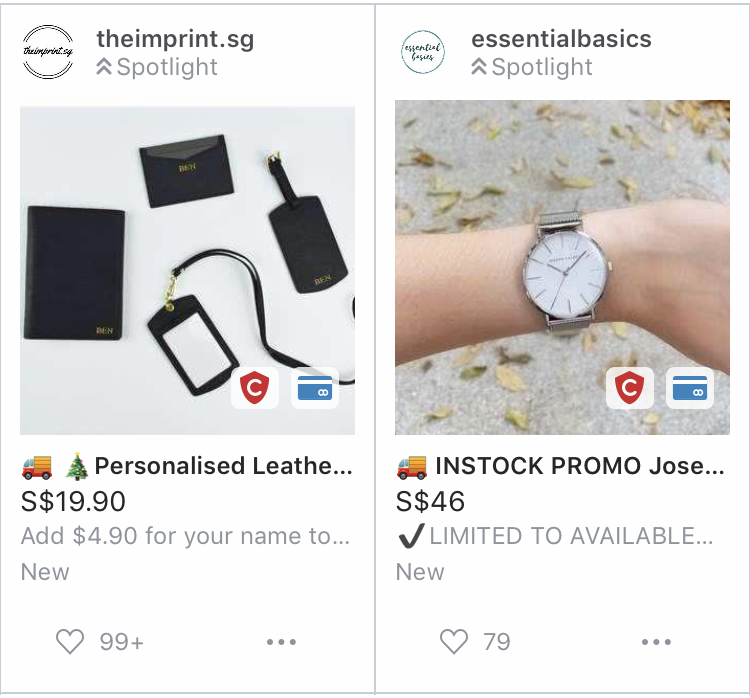 Note: You can only buy a Spotlight using Carousell Coins.
Your Spotlight ad will last for as long as you set the duration of your campaign to be (3 – 30 days) and will be removed from Spotlight for the day once the daily set clicks are reached.
If for some unfortunate reason you don't hit the number of clicks you paid for during the set duration of your campaign, don't worry, we will refund the remaining Carousell Coins to your account.
Spotlight guarantees that you only pay for the clicks your listing gets.
With that being said, Spotlight has two features that will give your ad some extra boost and they are:
Priority for Spotlight Ads

Keyword Targeting
Some possible reasons for not hitting the views you paid for might be due to your unattractive product photo, your vague listing title or an overly ambitious selling price.
Here are links to useful guides to help you improve in these areas:
So, what does Priority for Spotlight Ads mean?
Even after separating paying and non-paying sellers, the contest for the top spotlight is a never-ending battle (pun intended).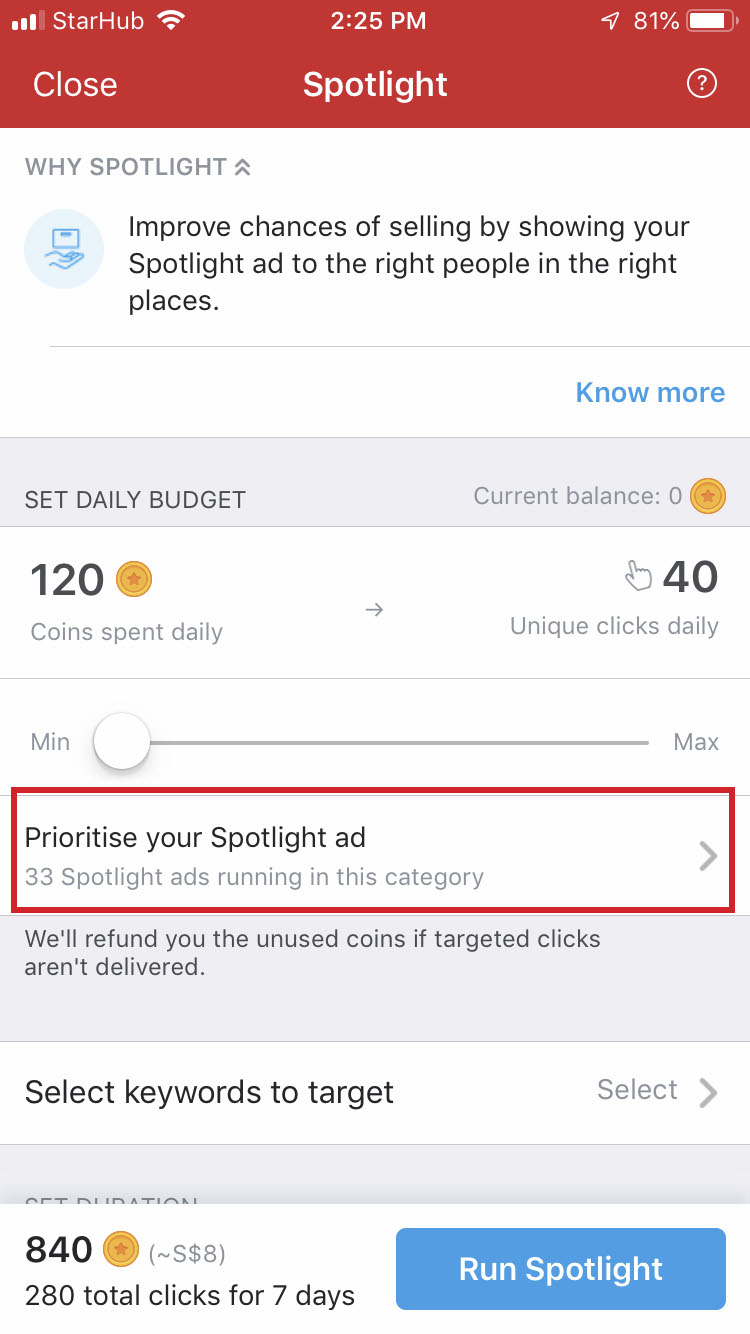 This feature enables you to prioritise your spotlight ad over other similar spotlight ads in the marketplace.
Essentially, the seller who pays for more priority has a higher chance of getting more prominent positions.
This does not mean that sellers who are not paying for priority are being shortchanged.
Your spotlight performance will not be impacted and we will still aim to deliver 100% on your daily budget.
With more sellers willing to pay for a spotlight, the priority feature is optional and is built for serious sellers who urgently need more exposure and clicks in the time period they have set.
What is Keyword Targeting?
Most of the times when we want to shop, we browse for the items that we need or want via search results. Search behaviour is the action of high intent to buy a specific product.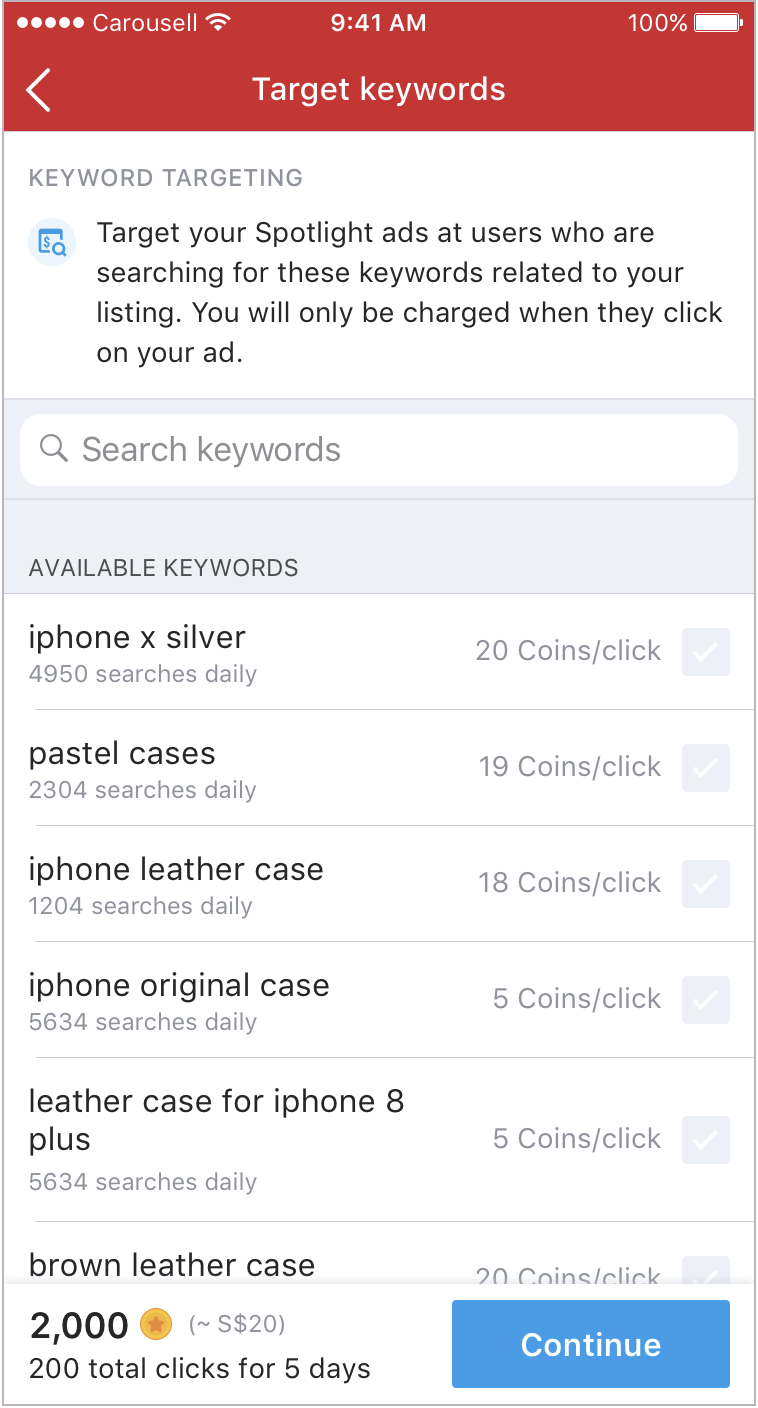 Keyword Targeting is an additional feature on top of Spotlight that allows you to target your spotlight ads at buyers who are searching for keywords related to your listing.
So, if you refer to the image above, you'll noticed that Keyword Targeting is priced as "XX Coins/clicks".
The cost per keyword is calculated with two criteria, the relevance of the keyword to your listing and the popularity of the keyword generated in the marketplace.
Here's how it works:
After selecting your keywords, based on your daily budget you have set for your Spotlight ad, Keyword Targeting will run for as long as you have sufficient coins to support the cost of each keyword.
It is important to note that coins will only be deducted after the system delivers a click for that targeted keyword.
How to promote your listings on Carousell via Spotlight
Okay, I promise this part is quick and easy. First, I'll need you to head to your Carousell profile. Next, follow these steps:
Select the listing you want to sell faster and tap on "Promote."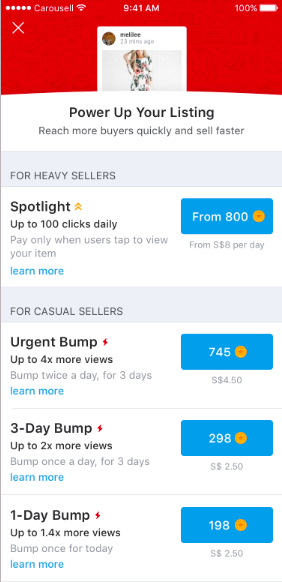 Click on Spotlight and tap the blue button stating "XX coins".

Play around with the slider to choose how many unique clicks you would like to get daily. It'll show you how much it costs in Carousell Coins.

You'll realise that the "Prioritise your spotlight ad" shows you XX spotlight ads that are already running in the category your listing is in. Clicking on the tab will show the priority slider set at "100% priority over other spotlight ads" for "XX coins". You may choose to slide for less or more. You do you! Here's how it will look like:


So, once you've made your decision, tap on "Run Spotlight". It's as straightforward as that.

If you would like to track the progress of your Spotlight campaign, check out your listing insights!

Now that you know how to purchase a Spotlight to promote your items, I'll share some frequently asked questions from the community.
Frequently Asked Questions about Spotlight on Carousell
You might have specific questions about Spotlight by now. So, I compiled a bunch of questions your fellow Carousellers asked.
When will my listing be removed from Spotlight?
There are four cases when your listing stops being in Spotlight:
When you hit the clicks that you paid for

When your spotlight campaign comes to an end

When you mark your listing as "Reserved", "Sold" or "Deleted."

When you change the category of your listing after purchasing Spotlight
Here's something to note; if you mark your listing as reserved, your campaign will be paused for up to 24 hours.
If you do not unreserve your listing after 24 hours, we will stop your campaign and refund the remaining coins to your account.
However, if you unreserve your listing within 24 hours, it will be placed back in Spotlight!
So, those are the typical cases when we remove your Spotlight from the category. However, there are two particular cases where we have to remove your promoted campaign abruptly.
Case 1: Your listing quality is low
In this scenario, we'll have to remove your item from Spotlight because you're not going to benefit from spending on a poor quality listing.
Here are some of my suggestions:
Case 2: Your listing breaches our community guidelines
We take any breaches of our community guidelines seriously. In this case, we'd have to take down your listing to maintain a better marketplace for every Carouseller.
How do I know if my Spotlight purchase was successful?
First, you have to check its Listing Insights.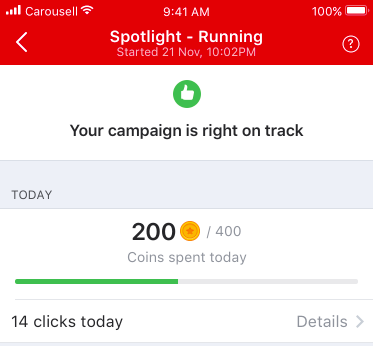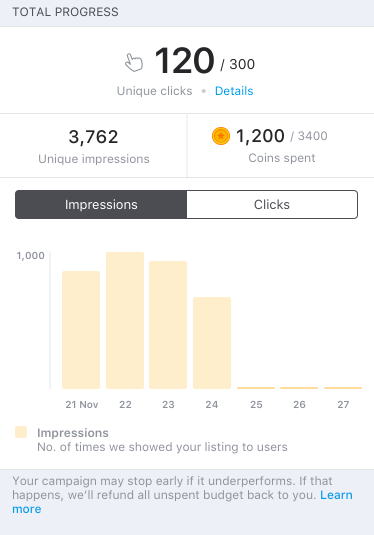 Pay attention to the red banner, if yours says "Spotlight – Running", you're good to go.
You charge us per click but what do you consider as a click?  
You'll notice there are two different numbers for "Impressions" and "Clicks". So, what's the difference between the two?
Impressions refer to the number of times we show your listing to other Carousellers.
On the other hand, Clicks refer to the number of times people clicked into your listing. In other words, people who were interested enough to look at details of your listing.
Important note: Each click is unique. If the same user taps into your listing twice, we count it as a single click.
Does Spotlight guarantee a sale?
As they say, if anyone can guarantee you a sale, it's probably a bunch of nonsense (you'll need Potter's magic wand for that).
While we can't guarantee a successful sale, we can ensure a prime spot across relevant browse results for your listing to give it more visibility.
You only pay for the number of clicks you get so my tip is to buy a Spotlight on great-quality listings to get the most out of it.
How are prices determined for Spotlight?
Okay, so every category has different levels of popularity. Kind of like school where there's the canteen where everyone wants to hang out, and the science lab where few people are.
The "canteen" categories where everyone wants to be a part of the Spotlight will cost more than the "science lab" categories that have lesser demand.
A spotlight campaign starts from a minimum of 40 – 140 daily clicks for a minimum of 3 – 30 days.
What if there are multiple listings in Spotlight? Which one will Carousell show?
You've probably noticed that there are two obvious spots advertised for Spotlight at the top right?
Don't fret, that doesn't mean that only two people are allowed to be at the top of the category.
If there is more than one listing fighting for Spotlight, Carousell will randomly show two individual listings to different users until the target clicks for each listing are achieved.
Rest assured, you will only be charged for the clicks your listing receives!
How is Spotlight different from Bumps?
Your Spotlight listing is pinned across browse results for as long as you set your campaign duration to be (3 – 30 days) and will be removed for the day once the daily set clicks are reached.
You only pay for the clicks you want, and it starts with 100 possibly interested buyers.
On the other hand, a Bump pushes your listing to the top of the category for three consecutive days at the same timing. For example, a Bump pushes your item to the top at 5pm on Wednesday till Friday.  
Also, you can't select the number of views you want to get.
If you're interested to find out more about Carousell Bumps, you can click here.
Can I buy a Bump and put my item in Spotlight at the same time?
The short answer? Yes (it's perfectly okay to be kiasu).
The Spotlight campaign will run independently from your Bumped item.
Also yes, the views that you get from Bumps will not affect the views you get for Spotlight, they are counted separately.
Why can't I buy a Spotlight for Cars and Property?
The promotional feature is unavailable for these categories.
If you are a business owner or an agent, please contact business@thecarousell.com if you want more visibility in the Cars and Property categories on Carousell.
If you would like to know more about the Spotlight tool, check out a more detailed list of FAQ here.
Purchase a Spotlight to guarantee more clicks for your listing on Carousell
So remember, you can be in control of how fast your items get sold on Carousell by promoting them.
If your efforts in promoting your used items via social media or friends fail, it's not the end.
You can now sell faster on Carousell with two promotional features:  
Share this guide with your friends who are interested in promoting their items on Carousell to sell faster!
Thanks for reading until the end and good luck with converting your old, new or unused items into cash! Don't hesitate to leave a comment below if you have any further questions.
Happy Carouselling!