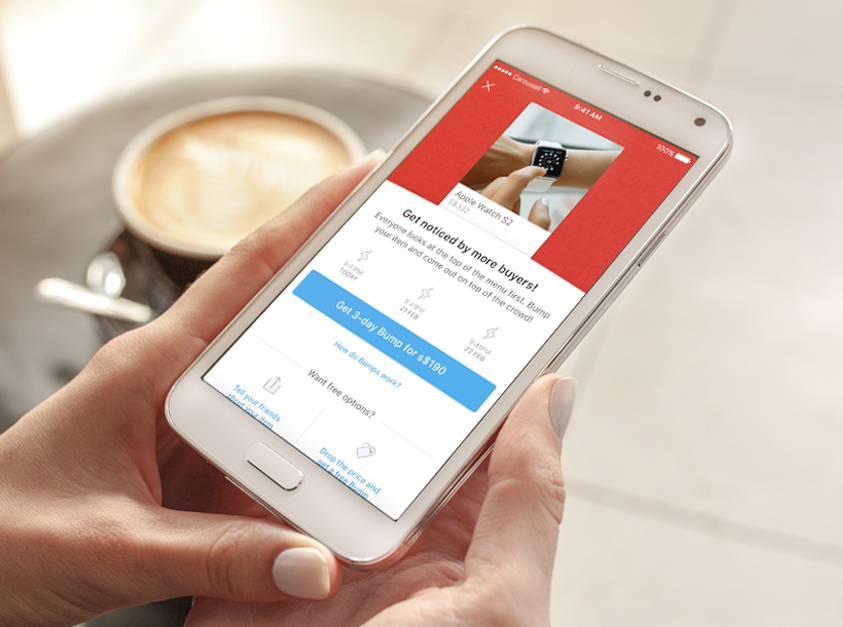 Reading Time:
3
minutes
At Carousell we're always trying to help our Carousellers have the best experience they can on our platform. For those of us on the Product and Engineering teams, that means coming up with wonderful new features to make buying and selling more enjoyable and fulfilling.
The most common request we get from our community is for a way to help them sell more quickly. As our community grows larger and larger, there are more items and services being listed every minute – which is great when you're looking for things but a bit tricky when you need to sell something in a jiffy.
So we've been thinking of different ways to help our sellers, and something we know is the more views an item gets, the more likely it will receive chats and offers. Just as people always notice the food items at the top of a menu more (everyone loves those appetizers!) as well as items displayed at eye-level on supermarket shelves, items at the top of the Carousell marketplace similarly receive more views.
And thus, we developed the Bump: a way to instantly bump your listing to the top of the marketplace, right where everyone can see it.
It's a pretty simple process, really. You tap on the Bump button, you pay for it conveniently via a Google Play or Apple App store in-app purchase, and then BUMP! Your listing is now on top and enjoying the exposure.
More than any other feature in recent memory, our colleagues in Team Carousell were clamouring to help test Bumps. And as the results started showing, more and more colleagues would approach us and ask "hey can I try that demo build?"
The increase in item views was very obvious, and some people reported that they sold items that were on the marketplace for months. I personally sold seven items – and not all of them were Bumped. People were coming to my profile to check out the Bumped items, where they would discover the other items I had listed too!
Needless to say, everyone was a bit bummed when the testing period ended.
The Product and Engineering teams worked really hard to produce this feature – just the name itself energised us with so many wild ideas! We got together and did our best to make it fun and seamlessly integrated into the normal Carousell experience.
Suganth the product designer did so many variations of the icon to find the right visual look to encapsulate the Bump experience. Our senior engineering manager J3 said that the engineering team started saying "Bump my life…" whenever new changes were required or a bug was found. But he also said it was a lot of fun and working on this project really brought the team closer together.
We even brought some Carousellers into the office and had them try out the prototype. It was really interesting to see how they interacted with the Bumps and we learned a lot from that session which we took back to the design and polish process.
The Communications team were so thrilled that they bought a trampoline (from Carousell, of course) and shot a promo video with it. It's really quite different from any video we've ever made before, so we really hope you guys like it!
We're all really happy with the test results of this new feature, and we can't wait for you to try it out. While anyone can benefit from Bumps, they are especially useful if you need urgently need to sell something quickly.
Have you tried Bumping? Let us know your thoughts in the comments below!