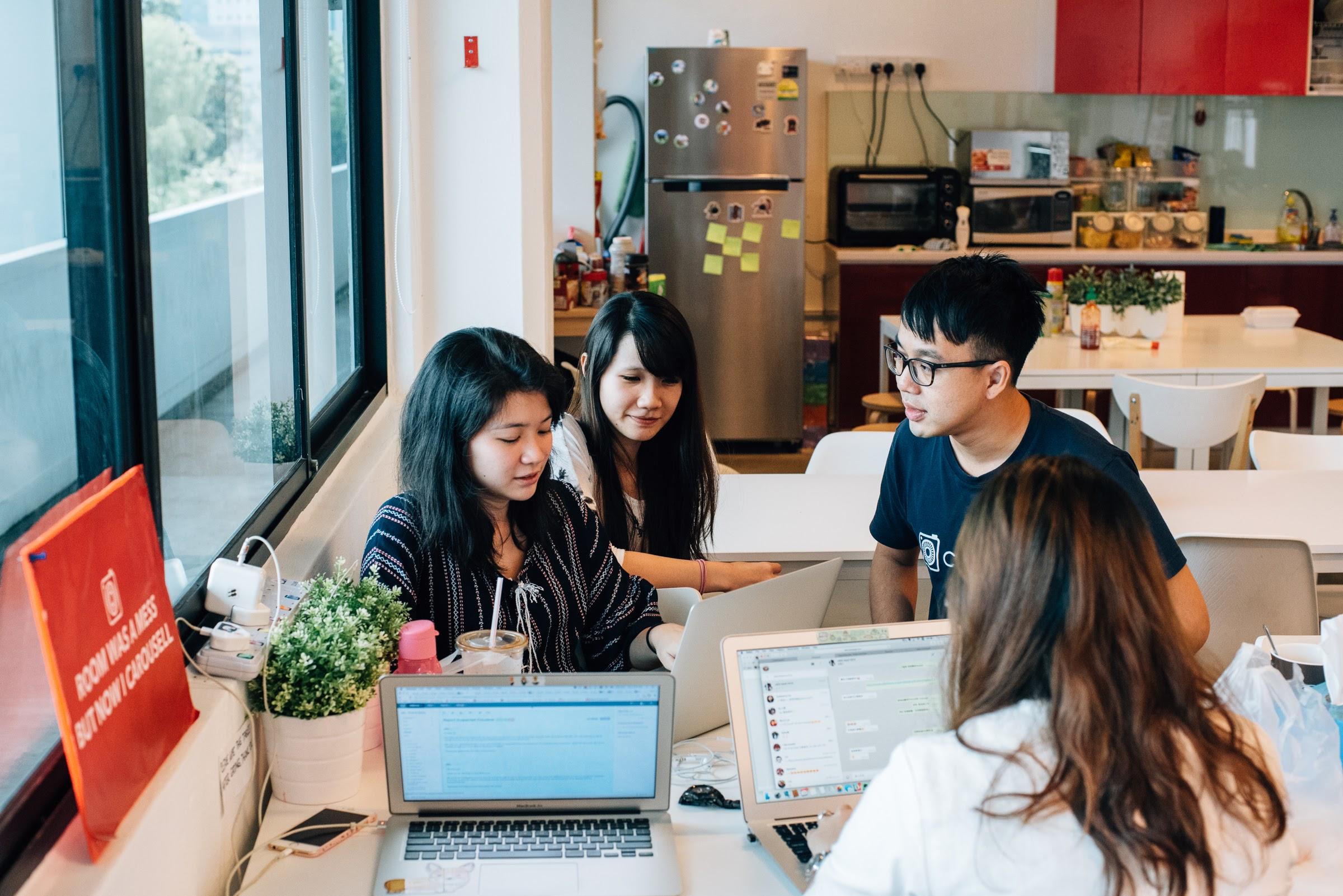 Reading Time:
6
minutes
Carousell is turning 5! That's five years of scrappiness, slogging and scaling to where we are now. What a ride it's been since our humble beginnings with just the three co-founders huddled over their laptops in JTC Launchpad's Block 71 to almost 200 people housed over two floors in Keppel Towers, Tanjong Pagar now!
I'm only few months into my role at Carousell, so I'm still very much a newbie to the Carousell culture. As we approached this milestone, it got me thinking what was life like when they were first starting out.
Before joining the company, I was simply an outsider looking in, and now that I'm in, I figured it was a great chance to learn more about Carousell's roots and the journey they charted to be where they are now.
"You see people waiting at the MRT and you KNOW they are waiting to make a transaction"
As Carousell has grown, so has the community. There's an even greater variety of preloved items available on our marketplace, and now you can even find secondhand cars or even job openings.
We've also expanded and are in seven countries across Asia, reaching as far as Hong Kong, Taiwan and Australia.
We're proud of how Carousell has grown from 'just another phone app' to virtually a household name in Singapore. It's the first port of call when you're looking for something, be it for a budget or a rare item.
As long-time Carouseller Andrew puts it, "You know Carousell is stepping in the right direction when you see people waiting at the MRT station and you KNOW they are waiting to make a transaction. When the first thing that comes to your friend's mind when you have a new gadget is "from Carousell?"
"When we tried everything and we had nothing"
But life wasn't always like that. Carousell's Senior Engineering Manager and "Employee Number 1", Victor Neo recalls how in the first few years, the Carousell servers had an 80% chance of giving a "Server Down" error message, which led to many sleepless nights.
"I remember most nights we were cracking our heads on how to keep our servers alive," he said. "We'd try all sorts of stupid things just to keep them running. It was such a struggle and our user base back then was less than 5% of what it is now. It's always interesting to look back and laugh at ourselves the random thing we used to do, where we tried everything when we had nothing."
Besides resolving technical issues, a lot of time was also spent implementing growth plans. Being a startup in the relatively nascent mobile space then, many plans were simple trial and error ventures as the team juggled the demands of user acquisition, product development and server maintenance.
Reflecting on the growth of the company, Victor adds how their approach to getting things done has matured in the past five years.
"We still make mistakes and learn from them," he said. "But we are much more deliberate about making sure that we are all learning from the mistakes that we've made by sharing them."
He told me about the times they sat in front of the whiteboard, drawing up plans and dreaming about how Carousell will evolve and help users sell faster and faster.
"Our ambition has definitely grown, and we've built a much bigger team to help us achieve those goals."
Making the next big leap
2017 marked the start of a new stage for Carousell. We moved to a new office at Keppel Towers in Tanjong Pagar and expanded the team to 180 and counting.
The new office is much larger than our old office, and now we have two floors to inhabit. Teams are way more spaced out and you might have to walk from one end of the office to another just to look for an engineer, where in the old days you could just turn your chair around.
Furthermore, the proximity to Singapore's corporate heart is a far cry from the collegiate atmosphere of our early days in Blk 71 in one-north.
Our Trust & Safety Lead, Felicia Ng, says the change in environment was apparent.
"I definitely miss being at Blk 71. It was invigorating yet comforting to be in an environment with so many other start-ups. Here at Keppel Towers, we're surrounded by skyscrapers and corporates." she said.
"The majority of people around us are dressed in formal wear, which makes us stick out for still being dressed in t-shirts and slippers."
"I love the mentorship and guidance we can pick up from everyone around us"
"Alignment is the most important factor when working with bigger teams." Victor reflected. "By getting everyone to focus on the same set of goals and targets, it's amazing how we fast we can move towards where we want to go.
Victor and Jingzhi were among the co-founders' first few hires when the team was as small as ten. Back then, it was easy to have everyone on the same page and the team often went out for lunch together and even had Counterstrike nights in the office (a tradition that has continued to this day, though with less frequency).
But now with more engineers and employees joining the company, both Victor and Jingzhi have been tasked with getting new hires up to speed in their respective departments, leveraging their familiarity with the product and the market.
However, they aren't alone in this. We've been recruiting senior executives to lend a helping hand in guiding the teams with an experienced hand.
Jingzhi appreciates what the know-how and wisdom bring to the table.
"I love the mentorship and guidance we can pick up from everyone around us. Every individual can contribute something they're strong at," she said. "You know the saying that goes how we should always hire people smarter than ourselves? That's really how I feel here every day – whenever I get that "Oh gosh I never thought we could do it that way!" moment."
The more things change, the more they stay the same
While a lot has changed in the past five years, the app, the environment, the people, what's under the hood is still very much the same. Passion, purpose, commitment are just some of the bywords for our people.
Five years on, we've avoided the trappings of corporate culture and retained much of our start-up vibe.
We continue to take risks, believe in our people and explore the unknown. We're honoured to have been recognised for what we're trying to achieve like when we were named as one of the Best Tech Companies to Work For.
Anchored by our five core values and motivated by our mission to inspire the world to start selling, we look forward to the next five years. We're certain it'll be an amazing ride!