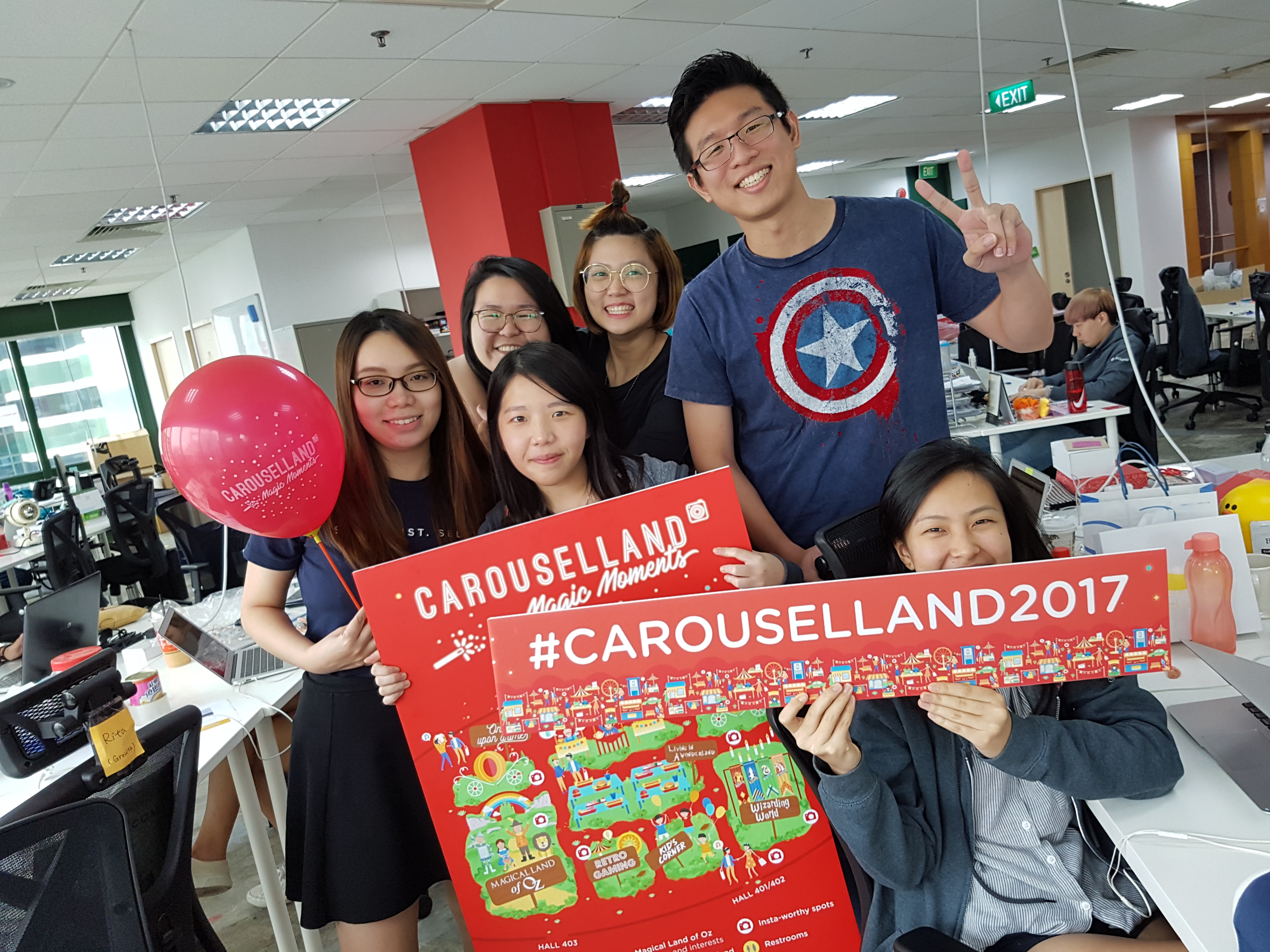 Reading Time:
4
minutes
While it always involves a lot of hard work, one of our favourite things to do at Carousell is to throw events that bring our community of Carousellers together. It is always so nice to be able to get everyone together, make new friends, and of course, see all the really cool things everyone is selling.
Which is why we wanted to make Carouselland 2017 our biggest bazaar ever! It was a bit daunting at first when we decided to book 3 halls at the Suntec Convention Centre – it's as big as an Olympic soccer field! I must admit I didn't know if we could fill it all up with great stuff but right now it's looking fantastic!
So what's Carouselland 2017 about? We wanted to make it about something close to our hearts: magic moments. When we speak to Carousellers, there will always this part where their eyes all light up and they start waving their hands around in excitement. This magic moment could be their very first sale on Carousell, or when they found a hard-to-find item, or maybe a meet-up where they had a good chat with a buyer/seller who turned out to love the same things they do.
Moments like these are golden, so we decided to celebrate them at Carouselland 2017 and create more of these moments for everyone!
We've got over 400 popular Carousellers coming in to sell their collections of new and preloved stuff. Claire, Cheyenne, Jasmine and Patrick have handpicked wonderful Carousellers for the bazaar so you'll find lovingly handmade items,  retro collectibles from your childhood, lifestyle gadgets, vintage clothes, upcycled home decor and more!
At Carouselland, you can not only pick up some great finds but also chat to the Carousellers and find out more about their stories and experiences with our community.
The whole space is split into these amazing zones with themes like Wizarding World, Once Upon a Time and more, with plenty of photo opportunities with magical backdrops like living paintings (Straight Outta Hogwarts!) and a Cinderella-style carriage. Check out the amazing map that Davina and her design team made for the event at the bottom of this post.
For the inner-child inside us, some of our ardent retro-gaming Carousellers are coming in to set up a corner of classic gaming goodness. Expect Gameboys, Megadrives and Nintendos powering games like Golden Axe, Ninja Turtles and Contra; some of the older guys in our office can't wait for this!
For actual children, one of our most active Carousellers @iCelebr8 is setting up a play corner with shows, colouring activities and more! She's been doing great work setting up magical parties for kids, and we're excited to see what she's going to do for Carouselland.
Something I'm personally looking forward to is the Potion Making Workshop (4 – 8pm) because I'm a quite Potter-head myself!
Putting all of this together has been SO MUCH WORK! Especially for poor Claire, who's been leading all the Carouselland arrangements and pouring her heart into this event.
Carouselland is just two days away, and we can't wait to see all of you there! At the end of the day, we organise events like this so that we can all get together and make new friends and moments together!
For more information, check out our Facebook page. See you this weekend!