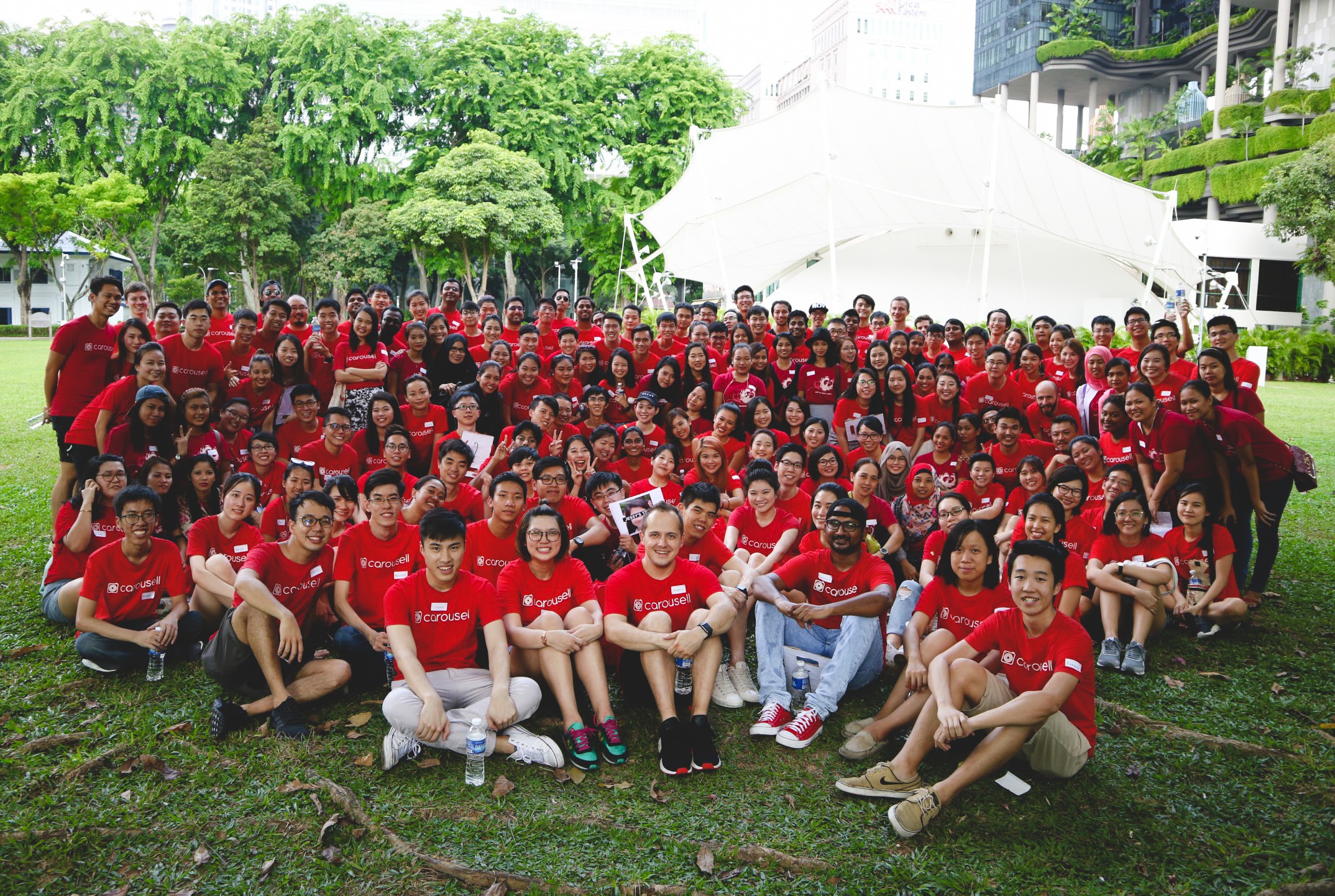 Reading Time:
5
minutes
Last week, everyone in the Carousell family assembled in our main office in Singapore, and I mean "everyooooone!" in a Gary Oldman way. Our teams in Hong Kong, Indonesia, Taiwan… everyone came in for this event we call One Carousell.
One Carousell is a gathering of the Carousell family for a variety of reasons. Firstly, it's a chance for the leadership team to plan for the quarter. Secondly, it's great to bring everyone together to foster our company culture and realign ourselves on the Carousell mission.
On the first day, all the teams prepared breakfast dishes that were representative of the countries they were from. We had dim sum from Hong Kong, corned beef from the Philippines, and the always-interesting taste of Vegemite sandwiches from Australia.
There was also a week-long game of "Angels and Mortals", where everyone was secretly assigned a random team member that they had to be extra nice to. We saw some many gifts and snacks being passed around office, with lots of people sharing their surprises over Slack every day.
On the final day, One Carousell culminated in an "Amazing Race" style tech detox where the entire company went on a treasure hunt around the surrounding neighborhood. This one was particularly special, because we got to see our normally-shy co-founder Lucas do a Bollywood dance with some tourists as part of the activities.
[wpvideo T6HVVpNq]
But to me, the best thing about One Carousell is that it's a great chance for everyone to meet each other, especially since we've grown so much lately. This time last year, there were 80 people in Carousell. Right now we have 180.
180. That's a big number. But the true immensity of this number can't be felt until an event like this, where you can get everyone together as a team.
You can have charts and graphs with big arrows pointing upwards, you can look at the long lists of names in a Slack chat channel, but honestly, the sheer size of it really only hits you when you have 180 people cramming together for a giant group photo.
During one of the gatherings, I spotted our co-founder Siu Rui standing next to the water cooler, watching all 180 of us laugh and share breakfast together. I remarked "you guys made this happen" to him, and he could only respond with this incredulous look on his face.
Things can get quite tricky when you have 180 different personalities though. That size can create distances between people. Even if you exclude the long distance video calls with the international teams, you could theoretically feel isolated even in a big office like the Singapore HQ.
Feeling alone in a crowd. We've all experienced this empty feeling at parties, family reunions, and yes, work environments. This isolation often leads to losing touch with the big picture.
That's why Carousell is so focused on creating and maintaining a company culture that brings everyone together. Marcus always tells us about the old days when Carousell was just the three of them, or even two years ago when it was just 30 of them. Communication and alignment was easy as everyone is close to one another and meetings were quick and casual.
"We've now learned that culture and alignment becomes increasingly more difficult as a company gets bigger," Marcus said, "which is why we put so much effort into keeping everyone synchronised."
That's why we had to get the entire 180-strong team together for One Carousell. It doesn't matter if you normally work by yourself in a small satellite office, it is important that you feel like you're a part of the family and have that familiarity with everyone that you can only get through face-to-face chats and having a meal together.
In my role, I've had to work closely with people in almost all of the other country teams. But all the video calls, Slack messages and emails can't measure up to a warm handshake and a sincere smile. I remember Marita, our marketing specialist in the Philippines declaring to me: "It's nice to meet people in real life outside of Slack!"
People that chat together and eat together will most likely end up working better together. And judging from our morale and the way we tackled the team games, you can definitely feel that productivity is going to shoot up after this.
On the last day, Siu Rui challenged the company to "Do more with less, do it sooner than later". It's a big ask, but it can be done! Just as John Donne wrote "No man is an island", there is a Kenyan proverb that says "Sticks in a bundle are unbreakable."
We've now got 180 sticks tightly bunched together. This is probably best summed up by Jamie, our lead in Australia and bringer of Vegemite:
"I had one of the most fun filled and thought provoking weeks of my life. One Carousell showed me that culture can become a secret weapon that makes extraordinary things happen and it's such an incredible feeling to be surrounded by passionate colleagues working towards the same goal." – Jamie, AU lead
PS Special thanks has to go to Tse Lyn for organising most of One Carousell. Everyone knows you made this happen!
---
Carousell is currently hiring! Please visit our Careers page to check out our openings.