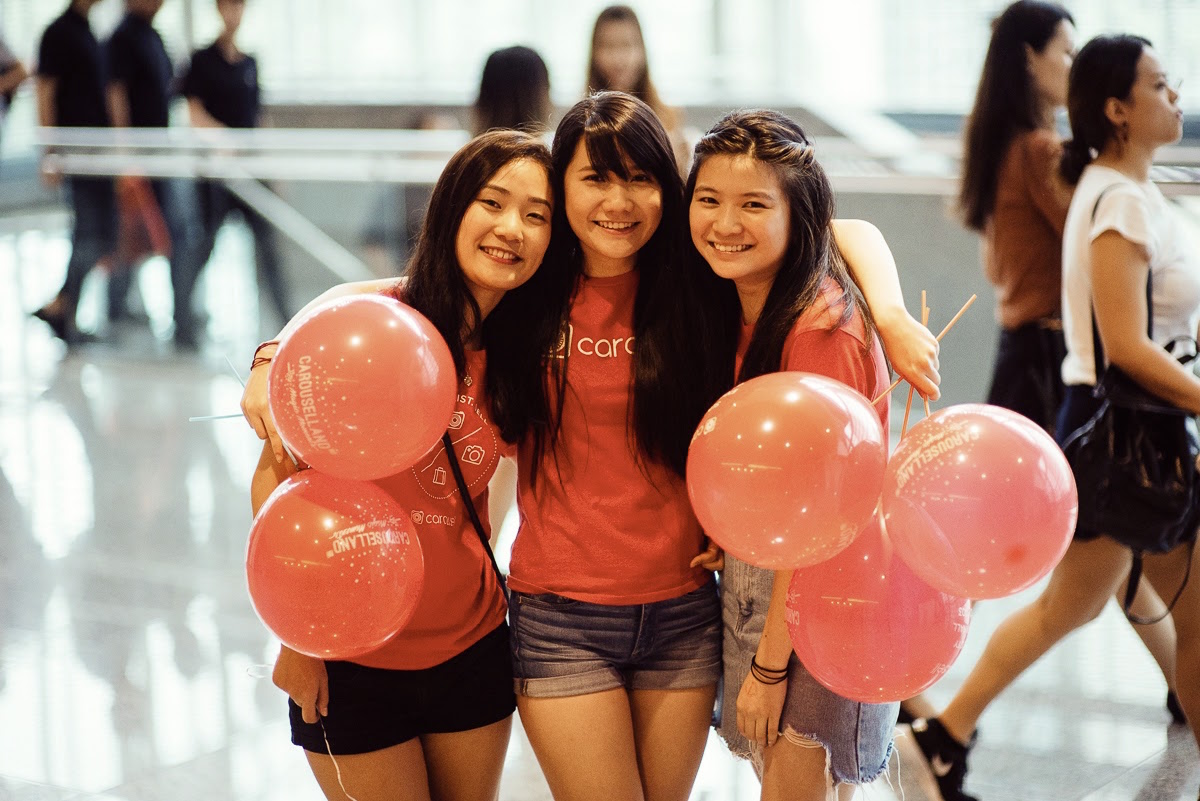 Reading Time:
6
minutes
Last weekend was Carouselland 2017. Taking up 3 halls at Singapore's Suntec City Convention Center, it was easily the biggest bazaar we've ever organised.
We've always loved events like this, because it's a great chance for us to meet our community and mingle. We spent most of the two days walking around and talking to Carousellers, hearing about their experiences and taking in their stories.
After hearing all these wonderful stories, we had a pleasant realisation that while our events are now much bigger, the key idea of Carousell hasn't actually changed since our tiny beginnings as a little startup in the corner of a shared office space.
Three of us first came up with the idea of Carousell at Startup Weekend Singapore 2012 because we wanted an easier way to sell our old stuff, like Marcus' Nikon camera, Lucas' iPad and Siu Rui's MacBook. It wasn't that we wanted to become big-time sellers or anything; we just thought there should be an easy way for regular people like you and me to sell some of our stuff to people who need it more.
We first got reminded of this when we spoke to a Carouseller named Fern (you can find her as @susie.z on Carousell), who was there with a large assortment of dresses and clothes. Fern told us that she started decluttering about two years ago, because nobody wants to live in a messy world. Thanks to the preloved fashion community, she was able to find new homes for her old clothes, and make space to adopt new ones.
"Out with the old, in with the new," she said.
She realised over time that she didn't actually need that much stuff, and she's happier now that her living space is more organised – this is something we can totally relate to!
Maybe because of all the family-friendly activities at Carouselland, or that we have such a big parenting community, but we were happy to see so many families at our event. And a lot of them went to check out Amanda's booth.
Amanda (@mylilprecious on Carousell) told us that she started bringing in kids clothes for her first child a couple of years ago, because she didn't think there was enough variety and affordable clothes in our local market for younger kids. She soon realised that a lot of other parents had the same issues as her, so she started to help by bringing in extra pieces to sell.
That's when she got to know the Carousell parenting community, which she feels is a really friendly and warm crowd – probably because everyone has the same interests and love for their kids. The Carousell meet-up system also helps in that regard, because any concerns one might have about online shopping generally goes away when you meet and chat to another parent in person and you realise you're all just doing your best for your children.
"On Carousell, parents are looking for ideas and opinions just as much as clothes," she said.
Another growing community is the retro-gaming community. Many of our visitors would've noticed that big crowded table at the front with all the people playing classic games like Tetris and Contra on old consoles.
This retro-gaming corner was set up by enthusiasts like Jerome (@retrorider) and Mohan (@mohan.deitrich) who have rekindled the magic of their childhoods with the classic games that they have been selling and buying on Carousell. They met each other and other retro-gamers through our app, and so they've come to Carouselland to spread the joys of retro gaming to other people and make even more friends.
We noticed more than just a few young kids playing the games at this corner, so that's a good sign that old school can be just as enjoyable as the latest stuff!
There was one particular guy whose story really called out to us (and apparently to you guys too because his story was really well-received when we shared it on Facebook). Zi Jian (@zeeezy) is heading over to New Jersey, USA for an internship later this year, so he was here at Carouselland to sell off his stuff to raise some funds and clear out his room.
He explained that it wasn't just about the money, as Carouselland helped him clear out so many things from his room. Now, and he said this with a completely sincere tone, his mum doesn't have to tidy and clean as much while he's away.
If you're reading this, Mrs Lim, your son's got a good head on his shoulders!
Different people have different notions about the Carousell community, but Carousellers are people who just want to declutter their lives. They're people who want to be around other people with similar interests. They're people with dreams. They're people like you and me.
It's because of these people that we created Carousell five years ago, and it's because of you that we're going to continue improving Carousell so that we can serve you even better.
Case in point: Loreta and her music academy was there! @MusicNuts was one of our early Carousellers from way back when (you can read more about her story here) and to this day she's still passionately supportive of what we do.
Special thanks
We wanted to take this opportunity to thank the hard work of everyone at Team Carousell. They say that in a startup, everyone has to wear a lot of different hats in order to make things work, and there's no better display of this dedication and commitment than at Carouselland.
Members of the Marketplace Ops and Design teams were entertaining so many kids with colouring books and stickers at the children's corner. We saw our People's team walking around entertaining the crowd and speaking to the Carousellers. One of our Product Designers was there to inflate balloons for visitors. Whatever it took to make it work, you guys did!
Thanks everyone! You guys have really proven that no matter your role in Carousell, everyone is laser-focused on one thing: providing the best possible experience for our Carousellers, inside and outside the office.
[wpvideo ZRnVgl4F]