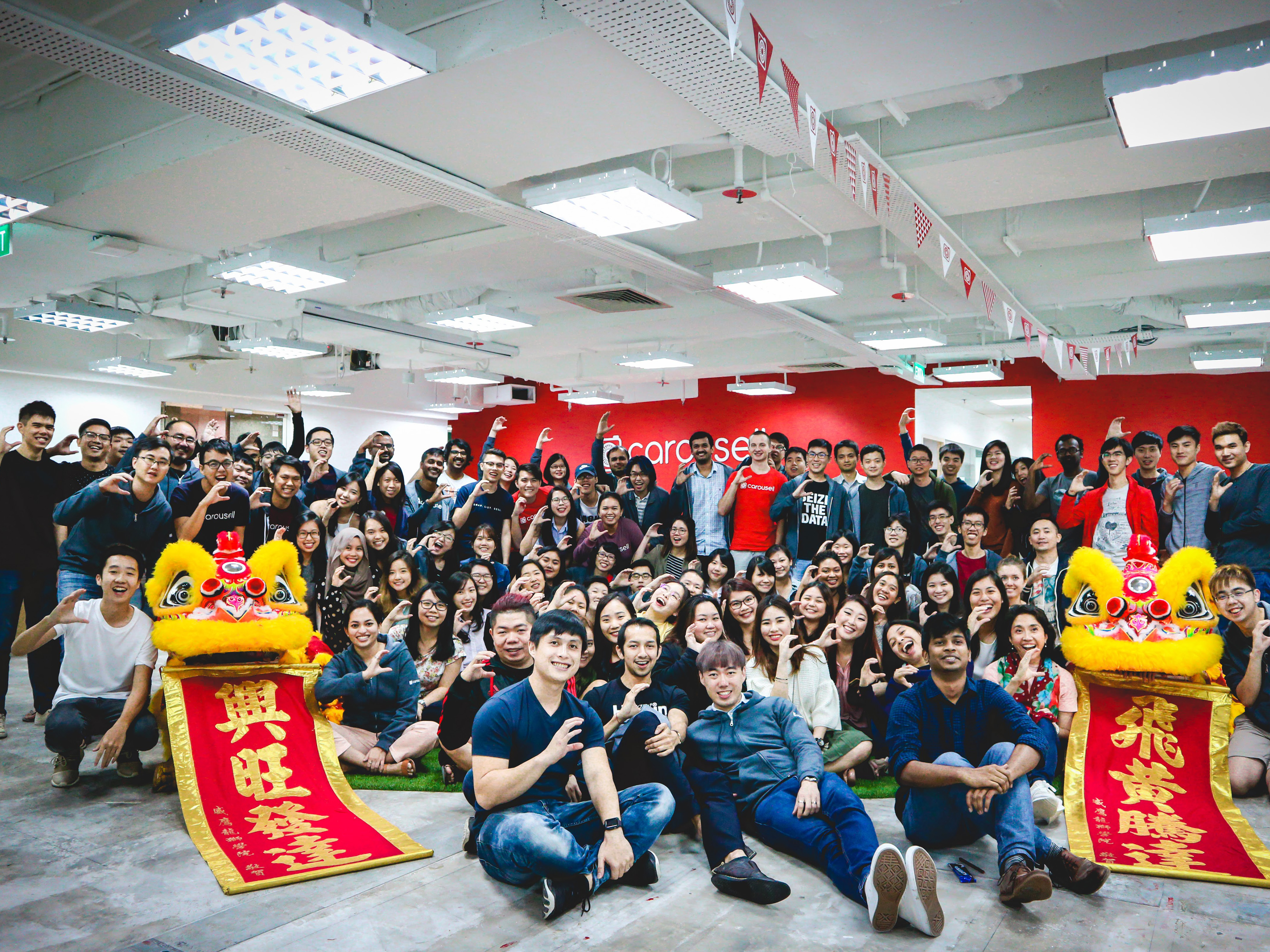 Reading Time:
4
minutes
Happy new year, Carousellers!
We've just spent the last few days moving into our new office here in Tanjong Pagar – just a week before we welcome the year of the Rooster. It's really been quite exciting because while this isn't our first office move, it's honestly our biggest and most significant because we've been at Blk71 since Carousell first started in 2012.
Blk71 is the technology start-up hub of Singapore, and it was a great place for us to form the company as we were in a community of wonderful start-ups who have helped us so much along the way. As we bid farewell to Blk71, we must also express our deepest appreciation to our friends here. In fact, we named one of our collaboration areas Blk71 to remember where we got started!
In many ways, 2017 will be a huge year for us. The main reason for the move is because we doubled our engineering team in 2016, and we're going to double it again this year (click this link if you're interested in joining us). With more than 57 million items listed on Carousell now, we want to make our buying and selling experience better and simpler for you and our brilliant product and engineering teams are going to help us make it happen. Expect new and exciting things powered by machine learning because we're laser-focused on making selling simpler and quicker, and helping you find the things you love more easily.
But a bigger team needs a bigger space, and that's why we're now here at our new home in the heart of Singapore. We're honestly so excited about being here! Marcus is especially happy that we now have more food choices to choose from! There's a Korean BBQ and he'll probably be a regular at that ramen place across the street.
We've finally got more meeting rooms for our teams to get together and plan new and amazing features to improve the Carousell experience. We can also host more events for our community – Siu Rui is excited about having more TechTalks, and Lucas is pushing for karaoke nights! We had a few great ones last year, but if you were there then you'll remember the squeeze.
When we look back and compare this to our first home (a handful of desks in a shared office – see above), it just shows how much we've grown.
Speaking of growth, 2016 also saw Carousell's launching in Hong Kong, the Philippines and Australia. We acquired Duriana and our communities in Malaysia and the Philippines are now larger than ever. We welcomed the Caarly team to the Carousell family in October, so expect some exciting car-related updates from us in 2017! This has gotten us thinking about what else we can to improve Carousell's marketplace for you guys… what would you like to see in 2017?
But despite all the changes and all the growth, we're proud that our little project is still about what we wanted to do in the first place: making buying and selling easy so that we can fill our lives with more meaningful things.
One of our favourite stories last year was about a lady named Lucia. A Carouseller had come across an old lady selling vintage ornaments from her home. Due to rising rental costs, Lucia had to shut down her shop and move her business to her home, but she was also not allowed to run it as a shop. The Carouseller introduced her to our app, and spent the evening setting up an account and listing items with Lucia. You can take a look at her items here.
Little things like this gives us so much satisfaction and joy. It really energises our belief in our mission! People sometimes say that companies like ours don't really build anything tangible because we don't have factories or products, but we couldn't disagree more. We're building a community at Carousell, and it's a community that has now grown to include millions of users in 19 cities across 7 countries!
Thanks for being with us on this journey, and we look forward to helping you Snap List and Sell even better in 2017!
Siu Rui, Marcus and Lucas
PS If you're keen to join the Carousell family, please visit our Careers page and reach out to us. We'd love to hear how you can contribute to our vision!