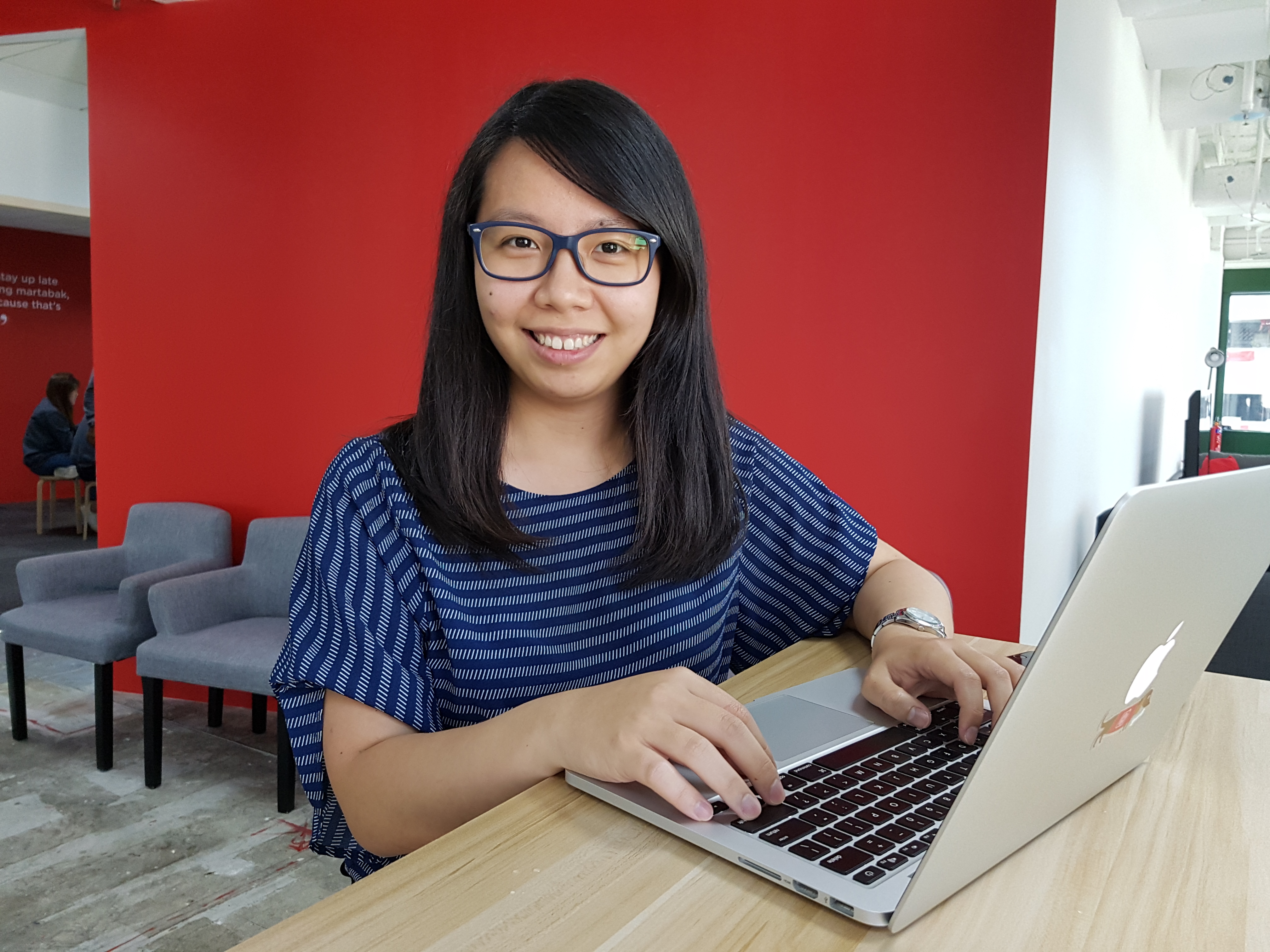 Reading Time:
5
minutes
What's a product engineer do exactly? You can sort of guess that it involves doing stuff for products, but what does that mean on a day-to-day basis? We asked Amelia to guide us through a day in her life at Carousell.
10:00am – Getting into work, reviewing code
I usually get to work around this time every morning. It will still be nice and quiet in the office, and I can easily transition straight into my work.
My mornings are usually spent reviewing code from other teams to help double-check someone else's work, just as they would double-check mine. It's a good way of looking out for one another.
Product engineers like me are divided into Scrum teams in Carousell, with each team dedicated to different aspects of improving the Carousell experience. For example, I'm in the New Seller Success team, so we concentrate on helping new users find success and enjoy the Carousell experience faster and earlier.
Scrum teams are made up of members like Product Managers, Test Engineers, Product Designers and more, each with their own roles to play. I'm a Product Engineer, so that means I build and code the feature. Usually there are a few of us: those who build the web version (like Chloe and Abraham), one to build the iOS version (like me), and the other is the Android engineer (like Daniel).
Despite what you might think about iOS and Android, there is no rivalry between Daniel and me – we always discuss ideas together and we work well as a team (although his phone sucks 😜).
If there are no reviews requested, I'll just dive straight into work.
11:00am – Stand up time
Later in the morning, my team will get together and update each other on our progress so far on the current Sprint.
Our teams work in 2-week Sprints, with the intention to build a new feature during each Sprint. So at the beginning of our Sprint, the whole team gets together and prioritises the tasks for this feature, being careful not to overcommit.
During the stand-up, we'll spend 5-10 minutes letting each other know how we're doing, and hopefully be able to tick off some tasks and see if we're on track to deliver at the end of the Sprint. It's also a good time to ask for help if there are any anticipated bottlenecks to slow down your progress.
1:00pm – Lunch!
When lunchtime comes, it's always a confusion over what we're going to eat. Although lately, Mondays have become known as Unhealthy Mondays and we end up eating fast food!
We always break out into groups during lunch, but my lunch groups always vary from day to day. Sometimes I'll eat with my New Seller Success teammates, and sometimes I'll eat with members of the other teams.
It's great to mix up your lunch groups like this because the Carousell family is so diverse that you get lots of different perspectives. We talk about lots of things, like food, day to day life, politics in different countries, food (we talk a lot about food) – basically anything except work.
It's interesting to share how things work in other countries. I'm Indonesian, so I'm learning about Singapore from locals like Victor, I get stories of Taiwan from Rita and Daniel, and there'll also be stories from Vietnam, or even Russia. The engineering team likes to travel a lot, so it's great to have access to local knowledge and tips.
2:00pm – iOS sync up
Every Tuesday, the iOS engineers from the various teams will get together for a quick sync. Because we're usually scattered across different teams, this is a good chance to get together and discuss iOS-specific matters.
3:00pm – Back to my tasks
So to answer the big question of what I do for most of the day, I build features. Basically this will mean a lot of coding. The product manager and designer will have figured out what it will do and how it will look, and product engineers build it via code.
It doesn't mean I just sit in front of a computer and start writing code immediately though – I like to plan my code out in my note book first, and design the flow of the code there. It's like using a pencil to sketch the basic shapes and outline of a drawing first, before you start inking the details in.
Good code flows nicely, and I always do my best to make the best code possible!
7:00pm – Head for home
My days usually end at around 7. I finish up, and then head home.
Some of my friends tell me that at the end of the day, they sometimes wonder if the things that they do at work have any impact. Like, does it make a difference?
Luckily, that's something that doesn't bother me much at the end of every day. I know our efforts make a difference because we run A/B tests and experiments all the time, and we have a data engineer to capture and analyse the results.
It's quite comforting to know that the features you work so hard on improves the Carousell experience for people!
Thanks for reading!
– Amelia
---
Interested in working for Carousell? Check out openings in the Engineering team and other roles at Carousell by visiting our Careers page!