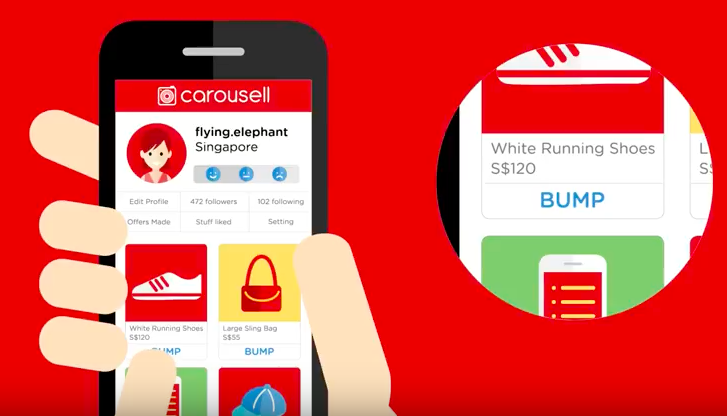 Have you heard about Carousell Bumps?
If you're on Carousell, you might have thought about this:
How do I give my item an extra boost on Carousell to sell it faster?
Good news, you can now speed up the sale of your items by using a Bump on Carousell.
A Bump is our new feature to increase your chances of selling. It boosts the visibility of your items on Carousell.
To help you understand Bumps better, we'll go through 7 things about Carousell Bumps:
Let's go!
Why Carousell developed the Bump feature
At Carousell, we actively listen to the community and this is one of the most common questions we hear:
"Is there a feature to help me sell my items faster on Carousell? I want to make room for things that matter more."
We heard you. This is why Carousell developed the Bump feature.
What is a Carousell Bump?

Important note: A Bump does not stick your listing permanently at the top of the category. It will move down once other users add new listings to the category your item is in.
As you can see from the animation above, a Bump instantly takes your listing to the top of the category. Simply put, it increases the visibility of your product.
When you buy a Bump, your listing gets bumped 3 times over 3 consecutive days.

This is what a Promote Page looks like. Tap the "Promote" button on your listing to get here. Once you're here, you can see the different Bump options.
Tap "More info" for an overview of how they differ.
So, once you choose the Bump you want, when does your listing get Bumped to the top? Here's a brief explanation:
Let's say you bought a Bump for your old iPhone on a Monday, at 5 pm. It will be Bumped again at 5 pm on Tuesday and then again at 5 pm on Wednesday. The Bump for your iPhone will cost you $6.98.
You're probably wondering, "Does a Bump cost 698 coins for every item?"
It doesn't! Let's take a look at how much a Bump can cost you.
How much does a Bump cost?
You can purchase Bumps (and other Carousell features) using Carousell Coins.
There are 4 different base prices for a Carousell Bump. The price differs according to the category your item is in.
However, Bump prices might fluctuate slightly from time to time, depending on how many people are using them at a given time. 
Think of it like surge pricing when you're booking an Uber.
So, here's the table for the base prices in coins to Bump your item on Carousell: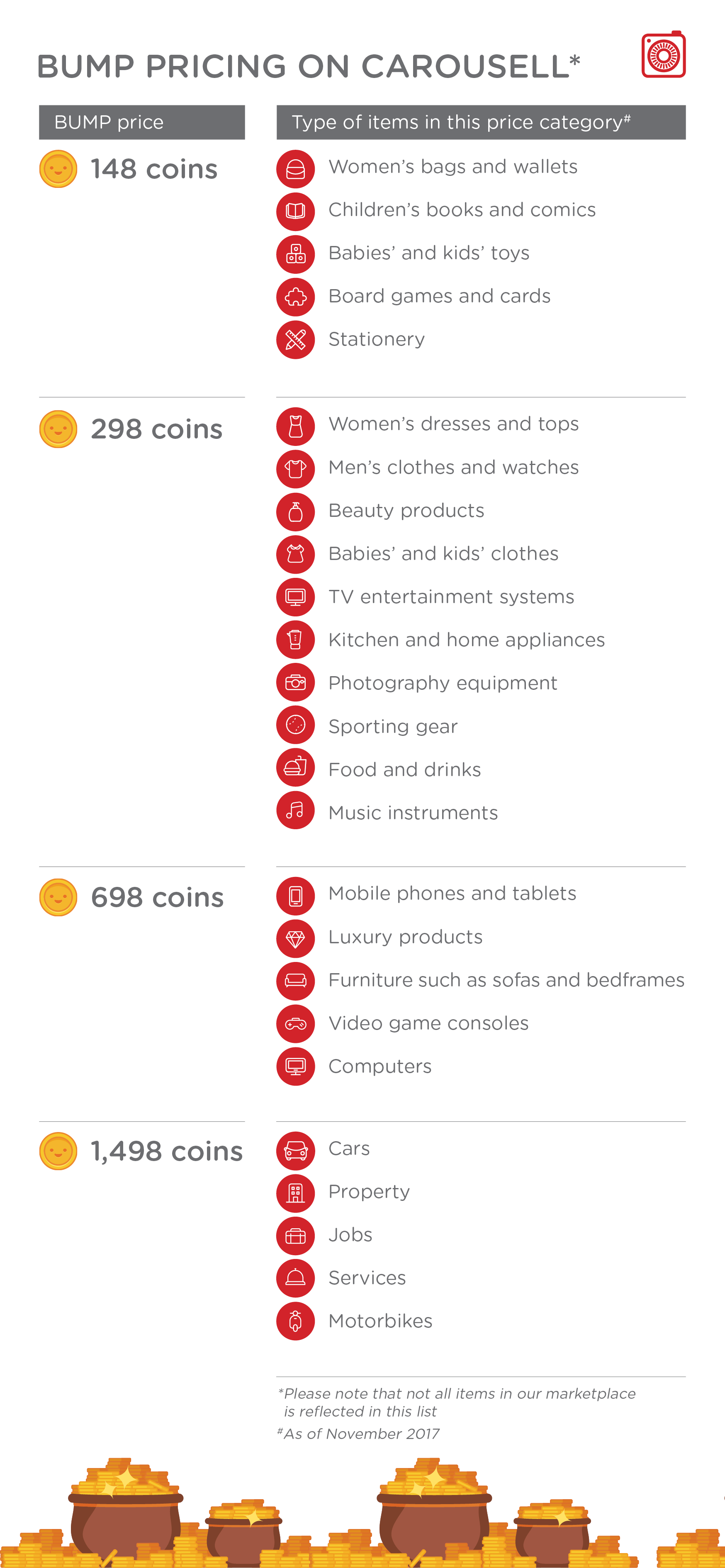 *Prices may be subject to change. 
How does a Bump help me sell my items faster?
At this point, most people have one big question:
"How does a Bump help me sell my items faster?"
Carousell Bumps have been around for a while now. We studied the success our current users are enjoying with Bumps and this is what we've found:
Benefits of buying a Bump on Carousell:
We recently did a case study that looked into the benefits of Carousell Bumps. We found that:
You can get up to 90% more views for your item!
You can get 40% more chats than normal!
Read here to find out how Carousell Bumps benefits you as a seller!
Feel like you're missing out yet? But hold on, you need to consider your current situation before you buy Carousell Bumps.
When should I buy a Bump on Carousell?
There aren't many scenarios when a user would not want greater visibility for their items.
Here are four situations when a Bump will be most useful for you:
Your item has received very few views despite being listed for a few days
You've received 0 chats for your item
You've received 0 offers for your item
You urgently need to sell your item fast
How can I check the number of views and chats my item has on Carousell?
Head over to your Carousell profile. Choose the item you want to check and tap on the Insights icon. It's this arrow-looking icon:
You will then see the Listing Insights page. This page displays important information about the performance of your listing and it looks like this:
Note the two things highlighted in the red box:
Total Views your item gets
Total Chats & Offers your item gets
If these numbers aren't satisfying to you, consider buying a Bump on Carousell to speed up the process.
Pro tip: Don't buy a Bump immediately after you list. Wait 1-2 days. If your views and chats are still low, then try a Bump!
Get up to 4X more views with an Urgent Bump
We understand that some of you who turn to Carousell to sell your unused items may want to make a sale as soon as possible. Again, nobody wants to wait weeks to clear off unwanted things.
Whichever your reason might be to sell as quickly as you can, there's a feature called an Urgent Bump for you.
What is an Urgent Bump and why should I use it?
Let's start with the why. It's the exciting part.
An Urgent Bump allows your item to get up to 4X more views than usual. That's huge if you're in a real hurry to sell your item.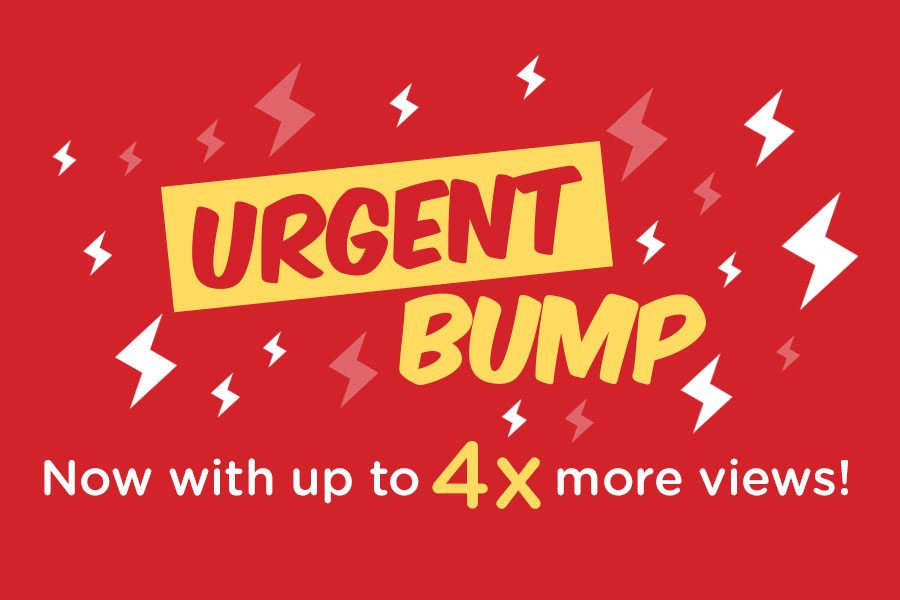 But, how does it do that?
Once you buy an Urgent Bump, we'll push your item to the top of the marketplace two times a day for three consecutive days.
If you compare it with a 3-Day Bump, you get six Bumps instead of three (double!), and that's two times the exposure!
If you're wondering when the Bumps takes place within the day, here's a brief example of how it works.
Imagine you bought an Urgent Bump today at 3 pm. Your item immediately gets Bumped to the top. Two hours later at 5 pm, it gets Bumped again. The same is true for any Urgent Bump you purchase. The second Bump of the day happens two hours after your time of purchase.
Now you know how it works, you might be wondering how much it costs.
How much does an Urgent Bump cost?
While we're giving you twice the benefits a 3-Day Bump might offer, we still you wanted to make it affordable for you.
Previously in this guide, I included a chart that shows how much a 3-Day Bump costs you depending on your item. To find out how much an Urgent Bump will cost you, take the price displayed on the chart and multiply it by 1.8.
For example, my item costs 148 Carousell Coins for a 3-Day Bump. If I wanted an Urgent Bump instead, it's going to cost me 268 Coins.
Buying an Urgent Bump will cost you 10% less than buying two 3-Day Bumps. That's something to consider if you want to keep your spending low. Of course, you've to think about how fast you need to sell your item too.
Click here if you want to see the price chart for how much Bumps cost you.
How do I buy an Urgent Bump?
Here's the simple part, head to your profile and choose the item you need to sell quickly. Hit the "Promote" button you see under your listing. You'll then see this page: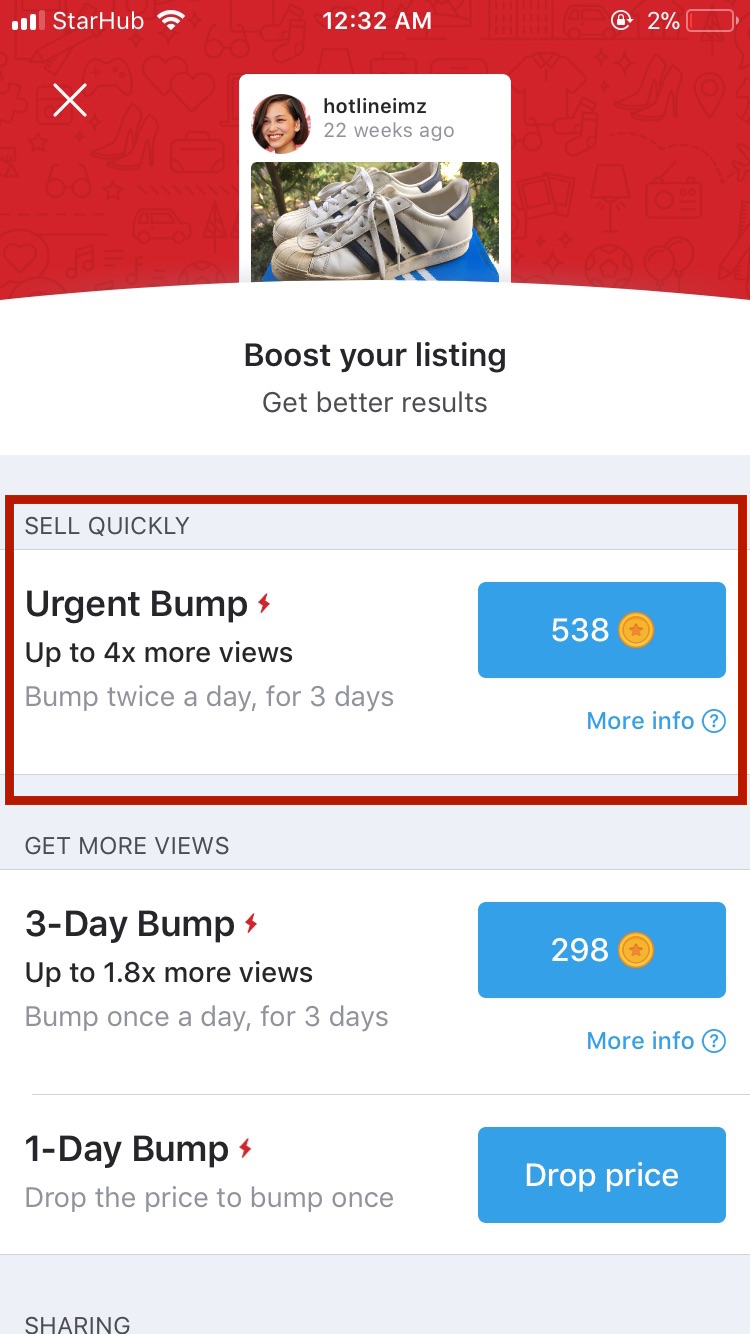 The Urgent Bump option is right on top, within the box I highlighted.
Click on it once you've decided that it's the best option for you. Once you do, get ready to see a spike in views and interested buyers coming your way!
Frequently Asked Questions about Carousell Bumps
Here is a detailed list of FAQ we've received about Bumps in the past few months. Read on to see if you've any similar questions you need answers to!
1. What happens when I Reserve my listing in the middle of a Bump?
If you reserve your listing during the three days of your Bump, other users won't see it.
How do I fix this issue?
Once you unreserve your listing, it will be back to the original position it was at previously.
It is better for you to avoid reserving the item you Bump unless the buyer confirms the sale.
2. How long will a Bump last on Carousell?
A Bump brings your item to the top of the marketplace at a specific timing for three consecutive days.
After that, it will behave like a normal listing that moves down when people add new listings.
3. If I Bump my item on Carousell, does it guarantee a sale?
Unfortunately, we can only guarantee a higher chance of selling your item faster. Bumping increases the potential for your item to get more views.
More views mean that you're more likely to get more chats with interested buyers!
Pro tip: Bump your high-quality listings. High-quality listings contain detailed descriptions with beautiful and accurate pictures of your product. High-quality listings attract a ton of buyers, so Bumping them will increase your chance to sell even more!
4. How do I check if my listing is Bumped on Carousell?
Here's how you can find out if your listing is Bumped on Carousell. First, head to the "Listing Insights" page for the item you Bumped. The screenshot below shows what a Bumped listing would look like:
See the lightning bolt icons below the 3-day period? That tells you that your item was successfully Bumped on those days.
Time to Bump Your Item on Carousell to Sell Faster
We hope this article clarifies what a Bump on Carousell is and how it helps you speed up the sale of your items.
Head over to your own Carousell profile to choose your item you want to Bump.
If you have any questions about the Bump feature, don't hesitate to contact us at bumps@carousell.com. We'll do our best to answer and help you along the way!
Meanwhile, happy Bumping on Carousell! If you have friends that are also having trouble selling their items, share this article to help them out!