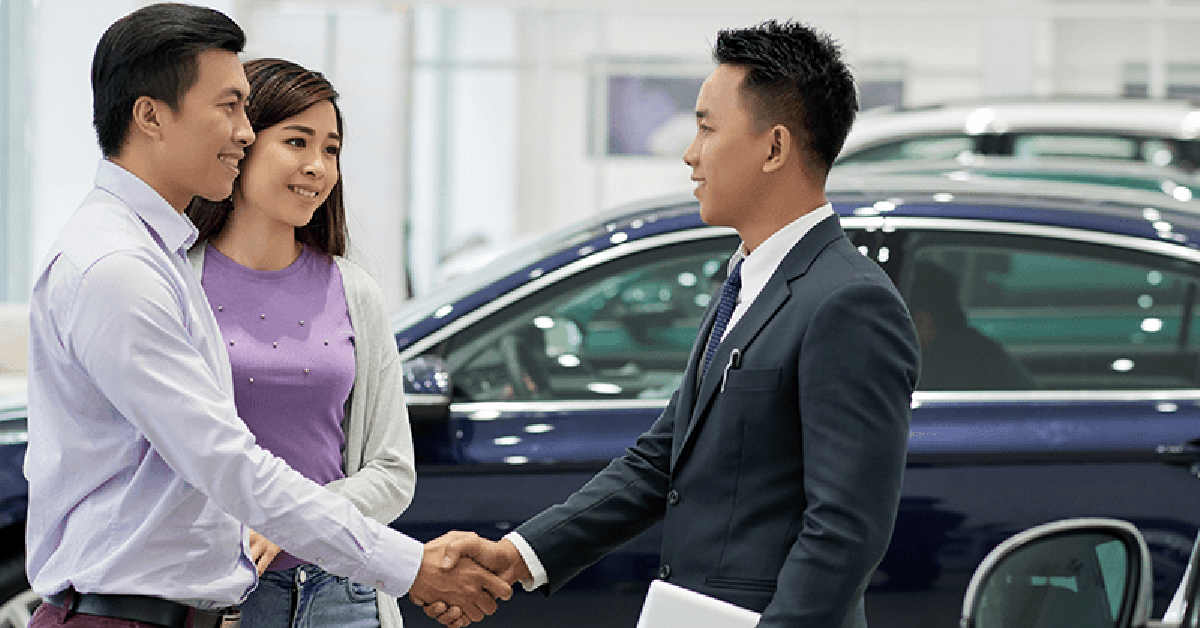 Reading Time:
5
minutes
Feeling overwhelmed with your quest for a car, more so with how to buy it at the lowest price? You are not alone! Just like when asking your boss for a raise or any other scenario in life, it comes in handy to know a thing or two about negotiating the best price and deals— especially when it comes to something as expensive as buying a car.
Whatever your goal is, it's great to plan ahead so you can successfully get the price you want in the end. Here are 5 tactics that you can try out the next time you purchase a new or used car:
1. Establish a win-win relationship with your car salesman
Building a great relationship with your salesman will be super beneficial in the long run. Connections are everything!
Let's say you are eyeing to buy a Honda Civic this 2020. When you've purchased a car before, or have recommended clients to your friendly dealer, he/she will most likely return the favour with bigger discounts or freebies. Receiving a recommendation from your friend or relative may also give you an upper-hand as the relationship they have forged with the salesman puts him in a position to offer you the best deals.
Do note that this favour may not necessarily be purely monetary. Sometimes, it may also come in the form of truthful advice and expert car insight. This is very helpful especially if you are purchasing your first car. After all, your car ownership journey does not end once you drive your new baby home. You'll probably still need to touch base for future warranty claims or ask for help in terms of car servicing and maintenance.
2. Research about warranty and coverage offers, then request (nicely) for it
If you want to use this car negotiation tactic, make sure that you have done sufficient homework prior to the meeting! You have to check what are the industry-standard practices in purchasing a new car, or a used car. For example, new cars usually come with a manufacturer's warranty for any defects or flaws over a certain period of time. Local authorised dealers will also provide extended coverage. Double-check what warranty each dealer offers so you can ask for appropriate privileges.
Sometimes, it is also possible to ask for free service credits and complementary accessories. These are some freebies that your salesman will be happy to throw in after making his big-ticket sale with you! Find a trusted car dealer in Singapore easily on Carousell in case you are still looking for one.
3. Play Good Cop / Bad Cop
You read that right, playing bad cop/good cop is not just for police interrogations you see in the movies, but also for when you go car shopping. 😉
With this strategy, two individuals play opposing roles. You can ask your spouse or a friend to tag along with you. The "bad cop" is the one who is excessively unreasonable or aggressive in the negotiating while the "good cop" often helps to calm his/her partner and tries to collaborate with the other party. 
In such scenarios, the "good cop" tries to appeal to the car dealers using emotions. 
Then again, do note that most car dealers have been through it all and may not give in to your sweet talk that easily. They may also attempt to play along and bring in their own version of the bad cop (usually their demanding boss) into the negotiation. But, like most Singaporeans often say, "try only, won't die also, right?"
4. Know your target price and stick to it while shopping for a car 
Experienced salespeople may take their prices up a notch to generate more profit. Nothing wrong with that, but this won't work if you have a good idea of how much you should pay for the car. Knowledge is indeed, power!
Imagine this: You're negotiating with a car dealer for a Suzuki Swift. The salesperson says it'll cost $76,000, but your research found the current price is $71,900!
The key is to research, research, research. This will help you during the negotiation process a lot. It also takes the emotion out of your talk since you're relying on data rather than opinion to agree on a sales price.
"So how do I gauge the right asking price then?" Here are some suggestions to help you:
To get the current market value of the

new or used car

you want to buy, research on the web or do a comparison via Carousell listings of different sellers. Think of it as a

digital car showroom

to start your shopping.

Ask around! When you get a price from one dealership, try contacting other competitors for a quote too to get their best price.
Determining the best target price for your car will surely empower you in haggling effectively. Good luck!
5. Look for test driving cars to save more money
If you're not picky with getting the car that the dealer has been using for test drives and it's up for grabs, go for it! While these cars usually do not have many differences compared to brand new vehicles, you could ask for a greater discount. After all, these "almost new cars" can be considered secondhand at this point (which works great for you and your wallet's advantage).
Get the best car deals whether you are a buyer or seller
With these 5 car negotiation tactics, we're pretty sure you will be better armed to get the most savings for your car purchase. Just remember to haggle responsibly and look out for non-verbal clues on when you must draw back your demands to avoid any conflicts. If you are not done auto shopping yet, Carousell has tons of car dealers and individual sellers you can choose to transact with. 
Are you on the other side of the fence and aiming to sell your car at a good price? Carousell is likewise a great online platform to sell your car conveniently. To help you further, use SwiftQuote so you can get the best non-obligatory quote for your car (sell, scrap or export) via Carousell, within 24 hours. Download the Carousell app on Android or iOS to start: )
Adapted from Oneshift.com