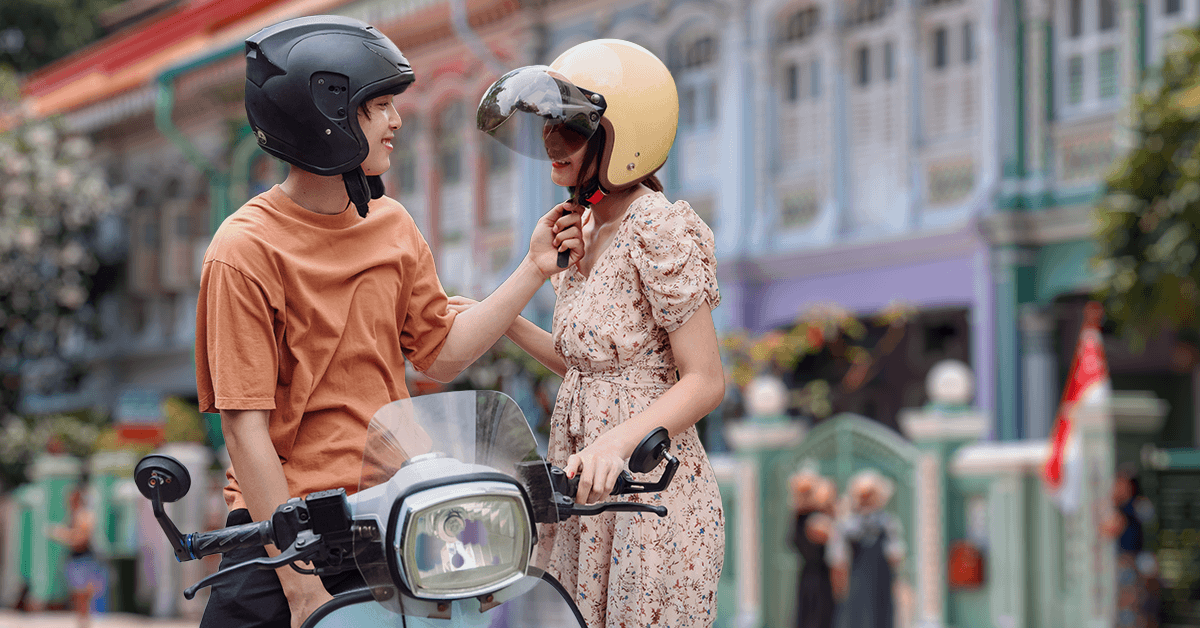 Reading Time:
6
minutes
Congratulations on getting your motorcycle license! Be it a Class 2B, 2A or Class 2 license that you've got – you're a first step closer to cruising along the roads of Singapore with a new bike (and even Malaysia, if you're up for an adventure). 
Before you jump into buying your first motorbike, first read our motorbike guide to find out what you need to consider! 
Browse motorcycles for sale on Carousell!

What do you plan to do with your motorcycle?  
Knowing what you're using your bike for can help narrow your options. Is your bike meant to transport you to and fro work? Or do you plan to do parcel and food deliveries on your motorbike? A Class 2B bike with its fuel efficiency would be ideal for the multiple commutes you make. 
Or is your motorbike meant for the rough and tough roads of our neighbouring countries? Then you can consider a Class 2A bike and its accompanying license to get a bike that has more torque and stability.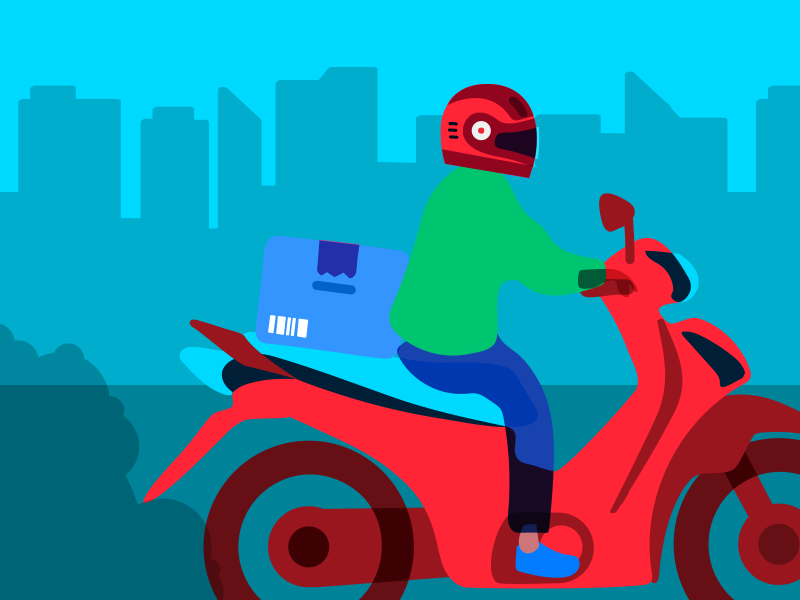 What to-dos should you prepare for?
Already have a bike model to buy in mind? After getting a license, you'll need to have a COE (Certificate of Entitlement) before you can get to drive your new ride on the streets! Take note that a COE is good for only 10 years and once this period ends, you'll have to renew it again. Otherwise, you'll have to deregister or scrap the vehicle. You can get a COE by bidding in auctions administered by the LTA (Land Transport Authority).
Next thing to decide on is— will you buy brand new or secondhand? If you're still unsure, online marketplaces like Carousell can be helpful for your search. This way, you'll have a wider variety of models to choose from and freedom to transact with your preferred trusted seller, whether individuals or dealerships anytime.
Last but definitely not the least is to apply for motorcycle insurance. This is a must to protect you from any unfortunate risks on the road! Insurance can be arranged with the help of a dealer, or on your own. Make sure to find a plan that's affordable and with enough coverage for your safety— which we'll talk more about later.
How much does a motorcycle cost in Singapore? 
There are a few components to look at when computing how much it cost to own a motorcycle. Upfront costs that you need to consider on top of the price of the bike include the Certificate of Entitlement, road tax and insurance. 
Buy your first motorcycle on Carousell!
1) Certificate of Entitlement (COE) 
In the March 2020 tender, the COE price for motorcycles have gone up slightly (4.15% to S$4,489). With this COE, you are free to ride in Singapore for a good decade. 
2) Use a loan calculator for both brand-new and used bikes 
Funding a completely brand new bike can cost you anything from S$10k for a Class 2B bike to $25k for a Class 2 bike. Unless you can pay for it in full upfront, you need to add the interest that comes with the payment loan. To estimate your monthly bike loan payments, you can use a Loan Calculator and make sure this is an amount that you're comfortable with parting every month.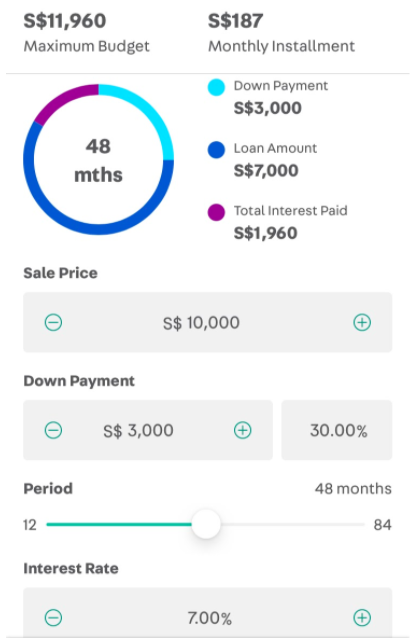 If you find the price too prohibitive, explore buying a second-hand bike to bring down your expenditure! There are a lot of used bikes for sale, at bike shops or on Carousell. A used bike usually costs about half of what a brand new bike costs, and you can use the money that you've saved to do inspections, pay for servicing and insurance.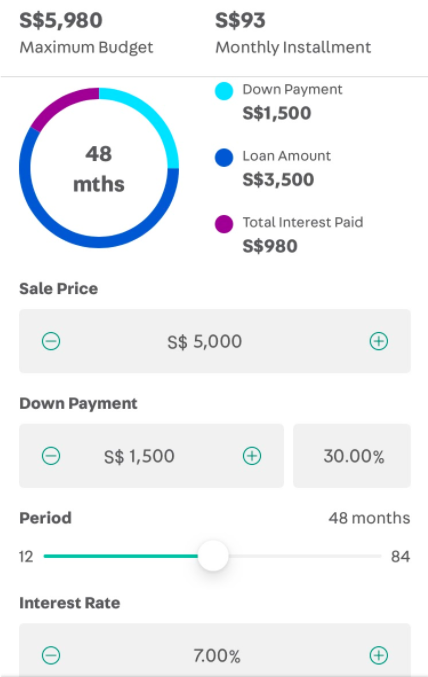 If you plan to buy a second-hand bike, look out for private sellers who indicate "Carry-On-Installment" in their description as it means that you'll have to pay for those installments moving forward, and interest rates may not be to your benefit. 
3) Road tax and parking
Your road tax is calculated based on the engine capacity of your motorcycle, stated below.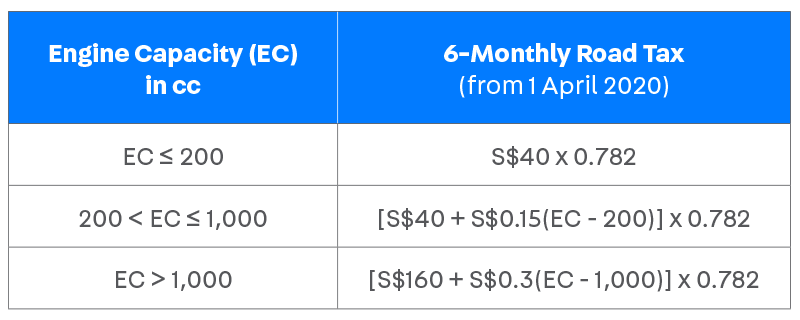 If you already own normal season parking at your own HDB carpark, you're encouraged to top up $3-5 a month so that you can park at HDB parking lots across Singapore.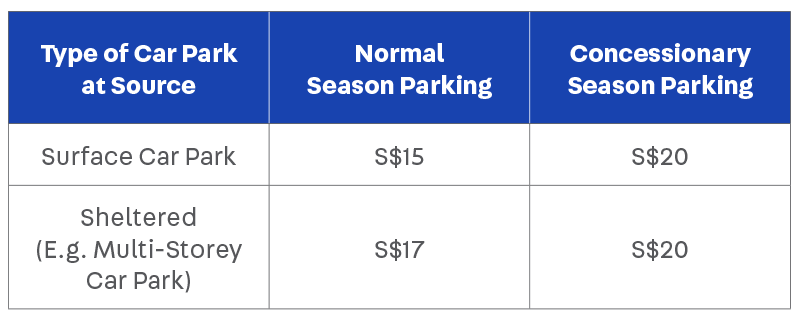 4) Insurance
Let's not talk about deaths or injuries although accidents involving motorcyclists rose 1.9 percent to 4,444 cases in 2019. You'll still need to have comprehensive motorcycle insurance because it can cover you from a stolen bike, fire, vandalism and towing if there's an accident (touch wood!). You can get an instant quote on Carousell, which has partnered AXA Singapore to provide insurance coverage!
Browse more motorcycle for sale
Where to buy good quality motorcycle helmets 
You can buy them from Carousell or from shops like MotoWorld. Invest in a good quality, full-faced helmet that is PSB-approved. Do not be afraid to test it to see if it's too heavy for your head. DO NOT scrimp on the helmet because it is the single most important accessory that will protect you in an accident. 
There's a colloquial saying in Singapore that goes like this, "车是铁包肉, 摩托车是肉包铁" which essentially means that on a motorbike, your body is the one that is protecting the motorbike and not the other way around. Invest in protective gear – you won't regret it.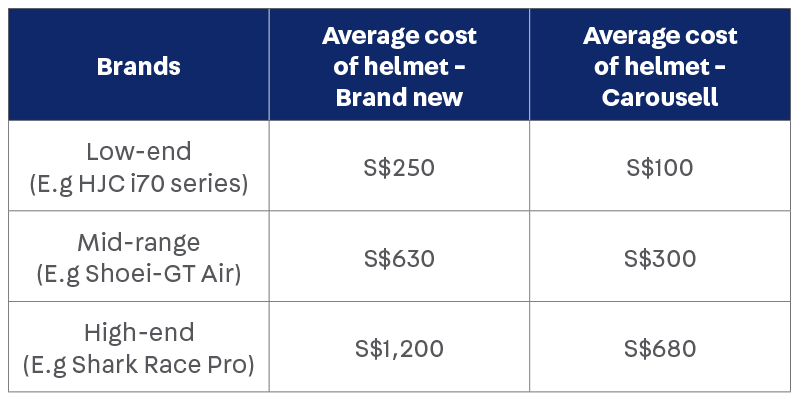 Another essential accessory that you will need to ensure a firm grip is a pair of full-fingered gloves with palm sliders and knuckle protection. Having a good pair can help with reducing the tingling and numbing that can come with riding for too long. 
Just a last note: It can be tempting to modify your bike so that the engine lets out a satisfying roar but two points to remember. First, when you modify your vehicle, it may affect your insurance coverage. Also, always check the modifications guide by the LTA before you make any modifications.
To all aspiring bikers about to buy your first bike, remember that it's not about how fast or shiny your bike is, but how you handle the bike in stressful traffic situations that is the most important. Ride safely!
---