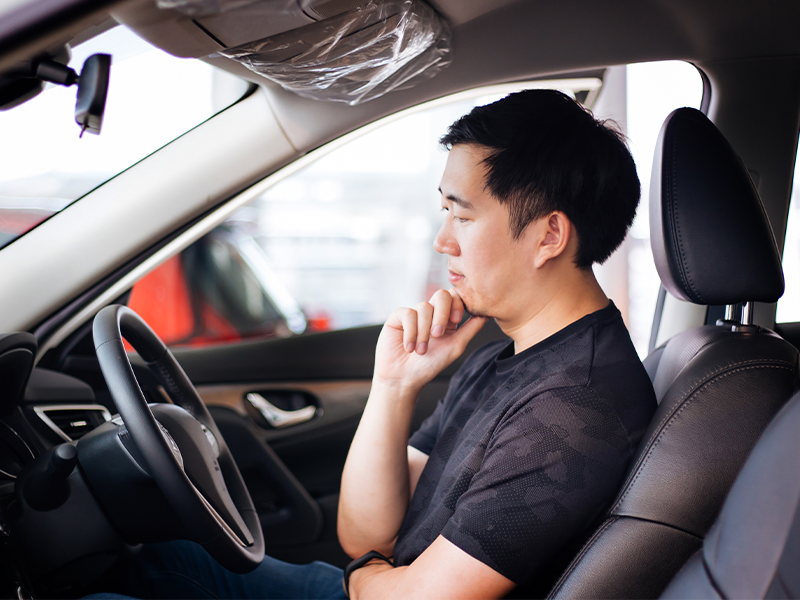 Reading Time:
6
minutes
Planning to get your dream car real soon? That's awesome! You must have said no to buying an iPhone 11 Pro or your fancy dinners to save up for this day, not even COVID-19 can stop you. While choosing between a Toyota or Honda is super fun, the bigger question is: should you buy or lease the car? 
Now that auto dealerships are starting to open after lockdown, you're probably thinking: "Hmm.. can I get my car at an even better price now?". 
We get how it's crazy expensive to drive a car in Singapore. More than that, you might be weighing how this COVID-19 economic uncertainty is gonna affect your finances. These make it all the more important to decide whether buying or leasing your car could get you more savings.
Still confused how buying vs. leasing works? Don't worry! Here's a quick rundown to help you make the smarter choice, and drive the sweet ride of yours in no time.
1. Upfront and hidden costs to pay
First things first, what is the difference between buying and leasing a car?
Leasing is a long-term rental deal where you can drive the car, usually from 2-5 years. What makes a lease attractive is that you will be able to drive newer car models that would normally be out of your price range. Leasing also has lower upfront cost as compared to paying 30%-40% down payment when you buy a car in Singapore. 
Except for the lucky few who can pay in full, buying a car involves borrowing money through an auto loan. Aside from the mentioned down payment earlier, you have to pay for the monthly loan with interest for up to x years. What makes this option attractive is that you get to own the car up to 10 years once the loan is finished. 
"Hey, didn't you mention that lease payments are considerably cheaper? Why will it be more costly for me in the long run then?". Let's break it down further to guide you: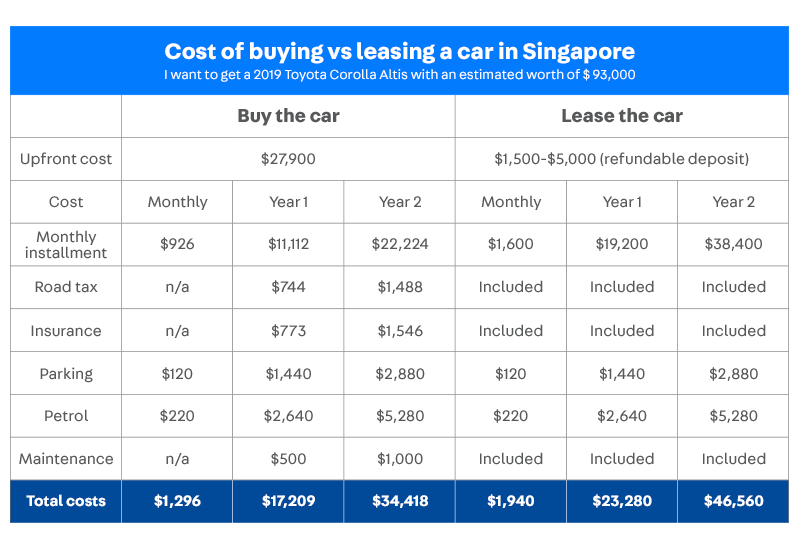 *You spend $700 more in a month when you lease the car. Exclusive of excess costs not covered by maintenance and insurance clauses.
When you lease, road tax, insurance, servicing and maintenance are usually included in the monthly lease. There's a big BUT though: Insurance excess is higher when you get into an accident. You may even have to pay up to double the amount as you have to return the car in almost its original condition. Yikes!   
When you buy, upfront costs may be painful to pay BUT you can sell the car for a value later on. We'll touch this more in point #3!
Did you know car ownership has other perks for you? You can enjoy a PARF rebate when you de-register a car if it's less than 10 years old. The rebate's amount is at least 50% of the ARF paid, pegged to the remaining OMV at the point of de-registration.
Tip: Post COVID-19 lockdown, some auto dealerships or banks may likely offer special auto loan rates or flexible payment schemes for car buyers. Watch out for these promotions to save more. *wink*
To find a car that best suits your budget, our loan calculator may come in handy. This feature is available exclusively on the Carousell App! Download it on Android or iOS.
TL;DR: 
Leasing is more expensive by at least $700 a month in totality, excluding other costs.

The downpayment of the car you're buying may be too costly for now, but remember that you can sell it later on for a value.

When you buy, you can even get at least 50% PARF rebate for de-registering a less than 10-year old car.
2. Freedom of car ownership
While you'll look totally cool driving the newest Toyota in town, you should be cautious too of restrictions that come with a lease contract. Remember, you are only renting this car and your friendly dealer expects it to be returned in its most tip-top shape!
If you hate unwanted penalties, here are the lease limitations you should take note of:
Extra costs for mileage limit
Mileage limit for leased cars is around

12,000-15,000

a year in

Singapore

. If you're the type who drives a lot, exceeding the limit can get you charged extra.
Wear-and-tear penalty
What if you were driving in a hurry because you woke up late for an important work event, then got into a bumper-to-bumper accident on the road? While the car is most likely insured, uncovered damages on the car would incur you penalties. Repair costs could be higher also if the owner prefers to have the unit repaired at the dealership.
Car modification no-nos
If you love doing car modifications (ex: darker tint or paint alterations), skip that thought. You are not allowed to customize a leased car!
Early lease termination fees
A lease is something that's not easy to walk away from if you can't afford to pay any more for the rest of the term. Early contract termination fees, depending on the dealer, may end up having the lease to be more expensive vs. a car loan. 

Once the car you bought has been fully paid, your monthly auto loan payments will stop too. Lease payments won't until you turn in the car.  
When you buy a car, say goodbye to these worries! Have the freedom to do whatever you please with zero extra charges.
3. Your investment recovery in the long run
When buying a car, the money you pay is going towards owning a future asset that you can sell for a decent profit. Isn't that awesome?
While we cannot escape depreciation of our car's value per year, you can still get a substantial cash back once you sell the vehicle! You may enjoy cheaper monthly fees and convenience of returning the vehicle with car leasing, but at the end of the term, you own nothing.

To break it down further:

Even if the car's value decreased by 40%, $37,200 resale value is still a big amount to take home. It's even easier now to sell your car online just by listing it on Carousell.
Shop for your car from home in the new normal 
Decided on buying a car already? Carousell has made shopping for your dream car hassle-free online, whether you are looking for a secondhand or brand new car from the most trusted auto dealers. If you need a guide in securing the best car loan in Singapore, our friends at SwiftQuote are ready to help out too!
Happy browsing and stay safe.🚗