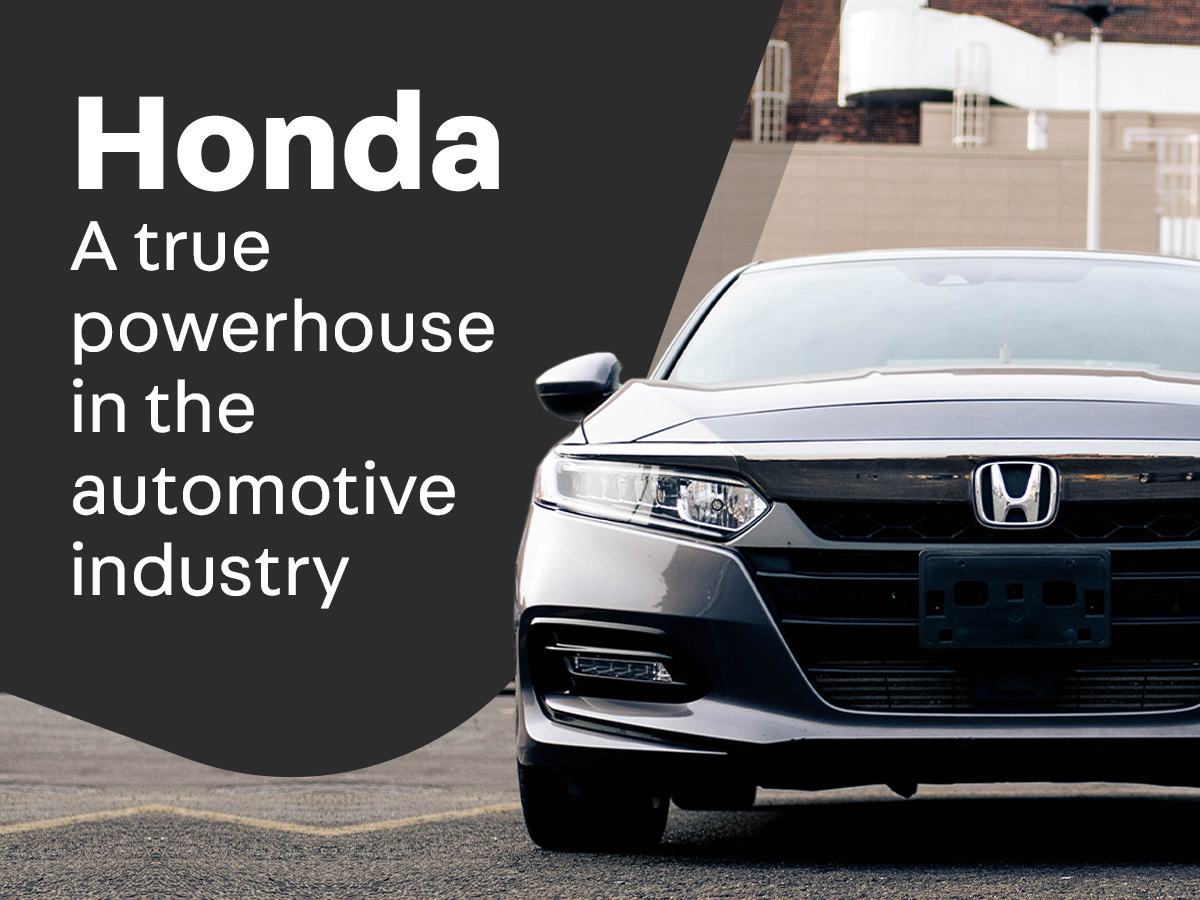 Reading Time:
9
minutes
The year was 1948. Soichiro Honda had just returned from the Second World War, with the brilliant idea to produce motorized bicycles with surplus generator engines from the war. When the leftover spares ran out, Honda began building their own engines, and fast forward a year later, the company's first fully in-house manufactured motorcycle called the Dream D-type was born.
Since then, Honda has grown into a Japanese multinational powerhouse specializing in the production of automobiles, aircraft, motorcycles, and power equipment.
The brand name is now synonymous with best-in-class built quality and reliability, and especially so in the automotive industry. To top it off, Honda has been a frontrunner in innovation and has a constant desire to be the first to try new approaches and fresh ideas in the industry. This commitment to innovation and excellence has earned Honda a well-deserved reputation for being a true powerhouse in the automotive market.
Check out second-hand Honda cars in Singapore on Carousell.
Honda cars – are they as reliable as word on the street claim it to be?
There is no doubt that Honda cars are some of the most reliable vehicles on the road today, possibly ever. Consumer reports has consistently ranked Honda as one of the top brands for reliability, and drivers all over the world swear by their Honda cars for their rock-solid dependability. Honda cars are well known to easily last for 15 to 20 years, or 300,000 to 500,000km! In fact, Honda vehicles like the Accord, Civic and Odyssey are frequently found on the lists of top longest lasting cars in the world.
Should you buy a Honda car in Singapore?
There are many reasons why you should consider buying a Honda car in Singapore. Firstly, as mentioned earlier, Honda cars are incredibly reliable and tend to last for a long time without any major issues. Secondly, Honda cars are also well known for being affordable – you can get a good quality Honda car for a relatively reasonable price tag. Finally, Honda is a trusted and well-recognized brand name in the automotive industry, and you can be sure that you're buying a car that is backed by years of innovation and excellence.
So, which Honda car should you consider amongst the line up?
The Honda Odyssey for the family-oriented (From $56,800 onwards)
The Honda Odyssey is a minivan that was first introduced in 1994. It is now in its fifth generation, and has been one of Honda's best-selling vehicles across the globe. This Honda 7 seater is known for its high quality, durability, and reliability, as well as its spacious and comfortable interior.
The latest Odyssey model is packed with features and amenities that are perfect for families. It comes with a variety of seating configurations that can accommodate up to eight passengers, as well as tons of storage space for cargo. A huge array of smart safety features such as the Blind Spot Information System, Collision Mitigation Braking System and Lane Keeping Assist System (Lane Departure Warning) only serves to make the Odyssey all the more a top choice for a family vehicle.
One of our favourite features on the fifth generation Odyssey is without doubt the power sliding rear doors. At the push of a button, the driver can control the rear sliding doors and enable the child lock feature. The convenience of sliding rear doors in Singapore cannot be emphasized enough, with our tight parking lots and *cough cough* champion drivers who are brilliant at parking!
All things considered, there is hardly a better option than the Honda Odyssey if you are after a people carrier that still looks the part, and does not suggest to the world that you are someone without any hint of an imagination.
The Honda Jazz (or Fit) for the young and hip (From $21,800 onwards)
The Honda Jazz, also known as the Honda Fit in some markets, is a subcompact car that was first introduced by Honda in 2001. It is now in its third generation, and has been one of Honda's most popular cars across the globe.
Why is the Honda Jazz such a popular car amongst the younger folks?
Well, the answer could not be more obvious! The Honda Jazz is an affordable, reliable, and stylish car that does it all. It is the absolute perfect "first car" for many young people in Singapore due to its reasonable price tag, insane reliability and low running and maintenance costs. It is no surprise that the Fit or Jazz has an almost cult status following around the world as a result.
With a variety of engine options and weighing just barely over a ton, the Jazz makes for a spritely drive in Singapore's urban conditions. The small engine capacities coupled with its popularity also means the smart driver who chooses a Honda Jazz saves a small fortune on road tax and insurance every year – again making perfect sense for the young car buyer.
The performance of the Honda Jazz has also been a topic of discussion for many years among enthusiasts because of its potential. The Honda Jazz always starts right up and does not have the typical harshness that plagues smaller engines. It is a very good car for first-time learners, as it is relatively safe and easy to control.
In terms of styling, the exterior of the Honda Jazz is definitely one of its main selling points. Generation after generation, the Honda Jazz has managed to maintain a chic yet sporty look, all while being practical and sensible. It does not have the flashy or outrageous design features that are often found on other cars in its class, and this is a good thing in our opinion. The Honda Jazz does not try too hard to stand out from the crowd, and this lends it a certain air of sophistication and maturity.
One of our favourite things about the Honda Jazz will surprise even the seasoned car enthusiast – and that is its boot space. Within its class, the Jazz manages to offer much better storage and boot space due to the clever lowered floor design and knock-down rear seats.
All in all, we can only say that the Fit/Jazz certainly deserves the adoration from their owners and we can expect it to continue to appeal to the younger crowd for a long time to come.
The Honda Civic for the Car Enthusiast (From $55,888 onwards)
Now, you can say that the Civic is to Honda what the Eiffel Tower is to Paris. It is that important, iconic and significant thing in the history of Honda! Talk about cult status cars and not many will pop to mind, but you can be sure the Honda Civic will certainly make the list.
Since its first ever iteration in 1972, the Honda Civic has been an absolutely fun car to drive, and every iteration ever since has held that statement true. It is no wonder at all that the Honda Civic is one of Honda's most popular and well-known models.
So, how did the Civic get propelled to such a critically acclaimed status amongst car enthusiasts?
Well, there is no doubt about it… the Honda Civic has an engine of a legend. Achieving the perfect balance between power and efficiency, the first generation and second generation Civics were some of the most fun and reliable cars that Honda has ever produced. The first generation Civic even had a limited production run with a turbocharged engine option, which was unheard of at the time. Truly ahead of its time!
The second generation is as good as it gets as well as it exhibits such incredible performance without sacrificing fuel efficiency or retaining its strong reputation for reliability.
Fast forward to the dawn of the 1990s, came the perfect marriage – when Honda Honda introduced the DOHC VTEC engine in the Civic. The revolutionary engineering design of the VTEC technology was such a marvel that was way ahead of its time. And with this marriage, the Civic was propelled into the sweet favours of enthusiastic drivers around the world. Producing higher horsepower at higher RPMs and maintaining excellent fuel efficiency at lower RPMs, the VTEC changed the game for Honda forever. Drivers realized the potential of the Civic and started tinkering with its performance, modifying and customizing their cars.
The Honda Civic, as it is today, remains an excellent choice for those looking to purchase a compact sedan. The ninth generation Civic brings back the classic sporty styling that past generations were known for. Add that to the fact that the powertrains remain smooth and efficient and you have yourself a recipe for success.
The Honda Freed Hybrid – a compact MPV for the sensible driver 
The Honda Freed hybrid is the perfect car for those who are looking for a compact MPV that is fuel efficient and practical. It is the perfect car for young families or even for those who are looking for a second car.
At a glance, the Honda Freed checks all the right boxes. It is a good car because it is fuel efficient and practical. It has a lot of space inside, making it perfect for families or for people who need to transport a lot of stuff. The Honda Freed is also a hybrid car, so it's environmentally friendly and good for the planet.
Like it's bigger sibling, the Odyssey, the Honda Freed comes with power sliding rear doors, an absolute convenience for your family to get in and out of the rear cabin. It not only helps with young children, but elderly as well.
On the inside, the Freed Hybrid comes with a neat interior that has cleaner lines and nice wood-effect trim, proving right that oftentimes, less is more. Despite having buttons around the dash that look and feel economically made, the overall interior still manages to exude a futuristic sense, as though you are aboard a spaceship. That is always enjoyable in a car.
Under the bonnet, the Honda Freed Hybrid boasts 135hp and a quick-shifting dual clutch transmission. This makes the Freed Hybrid almost like a sports car compared to its rivals in the same class.
Safety wise, you really cannot ask for more. The Honda Freed Hybrid comes with Honda Sensing, which entails Collision Mitigation Braking System (CMBS), Road Departure Mitigation System (RDM), Adaptive Cruise Control (ACC), Lane Keeping Assist System (LKAS), and preceding vehicle start notification function.
So, if you are in the market for a 7 seater, do check out the Honda Freed for a test drive, you absolutely will not regret it!
The Honda Vezel Hybrid for the Sporty and Active Folks (From $59,800 onwards)
Without us saying it, you could probably have guessed that the Honda Vezel has enjoyed massive success in recent years. Around the world, Honda Vezels were flying off showrooms, so much so that the Honda Vezel has been honoured with the prestigious Car of the Year award by Car Magazine in Japan, becoming a true powerhouse in the automotive industry.
The Honda Vezel is so popular because it offers everything the modern city-dweller could want. It is perfect for SUV lovers, with a huge boot and spacious interior compared to many of its rivals. Its sporty DNA also gives it fantastic handling that makes driving this car a joy on any surface, even unpaved roads or off-road terrain!
Drive and handling wise, the Honda Vezel Hybrid has a reputation for having a firm yet comfortable ride, thanks to its suspension. This makes the drive thoroughly enjoyable and easy to handle, yet provides an adequate level of comfort for the everyday family.
It is worth noting that the Honda Vezel is not only excellent on dry land but in water as well. The Honda Vezel can actually drive through 16 inches of standing water! So, the Honda Vezel is not just a regular car draped with an SUV exterior, it truly does have utilitarian DNA! Despite all of that off-roading capabilities, driving the Vezel Hybrid in the city yields tremendously good fuel economy. Many drivers in Singapore reported fuel consumption of approximately 18 km/l of fuel, a remarkable achievement indeed in the real world.
Awaken the Power of Your Dreams
In true Honda sense, the range of vehicles by Honda today are what dreams are made of. There is certainly a car for everyone, and even though not all cars are made equal, you can be assured that a Honda's reliability and sensibility will always be your dream come true. Be sure to check out second-hand Honda cars in Singapore on Carousell.