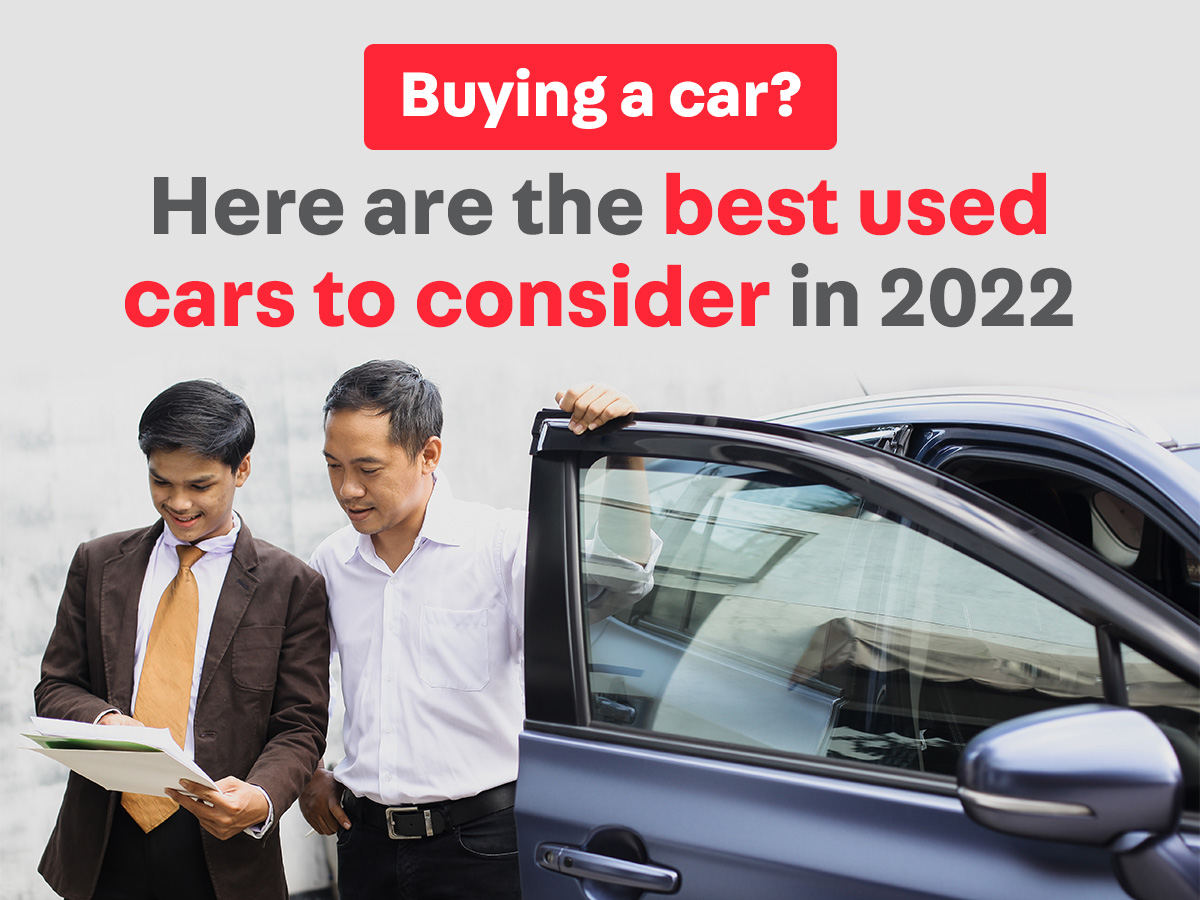 Reading Time:
9
minutes
With the extremely high cost of car ownership, buying used cars in Singapore is a great alternative. In fact, with the large pool of used cars available for sale at any given time, finding a great deal can be much easier than you think! Here are some great options you should definitely add to your shortlist if you are shopping around for a used car.
BMW 1 Series 116D (From $56,800 onwards)
The BMW 1 Series 116D is a great option for the discerning used car buyer. We know what you are thinking – it runs on diesel! Don't let that put you off though, especially with the petrol prices these days. With a 1.5L turbocharged diesel engine producing 270 Nm of torque, the 116D is a compact and efficient car that handles well and is perfect for city driving. Driving in Eco-Pro mode, some drivers claim to be able to achieve over 1,000km on a full tank of fuel! Plus, with its low emissions, it's eco-friendly too!
The BMW 1 series 116D also has excellent reliability. The engines are built to last and with proper servicing, your car can easily run for 200,000km or more. In terms of transmission, the BMW 116D employs the ZF 8HP gearbox, a well designed and clever transmission that plays a big part in both delivering performance and efficiency. They are also built to last, and can be found in the likes of Aston Martins and Rolls Royces. That sure speaks volume!
As for servicing and maintenance, it is also less daunting than you might expect for a high end, German marque. Parts are easy to find, and there is a large community of BMW owners online in Singapore who are always happy to help out. So if you're looking for a used car that is both affordable and reliable, the BMW 1 Series 116D should definitely be at the top of your list!
Look for the BMW 1 Series 116D on Carousell now!
Honda Civic 1.6A VTI (From $65,800 onwards)
The Honda Civic 1.6A VTI is a great option for those looking for a used car that is both affordable and reliable. The 1.6L engine is peppy and efficient, and the gearbox is smooth and easy to use. The Civic is also a very comfortable car to drive, with plenty of legroom and headroom for both front and back passengers.
The Civic's high build quality is also evident in its design and construction. It feels solid and well-made, and is sure to last many years with proper servicing. Parts are easy to find and the Honda community online is large and supportive, and most workshops would have no problem at all doing regular maintenance and servicing for this hugely popular car. After all, the Civic has been one of Honda's most iconic car models for a long time!
Downsides? Some drivers have complained about the fuel consumption of the Civic 1.6A. Although the engine is peppy and efficient, and the gearbox is smooth in its delivery, it guzzles too much fuel in comparison to its size and power output. Nevertheless, with the reliability you get out of a Honda, the Civic certainly still counts as a top choice to consider!
Book a test drive for the Honda Civic 1.6A VTI now on Carousell!
Volkswagen Golf 1.4A TSI (From $47,800 onwards)
For years, the Golf has been the people's choice around the world. Despite it being a compact hatchback, the spacious cabin has always taken its happy owners by surprise.
The Volkswagen Golf 1.4A TSI is a great choice for those looking for a used car that is affordable, reliable and stylish. The Golf has always been one of Volkswagen's most popular models, and the 1.4A TSI is a great example of why. With its punchy and efficient 1.4L engine, the Golf is perfect for city driving. The gearbox is smooth and easy to use, and the car handles well on the roads.
The Golf also comes with a host of features that are sure to please, with a quality interior that is well built and ergonomically designed. It also has a stylish and sleek exterior design that will turn heads wherever you go!
The Volkswagen Golf 1.4A TSI also has a bomb proof engine that is built to last a lifetime. However, one common fault that owners have often faced is with the 7 speed dry clutch gearbox's mechatronic unit. Even so, servicing these days does not cost a fortune and parts are absolutely easy to find.
Volkswagen Golf 1.4A TSI also makes for an economical choice in terms of fuel economy. The efficiency of the turbocharged engine mated to the clever DSG transmission means you could get well over 14 km/l going easy on the throttle in Singapore's urban conditions. Not bad for a small pocket rocket!
Find Volkswagen Golf 1.4A TSI on sale on Carousell now!
Toyota Corolla Altis 1.6A (From $25,800 onwards)
The Toyota Corolla Altis is one of the most popular vehicles on the roads of Singapore, and in fact around the world. It's no surprise, given that the Corolla is the best-selling automobile in history, having sold more than 44 million units since its debut in 1966.
The Toyota Altis didn't become the best-selling automobile in the world by accident. People flock to this vehicle because they are confident that it will not experience many major faults during their ownership. And, you are very likely to replace any wear and tear components and parts without spending a small fortune! This is as Toyota as it gets, and you can expect nothing less than dependability, efficiency, and value for money. A list of used cars to consider without the Toyota Corolla is not a good list!
The Corolla Altis is an all-round, sensible option. It is great for city driving, does well in terms of fuel economy, and has a great cabin and boot space for a regular family. It is definitely the go-to choice if you want a fuss-free car ownership experience!
Find your Toyota Corolla Altis today on Carousell!
Kia Cerato K3 1.6A (From $60,800 onwards)
The third-generation K3 was first introduced in 2013, and has already received its first face-lift. As far as styling goes, Kia have played the game right and absolutely done a great job with the Cerato.
Under the bonnet, it's K3 business as usual with the 1.6-litre, naturally-aspirated engine mated to a six-speed automatic gearbox. The quoted figure of 130hp feels overstated, since this is a car that does 0-100km/h in 12.1 seconds. It's not fast by any measure, but it's more than enough for city and highway work here.
As far as reliability goes, the Korean carmaker has really caught up with the Japanese, some might even say they have outdone them. This makes the Kia Cerato K3 a hugely underrated car that many buyers are prematurely dismissing.
The K3 also has an impressive cabin space, with plenty of legroom for the rear passengers and a huge boot. Interior trim wise, they could have done a much better job however. The centre console does feel very economically put together, with knobs that you might think have time travelled from the 90s.
Overall however, the Cerato K3 made our list as a honest, dependable and easy to drive car that makes absolute sense.
Find your Kia Cerato K3 on Carousell today!
Nissan Pulsar 1.2A DIG-T (From $55,800 onwards)
The Nissan Pulsar is quite a surprise contender on our list. Sure, it hasn't got the most exciting silhouette for a car, but the looks do grow on you.
The Nissan Pulsar is a great car to consider if you're looking for a used car in Singapore. It's stylish, efficient, and perfect for city driving. The 1.2-litre engine might not seem like much on paper, but it's more than enough to get you around town without breaking the bank. And the best bit about that small, punchy engine? The road tax savings that you get! Not only that, this sensible choice also translates to lower insurance costs year on year.
Interior wise, there is really nothing to complain about. Cabin space for passengers is ample, even if you weigh a couple stones more than the average Joe. Boot space is surprisingly large for a compact hatchback of its class, and trims are decent to live with.
In terms of performance, the Pulsar may not be the most exciting car to drive on the road, but that only makes it a safe environment for your family to be in. With 6 airbags as standard and Forward Emergency Braking, you get safety features not commonly found in economical choices like the Pulsar.
The Nissan Pulsar is also known for its reliability – you can rest assured that you won't have any major problems with this car during your ownership period. Combine that with its affordable price tag, and you've got yourself a winner!
Find your Nissan Pulsar today on Carousell!
Mazda CX-5 2.0A (From $16,800 onwards)
If you are in the market for a compact SUV, be sure to check out the Mazda CX-5. This handsome boy-sized SUV is not only a head turner on the outside, but an absolute joy to be in on the inside too. Mazda has seriously outdone themselves with their interior design in recent years, and the CX-5 will not fail to put a smile on your face every time you get behind the wheels. In fact, since the launch of Mazda's Kodo design principles with the CX-5, sales for the car marker have grown year on year!
With Apple CarPlay and Android Auto available as standard for the 2019 facelifted models, the CX-5 is off to a great start. Clever electronics also help the CX-5 to feel planted on the road, giving you a spirited driving sensation despite being an SUV.
Unquestionably however, the Mazda CX-5 is one of the smaller members of the compact crossover SUV crew. That said, Mazda does the best it can in terms of carving out storage space, and most of the trays, bins, and cubbies are lined with rubber or felt to reduce noise from vibration. A highly thoughtful thing to do especially if you are the kind who gets rattled by the sound of, well… rattling! Rear cabin space and boot storage is sufficient although not the roomiest, but it will have no trouble taking a small family on road trips. The shape and design of the cabin and boot, along with the way the rear seats fold down, also makes the space highly efficient for use when needed.
Overall, the Mazda CX-5 is a great entry for anyone looking for a compact SUV that is tasteful, handsome and different from some of its Japanese rivals. CX-5 owners ranked the exterior styling as their favourite feature about the car, and it is no surprise at all.
Go for a test drive on a Mazda CX-5 with Carousell today!
Hyundai Tucson 1.6A GLS T-GDi DCT Turbo (From $77,999 onwards)
Another excellent compact SUV of choice to round off our list is the Hyundai Tucson 1.6A GLS T-GDi DCT Turbo. With a clever, highly advanced new generation engine, it is an efficient, fun to drive car that gets excellent fuel economy. The Hyundai Tucson 1.6A GLS T-GDi DCT Turbo is not just one of the best choices in the compact SUV segment, it's also one of the most affordable.
If you're looking for a car that offers more cargo space than what you would expect in this type of vehicle, the Hyundai Tucson is ideal. Cabin room and boot space is very respectable for its size, and competes well within its class.
It also has good looks (especially when equipped with 18 inch wheels) and when it comes to safety, Hyundai has incorporated standard driver and passenger front airbags with front seat side airbags. Of course safety is a priority when you are shopping for a car, and you can have peace of mind with the Tucson.
And, if you are wondering what the DCT stands for, it is Hyundai's very own dual-clutch transmission! Yes indeed, the Korean car manufacturing giant has poured large investments into R&D as you can imagine, and developed their very own DCT that is highly impressive, reliable and smooth in power delivery. With that, the Tucson won our hearts over and definitely deserves a spot on the list!
Test drive a Tucson today with Carousell!
Summary
Wrapping it all up, buying a used car in Singapore is not all that daunting a task! With just a little bit of research and effort, you can find truly worthwhile cars at reasonable prices, and where better to look than on Carousell Cars? Find your next ride, today!